The last thing that you want is to have your family breathing in air filled with nasty pollutants, allergens, and dirt at home! Whether it's haze, allergy, or flu season – it's essential to keep the air quality at home as best as possible all year round. You can achieve just that with the best air purifiers in the market. With these in place, you'll definitely notice cleaner air circulating at home. But, you can't just buy any kind of air purifier! Your loved ones deserve the best of the best, so we've put together the best home air purifiers for you to choose from!
Benefits of Having the Best Air Purifiers at Home
Still not certain whether you should purchase an air purifier? We're here to nudge you a bit by letting you know some of the top benefits that you can gain from having an air purifier at home! 
1. Cleans the air
In case you haven't heard, air purifiers come with filters – high-efficiency particulate air (HEPA) filters and formaldehyde filters being the most common ones. These filters work their magic by trapping dust particles, airborne bacteria, and airborne allergens! Before any of these settle and find a spot in your home, the air purifier will stop it on its tracks by trapping it. If you're a pet owner, having an air purifier is extremely crucial because it can also trap airborne allergens released from your pets, including pet hair! Say hello to clean air! 
2. Helps you breathe easy
With clean air comes easy breathing! Since your air purifier is able to clean the air, it helps relieve symptoms of asthma and allergies with the help of the HEPA filter. Plus, you can breathe and rest easy knowing that the chances of catching airborne diseases like the common cold or flu at home are pretty low! And that's all thanks to the power of your air purifier. 
3. Removes unpleasant odors
If you love to cook or have pets that do their business indoors, air purifiers can also help remove unpleasant odors. Any cooking smell or pet-related odors that are lingering in the air will be gone before you can smell it. Not only that, but air purifiers can also help remove the smell of chemicals such as paint spray! You won't just be breathing in clean air but your home will smell clean too! 
8 Best Air Purifiers to Help Purify the Air in Your Home
1. Sharp KC-WS65P-W Air Purifier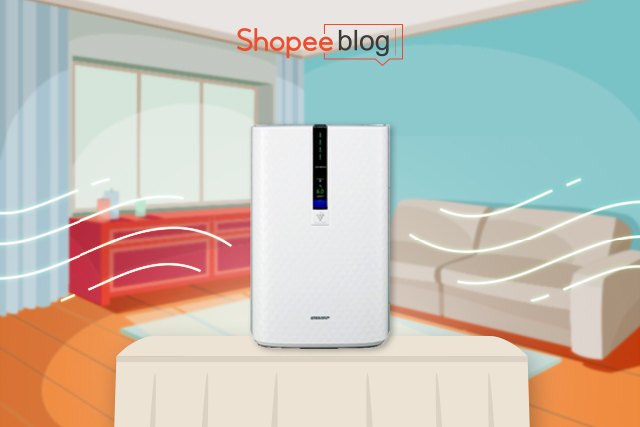 The Sharp KC-WS65P-W is the perfect all-in-one! This air purifier is great for rooms that are 50m2 in size. It has HEPA and formaldehyde filters to trap all the unwanted particles such as dust in the air. On top of that, it also comes with sensors that can monitor any dust pollution and odor in your home, coupled with a deodorizing filter! This air purifier also has a humidifying filter that helps maintain a good humidity temperature in a room. With all the different filters and features in place, this air purifier is definitely jam-packed and a must-have in your home! 
2. American Heritage AHAP-6270 Air Purifier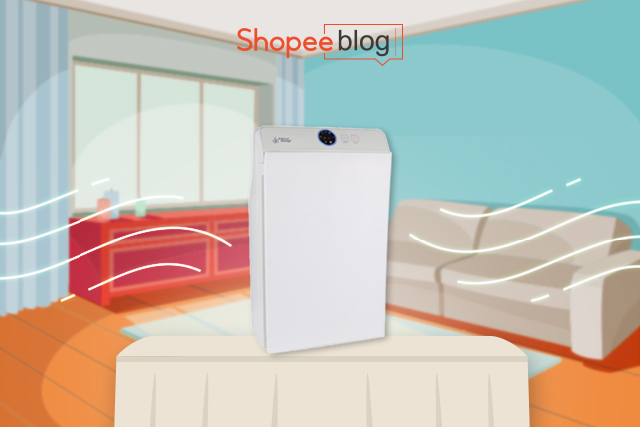 American Heritage is a trusted and well-known brand among homeowners. It's no wonder that they also come in handy in the air purifier department! The American Heritage AHAP-6270 Air Purifier definitely deserves to be on the list of the best air purifiers as it boasts amazing features. Claiming to trap and kill 99.97% of PM 2.5 airborne contaminants, this air purifier is equipped with 4-stage filtration! It has a pre-filter, then the HEPA filter, followed by a photocatalyst filter, and finished off with an odor filter. With this air purifier in your home, you can say goodbye to air pollutants, allergens, molds, and unpleasant odors – to name a few! This air purifier is great for 50m2 rooms! 
3. Sharp FP-J30E Air Purifier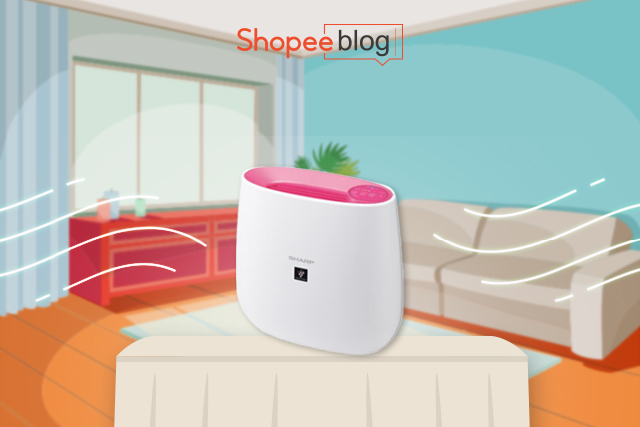 When it comes to small air purifiers, Sharp has got you covered with the Sharp FP-J30E Air Purifier! This air purifier works best in rooms that are 23m2 in size. It may be small in size, but it packs a punch with all the features that can't go missing in an air purifier. For when haze season comes along, this air purifier has a dedicated haze mode to help you weather through it. It also has a sleep mode so that it quiets down, setting up the stage for a peaceful and restful sleep. And the one important thing that can't go missing – HEPA filter! This air purifier is more than equipped to clean the air in your home, thanks to this filter. And when your filter is worn out and has seen its last days, this Sharp air purifier has a filter replacement indicator to let you know! 
4. Cherry UVC AP-02 Air Purifier
Looking for an air purifier that has a 6-stage filtration? Then the Cherry UVC AP-02 Air Purifier is right up your alley! With its 6-stage filtration that consists of a pre-filter, HEPA filter, honeycomb filter, photocatalyst filter, UV light, and negative ions – this air purifier can kill and trap 99.98% of bacterias and air pollutants that are PM 2.5 in size. It doesn't stop there! This Cherry air purifier has a sleep mode, multiple speed wind modes, and is best for 50m2 rooms. At an affordable price, you can treat yourself and your family to this exceptional and definitely one of the best air purifiers! 
5. Sharp FP-JM30P-B Air Purifier With Mosquito Catcher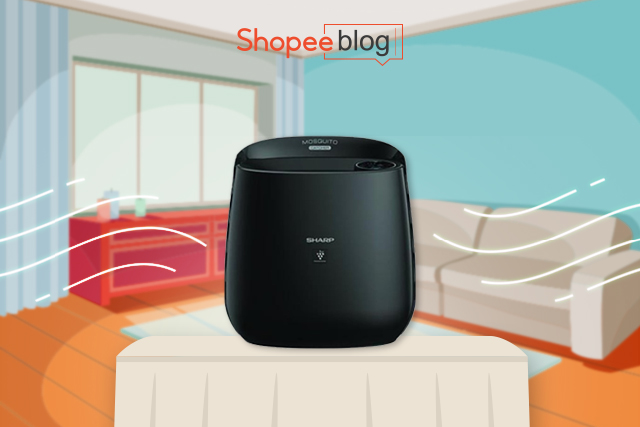 If having an air purifier isn't enough, this Sharp FP-JM30P-B Air Purifier takes it up a notch with its built-in mosquito catcher! Not only does it clean the air from pollutants and allergens, but it also clears the air from mosquitos! It also comes with a plasma cluster feature which enables it to suppress molds, allergens, bacteria, and other pollutants – along with the help of its HEPA filter and humidifying system too. If you tend to have unpleasant odors at home, you can say goodbye to all that thanks to this air purifier's deodorizing filter! Best fit for 23m2 rooms, it's best not to underestimate the power of this small air purifier!
6. Xiaomi Mi Air Purifier Pro H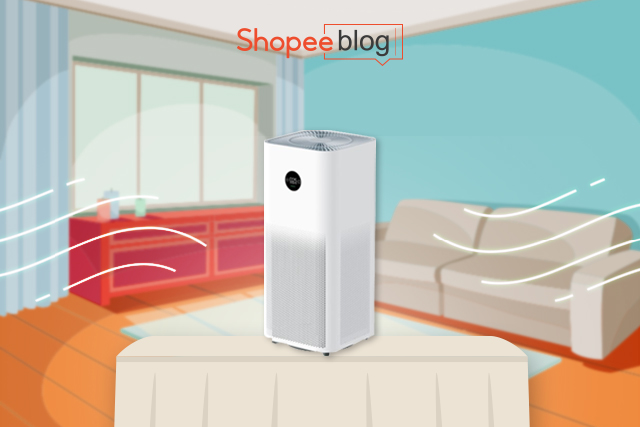 Xiaomi has taken the world by storm with all their amazing home appliances that are to die for! The Xiaomi Mi Air Purifier Pro H has been the talk of the town because of its world-class and ingenious technology. Perfect for 72m2 spaces, equipped with formaldehyde and HEPA filters, three wind speeds, filters PM 2.5 particles  – what more could you ask for? You can also control this air purifier through the Mi Home App, Google Assistant, and Alexa! Soon enough, your home will be filled with smart home devices starting with this Xiaomi air purifier. 
7. Whirlpool AP636 Air Purifier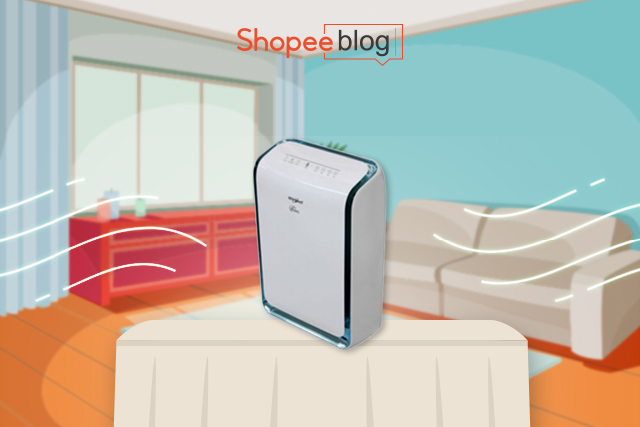 Who wouldn't want an air purifier that monitors the air quality and adjusts its settings accordingly? If that's what you've been looking for, then the search is over because the Whirlpool AP636 Air Purifier is here to do just that! This air purifier has a 6th Sense Technology wherein its built-in sensors monitor and measure the air quality. Based on the sensors' reading, it will adjust its purification settings accordingly. Plus, it has a 4-stage technology with a pre-filter, HEPA filter, active carbon filter, and photocatalyst filter! With all these filters, it can filter particles from PM 2.5 to 0.3. This air purifier works best in a 37m2 room. 
8. Samsung AX34T3020WW/TC Air Purifier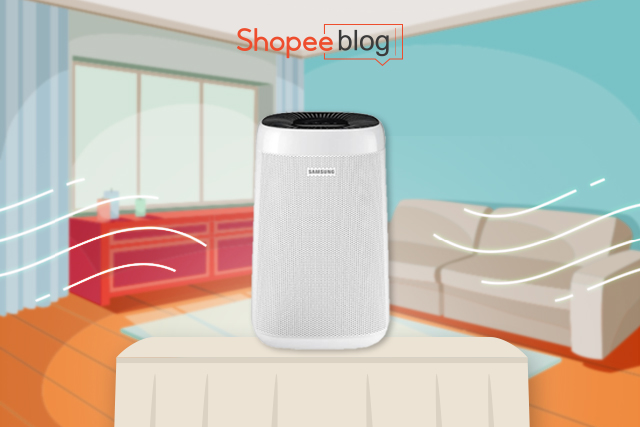 Samsung is well-known for its exceptionally innovative gadgets and electronics. So it's no surprise that they'd have one of the best air purifiers in the market! The Samsung AX34T3020WW/TC Air Purifier is definitely one to beat! You'll definitely get your bang for your buck with this air purifier that has a multi-layered purification process, including the HEPA filter. It also has a dust and gas sensor so that it can further clean out the air without you having to manually adjust any setting. This is definitely not a small air purifier as it can purify the air in a 34m2 room! 
Improve the Air Quality at Home With the Best Air Purifiers
You and your loved ones shouldn't have to breathe in nasty air at home! With the help of the best air purifiers at home, you'll be able to breathe easily with clean air. Shop for the best home air purifiers on Shopee Philippines now! Browse through the best air coolers and air conditioners too while you're at it! 
Don't miss out on Shopee's jam-packed 12.12 Big Christmas Sale! Learn how to join Shopee Milyonaryo and Shopee Shake, get all the perks through the New User Zone, and activate your ShopeePay wallet to get ₱100 through Shopee Pera Pamigay when you register now! Check out the Shopee Sale Schedule so you can make the most out of this year's 12.12 sale! 
Comments