Room lighting goes beyond simply illuminating your room. It heavily influences our mood and productivity too. Good lighting can make rooms feel warm and relaxing. While poor lighting can make them uninviting or demotivating. So trust us when we say the best room lighting ideas can change your life! Besides uplifting your mood, great room lighting can change your perception of your home. Ambient lighting, task lighting, and accent lighting all give a feeling of spaciousness and highlight the beauty of interior design. Get to know these three types of lighting as well as our top recommendations on room lighting below!
Mesmerizing Ceiling Lights For Ambient Lighting
Also known as general lighting, ambient lighting is the first layer of light and the most important one in rooms. Being the biggest source of light in your room, you must choose the color and brightness of your ceiling lights carefully. Go for bright white lighting to achieve an energetic atmosphere or warm yellow light for a warm and cozy one. Since you're also going to be staring at them a lot in your bedrooms, you might as well get the most stylish designs that suit your taste! Read on for a few modish styles of ambient lighting for your room.
1. Modern Ceiling Lamp
Credit: tplighting.ph 
One of the beauties of modern minimalist lamps is that they can blend in most themes of interior designs. So you can trust that these modern ceiling lamps will improve your room light decoration without looking out of place. For a no-fail option, there are Nordic-style modern ceiling lamps in geometrical shapes to add ample contrast in plain ceilings.
2. Nordic Chandelier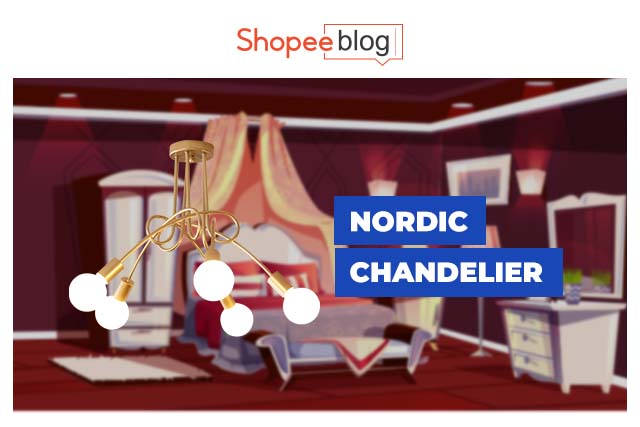 Credit: Bingo5394 
Leaning more into the hype of Nordic interior design, there are Nordic chandeliers that may even look like minimalist art installations! If you have a wide space in your ceiling, Nordic chandeliers are the perfect room lighting idea for you. With their simple but stylish designs, you can get these luxurious-looking chandeliers at affordable prices on Shopee! 
3. Rope Pendant Light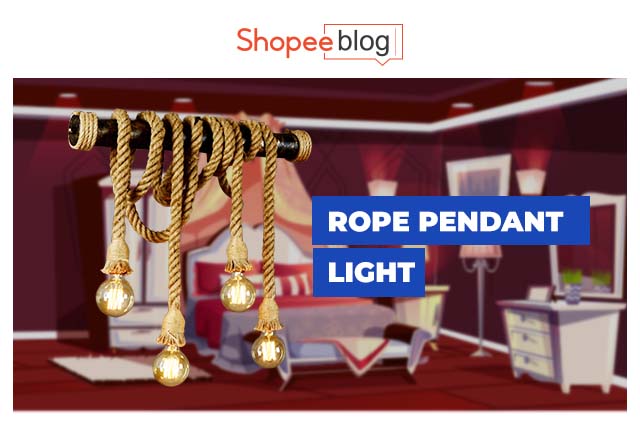 Credit: pureland.ph 
If you're working with a high ceiling, you can use pendant lights with wide lamp shades to cast a wide light in the room. To double it as decor, you can use two or three individual pendant lights and put them together in the center of your room! Whether you're aiming for vintage or minimalist decor, rope pendant lights are great for adding personality to your room! Tie the ropes into beautiful knots before installing them to make them more decorative.
Dazzling Table Lamps For Task Lighting
As the name suggests, task lighting is often placed in rooms so you can perform certain activities in the dark, such as reading or applying makeup. Nowadays, they're mostly used to set the mood in your room too! While LED desk lamps are great for working or studying, decorative table and desk lamps do a much better job in elevating your room aesthetic. Plus, they're bright enough for your nighttime reading! Get a hold of the most fascinating table lamps below.
1. Sunset Lamp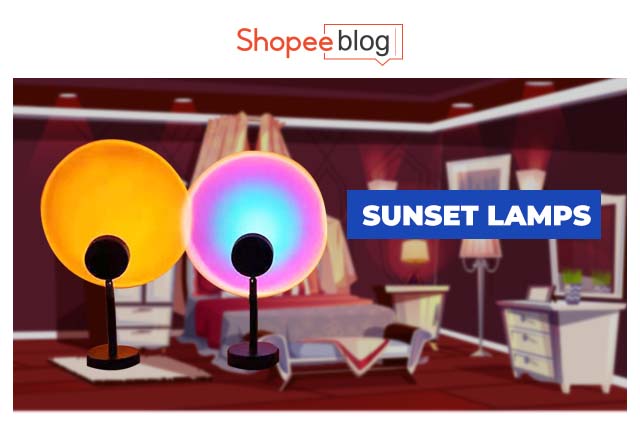 Credit: MDZZ
We have trends to thank for the many worthwhile Shopee finds, and sunset lamps are one of them! Instead of waiting late at noon to see the riveting glow of sunsets, you can catch a glimpse of it any time of the day with these lamps. Like the unique change of colors in sunsets, these sunset lamps also have various options of warm and soothing light colors. Besides improving your room aesthetic, you can capture endless eye-catching photos in sunset hues!
2. Levitating Moon Lamp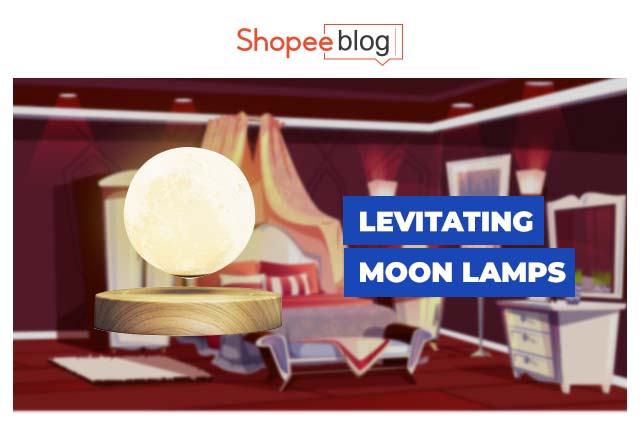 Credit: Stationeryhouse 
You might already know of beautiful moon lamps, but have you seen one that floats? They can't get any more fascinating than that! Levitating moon lamps will surely leave you entranced with its magnetic technology that makes it spin and glow in mid-air. It only gets better from here! You can change the light colors to warm white, bright white, and yellow using a touch-control switch. 
3. 3D LED Table Lamps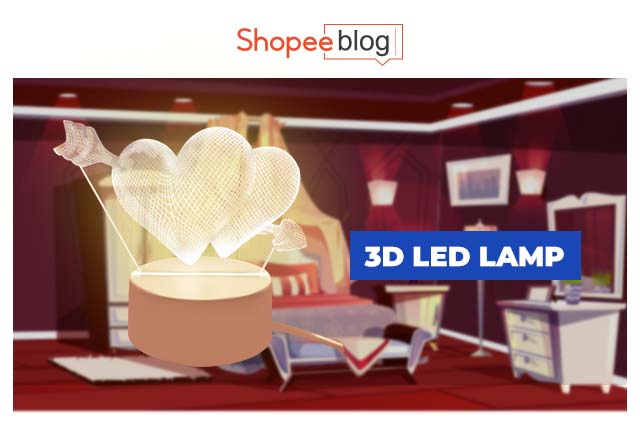 Credit: Kids World
Effortlessly add a touch of creativity to your bedside table with 3D LED table lamps! These lamps have line artworks that project light which makes it a great room light decoration. The best thing about this is that many of them are customizable! You can choose from numerous creative designs, but you can also personalize one by requesting designs of your own. Here's the perfect room decor idea: instead of putting up picture frames, get a line art LED table lamp of your pictures instead!
4. Himalayan Salt Lamp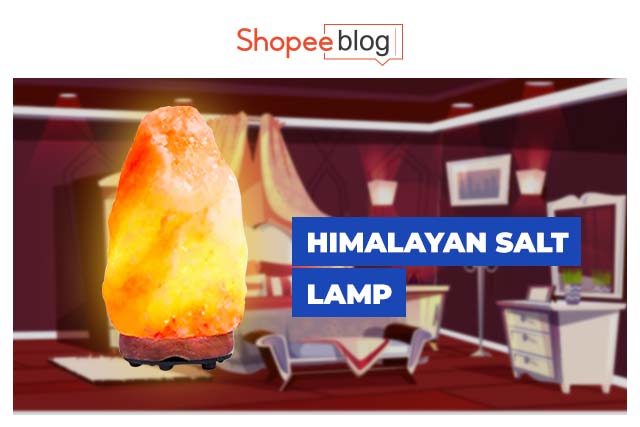 Credit: Maxx Store 
Having pieces of nature as room lighting is a good idea to create a relaxing ambience in your room. Our best example are Himalayan salt lamps, which are made from real chunks of Himalayan salt crystals! While the look of the pink salt rock is already pleasing on its own, there are a few health benefits that come with it as well. For one, Himalayan salt lamps cleanse and deodorize air while it absorbs dust and allergens in the atmosphere. 
Colorful Wall Lights For Accent Lighting
Although accent lighting is commonly referred to as mood lighting, they can do much more for your room! You can use it to highlight beautiful architectural designs and wall decor as well as draw attention away from parts of your room that you're not so fond of. So if you're keen on room aesthetics, these affordable accent lighting are a must-have for you!
1. LED Strip Lights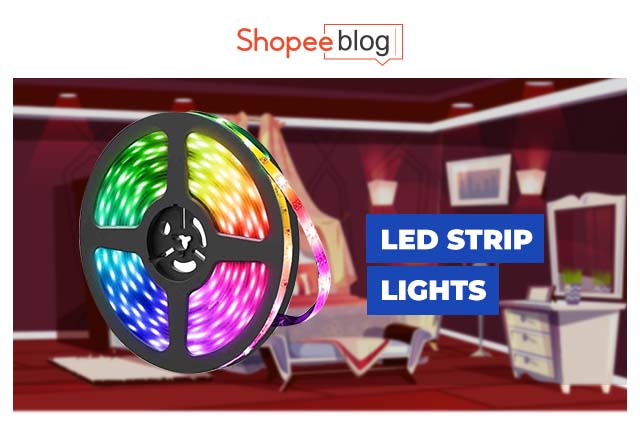 Credit: Mallouis 
You don't have to cough up a huge amount of money for a cool room light decor! At affordable prices, a roll of LED strip lights is one of the value-for-money room lighting ideas everyone should try. They're colorful and highly customizable, so go all out with your creativity with this one! You can surround the corners of your room with them or use them to highlight your wall decor. LED strip lights are also a wonderful alternative to traditional Christmas lights as they are energy-efficient but very luminous! 
2. Quantum Wall Lamps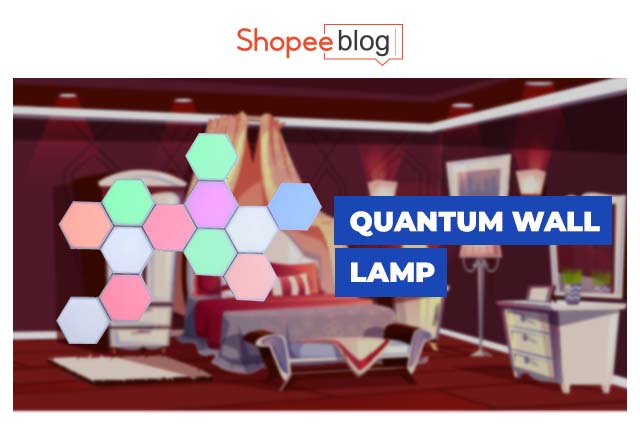 Credit: Walk The Earth 3 
Are you thinking of filling that blank space in your wall with some modernistic room lighting? Make it happen with quantum wall lamps! These wall lamps are hexagon LED lights that you can put together like building blocks to form any shape you want! Quantum wall lamps are turned on by touching the hexagon blocks. How cool is that? They would certainly look great when you put them up in your workspace or gaming corner.
3. Rattan Ball Lights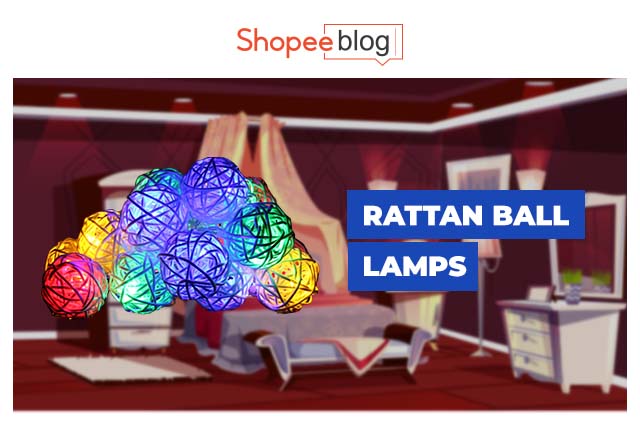 Credit: Supershop01.ph 
Yet another great choice for Christmas lights are colorful rattan ball lights. Putting these up almost immediately makes your room lively and whimsical. Buy a few more and install them outside your house to share the festive mood with your neighbors! You can also buy them in singular LED light colors for a year-round room lighting idea. 
Set The Mood Perfectly With Trendy Room Lighting Ideas
We often associate good things with light. So it's no wonder that great room lighting can uplift our spirits! There are tons of perfect room lighting ideas to set a particular mood in your room, so take your time in crafting the room lighting ensemble of your dreams. Turn it into reality at affordable prices when you buy your lights on Shopee Philippines. Give your room the complete makeover it deserves with brilliant bedroom design ideas and creative DIY home decor!
Don't miss out on Shopee's jam-packed 12.12 Big Christmas Sale! Learn how to join Shopee Milyonaryo and Shopee Shake, get all the perks through the New User Zone, and activate your ShopeePay wallet to get ₱100 through Shopee Pera Pamigay when you register now! Check out the Shopee Sale Schedule so you can make the most out of this year's 12.12 sale! 
Comments