The work from home setup may feel like both a blessing and a curse. It's a blessing because you get to work in your own space without having to commute and stay close to your loved ones. The downside is when your home starts feeling like a workplace instead! It's important to make a clear distinction between that work and life balance, and the best way to do that is through upgrading your work from home setup. Most, if not all, jobs need an internet connection to stay in contact with your co-workers or your clients. You can elevate your work experience by shopping for one of the best PC monitors!
Whether you use a PC or a laptop, a monitor will truly improve working from home. The best PC monitors will also be great to use during your free time, and that's one of the best ways to treat yourself while you work from home. Upgrade your work from home setup to improve your work-life balance. This win-win situation will be something you will be proud of, so read through some of the best PC monitor options available on Shopee Philippines!
How To Choose The Best PC Monitor For You
Before going into specifics, there are a few factors to consider! Monitors may come in different sizes, but there are a few specs that will help you decide on the best PC monitor for personal use.
LED vs. LCD
Don't be confused but we must get it out of the way: all LED monitors are LCD, but not all LCD monitors are LED. To put this simply, all monitors create an image through liquid crystals but the backlights between these two monitors are different! 
LCD monitors are the most budget-friendly option because they do not have as many features as their LED counterparts. LCDs are very bright which allows you to view your monitor clearly from different angles.On the other hand, LED monitors come with different brightening and dimming options, allowing you to full-on customize your comfortability when staring at the screen.
Regardless of which type of monitor you choose, you can always get a pair of blue light glasses to reduce digital eye strain!
Resolution
Resolution refers to the width and length that your monitor can produce its visuals. You deserve the best viewing experience when working from home, and that's why our standard is 1080p monitors. However, the list goes on! Depending on how clear you want your display to be, you can go for a 4K monitor to elevate your viewing pleasure. While you work from home, it's important to enjoy the finer things in life like a crystal clear display!
Refresh Rate
Last but certainly not least, the refresh rate is definitely important when choosing from the best PC monitors. The higher the number of hertz (Hz), the faster your monitor changes images per second, leading to a smoother moving image at face value.
Work from Home & Leisure
A work from home setup doesn't have to be all about work! When you need a break from all your work tasks for the day, investing in one of the best PC monitors will really come in handy. Scroll through Facebook, Instagram, and Twitter on a big and bright screen! You can also watch YouTube videos or Netflix to recover energy in-between or after work hours.
1. BenQ GW2283 22-inch Eye Care Monitor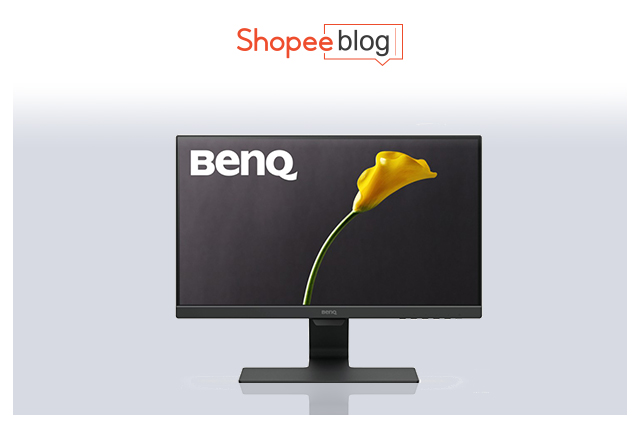 Credit: IT World
The BenQ GW2283 PC Monitor is a no-brainer because of its adaptive brightness. With Brightness Intelligence Plus, this BenQ monitor has patented technology that can automatically adjust brightness and color temperature throughout the day. Similar to how your phone has a "night mode" to reduce digital eye strain, the BenQ GW2283 is one of the best PC monitors because it does not need a manual toggle! If you work an eight-hour shift in front of your computer, this monitor will allow you to maintain productivity because of its eye care technology.
2. HP 24MH Full HD Monitor with Built-In Speaker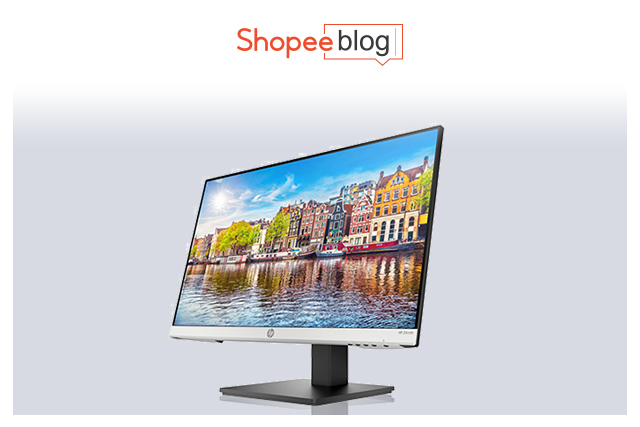 Credit: Abigoa
If you're looking to upgrade your work from home setup without shelling out too much money, the HP 24MH Monitor is the perfect solution! With a 1080p resolution and an IPS display, you will be getting a stunning display at a mid-level price point. This is one of the best PC monitors because it comes with an anti-glare feature, allowing you to focus on your work through sunlight and indoor light! The HP 24MH Monitor also comes with a built-in speaker, so you can save buying computer speakers for another day.
3. ViewSonic VA2710-mh Home & Office Monitor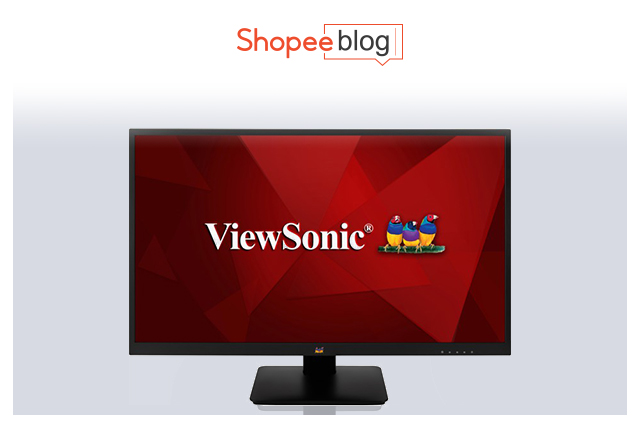 Credit: Official ViewSonic Philippines
Treat yourself to a fuller view with the ViewSonic VA2710-mh PC Monitor! This makes for one of the best PC monitors because of its 27-inch screen and thin frame. It allows for up to 75Hz, making it great for leisure media streaming (and work, of course)! This ViewSonic monitor also has a blue light filter and a flicker-free feature to prevent a headache catching on from staring at your screen for too long. While flickering backlights may go unnoticed to the naked eye, this is one of the most common causes of eye strain. Keep yourself productive at work and comfortable for leisure with a flicker-free ViewSonic monitor!
Work from Home & Gaming
Wouldn't it be a dream to work and play at the same time? We hope you have great time management skills because you could easily do both by choosing one of the best gaming PC monitors! With high Hz and a great display resolution, these monitors are perfect for those who work on graphics or animations. However, don't sell yourself short. Even if your work doesn't require high monitor specs, your gaming hobby might, so treat yourself today!
While you're at it, you can also check out our list of the best gaming keyboards and best gaming mice for your workstation! Don't get us wrong, these are great for work from home jobs as well. Mechanical keyboards are easier to type on while some gaming mice have ergonomic shapes to maintain a comfortable grip during long periods of use!
1. Asus VP228HE 21.5-Inch Gaming Monitor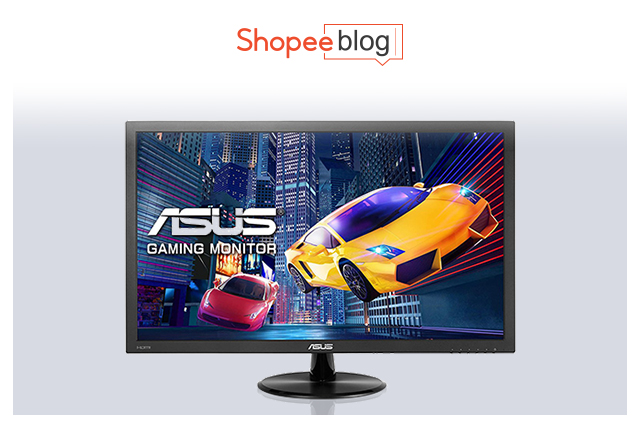 Credit: GameXtreme
Gaming monitors are usually more expensive than regular PC monitors, and that's why we thank Asus for their VP228HE! The Asus VP228HE hits the sweet spot of being affordable and suitable for gaming. With your standard blue light filter and flicker-free features, the biggest difference between this and a standard monitor is that this can reach up to 122Hz! The refresh rate of the Asus VP228HE is very special for its price, so enjoy working and gaming on this screen. After a long day of working, you can make the most out of Asus' GamePlus Technology with crosshair and timer functions for optimal gaming performance!
2. Gamdias Atlas HD236C Curved Gaming Monitor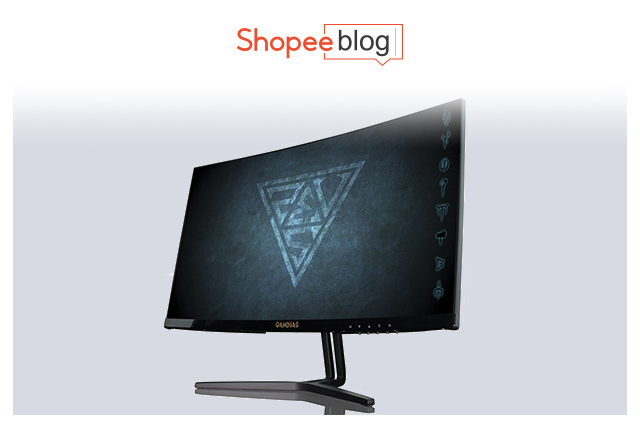 Credit: NVISION
While a 24-inch monitor is a standard size, you can still level up your view with the Gamdias Atlas HD236C Curved Monitor! As its name suggests, this monitor features a curved shape which makes it easier for your eyes to take a huge picture in a comfortable position. Curved monitors also tend to catch less glare from lights, allowing you to work and play without interruption. The Gamdias Atlas also offers 144Hz, which is definitely a requirement for high-intensity games like first-person shooters (FPS). Again, this isn't all about gaming. If you're an animator or a video editor, this curved monitor with a high refresh rate will make it easier for you to view and revise your projects for work.
3. Ipason 30-inch Widescreen Gaming Monitor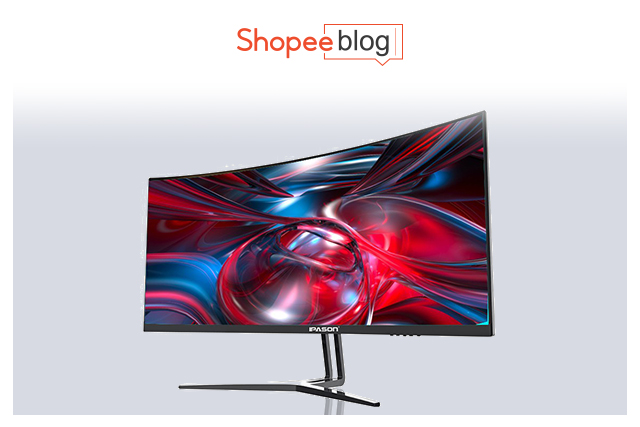 Credit: Ipason Philippines
Now we move on to the biggest and baddest boy on this list, the Ipason Gaming Monitor! This monitor boasts a whopping 30-inch display that is also curved. As mentioned earlier, this allows you to take in your entire screen comfortably. The effect of that is less eye strain! At 2K resolution and a refresh rate of 200Hz, it's quite obvious why this makes it to the list of best PC monitors. As much as you hate working on excel files, this Ipason monitor may be just what you need to get a wide view of your entire sheet!
Achieve Work-Life Balance with the Best PC Monitors
With the best PC monitors, your work from home setup can now be your comfort zone as well. It's important to give yourself a break every once in a while, and a PC monitor that elevates productivity and fun is a great start. Instead of separating your workstation from your playground, turn your work from home setup into a special little nook for you to also enjoy your hobbies!
Keep your internet connection stable and learn how to boost Wi-Fi signal with some of the best extenders! And if you're looking for more than just a PC monitor, you can also build a computer for business or a gaming PC and get all the parts you need on Shopee Philippines.
Comments