As gamers, we always dream of the perfect gaming setup. We set our minds on getting gaming room setups as fictitious as the games we play. Lucky for you, these breathtaking gaming setups and PC setup ideas are no longer out of reach! As you journey to explore worlds unknown and experience unique adventures, we bring you gaming setup ideas to bring out the pro gamer in you! Take a look at some ideas for gaming setups that you can try when building your haven. With the abundance of equipment available, you might feel bewildered as you try to piece it all together. It's crucial to have a gaming room setup that is comfortable and ideal for your style of play! As we give you some ideas for gaming setups, you will be able to see the synergy between quality peripherals, luxury chairs, exquisite desks, and more!
Join The Movement and Try Out These Gaming Setup Ideas
1. L-Shaped Gaming Setup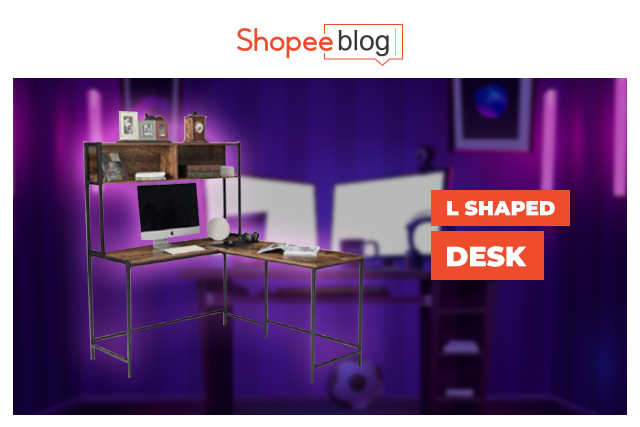 The L-shaped gaming setup is the ideal gaming setup for small spaces! Small room gaming setups are gaining popularity due to their efficiency and design. Using an L-shaped table as its main component, it can fit numerous gadgets and equipment! For its design, add in some RGB lighting to give gaming vibes! The RGB lighting works well with the L-shaped table in the corner since the light bounces nicely to the wall. With your new L-shaped desk and RGB lighting forming the foundation, you can now incorporate your PC and peripherals! 
The Redragon K551 gaming keyboard is ideal for this PC room setup as it also supports RGB lighting! The keyboard's performance will also help you ace your games with its fast mechanical keys that have minimal resistance. Pair your keyboard with the Glorious Model O Minus for precise gameplay and RGB support! This gaming setup is perfect for casual gamers who seek to excel in numerous games. 
For your monitor, you can buy the Asus TUF 27″ gaming monitor to match your small room gaming setup! The size is perfect since it won't take up your whole desk and it also gives you an HD display with a 144 Hz refresh rate. The monitor will ensure that you get the most out of your gaming experience and it gives you great value for your money. 
Lastly, pair your L-shaped gaming setup with a comfortable ergonomic chair! Ergonomic chairs prioritize comfortability over anything else, perfect for long hours of rank grind. Ergonomic chairs also offer rotation, mesh lining, and improved back support. With all these, you can now complete your L-shaped gaming setup! Try this out and buy your equipment on Shopee Philippines!
2. Girl Gamer Desk Setup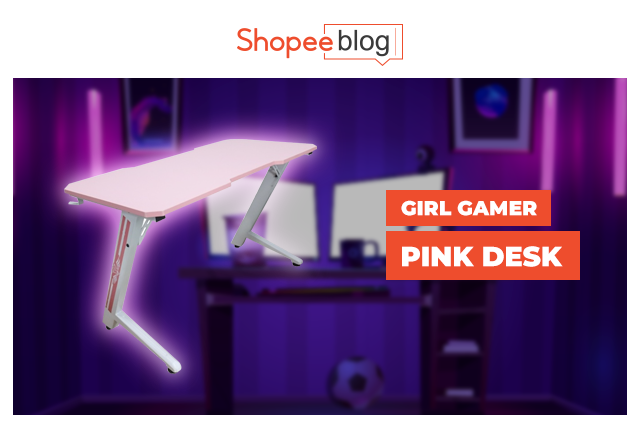 Cute gaming setups are gaining popularity for their polarizing and aesthetic design. Girl gamer desk setups give off an ecstatic and cute vibe. With the meteoric rise of influential girl streamers such as Pokimane and Valkyrae, cute gaming setups are now a must-have! Let us share some DIY gaming setup ideas as you complete your girl gamer desk setup! 
The pink Z-shaped gaming desk is the perfect mix of comfort and style as your foundation. This desk gives you a lot of space to place your peripherals and PC! A great feature of this pink Z-shaped gaming desk is its space below which can help you with cable management! 
Pair your new gaming desk with the Dragon War gaming chair that supports RGB lighting! This gaming chair is known for its comfortable padding and luxurious vibe. The chair's color fits well with the desk and the RGB lighting adds to the overall design. 
For peripherals, get the Onikuma K9 pink cute ear for its unique design and functionality! It's the best headphone pairing for the ensemble and it even offers reliable noise cancellation. This pair of headphones is ideal for streamers who want to add something new to their content. 
Using the Onikuma G3 as your mousepad will boost gaming performance and improve your gaming setup's design! You can also use the Onikuma G3 mousepad for a couple gaming room setups. 
Your gaming setup idea won't be complete without the perfect keyboard! The Akko World Tour Tokyo R1 is the ideal mechanical keyboard for this ensemble! The keyboard features original Akko mechanical switches and incorporates a unique design. Mt. Fuji and cherry blossoms from Tokyo are some of the inspirations used by the brand to produce its aesthetically pleasing design. With this, your peripherals and foundation will be more in sync in terms of overall vibe and look! 
Lastly, you can use the Koorui pink portable monitor to offer you high quality visuals! With a 144 Hz refresh rate and an IPS panel, you will definitely get your money's worth! 
3. Ultrawide Screen Gaming Setup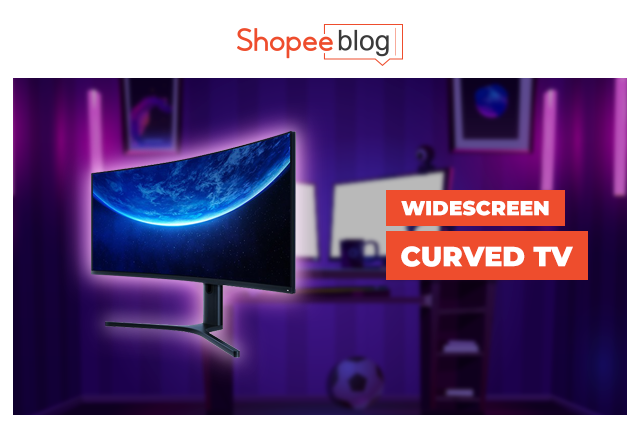 The Ultrawide screen gaming setup revolves around your monitor's features. This gaming setup is simple yet functional and aesthetic! To start off your gaming room setup, buy the Xiaomi Mi Surface Curved Gaming Monitor as your centerpiece. This monitor is one of the few curved monitors available on the market with a 32-inch screen size. The Xiaomi monitor contains an ultra-wide 21:9 display and is bent to give a more realistic experience. This monitor is perfect for gamers who are willing to spend a little more for quality purposes. With a myriad of features, this is definitely something to consider! 
With an ultra-wide gaming monitor at its helm, it is crucial to have the proper gaming desk to support it. Using a wide tempered glass table will be able to support the whole PC room setup and add to its overall look. This table will also give you extra room for your peripherals! 
Some peripherals to consider when creating this setup are the Logitech G435 gaming headset and the luxury Fantech gaming chair! The Logitech G435 gaming headset has numerous features paired with its creative design, making it the ideal headset for this setup. The luxury Fantech gaming chair provides you with the style and comfortability to excel in every game. Do not miss this chance to buy these items to complete your ultrawide screen gaming setup! 
Give These Gaming Setup Ideas a Shot!
When building your gaming setup, feel free to incorporate new PC setup ideas and be creative. Experiment with different peripherals and combinations to boost your DIY gaming setup ideas! Whether you are building a bedroom with gaming setups, gaming setups for small spaces, or preparing new couple gaming room setups – you have to be creative! Don't forget to do some background research when choosing between numerous products and don't hesitate to check out what's available on Shopee Philippines!
As you look into different combinations of gaming equipment, you can check out different gaming monitors you can choose from to find the right visuals for you! Numerous products can be used as alternatives and lucky for you, there's a wide array of gaming chairs available on the market now! These chairs offer a distinct mix of comfort, style, and durability. Always remember the importance of ergonomics when it comes to chairs. Lastly, improve your peripherals and gameplay by looking into the different gaming mice and gaming keyboards that you can use! 
Comments