We all know how it feels, that persistent dull ache that intensifies as we sink deeper into our office chair after the sixth hour at work. This pain you're experiencing is due to the lack of ample support for your spine. While there are several office chairs out there that claim to rectify this issue, many are not able to provide optimal support for your back. Thus, it's essential to get your hands on the best back support for chairs instead of spending on an entirely brand-new chair! Read on to find out our back support for office chairs recommendations and learn about some common posture mistakes causing discomfort!
11 Must-Have Back Support for Chairs
Full Back Support for Office Chair
1. Elevo Lumbar Support Pillow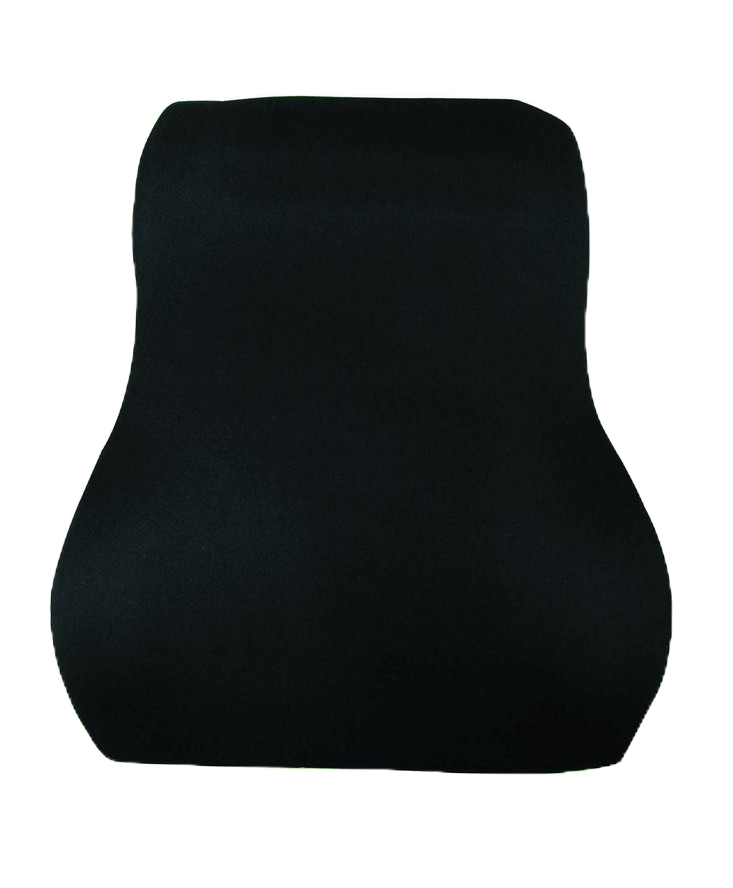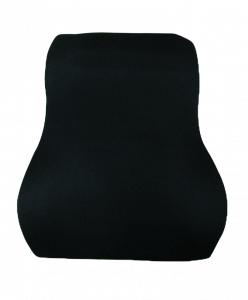 Poor sitting posture causes strain on back muscles such as the latissimus dorsi and lower trapezius. These muscles are responsible for pulling your shoulders down and keeping your body upright. Slouching overworks them and reduces the core strength necessary to support your body. The Elevo Ergonomic Lumbar Support Pillow is perfect as it allows the support to shift according to the way you sit and also helps to reduce pressure on your spine. Strap this onto your office chair or car seat to promote good posture! Check out the wide array of lumbar support pillows for office chairs while you're at it! 
2. Mesh Lumbar Chair Brace Back Support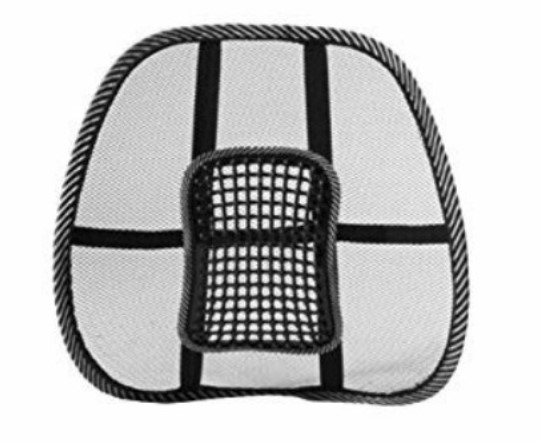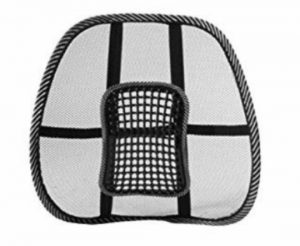 When it comes to the best back support for chairs, a mesh lumbar chair brace back support never disappoints. Featuring a fool-proof ergonomic design that provides ideal back support for all types of spine alignments, this product is a budget-friendly companion at an affordable price for all office warriors. Those who sweat easily will appreciate the ventilating mesh grills on this chair lumbar support. Moreover, the raised nodes in the middle provide muscle stimulation to relieve the dull aches you may start experiencing by midday.
3. Xiaomi Mijia 8H Soft Lumbar Cushion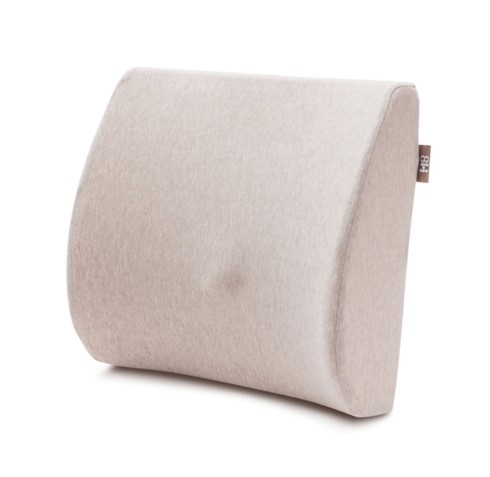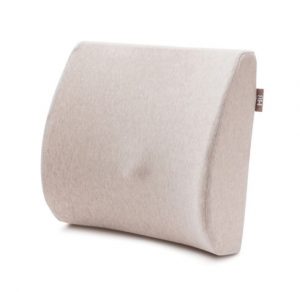 Stayed up too late the previous night and find yourself nodding off at work the next day? You'd be glad to know that the Xiaomi Mijia 8H Soft Lumbar Cushion isn't only great for your posture but is also your best pal when catching some Z's at your desk (during lunchtime, of course)! Filled with high-quality natural latex pellets, this chair lumbar support boasts just the right amount of sturdiness to cushion your back without feeling too rigid. When you're ready for a nap, lay the cushion on your desk or on your chair's headrest as a fluffy pillow!
Lower back support for office chair
4. Electric Back Massage Support Pillow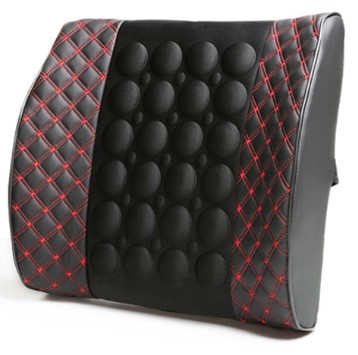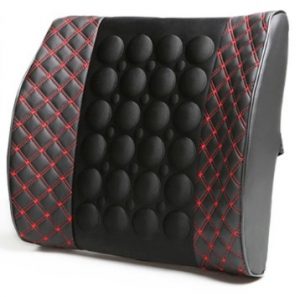 Looking for an upgrade from ordinary back support pillows for chairs? End your search with an electric back massage support pillow that features a unique physiotherapeutic design to ease tension in the back. Its curved design will wrap snugly around your back to give your spine much-needed support. The best part is, the round massage columns vibrate when the support pillow is plugged in, helping to loosen up the knots in your back. Amazing!
5. Memory Foam Lumbar Support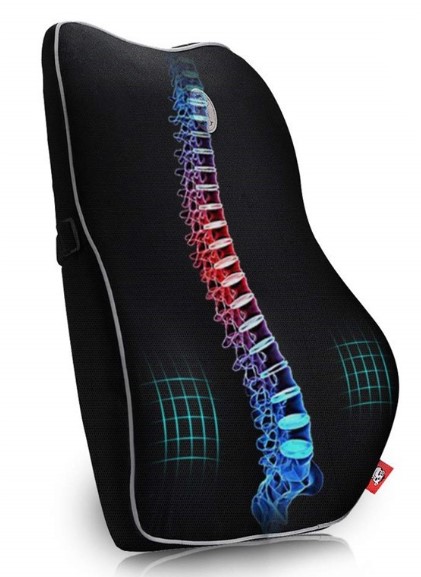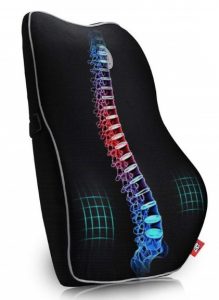 Not a fan of stiff back support pillows for chairs? Then a memory foam lumbar support will be right up your alley. This back support for office chairs is made of highly resilient and dense premium memory foam which yields and curves to the shape of your spine to maintain a proper posture. Unlike many other back supports, this one doesn't force your back to contour to it and instead, boasts superior pressure-relieving capabilities. Its relatively smaller size works perfectly as one of the best lumbar support cushions for office chairs, and it can also be attached easily to your luggage for travel use. 
6. BackJoy Perfect Fit Lumbar Support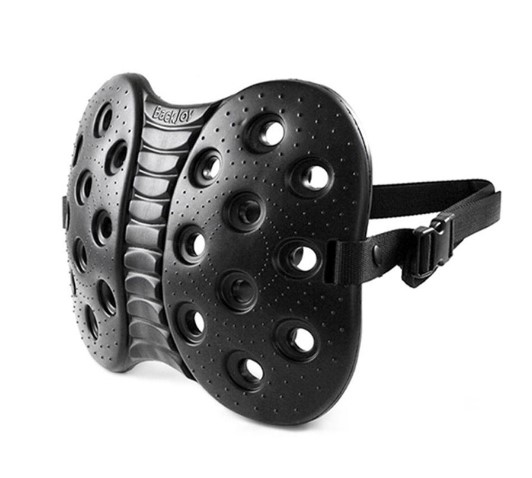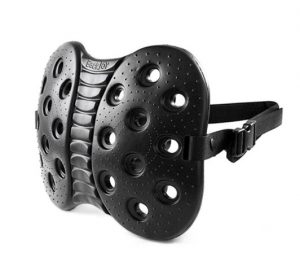 You're probably familiar with BackJoy, one of the most prominent back support brands in the Philippines. Their best-selling BackJoy Perfect Fit Lumbar Support is designed with an optimal curvature to promote a gentle forward bend in your lower spine. Using the brand's patented port and pillar technology, this best lumbar support cushion for office chair is created to be extremely breathable and lightweight. It comes with an adjustable strap so you can use this back support for any type of office chair!
7. Lower Back Memory Foam Lumbar Support Cushion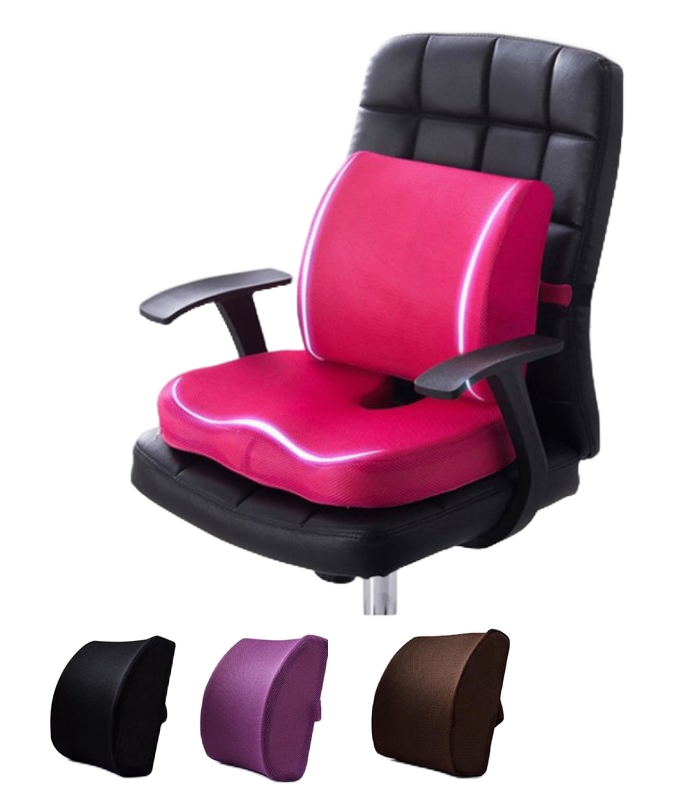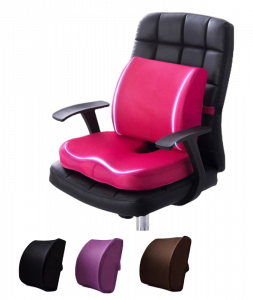 Large back and lumbar supports for chairs can take up quite a bit of seat space. If you prefer something more compact, a lower back memory foam lumbar support cushion will be perfect for you. This small chair lumbar support boasts a C-curve design to wrap around your lower back, allowing you to rest on the T-point raised module massage spot for the most optimal pressure relief. Cleaning the product is easy as well. Simply remove the mesh cover to wash and your back support is as good as new again! 
Seat cushion for office chair back support
8. Xiaomi Leravan Seat Cushion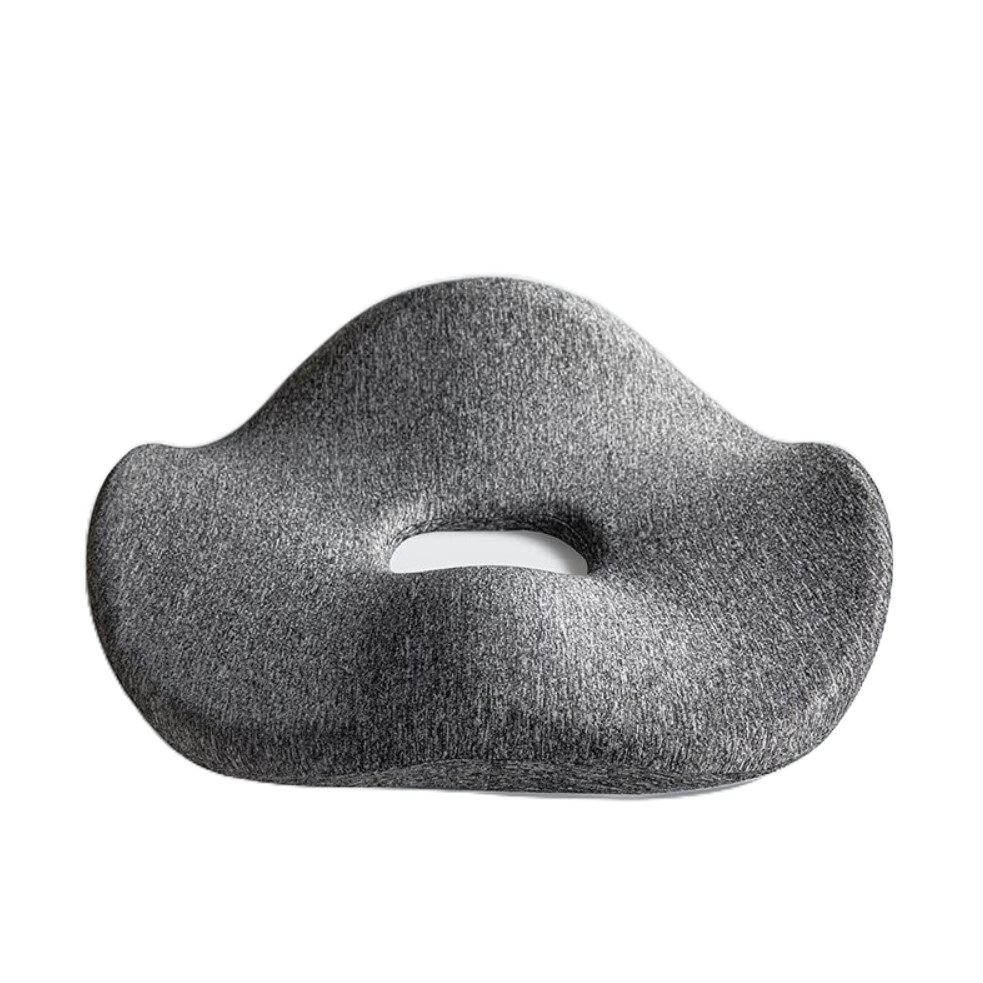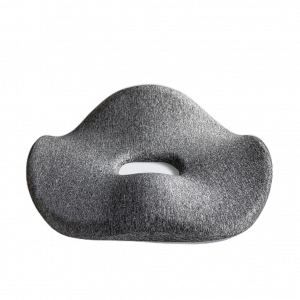 The Xiaomi Leravan Seat Cushion is a must-have back support for office chairs. Unlike the usual lumbar support pillow for your office chair that cushions your lower back, this seat cushion ensures that you get the physical support you need to keep you comfy and in proper posture, as you sit for hours on end. Moreover, it features a hollow design to boost ventilation on warmer days. Keep the product clean by wiping it down with a wet cloth and allowing it to air dry. Xiaomi is a well-known brand with awesome products, even when it comes to back support for chairs! Check out their other Xiaomi chair back supports on Shopee! 
9. BackJoy Core Traction Sit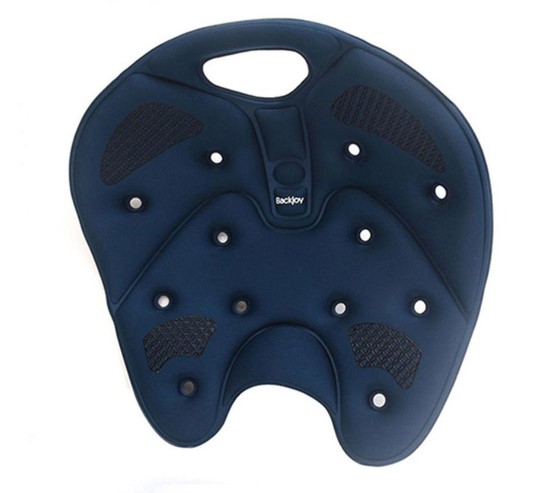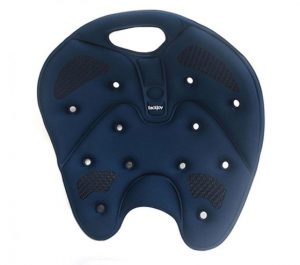 Another great back support for office chairs is the BackJoy Core Traction Sit which is a life savior for those who stay seated for hours on end. This revolutionary back support is made of a thick foam cushion to maintain its shape and enhance durability. The Core Traction Sit relieves back sores by addressing the root cause — poor sitting posture. Rather than just providing back support, it doubles as an effective posture corrector and restores proper spine alignment to relieve lower back pain. Additionally, it's designed to cup your glutes so your pelvis is naturally elevated above the sitting surface. Talk about an effortless posture enhancement!
10. Memory Foam Seat and Lumbar Cushion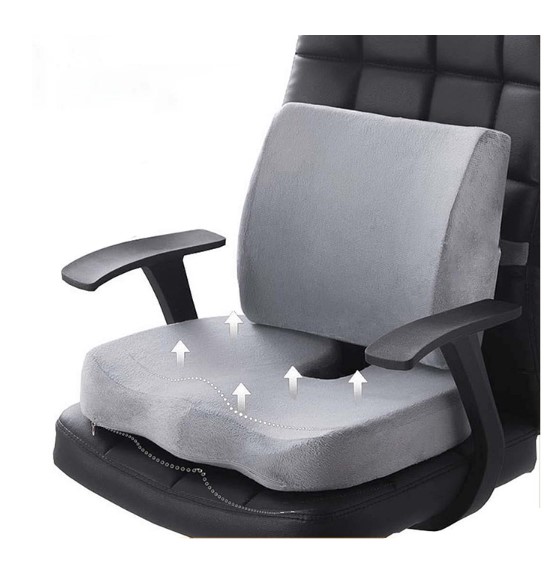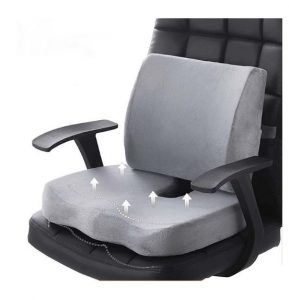 Have you worn out the cushioning on your office chair? Spending long hours in such a seat can be uncomfortable and disruptive for your posture. Improve your working conditions with a memory foam seat and lumbar cushion. This back support and cushion for office chairs keep your hips balanced and back supported. The memory foam cushion is protected with a mesh cover which allows for airflow to keep you cool. You can even store your mobiles and gadgets in the easy-to-reach side compartment! 
11. Orthopedic Memory Foam Seat Cushion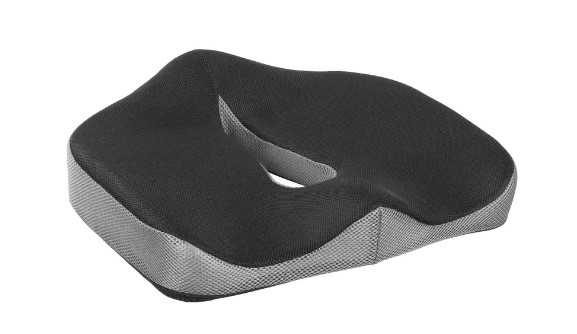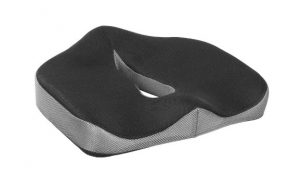 If your office chair is uncomfortable, you don't have to suffer in silence. With the addition of an orthopedic memory foam seat cushion, staying seated for eight hours straight is not an issue! This ingenious design combines a chair lumbar support together with hip and thigh support to ensure all-day comfort. The curvature encourages you to sit in the right posture and also helps to evenly distribute your weight to offload the pressure on your spinal discs. The results? No more backaches and leg numbness from long hours of sitting! 
Common Posture Mistakes at Work
Your head tips forward when you're staring at the computer screen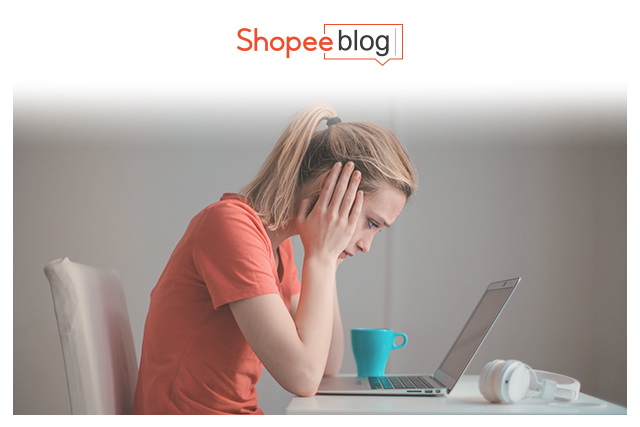 Credit: Andrea Piacquadio / Pexels
Did you know that the head, on average, weighs about 5kg? This means that even the slightest forward tilt of the head will cause unnecessary strain on your neck and upper back muscles. Many times, we end up tilting our head forward for extended hours because we're so engrossed in work. This often contributes to persistent backaches. 
You're leaning forward at your desk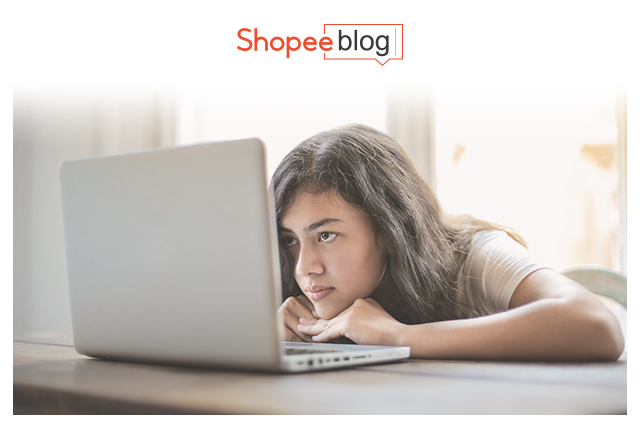 Credit: Andrea Piacquadio / Pexels
When working on the monitor, you may tend to slouch over your desk. However, this position may cause our shoulders to roll forward out of habit, resulting in lower back pain. Sometimes, a chair that's too soft can lead to this issue too. Moreover, this poor posture puts extra pressure on your lower spine, compressing your discs and leading to an aching sensation.
Your elbows are too far away from your body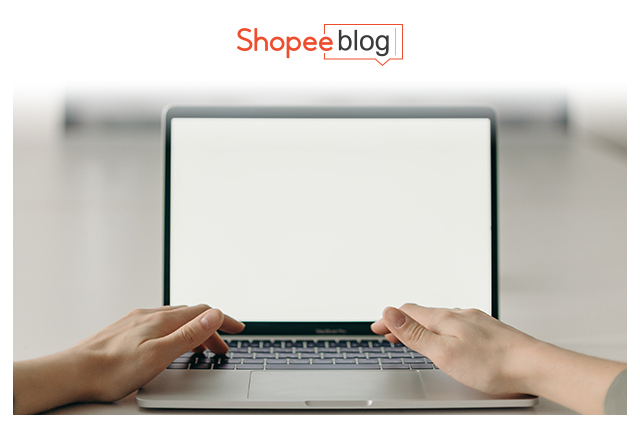 Credit: Cottonbro / Pexels
Are your keyboard and mouse positioned too far away from you? While reaching your arms forward to type may not seem like much, doing it repetitively for the whole workday will hurt your shoulders and upper back. If you're experiencing stiffness in your shoulders, try pulling your keyboard and mouse closer to you, at a near 90-degree angle, for a more comfortable position. 
You sit for too long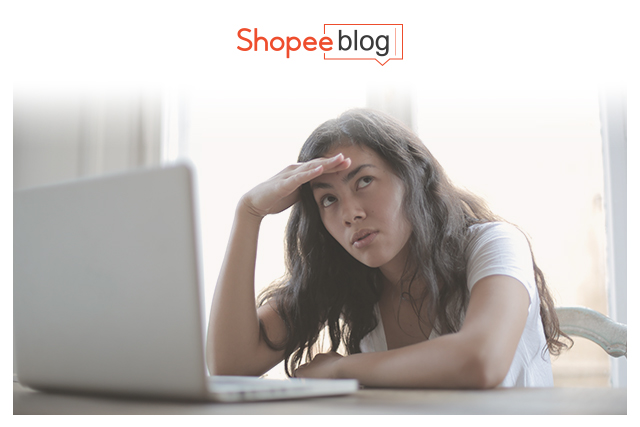 Credit: Andrea Piacquadio / Pexels
This is a common mistake many working adults make. When you're sedentary at your seat, your blood circulation is more restricted than usual and your muscles get less oxygen and nutrients in the process. Prolonged sitting can cause your limbs to feel numb and also result in neck and back sores. Try to catch a break every 30 minutes and shake out your arms and legs!
Sit Upright With the Best Back Support for Office Chair
We hope this list of the best back support for chairs will help you bid adieu to backaches sooner rather than later. You should consider getting one of these best office chairs as well to ensure maximum comfort while you work at your desk. Meanwhile, did you know that some exercises can help strengthen your back muscles and ease back pain? Try these basic home workouts now! 
This article was first published by Shopee Singapore.
Comments