It's that time of the year when the sun is shining brightly and the pristine Philippine beaches are calling our names. You want to drive off to Baler and ride the waves, visit Batangas and swim with the fishes, or just chill on the sublime beaches of Zambales with your closest friends.
Feel confident and beautiful when you sport your new swimsuit while sunbathing on the beaches or exploring the seas. Look your best with our guide on what swimsuit styles and types best fit your body shape!
1. Swimsuits for Pear-shaped Bodies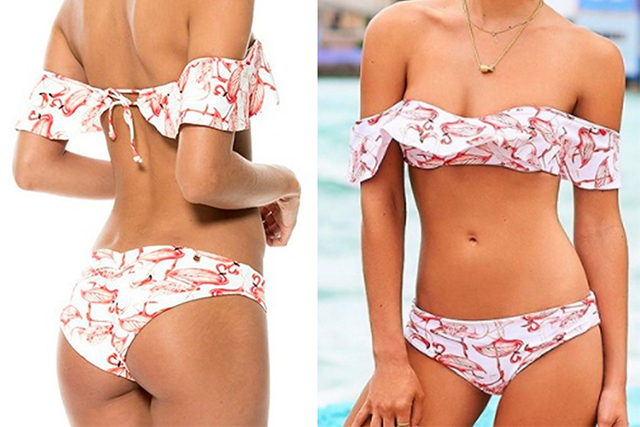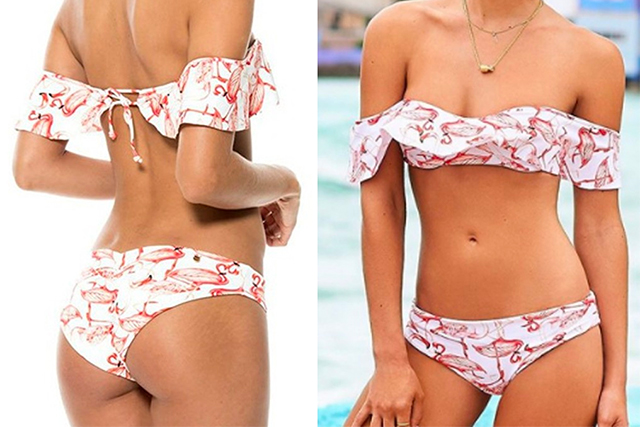 (credit: Vida Swimwear)
You know you have a pear-shaped body when you have trouble choosing swimsuit sizes since your hip measurements are significantly larger than your bust measurement. A great choice of swimsuit would be to get off-shoulder swimsuits to emphasize your shoulders. You can lessen the attention drawn to your hips with swim skirts. 
However, there's no need to hide those gorgeous hips ('cause hips don't lie). Be proud! Instead, to make your body look more proportionate, look for tops that will also draw attention to your upper body. One way to do this is to play with bikini tops with plunging necklines and printed or patterned bikini tops. Or you can spice it up with bikini tops with asymmetrical cuts and designs.
2. Swimwear for Apple-shaped Bodies

(credit: beautywawa.ph)
Perhaps the opposite of a pear-shaped body is an apple-shaped body. If your shoulders are more broad than your hips and you have a large busts but a narrow waist, then you have an apple-shaped body.

Tankinis can be your preferred swimsuit style if you don't want  to show your tummy. The best swimwear for apple-shaped bodies would be bikini tops with high necklines (e.g. halter bikinis) and molded tops which will also make your body look more symmetrical, while giving your busts the support they need. You can also choose to accentuate your waist with an empire-waisted swim dress.
3. Flattering Plus Size Swimwear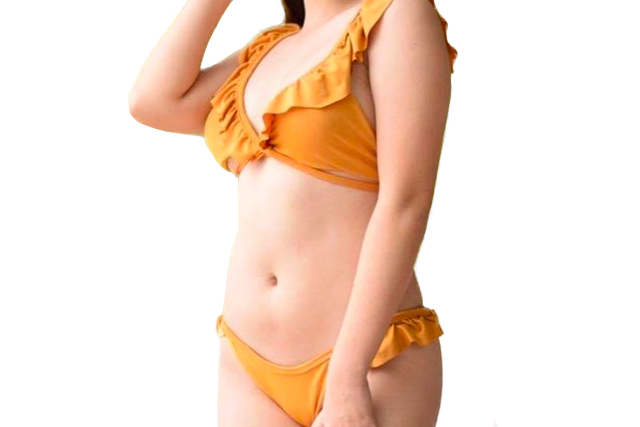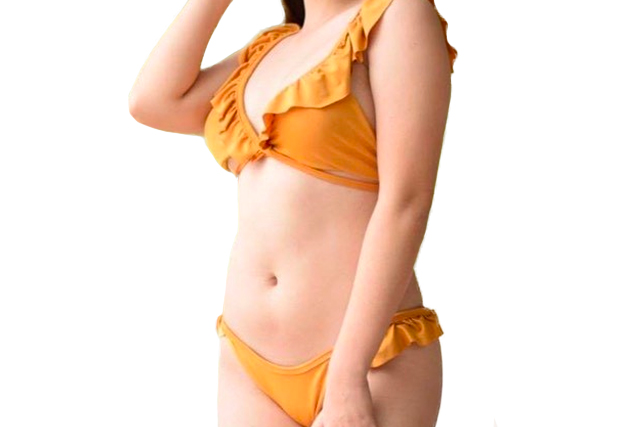 (credit: Swimsuit)
Show off your curves with the perfect plus size swimwear! Black is always a sexy color. Black one piece swimsuits are perfect for those with big waists and big busts. You can also play it up with a colorful ruffled two-piece swimsuit and exude the warmth of summer. If you're filling a bit shy to show your tummy but want to showcase your beautiful hips, you can also go for a sexy tankini. 
Rock those curves with a wrap-around swimsuit style with ruffles. Look confident and beautiful with stylish swimsuits that have defined lines or bold prints! You can also try being more playful high neck monokinis.
4. Bathing Suits for Banana-shaped (or Rectangular-shaped) Bodies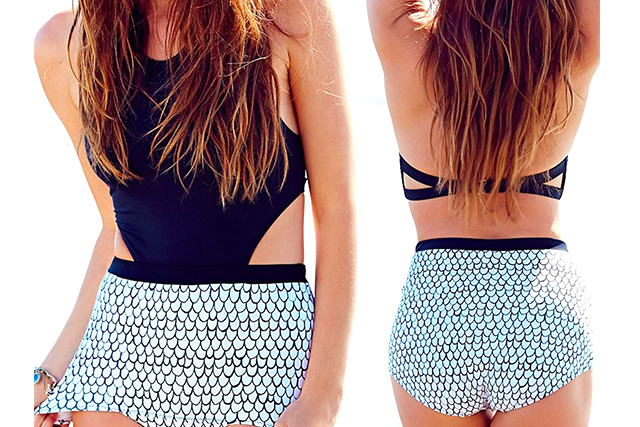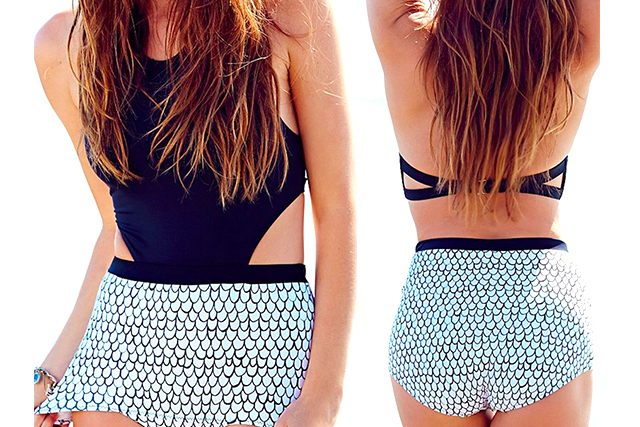 (credit: CutieBaby)
If, on the other hand, you have a banana-shaped or straight shaped body, you can showcase your athletic shoulders while making your waist look small with a halter top bikini. Feel like Ariel with a mermaid one-piece swimsuit!
You can also choose to get a swimsuit style that have cutouts on the side, giving you the illusion of a more narrow waist.
5. Swimsuits for Hourglass-shaped Bodies

(credit: Vida Swimwear)
Swimsuits for hourglass-shaped bodies are not that difficult to find. You have been blessed with a body that looks great in swimsuits.
High-waisted bikini bottoms are great for hour-glass shaped bodies since this type of swimwear draws attention to your narrow waist.  Also since your body has a symmetrical shape, bold patterns and asymmetrical swimsuit styles, such as a braided crochet swimwear, will add an extra "oomph" to your beach #OOTD.
You don't have to empty your bank account to afford these beautiful swimsuits and swimwear. Buy your bikini tops and one-piece swimsuits online with our many discounts, promos, and sales. Use our special Shopee Blog voucher code today!

Terms and Conditions:
*Sponsored by Shopee
1. Valid till May 17, 2019
2. P50 Off, P500 minimum spend
3. Valid on Orders to be Delivered via Integrated Couriers.
4. Shopee reserves the right to cancel the promotion at any time.
5.Not applicable on Digital Goods & Vouchers
6. First 500 users only.
If you still don't know where you want to go on your summer vacation, check out 5 Rock Pools Around the Philippines, Short Trips Near Manila, or Popular and Hidden Adventure Getaways in the Philippines!
Comments