Are you stepping out of your house, Shopee Fam? Don't forget to wear your face masks while we're still facing this COVID-19 pandemic! Whether you're going out to run errands or go to work, you should always wear a mask for your safety and protection. But most importantly, you should wear your face mask properly to keep you safe. Otherwise, it would just be for nothing. If you're unsure how to do so, keep reading to find out how to use a face mask and discover the best face masks for COVID!
How to Use a Face Mask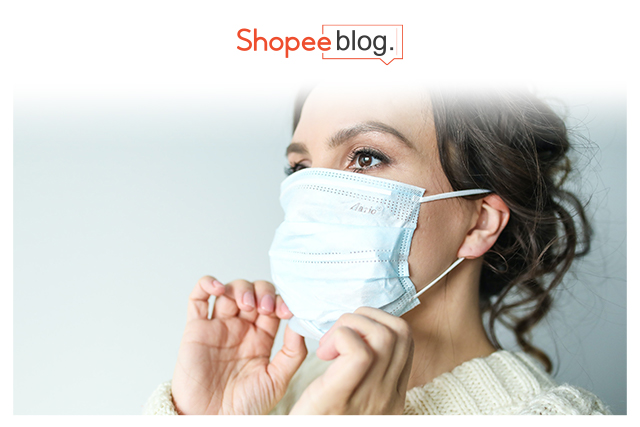 Credit: Polina Tankilevitch / Pexels
We all know by now that face masks are an effective way to protect yourself from the virus. But, you should make sure that you use the right kind of mask and know how to use a face mask correctly. Here are some do's and don'ts on how to use a face mask!
Do's:
1. Do wear the right kind of mask
First off, you have to wear the right kind of mask. There are surgical masks, cloth masks, N95 masks, and KN95 masks available. People may prefer to wear cloth masks because of their beautiful designs which make them look stylish. If you choose to wear a cloth mask, make sure that you wear it with a filter or a surgical mask underneath it. Wearing a cloth mask alone is not enough to prevent particles from passing through. Also, you should steer clear from face masks with vents because these are not effective! 
2. Do wear the darker side of the mask outside
If you opt to wear a surgical mask, take note of the different colors on each side. The darker color side of the mask is water-resistant. The lighter color side of the mask is absorbent. Picture this: if you're talking to someone and you're wearing the lighter color side of the mask outside, the liquid particles from the person you're talking to could potentially stick to your mask because the absorbent side is facing outwards. On the other hand, if you wear your mask correctly, which is the darker side outside, the liquid particles won't stick to your mask because it's water-resistant. So remember: the darker color should be facing outside and away from you, the lighter one inside. You must remember this or else the mask won't be able to protect you. If you want to know how to wear face masks correctly, don't forget this important step!
3. Do wear the top part of your mask on your nose
"How do I know which is the top part of my mask?" you may ask. For surgical masks, the top part is the end with the bendable wire. Place this end of the mask on your nose and pinch it to mold it to the form of your nose. This will secure your mask in place and prevents particles from entering your mask too. 
Don'ts:
1. Don't touch your mask when putting it on
Then how could you possibly put it on? Well, you have to hold your masks through its ear loops. It's important to avoid touching the mask itself to prevent the possibility of contaminating your mask with your hands. Put each ear loop around your ears and voila, the mask is on! 
2. Don't let your nose stick out
Masks are supposed to cover your nose up to the bottom of your chin. Don't let your nose stick out otherwise, wearing a mask would be useless. A lot of people make this common mistake. Make sure that you won't do the same thing! If you leave your nose sticking out of your mask, you're not protecting yourself and you're harming others too. 
3. Don't leave your mask lying around after using it
What do you do after you're done using a face mask? Dispose of it properly! Don't leave it lying around or else you could be spreading the virus. When you remove your mask, just like how you put it on, remove it by the ear loops. On the other hand, N95s are reusable! But, you have to check the recommendations that come with your N95 mask to see how many times you can use it. Just make sure that whenever you're not using it, you're storing it in a safe place. For cloth masks, dispose of the filter and wash the cloth mask properly before you use it again. 
Best Face Masks for COVID on Shopee Philippines
1. Surgical Masks

Surgical masks are the most common masks that are worn to protect oneself from COVID. Indoplas is among the most sought-after brands for its disposable face masks. The Indoplas disposable face masks are 3-ply, non-woven, and have high filtration for maximum protection! With a 99% Bacterial Filtration Efficiency (BFE) Medical Grade and a nose bar for a custom fit, Indoplas is certainly one of the best face mask brands for COVID in the Philippines. 
Now that little ones are allowed to go out and about, make sure that they're also protected with the help of the Kleenex Protect Kids Daily Face Mask! It has a PM 2.5 filter with 99.9% bacteria and particle filtration. On top of that, it has nose support, three layers of protection, and soft earloop for added comfort and protection! 
2. N95 Mask

N95 masks are among the best face masks for COVID given their snug fit and top-level filtration. The upside to wearing an N95 mask is that you don't necessarily need a second mask on top of it. That's all thanks to its ability to filter out 95% of airborne particles. 
Check out the 3M 9502+N95 Particulate Respirator Face Mask which is an FDA-approved mask. Its 3M Proprietary Filter Media can help protect you from COVID while making it easy for you to breathe while wearing this mask! Another great option that's also FDA-approved is Indoplas' 3M 1860 Respirator N95 Face Mask which is fluid-resistant. You can also try out the Indoplas 3M 8210 Respirator N95 Face Mask which is 95% efficient against solid and liquid aerosols and can protect you from airborne viruses! 
3. KN95 Mask

You've probably heard of KN95 masks which others have seen as an alternative to the N95 mask. Both KN95 masks and N95 masks are able to filter out 95% of particles in the air. N95 masks are the US standard while KN95 are the Chinese standard or the Chinese equivalent to the N95 masks. Design-wise, KN95 masks have a bird's beak shape so it sticks out farther from the face. This design makes it easy to distinguish between the N95 mask! 
Lucky for you, Shopee Philippines has a wide array of KN95 masks! Starting off with the Indoplas KN95 Disposable Face Mask, which is an SGS EN Medical Grade Standard mask that has an above 95% filtration. The Partners KN95 Face Mask is another great option with its five-layer filtration. Plus, it's FDA-approved! If you've been on the hunt for a KN95 mask that has a 3D design for a complete seal, then the 3D KN95 Face Mask is completely up your alley. 
4. KF94 Mask

Surely you've heard of the KF94 mask! The KF94 mask is the Korean counterpart of the N95 mask, with KF meaning "Korean Filter". As the number in its name suggests, the KF94 mask has 94% filtration efficacy which is slightly lower than that of the N95. Other differences include the fact that the KF94 combined the elements of both a cloth mask and an N95 mask. This ensures protection and comfort! This mask has a tent-like shape which a lot of people prefer because it gives more space for breathing given the distance of the mask from one's mouth and nose. 
Kleenex knows how to do it right with its Kleenex KF94 4D Respiratory Mask! Aside from its KF94 filter, it also has a 4-ply which ensures easy breathing. Kleenex also has the KF94 3D Respiratory Mask which ensures that the mask is tight and sealed in all the right places while making it breathable. This face mask is available in two different sizes so that you can find the perfect fit for you!   
Stay Safe with the Best Face Masks for COVID
Shopee Fam, let's do everything we can to stay safe! So, make sure that you wear your face mask whenever you step outside of your home. But more importantly, wear your face masks correctly to ensure maximum effectiveness. Remember these do's and don'ts on how to use a face mask! You're not just protecting yourself but you're also protecting others by this simple act! Remember to be responsible, alert, and stay safe at all times!
Comments