Step-by-Step Guide on How to Claim the Shopee Starter Kit
Do you enjoy freebies? Would you want free 1kg of rice delivered on your doorstep for FREE? Are you an online shopaholic? Download the Shopee app today and get freebies and exclusive online deals! Enjoy Shopee's Starter Kit for new users with these quick and easy steps.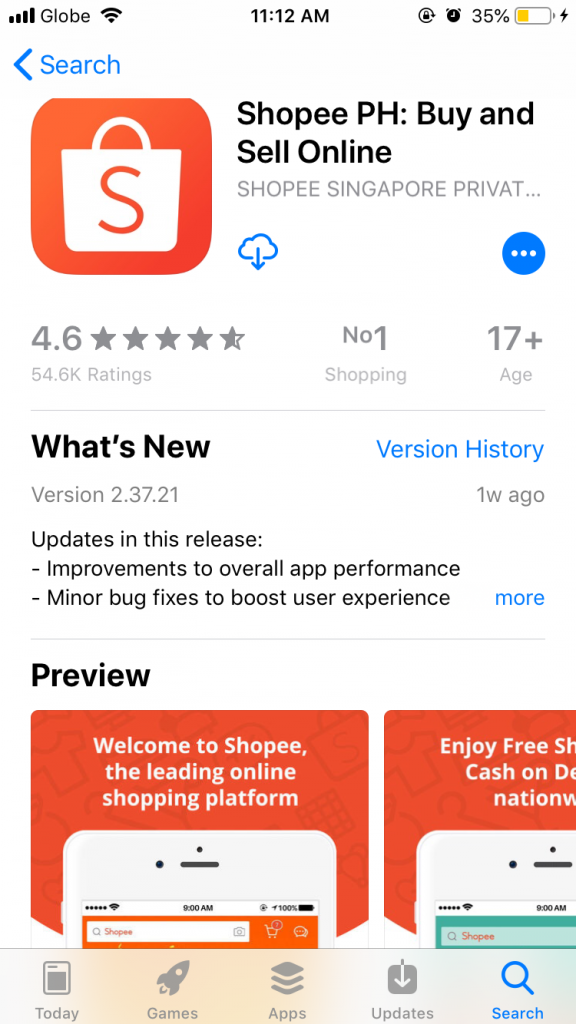 2) Open the Shopee App and look for the pop-up banner or the homepage banner!
The pop-up banner will immediately appear once you open your app!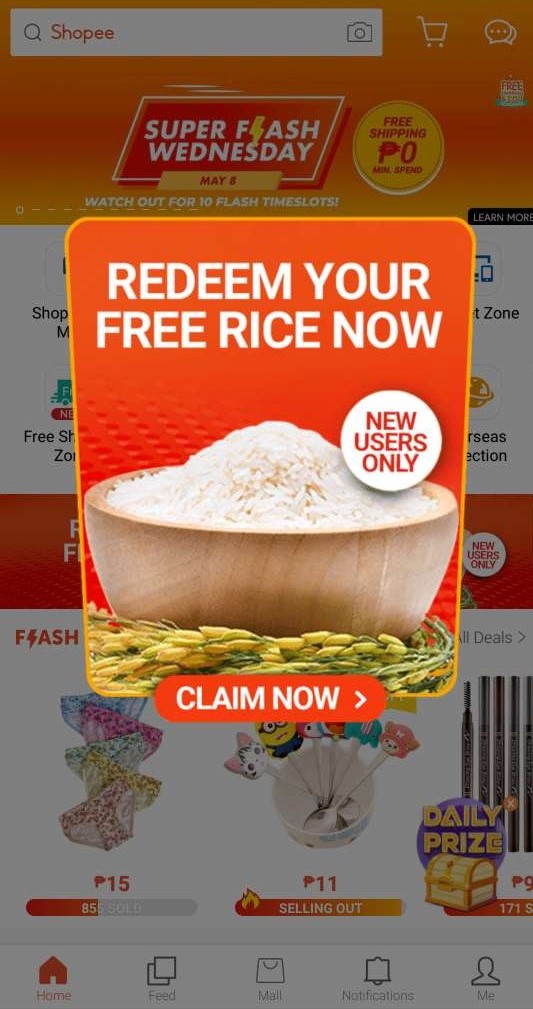 Pop-up Banner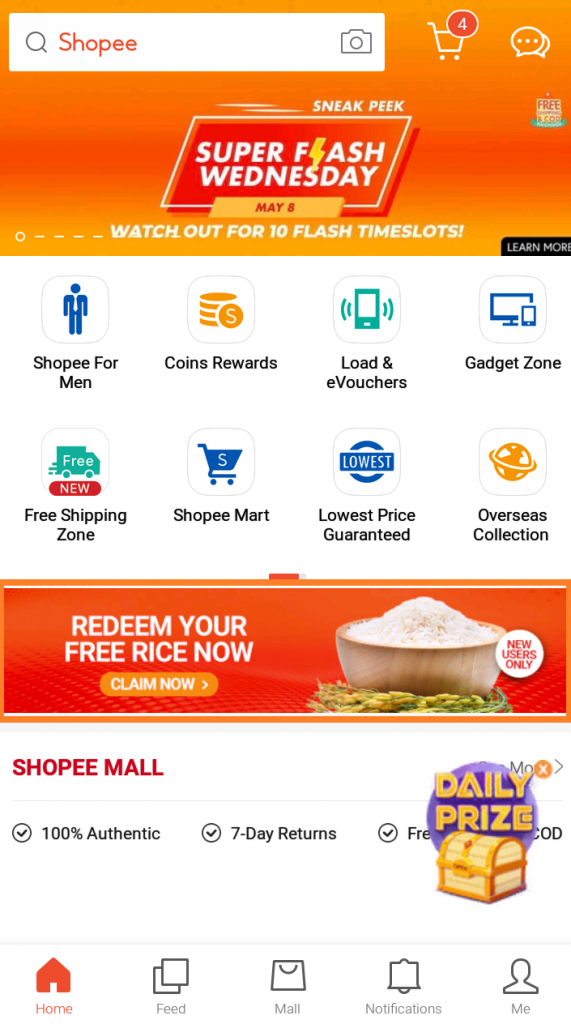 Homepage Banner
3) Click either of the banners so you can now claim a free gift!
Choose from the different free products available for that day. We have a wide selection for you: free 1kg of rice for the family, stylish watches, cool power bank, and more! Claim your Free Shipping voucher upon check out and have your chosen gift delivered at your house for free! No minimum spend is required for the Shopee Starter Kit. (Take note: free gift depends on the stocks available for the day)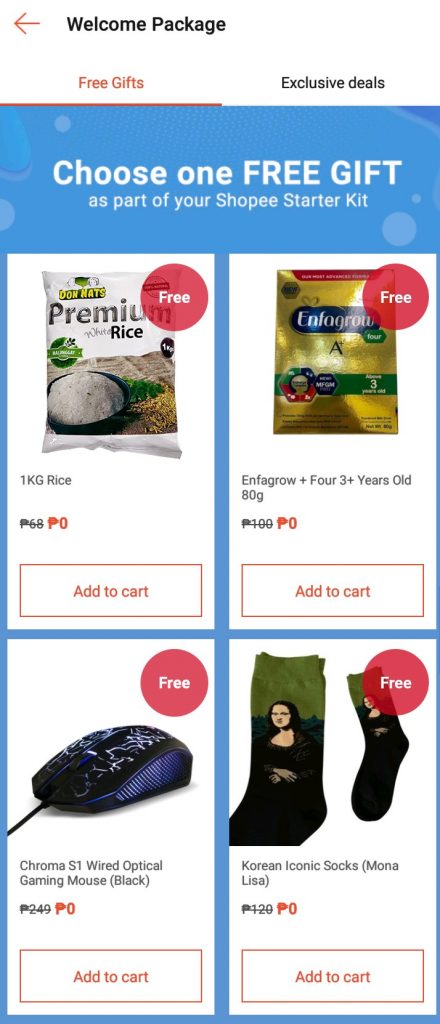 4) You can also avail an exclusive promo on selected items!
(Take note: exclusive promos and discounts differ per day) Another tab you can find on the Welcome Package page is the "Exclusive deals" page. You can also add items from here to your cart before you checkout!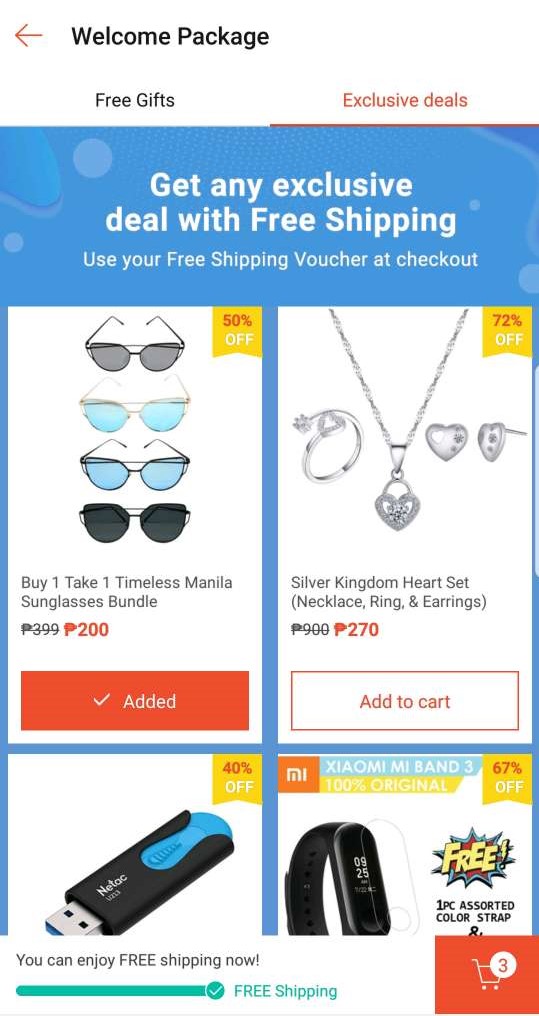 5) Check out your free gift from Shopee and, should you choose to, an item with an exclusive discount! 
Also make sure to check out your free gift and your chosen discounted item from the "Exclusive deals" tab together, and claim your Free Shipping voucher! Use your Free Shipping Voucher so you don't have to pay for shipping since no minimum spend is required for the Shopee Starter Kit.  Afterwards, all you have to do is wait for your special gift from Shopee!
How do you know if you can avail the Shopee Starter Kit?
1) Are you a new user? If yes, then you can avail the Starter Kit! 2) Have you downloaded the app before but haven't made any purchase yet? If yes, then you can also avail the Shopee Starter Kit! The Shopee Starter Kit (with the free gift and Exclusive deals) may be availed as long as it is your first purchase. BUT WAIT. THERE'S MORE!
Claim this Shopee Voucher Code Upon Your First Purchase

*Sponsored by Shopee 1. Enjoy PhP 80 off. Minimum spend of PhP 400. 2. Valid for 7 days from date of issue. 3. Valid for one-time use only, Valid for first order only. 4. Promo code must be entered at checkout page. 5. Valid on Orders to be Delivered via Integrated Couriers. 6. For New users
If you have just recently downloaded the app and have not made any purchases yet, you can also use this special welcome voucher code from Shopee! Be sure to hurry, though, since you can only avail this Shopee voucher within 7 days of registering! With the many discounts, deals, and freebies Shopee has to offer, online shopping has become more affordable and more convenient! What are you waiting for? Tell your friends and family, and avail the free gift, exclusive deal, and voucher code! If you're not a new user anymore, you can still avail Shopee voucher codes by visiting the Shopee Blog and waiting for our surprise Shopee voucher code releases at the end of selected blog articles. So, download the Shopee App on the App Store or Google Play today and happy shopping!
Comments