If you love shopping online, you've come to the right place! Shopee is an online marketplace with a wide range of categories to cater to everyone's lifestyles. Download the Shopee app today to get freebies and exclusive online deals! The Shopee Fam is a fun and welcoming community, so learn how to redeem your free gift on Shopee now!
Get the Shopee Starter Kit in 5 Easy Steps
1) Download the Shopee App via App Store or Google Play
New users get to enjoy a Shopee Starter Kit, full of special deals and exclusive vouchers. Keep reading to learn how to redeem your Shopee Welcome Package!
2) Find your Shopee Starter Kit through 3 different ways
Once you've registered for an account, you can find a website banner that will redirect you to the app as seen below: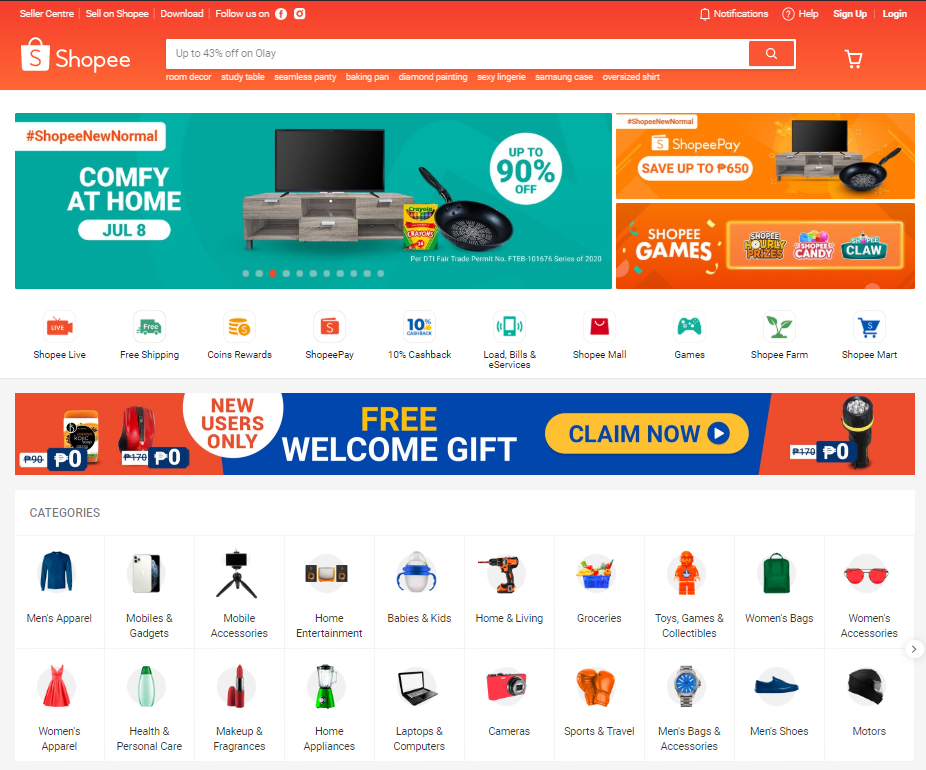 Open the Shopee app on your device and click the pop-up banner to redeem your free gift!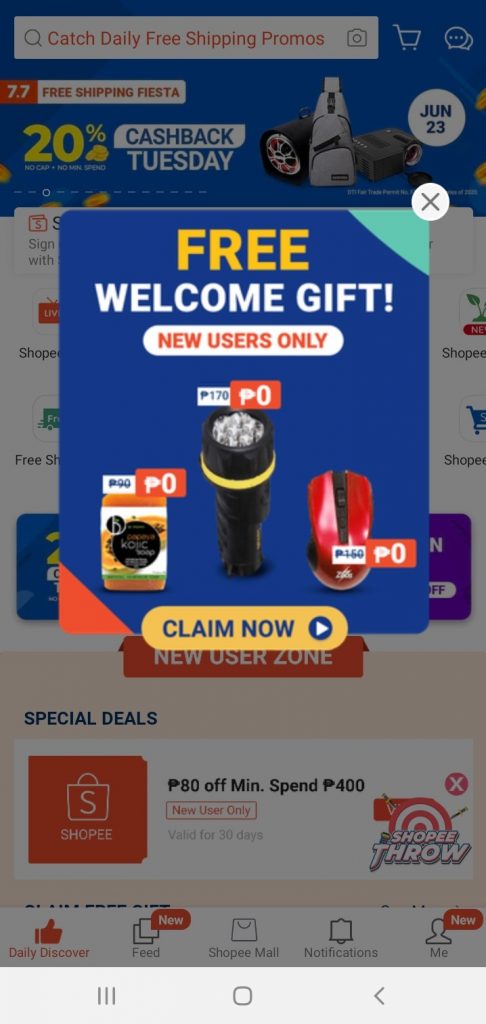 You can also find the New Use Zone on the homepage itself: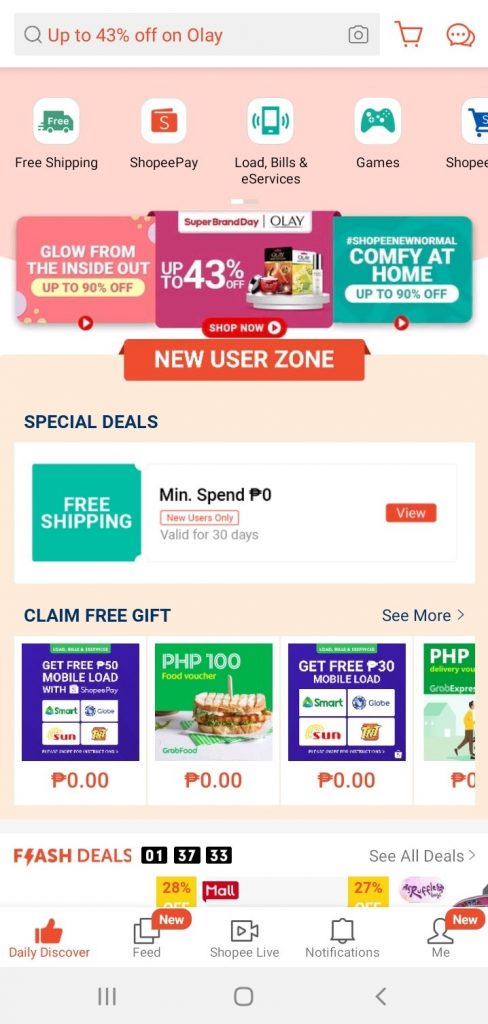 3) Enjoy your Shopee Welcome Package!
As a way to say thank you for joining us here on Shopee, new users get the chance to choose between two perks!
Choose a Special Gift:
Head on over to the Special Gifts tab to choose from the free items available on that day.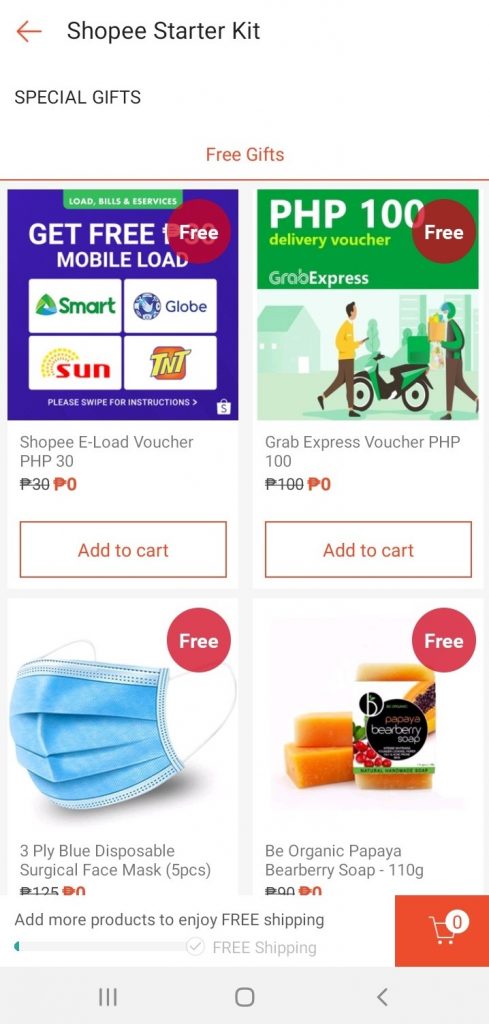 Shopee Free Gifts for New Users:
₱30 e-load vouchers
₱50 e-load vouchers by activating ShopeePay
₱100 GrabFood and GrabExpress vouchers
Physical items across different categories like surgical masks, papaya soap, or even a sack of rice!
*Physical items are subject to change without prior notice, depending on availability
Or use Vouchers on your first purchase:
If none of the Special Gifts interest you, you can redeem special new user vouchers for your first purchase!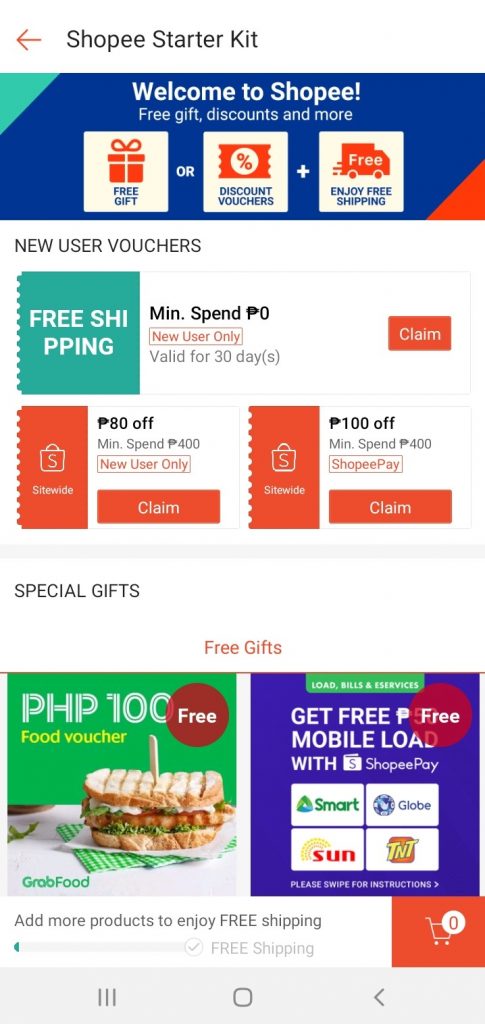 Shopee New User Vouchers:
Free Shipping Voucher – ₱0 minimum spend, capped at ₱100
Discount Voucher – ₱80 off, ₱400 minimum spend
ShopeePay Discount Voucher – ₱100 off, ₱400 minimum spend
Enjoy your Discount Voucher or ShopeePay Voucher and pair it with the Free Shipping Voucher to save more on your first Shopee order!
Who Can Avail the Shopee Welcome Package?
1) Are you a new user?
If yes, then you can avail the Starter Kit! 
2) Have you downloaded the app before but haven't made any purchase yet? 
If yes, then you can also avail the Shopee Starter Kit! 
As long as you haven't made a purchase yet, you can avail of the Shopee Starter Kit (free gift and new user vouchers). 
BUT WAIT. THERE'S MORE!
With the many discounts and freebies Shopee has to offer, online shopping has become more affordable and more convenient! What are you waiting for? Tell your friends and family and avail your free gift and voucher codes! Yet the fun doesn't end there. Even if you're not a new user anymore, you will discover that Shopee is a fun place that gives promos, discounts, and vouchers regularly! Check out our Lowest Price Guaranteed feature and daily Flash Deals for ultimate savings! Read up on Hacks You Should Know When Playing Shopee Games for the chance to win coins, vouchers, and more. Experience shopping like no other only on Shopee Philippines!
Comments