No matter what breed or age, your dog is going to have a chewing habit. It's simply one of their natural instincts! Chewing is one of their ways to combat boredom and relieve stress. So before they start eyeing your house slippers or furniture, buy chew toys for your dogs as soon as you can! Whether you have a teething puppy or a bored doggo, the best chew toys should keep them occupied for hours on end. Read on for our top picks on chew toys for dogs and a quick guide in choosing one!
How To Choose The Right Chew Toy For Your Dog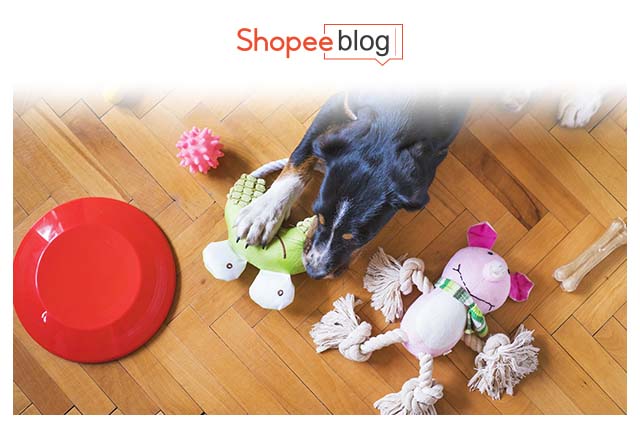 1. Consider Your Dog's Chewing Style
Like humans, dogs have different personalities too. You'll see that just by observing how they chew! Most dogs are average chewers who enjoy playing with almost any kind of chew toy. But there are also the nibblers who tend to eat their dog treats in small, gentle bites. And let's not forget the aggressive chewers who eat dog food with the most passion! Knowing your dogs' chewing style will help you pick the safest and most fun chew toy for them. For instance, nibblers will enjoy plushie chew toys while aggressive chewers may love rubber toys more.
2. Avoid Hard Chew Toy Materials
Since not all chew toys are made equal, some of them can damage your dog's teeth and gums. If you're buying them online, your safest bet is on rubber toys, stuffed toys, chew balls, and rope toys for dogs. For those who plan on buying from physical stores, you can do a quick knee-cap test to see if the toy won't hurt your dog. If you hit your knee with the toy and it hurts, then it is probably too hard for your dog to chew on!
3. Choose An Appropriate Size
Be wary of your dog's size before choosing a chew toy for them. Some toys are too small for large breeds which could be a choking hazard for them. On the other hand, chew toys can be too big to fit comfortably in the mouths of small dogs, which may even leave them frustrated. So make sure to check the toy measurements when buying chew toys for dogs online! 
4. Don't Forget Its Entertainment Value!
Get to know your dog well enough to make a smart guess on what type of chew toys would really keep their attention. Depending on what your dogs like doing the most, you can choose among chew toys like interactive toys and treat-dispensing toys.
Best Chew Toys For Your Dogs That'll Entertain Them For Hours
1. Gigwi Bulb Treat-Dispensing Chew Toy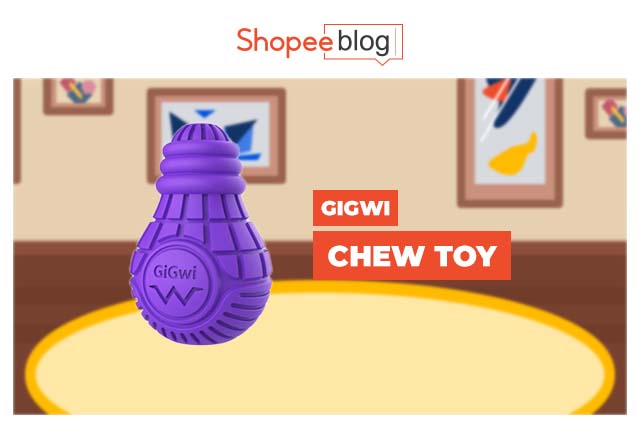 Extend your dog's playtime when you buy them a treat-dispensing chew toy! The Gigwi Bulb treat-dispensing toy is designed to hold in a huge amount of treats to keep your dogs busy. Its rugged exterior will also help clean your dog's teeth and gums whenever they bite into it. The toy is made from food-grade rubber so they won't ingest anything toxic along with the treats. Available in three different sizes, pick a Gigwi Bulb that is most appropriate for your dog's breed! 
2. Smart Tug-Of-War Chew Toy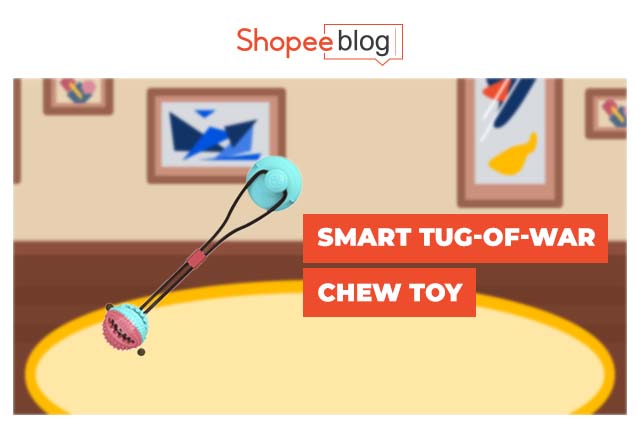 Some dogs tend to be more active than others, and one way to entertain these playful doggos is by playing tug-of-war with them! If you can't be there all the time to play, this smart tug-of-war chew toy will do wonders in holding your dog's attention. The spiked ball will also serve as a dental toy for your dogs. Simply attach the suction cup to the ground and watch your dog happily play by itself! 
3. Doggo Rattan Ball Toy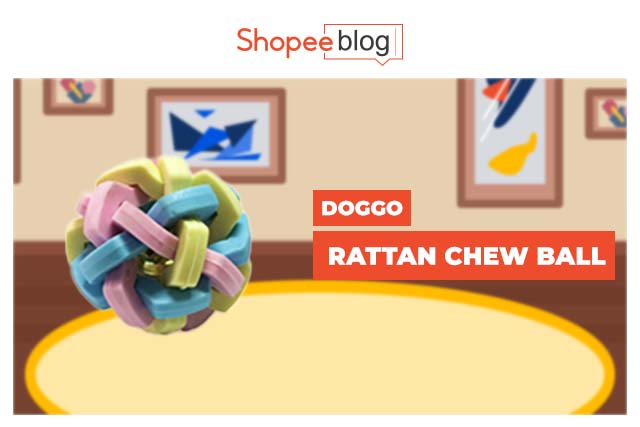 Do you have a runner in the house? If your dogs have frequent zoomies (or frantic running and spinning) at home, the Doggo Rattan Ball Toy is the perfect option for them! This chew ball can withstand aggressive chewing with its soft but durable rubber. It also comes with a bell inside which will certainly capture your dog's attention. You can also put a few treats inside if you wish!  
4. Large Rope Dog Toy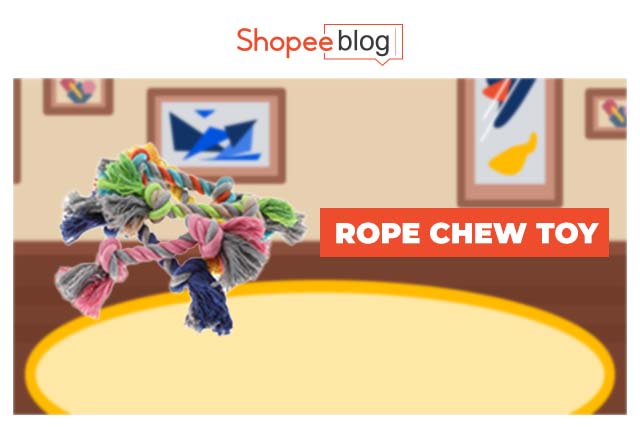 Rope toys for dogs are a good option if you can give undivided attention to your dogs frequently. These large rope toys for dogs will hold out even against rough playtimes with your large dogs! While rope toys are generally safe, it's best to avoid leaving your fur babies alone with these toys to prevent them from pulling out and eating the strands. 
5. Natura Nourish 2-in-1 Dental Chew Bone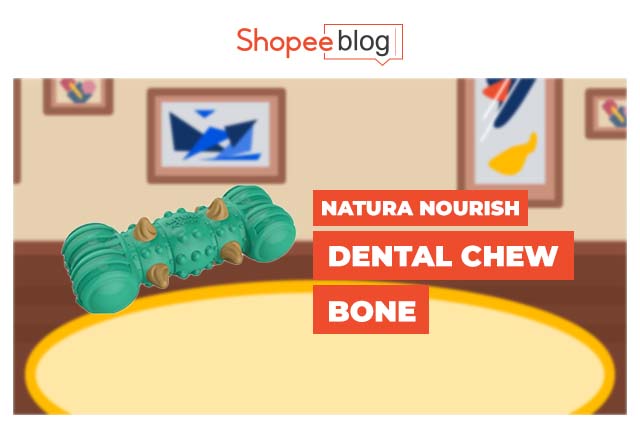 Dog bone toys are probably the most common option out there, which will leave you with a plethora of options to choose from. You might as well pick a dog bone toy that can almost do it all, like the Natura Nourish 2-in-1 Dental Chew Bone! These rubber bones double as a dental toy with their unique, digestible spikes. You can also put in more bite-sized healthy food for dogs and make your dog work hard for them!
6. Soft Animal Plushies With Whistle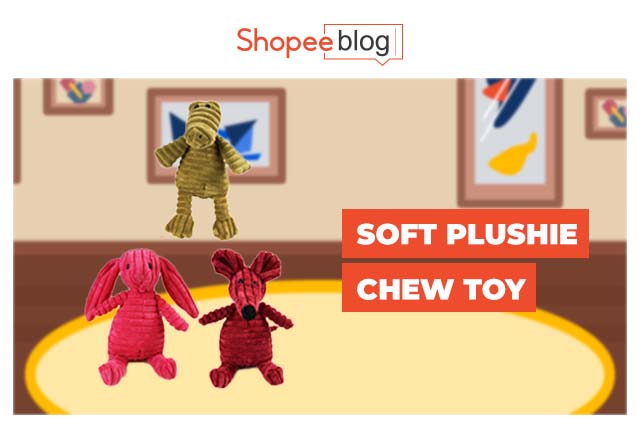 Stuffed dog toys are the best choice for small breeds as these are completely safe for their teeth and are less likely to be destroyed by small dogs. Made with corduroy fabric, these animal stuffed toys for dogs support teeth-grinding and are incredibly bite-resistant. They also produce adorable sounds when squeezed, so they're guaranteed to grab your pup's attention! 
7. Nylabone Flavored Puppy Chew Toy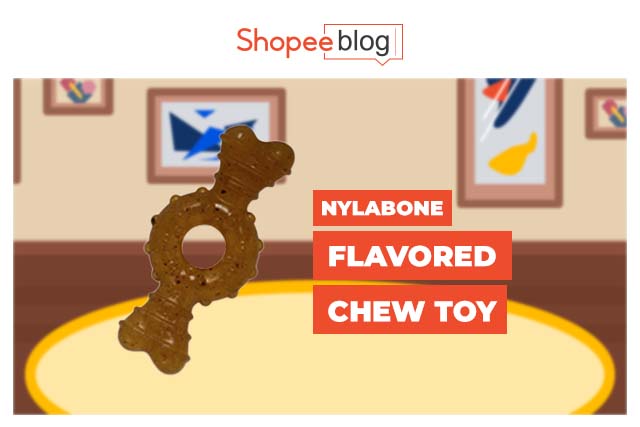 Are you looking for a fail-safe teether for your puppies? You can't go wrong with choosing Nylabone Flavored Puppy Chew Toys! Specially designed for puppies, these are both soft and firm to safely soothe your pups' gums and prevent tartar buildup. Not to mention, these teethers have an aromatic chicken flavor coating that will have their tails wagging in delight! 
Raise A Happy And Active Doggo With The Best Chew Toys For Dogs!
Chew toys should never go missing in your fur parent checklist. From indestructible dog bone toys to soft teethers for puppies, you'll find the perfect chew toy for your dogs here on Shopee Philippines. While you're at it, discover the best dog food brands and other pet essentials to let your dogs live the best lives they deserve!
Comments