Ready to gear up for your next adventure? Whether you've taken a liking into biking as a form of transportation or a hobby, taking safety precautions is a definite must. Safety should always come first! Aside from the usual helmet, there are more bike protective gears out there that you should definitely have when biking. Lucky for you, we've rounded up a list of bike protective gears that will keep you safe as much as possible whenever you're out for your bike rides! 
7 Bike Protective Gears to Keep You Safe
1. Helmet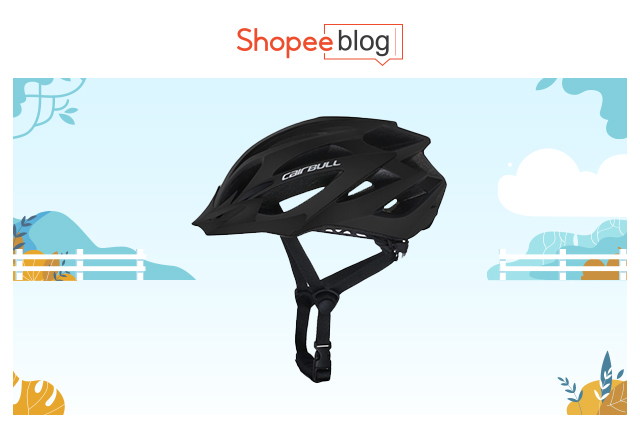 Credit: Lueaspy Official Store
Wearing a helmet when you're out biking is a no brainer. Bike helmets are there to protect your head from bumps and crashes in the event of an accident. When shopping for a bike helmet, make sure that you buy a helmet that's suitable for the type of cycling that you do. If you like mountain biking, grab a mountain bike helmet! It's essential that you get the right type of helmet to ensure that you are fully protected, given that helmets vary in style based on the type of cycling. On top of that, the helmet should fit your head perfectly. Loose helmets are a big no-no! 
Starting out on mountain biking? Check out the Lueaspy Cairbull Mountain Bike Helmet! Aside from its sleek style and stunning colors, it's made of high quality materials that have great impact absorption. Make sure to get one in your size and wear it snugly on your head!  
2. Knee pads and elbow pads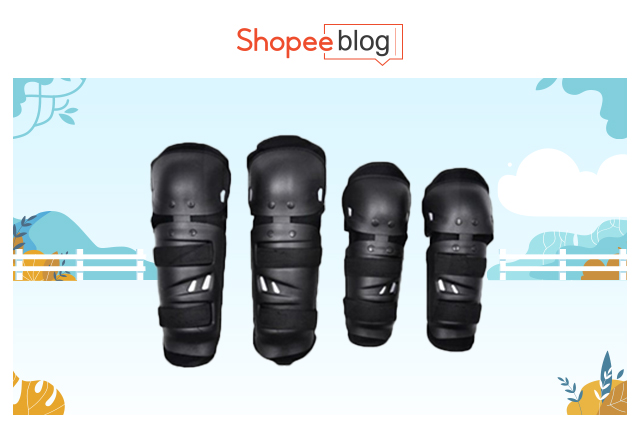 Credit: Hundred Motor Parts Supply
Bike protective gears aren't just about helmets! Knee pads and elbow pads are at the top of the list too! In the event of an accident, wearing knee pads and elbow pads will break your fall as they act as a cushion between the ground and your knees and elbows. And just like helmets, it's essential that you get the right kind of knee and elbow pads based on the type of cycling that you're doing! Some have extra hard padding, while others don't! It all depends on what kind of pads you need. 
Fancy some knee pads without hard padding? Take a look at this West Biking Bicycle Knee Pad. It's made of nylon, latex, and spandex to make it comfortable and breathable for you! Plus, it's non-slip so you won't have to worry about it moving below your knees while you're biking. To make it even more worth your money, you can use these knee pads for other sports like volleyball and even soccer!  
3. Gloves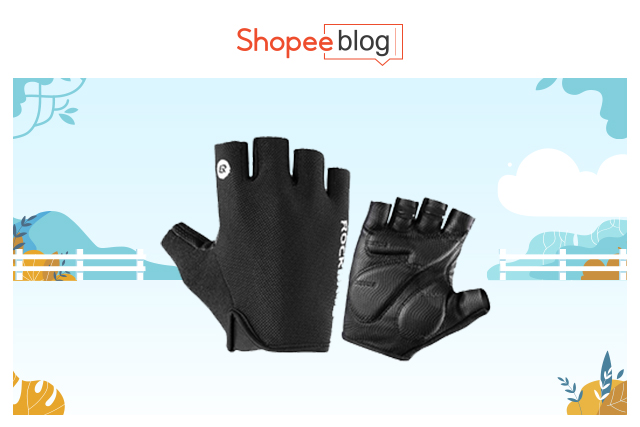 Credit: Yasuo Motorcycle Accessories
Being able to have full control of the direction of your bike is extremely important. Bike gloves have a huge hand in helping you do just that! While biking, it's inevitable to get sweaty palms – especially in this humid weather! Sweaty palms make it challenging to get a grip on your bike handlebars. That's when gloves come in to save the day! With gloves, you can still have control over your bike even if your palms start to sweat. In addition to that, gloves also protect your hands! If you fall, chances are that you will spread out your hands as you meet the ground. Gloves will protect your hands, especially if they're padded! 
There are all sorts of bike gloves out there – some with half finger coverage, also known as fingerless, and others with full finger coverage. All you have to do is take your pick on whichever you prefer! On the hunt for the perfect half finger bike gloves? The X-TIGER Wind Cycling Half Finger Gloves are a definite must-try! With non-slip features and breathable material, you'll definitely get a good grip on your bike handles. It doesn't end there! These bike gloves provide the compression and support that you've been dreaming of. Embark on longer rides with ease, thanks to these gloves! 
4. Glasses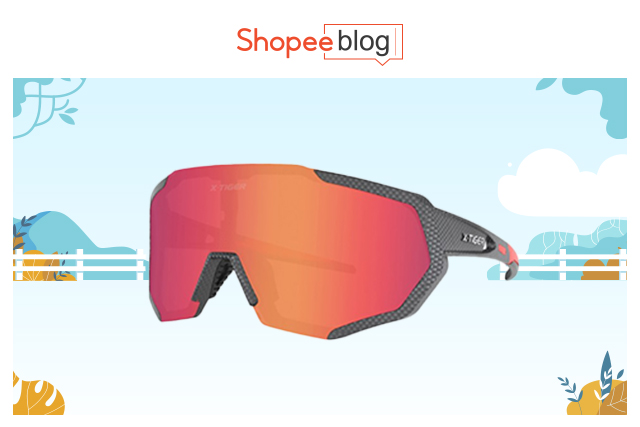 Credit: X-Tiger Official Shop
The last thing that you want while cycling is for your vision to be compromised due to certain small debris flying into your eye. Say goodbye to that possibility with bike glasses! Aside from protecting your eyes, bike glasses with polarized lenses also reduce the harsh sun rays – especially if you're biking on a sunny day. You can find bike glasses that come with UV protection to further protect your eyes while providing better visibility. 
Check out these Rockbros Mountain Bike Cycling Sunglasses that don't only look cool, but also have UV protection! There are a ton of bike glasses for sale on Shopee Philippines that vary in style and color. Although, if you love to bike at night, it's best to stay clear of bike glasses that have dark tinted lenses. Otherwise, it will be hard for you to see what's in front of you!  
5. Reflectors
Credit: Amoucese PH
Chances are, you're not the only one on the road! You'll certainly find yourself biking next to fellow cyclists, pedestrians, cars, and other vehicles. To ensure that they see you clearly, it's best to have a reflector on your bike. These light-reflective materials will help others on the road to see you so they don't bump into you. You can find all sorts of reflectors for different parts of your bike, including reflectors that you can wear! The rule of thumb when it comes to attaching reflectors is to put them on your bike handlebars and your seat. Putting it on other parts of your bike is completely up to you! 
Stay safe with these bike reflectors that you can easily attach to your bike! You can also find bike reflectors that you can attach on your wheels for added visibility. With the broad collection available, you'll certainly find bike reflectors that suit your needs! 
6. Lights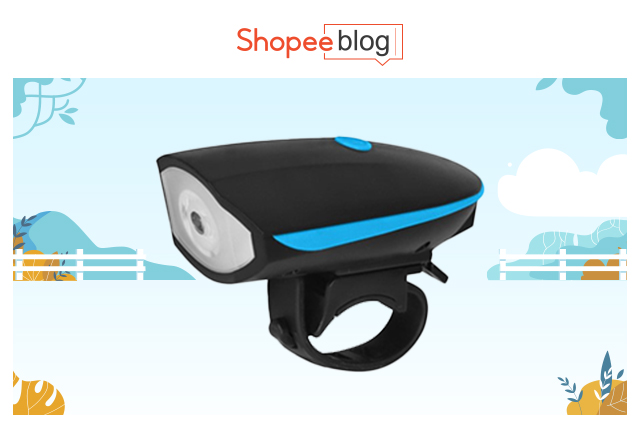 Credit: Lueaspy Official Store
Aside from being seen by others on the road, being able to see others too is just as important! So make sure that you have lights attached to your bike too! Having a headlight and a rear light will do the trick. The headlight is for you to be able to see what's ahead of you. Headlights are often attached to your handlebar so they can provide visibility in front. When buying a headlight, make sure that it has a good battery life to ensure that it won't die out in the middle of a ride. It's also essential that it's weatherproof and that it provides the right amount of brightness – whether you're biking in the rain, at night, or whatever the weather may be! As for the rear light, it's an added light that goes hand in hand with your seat reflector so others can see you! 
Take a look at this Lueaspy Light With Loud Bike Horn. As its name suggests, it comes with a horn too! It's like hitting two birds with one stone! Who wouldn't want that? At an affordable price, you get a two-in-one light and horn. The only thing left to do is to add this to your cart and shop now! 
7. Tool Kit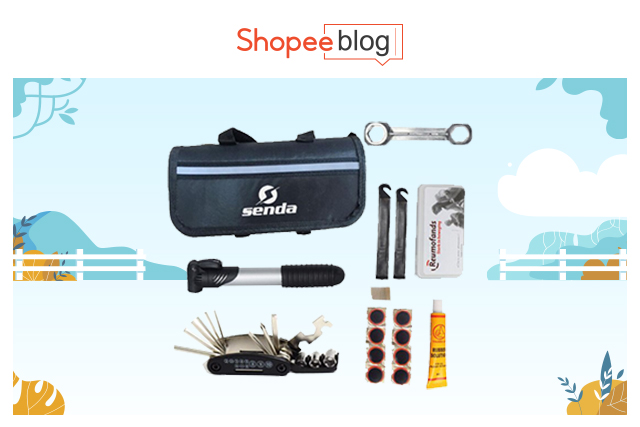 Credit: Ledstar PH
Bike tool kits may not be on the front lines of keeping you safe, compared to helmets and other bike protective gears listed above. But tool kits help you fix any potential issues to minimize the possibilities of being in an accident. You never know when you'll need to fix your bike chain, patch up a hole in your tire, or all sorts of mechanical fixes to your bike in the middle of a ride. That's why you should always have a tool kit with you that's ready to save the day! Most tool kits come in a small bag that you can easily attach to your bike. 
It's about time that you buy yourself this Ready to Use Bike Tool Kit! It comes with a wrench, tire repair glue, mini pump, and more tools that you'll definitely need. No adventure is complete without this in hand! 
Embark on Safer Adventures with these Bike Protective Gears
What else are you waiting for? Make memories with every bike ride while staying safe with these bike essentials. Still in a bind as to whether you should buy a mountain bike or an electric bike? Check out this list of mountain bike brands and the Complete Guide To Buying Electric Bikes Or E-Scooters to help you make that decision!
Comments