Being a new parent definitely comes with challenges. Running around, sleepless nights, and the countless diaper changes. Even more worrying when your little one's sensitive skin develops a diaper rash that causes them to wail in discomfort. If baby diaper rash is something you are experiencing with your newborn, read on for our tips on how to treat this skin condition. We've also included a mini guide on how to change diapers, as well as the best diaper brands that just might help your baby be more comfortable in his or her skin!
How to Treat Baby Diaper Rash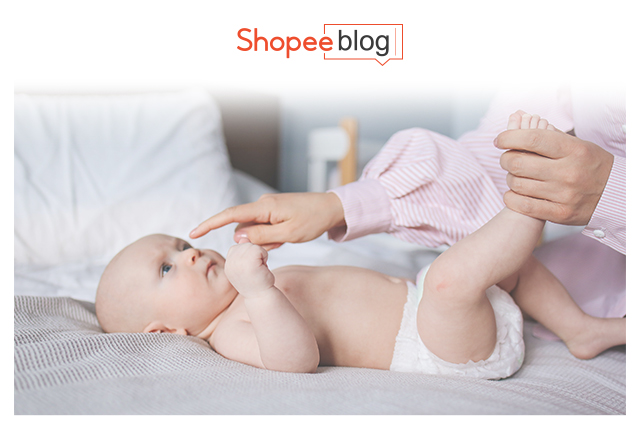 Credit: Polina Tankilevitch / Pexels
Baby diaper rash is more common than you think! But, you don't have to worry too much about it because there are simple home remedies that you can do. Before turning to creams and prescribed medicine, the first step to prevent baby diaper rashes is to keep your baby clean and dry as often as possible. This includes using the best diaper brands, changing your baby's diaper once it's wet and soiled, and short periods of naked time for your baby. Giving your baby a bath everyday when they're still experiencing rashes will be very helpful too. Just make sure to use a soap that's fragrance-free and warm water! If baby diaper rashes still persist, that's when you can start using diaper rash creams. Make sure to consult with your pediatrician before doing so!
11 Diaper Hacks That Every New Parent Needs to Know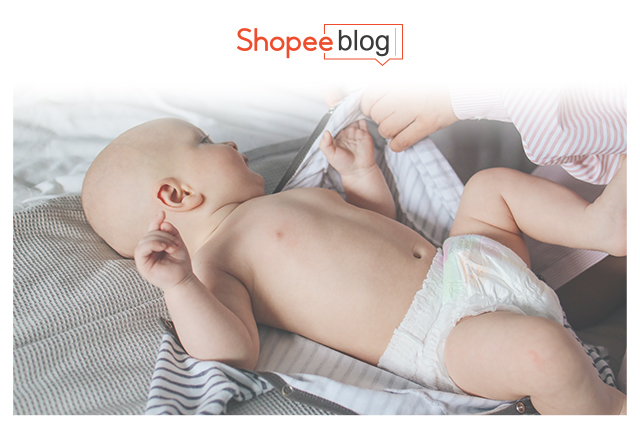 Credit: Polina Tankilevitch / Pexels
1. Use coconut oil for meconium
Your baby has been storing up poop the entire nine months in your belly. When your baby gets rid of this poop, it's tar-like, black, and hard to clean up. Meconium is the name of this kind of poop. But, fret not because this will only last a few days, thankfully! In the meantime, to properly deal with this, use coconut oil to clean up your baby. Coconut oil helps remove it better and quicker compared to your usual baby wipes which will just smear things around. The antioxidant and anti-inflammatory properties which coconut oil contains helps you do just that, among many things. On top of that, coconut oil is healthy and gentle enough for your baby's sensitive skin. You can opt to use olive oil too if you don't have coconut oil at home. 
2. Keep an eye out for the blue line
Most diapers have a strip in front which turns to a certain color, usually blue, to indicate that the diaper is full. Once you see this colored line on your baby's diaper, it's time to change your baby's diaper! You don't want to leave your baby wearing a wet and soggy diaper or else they'll end up crying and worse, it could lead to rashes. You and your baby wouldn't want that! 
3. Use a toy for distraction
While you're changing your baby's diaper, it would be a huge help to keep them distracted. At a certain age, most babies move and wriggle around. Designate a certain toy, like a teether or pacifier as the "diaper change toy". Give it to your baby to keep them busy because the last thing that you want is for your baby to wriggle while you're trying to clean them up, especially when poop is part of the equation. Whichever toddler toy you choose to give, make sure that it's small enough that your baby can hold and play with it as you change the diaper. Don't forget to put your baby's diaper change toy in the diaper bag so it will be easy for you to grab and give to your baby when it calls for it! 
4. Use the onesie for immobilisation
If a toy is not enough to keep your baby busy, then use their onesie to immobilize them! Simply unclip the onesie from the bottom and lift it to cover your baby's arms. With their arms tightly but comfortably tucked in by the onesie, they won't be able to move as much! You'll then be left in peace to quickly clean your baby up and change their diaper. 
5. Remove a onesie using its shoulder flaps
Poop blowouts can be a nightmare. But, it is inevitable. So when it does eventually happen to your baby, this hack will come in handy. With a soiled and dirty onesie, you surely wouldn't want to remove it by lifting it over your baby's head. What you can do instead is to pull the shoulder flaps of your baby's onesie outwards to open it then pull it down to remove it from your baby. Tada! Just a soiled onesie but a rather clean baby!  
6. Wipe your baby's tummy with a baby wipe
More often than not, in the exact moment that you remove your baby's diaper, your baby will end up peeing. That's because the sudden cold temperature from the removal of the diaper will trigger your baby to pee. To prevent this from happening, grab a baby wipe like the Tiny Buds organic baby wipes. These wipes are organic and alcohol free which are perfect for your baby! Check out other baby wipes too like the Baby Tender baby wipes and the Pampers sensitive baby wipes. These wipes have gentle ingredients that won't harm your baby's sensitive skin. Wipe your baby's belly with a baby wipe to make your baby pee. Once that's done, wait for a bit and then proceed in removing your baby's diaper. Gone are the days of you fearing getting peed on when changing your baby's diaper! 
7. Place a clean diaper under the dirty diaper
One of the biggest mistakes that new parents make is to remove the dirty diaper without putting a safety net underneath – a clean diaper. Make sure to never forget to do this very essential hack. In case you forget to wipe your baby's belly with a baby wipe first before removing the diaper, this hack will serve as your backup plan. All you have to do is lay your baby on a clean diaper, remove the dirty diaper, wipe your baby, then put on the clean diaper underneath them. You'll finish changing your baby's diaper in no time! 
8. Use lotions and cream to treat a baby diaper rash
Most of the best diaper brands have baby lotion in their diapers to prevent baby diaper rashes. But sometimes, this is not enough. If you've done all the home remedies mentioned in the beginning of this article yet baby diaper rashes still persist, then you'll have to apply a diaper rash cream. Get your very own Drapolene cream or the Cycles sensitive protective diaper cream. These are widely sought after because they are one of the most effective ways on how to cure diaper rashes. To avoid getting it everywhere, use a small plastic spatula or a makeup brush to apply it to your baby. This may also spare them from any irritation and pain upon application. Don't forget to moisturize your baby too! Johnson and Johnson have great Johnson's Baby lotions that you can use on your baby. The Aveeno Baby Daily Moisture Lotion is a great choice because it's gentle, moisturizing, and fragrance-free which won't irritate your baby's sensitive skin. Rest assured that you're giving your baby the best care with Aveeno! 
9. Use larger diapers at night
To lessen the frequency of diaper changes at night, one hack is to let your baby wear a larger diaper compared to their regular day diaper. Because of the larger size, larger diapers have a greater capacity to contain more pee. You won't have to change your baby's diaper so often at night and this will also prevent leakage! There are also overnight diapers that ensure no leakage and maximum absorption. Make sure to have these in stock at all times! 
10. Buy a night light
When you're changing your baby's diaper at night, the last thing that you want to do is to open up all the lights and completely wake your baby up. Because yes, it is possible to change your baby's diaper (especially if they're a newborn) without waking your baby up. Having a night light will come in handy because you'll get the right amount of light needed for you to see so you can change your baby's diaper. And just the right amount of light that won't wake your baby up. It's a win-win! 
11. Buy a portable changing mat and diaper basket/bag
You won't always be changing your baby's diaper at home. There will be times where you have to do it in a public restroom or even in your car. When this happens, having a portable changing mat for your baby to lie on is the most hygienic option that you have. You wouldn't want to let your baby lie down on some nasty stuff! Plus, a portable diaper basket or a diaper bag will come in handy too. Make sure that your diaper basket has everything that you need when changing your baby's diapers. Extra diapers, clothes, wipes, plastic for dirty diapers, lotions, creams, hand sanitizer, and a portable changing mat are must-haves in your diaper basket! 
The Best Diaper Brands for your Baby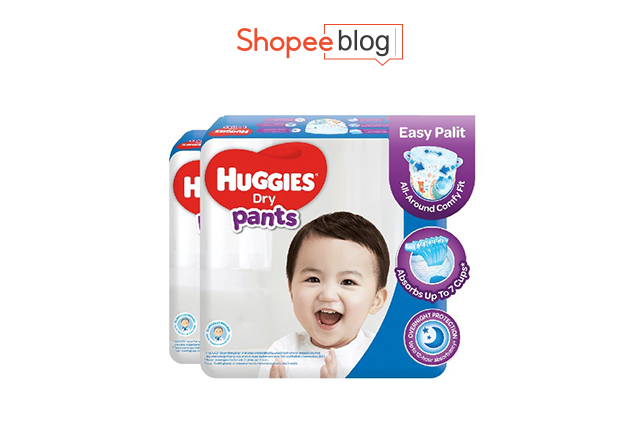 Credit: Huggies
Another diaper brand that you surely don't want to miss out on – Huggies! Inspired by a mom's hug, Huggies promises to give your child the best quality diaper that outperforms all other brands. From Huggies Dry Pants to Huggies Ultra Diapers, you'll surely find the perfect diaper for your child! You won't have to worry about diaper rashes, leaking, or an irritable baby caused by diaper problems. Huggies has diapers for newborns up to XXL. Do note that with Huggies diapers, the diaper size depends on the weight of your baby. If you're looking for swimpants, make sure to check out and buy the Huggies Little Swimmers Swimpants too!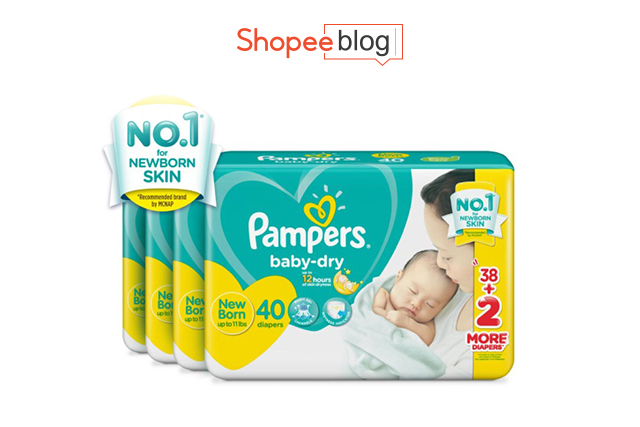 Credit: Pampers
As parents, you only want the best for your baby. This is why you need to know the best diaper brands in town. Pampers is definitely one of them! They have the best quality diapers for all ages. For newborns, the Pampers Baby Dry Taped Diapers are perfect! These diapers are thinner than most yet ensures to keep your baby's skin dry with the help of its breathable cottony covers and magic gel channels. This will also prevent baby diaper rashes from happening! If you're looking for a larger size version of these diapers, worry not because Pampers has the Baby Dry Taped Diapers in Medium and Baby Dry Taped Diapers in Large. It also has a wetness indicator which turns blue if it's time for a diaper change. And, it has stretchy tapes that can keep your baby's diaper snug throughout the day! If you want a quick diaper change without having to secure the diaper tabs, you can opt for Pampers easy palit pants. Just pull the diaper up as you would with regular pants! These Pampers Baby Dry Diaper Pants in Large and Baby Dry Diaper Pants in XL have baby lotion in them which can help prevent diaper rashes. Just like the Pampers Premium Care Diaper Pants, the Baby Dry Diaper Pants have adjustable waistbands to secure your baby's diaper. At night, you can let your toddler wear the Pampers Overnight Diaper Pants to ensure a good night's sleep for you and your baby!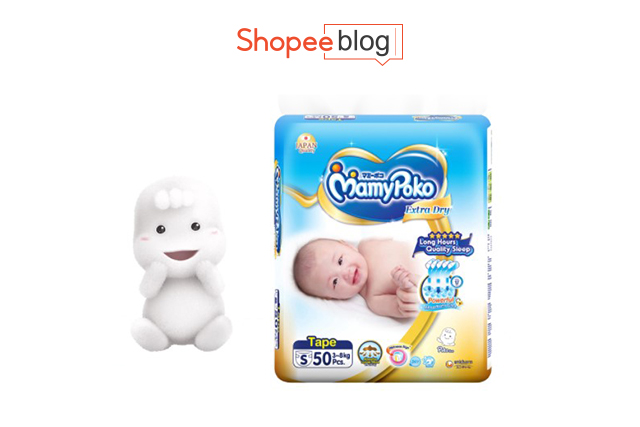 Credit: Mamypoko
Another best diaper brand that has been gaining popularity is Mamypoko. The MamyPoko Extra Dry Tape in Small is perfect for babies that weigh from three to five kilograms. This diaper's absorbent core is so powerful that it can absorb pee for up to 12 hours! Its breathable material allows your baby to sleep peacefully and can also prevent baby diaper rashes. Mamypoko also has Easy To Wear Pants in Medium and Easy To Wear Pants in Large. You won't have to deal with leakage with these diapers because of its all-around leakage protection! Plus, you can possibly say goodbye to baby diaper rashes thanks to these! For toddler boys who fall in the range of 18-35 kilograms in weight, buy the MamyPoko Extra Dry Pants Boy XXXL. This diaper will be able to keep up with all of the activities that your toddler will be doing throughout the day!
Save More on Diapers Now!
 You no longer have to step outside just to buy diapers for your baby. Simply add to cart and buy on Shopee and it will be delivered straight to your doorstep. To make it even better, you can buy the best diaper brands that can prevent baby diaper rash which are 100% authentic on Shopee Mall! Don't forget to also keep an eye out on great discounts and vouchers. Stock up on those diapers and save more when you shop on Shopee! Also, check out the Guide To The Best Formula Milk For Infants to help you out in the milk department and you'll also know which formula milk to get for your baby. Don't forget to also check out Shopee Mom's Club for awesome deals and discounts for kids' essentials!
Comments