Surround sound is one of the best parts of watching movies on the big screen! Lucky for you, you can bring this nifty audio feature to your home with a good set of speakers and soundbars. There's nothing quite like immersing yourself in the media, and a surround sound system is the best way to achieve that! Whether you enjoy watching movies, listening to music, playing games, and even singing at the top of your lungs with a karaoke at home–upgrading your sound system is an investment that is definitely worth your money. As long as you shop the right home theater speakers with 5.1 or 7.1 surround sound, setting up a surround sound system is very easy! On Shopee Philippines, you can find a wide array of home theater speakers and soundbars for sale, and we're here to introduce you to some of the best ones!
Best Home Theater Speakers for Surround Sound
When it comes to building a surround sound system, you can't go wrong with home theater speakers! These already come in sets so that you can rest easy knowing that everything is compatible. With the right set of speakers, you can achieve that Dolby Atmos experience you get in the movie house. Immerse yourself in your favorite media and turn one room of your home into the ultimate entertainment hub with surround sound!
Logitech Z607 Surround Sound Speaker System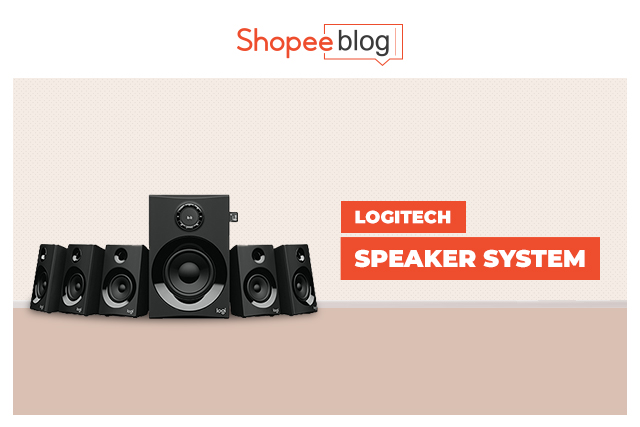 The Logitech Z607 is definitely one of the best home theater speakers out there! It comes with six different speakers that you can set up around your room for the ultimate surround sound experience. More than that, the Logitech Z607 has a card reader and USB slots so that you can easily jam to your favorite songs with high-quality audio! You can even tune in to the FM radio to listen to your favorite station. What more could you ask for? It goes without saying that the more speakers you have, the more accurate your surround sound will be. Feel the difference with this surround sound speaker system and treat yourself to the Logitech Z607 today!
ACE SUB-96AC Multimedia Speaker System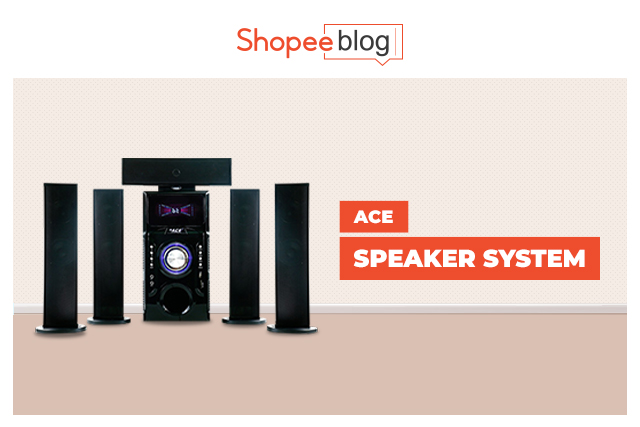 Another great choice is the ACE SUB-96AC which comes with five units! Place your subwoofer (the largest one) directly in front of you, while the other speakers go into the four corners of your room. This way, you get to experience 5.1 surround sound for when you watch your favorite movies and shows! This home theater speaker supports USB, Bluetooth, and auxiliary outputs. It even comes with two microphone slots for when you want to bust out the karaoke or videoke machine! The perfect surround sound system is one that supports as much media as possible. The ACE SUB-96AC can also tune into AM/FM radio. If you're looking for one set of speakers that can do it all, this is the perfect one for you!
Promac MMS-5145BT Multimedia Speaker System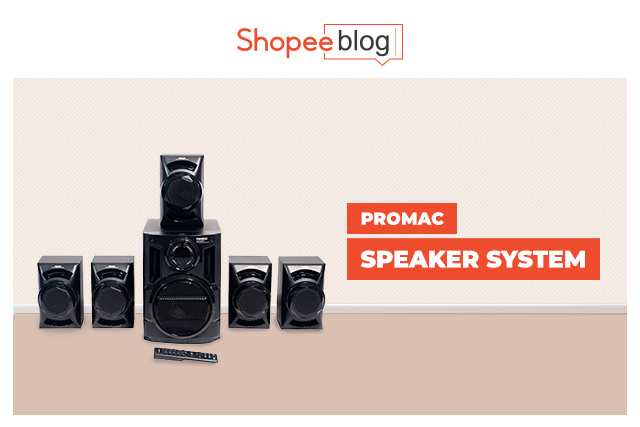 Last but not the least, we have the Promac MMS-5145BT! Similar to the aforementioned speakers, this set supports USB, Bluetooth, and FM radio. The Promac brand is well known for its crisp sounds, so you won't regret adding this one to your cart! With a 5.1 surround sound feature, this is one of the easiest ways to achieve a surround sound system for your entertainment room in a jiffy! The Promac MMS-5145BT also comes with an LED display and remote control so that you can easily control your volume and adjust your EQ settings from your favorite lounging spot. While this set already comes with output cables, you might want to plan out your set up first in case you'll need longer sets! Of course, thanks to the Bluetooth feature, you can even go completely wireless if that's your preference. 
Best Soundbars for Surround Sound
While home theater speakers are nifty, you might prefer something more simple! A soundbar is the quickest way to improve your audio setup at home. It amplifies your audio and even comes with a built-in subwoofer for easy connection! These plug-and-play soundbars are perfect for easily achieving surround sound.
Platinum M60 Soundbar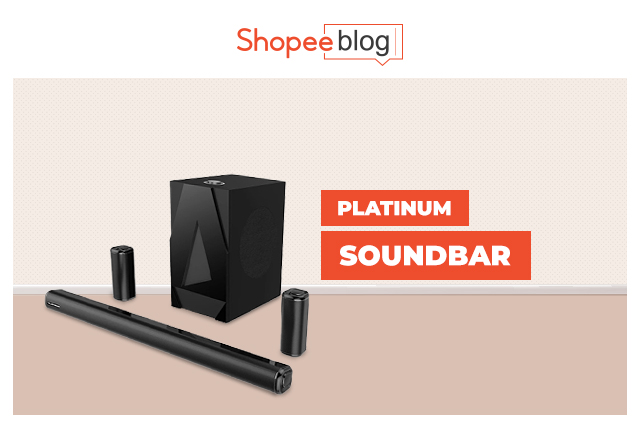 The Platinum Karaoke brand is, obviously, known for their karaoke machines, but did you know you could get great soundbars for them too? You can hit two birds with one stone with the Platinum M60 soundbar! The Platinum M60 soundbar comes with a subwoofer plus two mini speakers to make your surround sound dreams come true. It provides Bluetooth, USB, AUX, and optical cable outputs to make the setup even easier for you! We hope you're ready to turn your home into a live concert. Turn on your karaoke machine and queue your favorite songs with clean audio supported by the Platinum M60!
Sony HT-ST0R Home Theater Soundbar System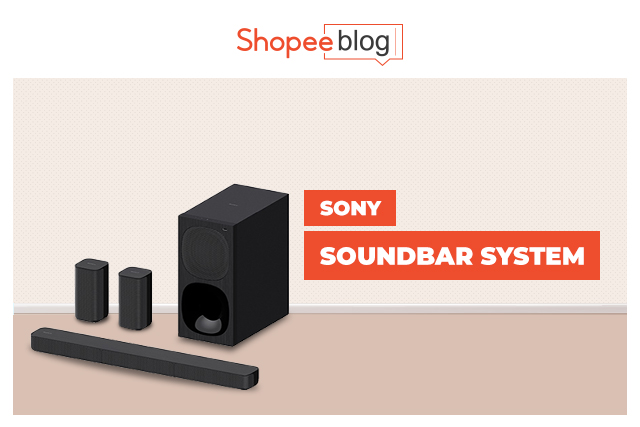 Another great soundbar brand is Sony! Get that surround sound system for your home with the Sony HT-ST0R. Similar to the Platinum M60 set, this soundbar system also comes with a subwoofer and two mini speakers! You can easily connect via Bluetooth or HDMI. The Sony HT-ST0R also has a ClearAudio+ feature to amplify your audio experience! This soundbar system automatically selects the best sound field to give you the best listening experience. For anyone who wants surround sound without having to study up on the nitty-gritty details, let the Sony HT-ST0R do all the work for you!
Sembrandt SB750 Soundbar with ESE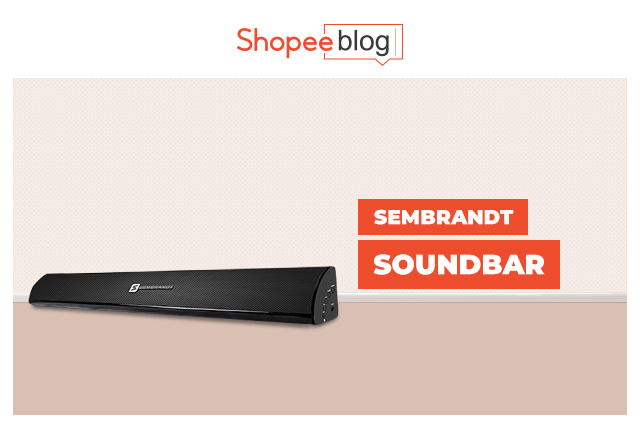 In case you aren't ready to splurge on a full-blown surround sound system, you can still get the same experience with the Sembrandt SB750 soundbar. Compared to all other audio units listed above, this one only comes with a single soundbar! How can you achieve surround sound with just one soundbar, you ask? The Sembrandt SB750 comes with a unique Epic Surround Experience (ESE) feature that guarantees premium audio quality! Since it has a built-in subwoofer, this soundbar can get all the lows, highs, and mids perfectly. You might not hear effects from the corners of your room, but the Sembrandt SB750 will be able to adjust the audio of whichever media and supply immersive sounds! This soundbar allows for wired connection through auxiliary cords as well as wireless connection with Bluetooth. Experience the depth of sound with the Sembrandt SB750 and shop online on Shopee Philippines today!
Turn Your Home into an Entertainment Hub
The best part about a surround sound system is that it's perfect for every type of media. There's nothing quite like immersing yourself in sounds! It's a completely different experience that you must treat yourself to, and the best part is that it's very easy to set up. Don't miss out on the chance to turn your home into an entertainment hub with a good set of home theater speakers or a soundbar! Enjoy audio quality like never before with discounted prices on all the best brands available on Shopee Philippines.
Comments