Looking for a sign to finally hop in on the trend and give Korean dramas a shot? You can't get a sign bigger than this! Relatable characters portrayed by talented actors, unique storylines that will get you hooked from the get-go, perfect soundtracks that will have you LSS – what's not to love about K-dramas? Throw in the talent and looks of Song Joong-ki into the mix and you're definitely in for a treat. Whether he has a main role or a supporting role, he'll surely dazzle on screen. Having been in the industry for over a decade, Song Joong-ki has a repertoire that anyone will enjoy watching – Vincenzo being the latest addition to it. Since Vincenzo is slowly coming to an end, we don't want to leave you hanging! Read on for a list of Song Joong-ki Korean dramas and movies that you should definitely binge-watch! Plus, this is a great chance for you to get to know other outstanding and likewise talented Korean actors who starred alongside him.
Don't worry, there are no spoilers ahead! But fair warning: these are extremely binge-worthy and you'll find yourself kilig and even more in love with Song Joong-ki! 
Watch These Song Joong-ki Korean Dramas and Movies
Korean Dramas
1. Vincenzo
Notable Cast: Jeon Yeo-been, Ok Taec-yeon, Kim Yeo-jin, Kwak Dong-yeon
Original Release: 2021
No. of Episodes: 20 episodes
Synopsis: Vincenzo Cassano (Song Joong-ki) is the adopted son of Don Fabio, head of the Cassano mafia. He's the trusted right-hand man of Don Fabio, a lawyer, and consigliere of the Cassano mafia. When Don Fabio dies and is out of the picture, his son Paolo attempts to kill Vincenzo. With the threat to his life, Vincenzo flees to South Korea where he seeks to get a huge amount of gold as his retirement fund. However, getting the gold isn't a walk in the park since it's buried under a building with interesting residents. He has no choice but to team up with Hong Cha-young (Jeon Yeo-been) who is a lawyer that will do anything to win a case. 
It's no surprise that Vincenzo has been in Netflix's Top 10 the past few weeks. Having a unique storyline with varying characters, featuring delicious Korean dishes including self-heating rice meals, and Song Joong-ki speaking a bit of Italian will get you to the top. Binge-watch this Netflix Korean drama now! 
2. Triple 
Notable Cast: Min Hyo-rin, Lee Jung-jae, Yoon Kye-sang, Lee Sun-kyung, Lee Ha-na, Kim Hee
Original Release: 2009
No. of Episodes: 16 episodes 
Synopsis: Lee Ha-ru (Min Hyo-rin) is an aspiring figure skater and decides to move in with her much older stepbrother, Shin Hwal (Lee Jung-jae) who lives in Seoul. Prior to moving in with her stepbrother, their parents died and she had to move to the countryside to live with her biological father. But in pursuit of her dreams, she moves to Seoul. She then finds herself having to choose between Hwal and Ji Poong-ho (Song Joong-ki), a fellow athlete in Seoul for whom she has feelings for. 
Who will she choose? Watch the K-drama to find out! Song Joong-ki may be a second lead but he will still tug on those heartstrings of yours all the same. Plus, watch as he taps into his real-life experience and skills as a short-speed skater in this K-drama because he plays a character who is a national athlete for that sport! 
3. Sungkyunkwan Scandal 
Notable Cast: Park Min-young, Park Yoo-chun, Yoo Ah-in
Original Release: 2010
No. of episodes: 20 episodes
Synopsis: Based on the bestselling novel The Lives of Sungkyunkwan Confucian Soldiers by Eun-gwol, this K-drama is about the life of Kim Yoon-he (Park Min-young) during a time when women weren't allowed to receive education or even find a job and work. Yoon-he then decides to disguise herself into a man by taking her brother's identity. With her disguise, she works different jobs and eventually finds herself earning money as a test-taker in place of others for the Sungkyunkwan (the highest educational institute) entrance exams. Lee Sun-joon (Park Yoo-chun) discovers this illegal act of hers and encourages her to actually enroll in the university as a student. As the story would have it, she gets accepted and is faced with the daily challenge of dealing with rich and spoiled playboys like Gu Yong-ha (Song Joong-ki), blending in to keep her disguise intact, and concealing her feelings for Sun-Joon. 
This K-drama was written by the famous Kim Tae-hee and she did a spectacular job! 
4. Tree With Deep Roots (Deep Rooted Tree)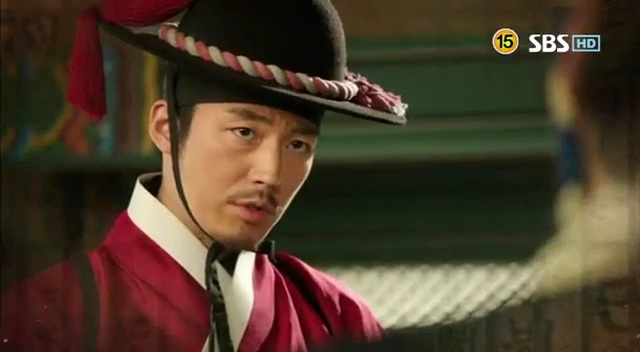 Credit: AsianWiki.com
Notable Cast: Han Suk-kyu, Jang Hyuk, Shin Se-kyung
Original Release: 2011
No. of Episodes: 24 episodes
Synopsis: Set in the Joseon Dynasty where King Sejong (Han Suk-kyu) rules all – although not quite. His father, King Taejong, is actually the one calling the shots while King Sejong lives in fear of his own father's ruthlessness. With unjust bloodshed left and right driven by King Taejong's thirst for power, Ddol-bok (Jang Hyuk) who was a slave seeks revenge and plans to kill King Sejong for the death of his family. Dam (Shin Se-kyun) is another slave turned court lady who knew Ddol-bok as a child and experienced the same family tragedy as him. 
With all the plot twists and underlying stories involved, this is a definite must-watch K-drama! Despite having just a supporting role, Song Joong-ki gives a memorable performance as King Sejong during his teenage years. 
5. The Innocent Man 
Notable Cast: Moon Chae-won, Park Si-yeon
Original Release: 2012
No. of Episodes: 20 episodes
Synopsis: Drama, betrayal, money, love – this K-drama has everything! Kang Ma-ru (Song Joong-ki) is a medical student with a promising future but lives in poverty as he cares after his younger sister without their parents. He finds his heart taken by Han Jae-hee (Park Si-yeon) who is a television reporter and would do anything, just about anything, to live a life free of poverty. Jae-hee then finds herself in a situation where she needs to make a decision that could change their lives and relationship forever – and maybe not for the better. Enter Seo Eun-gi (Moon Chae-won) who is a chaebol (a large, conglomerate family-owned business) heiress who finds herself falling for Ma-ru. 
You can never go wrong with Song Joong-ki Korean dramas that are thrilling melodramas filled with excitement and jaw-dropping moments! You can find this Netflix Korean drama with the title Nice Guy. 
6. Descendants of the Sun

Credit: AsianWiki.com
Notable Cast: Soong Hye-kyo, Jin Goo, Kim Ji-won
Original Release: 2016
No. of Episodes: 16 episodes
Synopsis: Popularly referred to as "Big Boss" both in this K-drama and real-life, Captain Yoo Si-jin (Song Joong-ki) and his good friend Master Sergeant Seo Dae-young (Jin Goo) lead the South Korean Special Forces unit. Their paths eventually cross with a medical doctor, Dr. Kang Mo-yeon (Song Hye-kyo). 
To spare you from any spoilers, watch this K-drama as they embark on risky adventures, make life-altering decisions, and sort out their mixed emotions for one another. This is a must-watch Song Joong-ki Korean drama, especially if you want a daily dose of kilig. Having the same writer (Kim Eun-sook) as other popular K-dramas like The Heirs, Goblin, Mr. Sunshine, and The King: Eternal Monarch – it won't disappoint. 
Get your kimchi and ramyun ready though, because there are tons of scenes in this K-drama where you'd wish you were eating one. And maybe, you'll be convinced enough to try out that red ginseng that they can't get enough of and put on some Laneige Two-Tone Lip Tint Bar while you're at it! Watch it now on Netflix!  
7. Arthdal Chronicles
Notable Cast: Jang Dong-gun, Kim Ji-won, Kim Ok-vin
Original Release: 2019
No. of Episodes: 18 episodes 
Synopsis: Making history by being the first Korean ancient fantasy drama, Arthdal Chronicles is about a mythical land called Arthdal. Its inhabitants work their way in fighting fate like Eun-seom (Song Joong-ki), dealing with power struggle as one dreams of being King like Ta-gon (Jang Dong-gun), and finding love like Tan-ya (Kim Ji-won). 
Easily making its way to the list of the highest-rated Korean dramas in cable TV, Arthdal Chronicles is surely one of the must-watch Song Joong-ki Korean dramas! You can watch this on Netflix and stay tuned because season two is in the works. 
Movies:
1. A Frozen Flower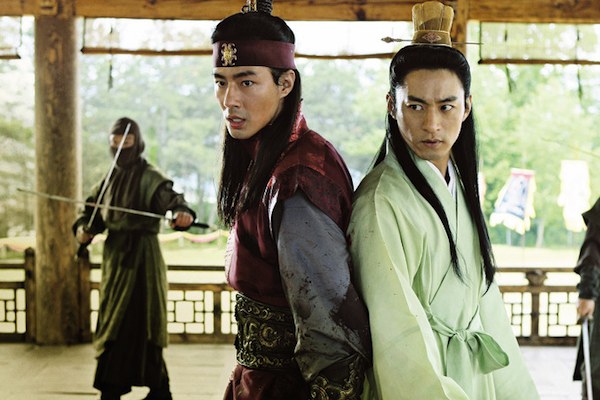 Credit: AsianWiki.com
Notable Cast: Jo In-sung, Joo Jin-mo, Song Ji-hyo
Original Release: 2008
Synopsis: This historical film is set at the end of the Goryeo Dynasty, although not historically accurate (much to many history buffs' dismay). With the pressure of producing an heir to the throne, the King of Goryeo (Joo Jin-mo) asks his lover General Hong Lim (Jo In-sung) to impregnate the Queen (Song Ji-hyo). However, such an act comes with consequences – including falling in love. Having to face the consequences of their action, they are faced with death, betrayal, and undying loyalty. 
With just a supporting role as the King's guard, Song Joong-ki definitely adds this to his list of notable roles. 
2. Five Senses of Eros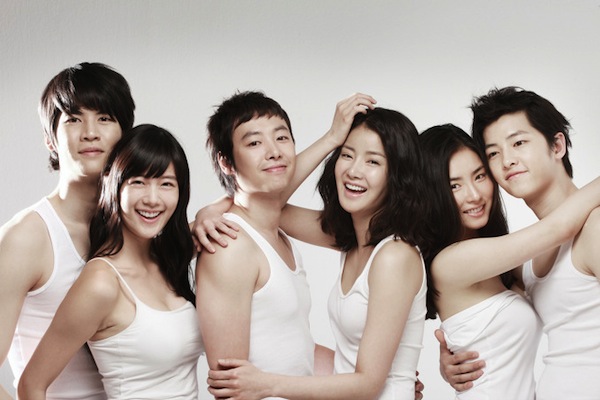 Credit: AsianWiki.com
Notable Cast: Kim Dong-wook, Lee Si-young, Jung Eui-chul, Shin Se-kyung, Lee Sung-min
Original Release: 2009 
Synopsis: Five Senses of Eros is an anthology film which is made up of five short films. Each short film varies in genre, characters, and storyline. You'll find Song Joong-ki in the fifth short film titled Believe in the Moment. Yu Jae-hyuk (Song Joong-ki) and his group of friends decide to exchange partners for 24 hours to hopefully determine whether they're truly compatible and in love with their actual partner. 
It may be the wrong move, or not! Find out by watching this film and the other four short films that go with it! 
3. The Case of Itaewon Homicide 
Notable Cast: Jung Jin-young, Jang Geun-suk, Shin Seung-hwan, Oh Kwang-rok
Original Release: 2009 
Synopsis: Fancy yourself some thriller and crime fiction film based on a true story? The Case of Itaewon Homicide might just be your cup of tea. The story narrates the murder of Cho Jung-pil (Song Joong-ki) who was a college student found dead at a Burger King in Itaewon. It follows the investigation that took place and the two suspects who plead their innocence. 
With just a supporting role in this film, Song Joong-ki manages to give a notable performance as he portrays the victim. 
4. Hearty Paws 2
Notable Cast: Sung Dong-il, Kim Jung-tae
Original Release: 2010
Synopsis: Whether you're a dog person or not, this film is a must-watch as you'll fall in love with Song Joong-ki all over again as the ultimate dog lover. Also, who doesn't love K-dramas centered on dogs? Dong-wook (Song Joong-ki) has a dog named Maeumee who gives birth to a bunch of puppies. Dong-wook's grades are negatively affected – much to his mom's disapproval, due to the added responsibility of caring for these puppies. His mom decides to give Maeumee and her puppies to a relative who owns a video store. While staying in the video store, a thief named Hyeok-pil (Song Dong-il) and his partner spot the puppies and steal one in the hopes of using the puppy as a runner for their stolen diamonds. Maeumee notices her puppy's absence and chases after them. 
Find out if she's able to get her puppy back and be reunited with Dong-wook by watching this adventure and comedy-filled film! 
5. Penny Pinchers (Saving Up for Romance)
Notable Cast: Han Ye-seul, Shin So-yul, Lee Sang-yeob
Original Release: 2011
Synopsis: A charming college graduate who can't seem to find a job, Chun Ji-woong (Song Joong-ki) is barely able to make ends meet especially as his mom cuts him off. That is until he meets the most frugal person one could ever come across – Gu Hong-sil (Han Ye-seul). Realizing that they could benefit from each other, Hong-sil teaches Ji-woong the art of "penny pinching". 
Watch these two figure things out through a money-making scheme in this romantic comedy film that will make you laugh and feel the love. 
6. A Werewolf Boy 
Notable Cast: Park Bo-young, Lee Young-lan, Yoo Yeon-seok
Original Release: 2012
Synopsis: Kim Sun-yi (Lee Young-lan) visits her old family home back in South Korea after receiving a call about putting it on sale. With her granddaughter Eun-joo (Park Boyoung) to accompany her, they visit the old family home which brings Sun-yi memories of her younger years – years of when she encountered a boy with a beastly nature by the name of Chul-Soo (Song Joong-ki). As their love story unfolds, tragedy unfolds too. 
Watch the most successful Korean melodrama of all time and get your tissues ready because tears will come. 
7. Battleship Island
Notable Cast: Lee Kang-ok, Choi Chil-sung, Park Moo-young, Oh Mal-nyeon
Original Release: 2017
Synopsis: This period action film is set in a labor camp on Hashima island during the colonial occupation of Imperial Japan over Korea during World War 2. The prisoners embark on the life threatening decision to attempt a prison break. Watch Lee Kang-ok (Hwang Jung-min), Choi Chil-sung (So Ji-sub), Park Moo-young (Song Joong-ki), and Oh Mal-nyeon (Lee Jung-hyun) fight for their lives and ultimately, fight for freedom. 
8. Space Sweepers
Notable Cast: Kim Tae-ri, Jin Seon-kyu, Park Ye-rin, Yoo Hae-jin
Original Release: 2021
Synopsis: In this sci-fi, the year is 2092 and Earth is almost completely inhabitable. Because of this, a company called UTS built an orbiting home for chosen UTS citizens to live in. Those who aren't citizens end up having to fend for themselves by being space sweepers whose sole job is to collect debris floating around Earth's orbit. They sell these to the company in return for survival. The story revolves around the lives of a certain group of space sweepers namely Kim Tae-ho (Song Joong-ki), Captain Jang (Kim Tae-ri), Tiger Park (Jin Seon-kyu), and Robot Bubs (Yoo Hae-jin). They come across a crashed space shuttle. Inside, they find a girl who may be the key to finally living a life that they deserve. 
Find out what happens next as you watch Space Sweepers on Netflix! 
Treat Yourself to a Song Joong-ki Korean Dramas and Movies Marathon! 
The last thing you'd want is to miss out on these must-watch Korean dramas and movies starring Song Joong-ki! What should you pair with Song Joong-ki Korean dramas? Korean food! Whip up a homemade Korean dish with the help of these delicious Korean food trends recipes! Or, get some inspiration from these Korean snacks so you won't have to drool whenever a scene involving food comes on! 
Comments