Be stranger-danger-ready for your upcoming trips and strolls around the city and streets! As women, we are more vulnerable to different dangers that the outside world has to offer. However, research shows that women's resistance can help prevent violence along with self-defense tools for women. The key is to pick the proper one, be knowledgeable on how to use it, and practice frequently to develop muscle memory that will be triggered in case of danger.
A self-defense weapon can come in various sizes, shapes, and colors. But its aim remains the same—to assist women in self-defense and avoid possible predators. So, read on for our top-tier recommendations for the best self-defense weapons. Safety and security must be the top priority for every women self-defense kit. Prepare yourself for an extra layer of security with these best self-defense weapons and self-defense tools for women. 
Best Self-Defense Weapons and Self-Defense Tools for Women: Safety And Security Right At Your Hand
1. Anti-Wolf Keychain Set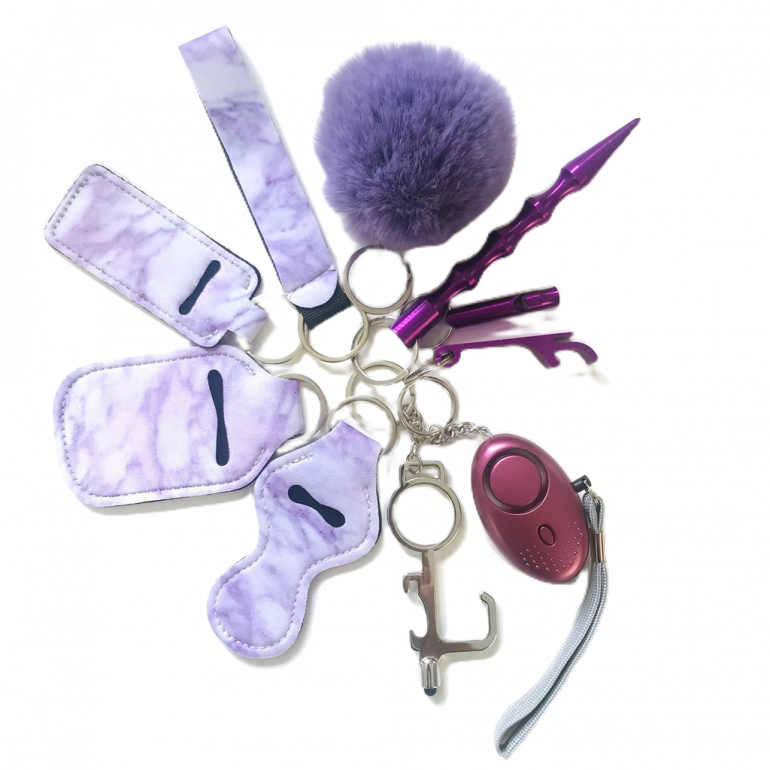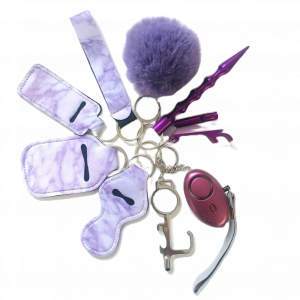 We all want something that will provide the perfect package for safety and security. Thus, the anti-wolf keychain set is the perfect self-defense tool for women in the market out there. A wristlet, a hand sanitizer holder, two pieces of lip balm holder, 140 dB personal alarm with LED light, one kubaton/window breaker, one touchless door opener, a whistle and pom pom that are essential in every women self-defense kit are all included in this anti-wolf keychain set.
It has a personal safety alarm that emits an alarm sound of 130 dB. Simply remove the pin to set off the alarm, which will emit a nerve-wracking loud sound to attract attention and keep you safe even at a distance of 500 feet. The integrated LED light is helpful for any night time emergency use, perfectly made as a self-defense weapons for teenage girls. This is also suitable for outdoor activities such as running at night, dog walking, traveling, trekking, and camping. On top of that, it's fashionable and transportable! This entire wristlet keychain is sized appropriately and makes any bag seem attractive with this adorable self-defense keychain.
The anti-wolf keychain set is definitely the best self-defense that women of all ages can carry along. This self-defense keychain is suitable for single women, kids, college students, and seniors, whether they are going on an outdoor camping trip, an adventure, a night run, or a night shift. 
2. Anti-Wolf Safety Panic Alarm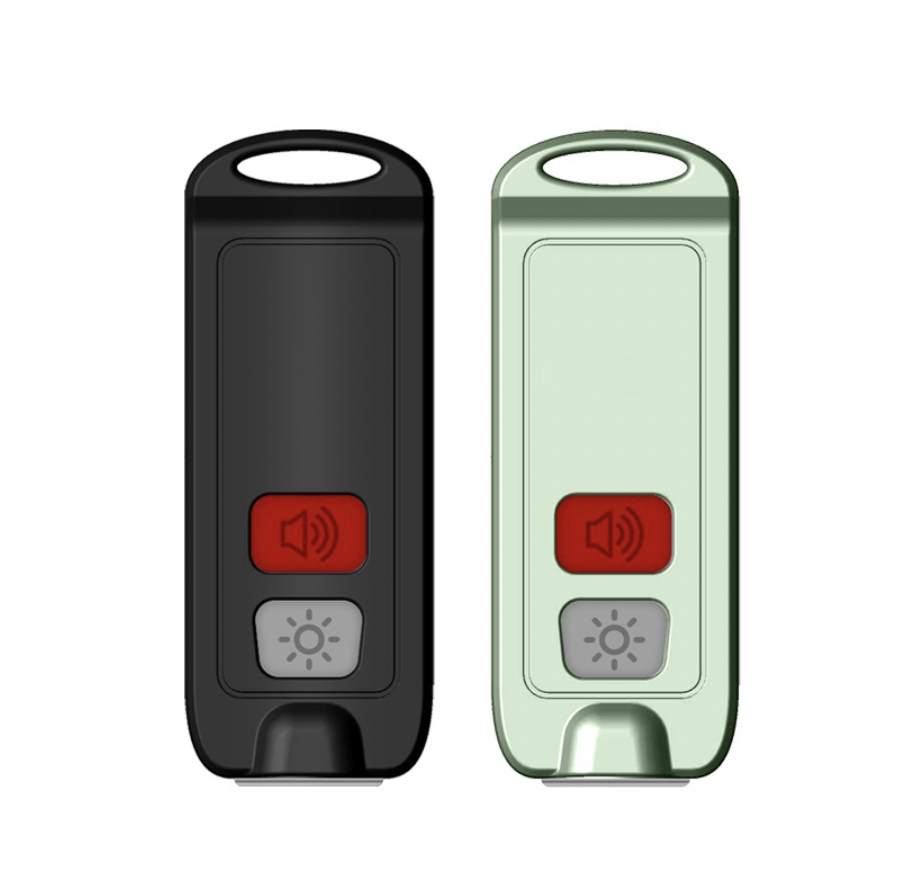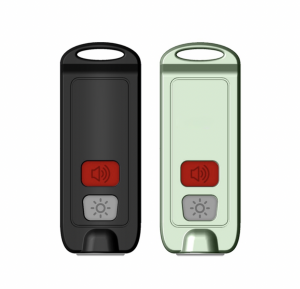 You can now walk the streets with confidence with this essential anti-wolf safety panic alarm on hand. With its rechargeable feature, you can protect yourself against any intruders and attackers. This anti-wolf safety panic alarm is a perfect tool to complete every self-defense kit for women. With a 120dB loud alarm sound, this self-defense weapon is portable, simple to operate, and an appropriate self-defense weapons for teenage girls, kids, the elderly, and other individuals. It is one of the most powerful self-defense weapons as it interrupts the surroundings very quickly. This can help you get the attention of almost anyone in times of danger or threatening situations. 
The goal of a personal safety whistle or alarm is to draw attention to yourself and alert onlookers to your danger. The ear-splitting noise alone in this anti-wolf safety panic alarm is enough to startle everyone!
3. 2-in-1 Rechargeable Flashlight and Taser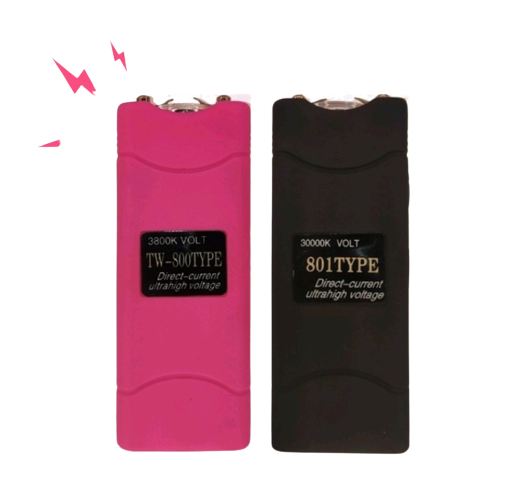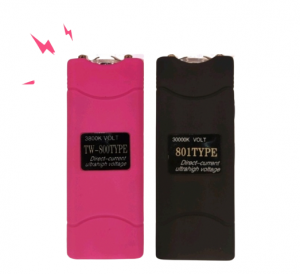 Walking in the dark is nerve-wracking. The feeling of knowing nothing because of unfamiliar surroundings and having limited vision due to the dark is indeed scary! We all want peace of mind, hence here's a must-have self-defense tool for women! Skip the fear and protect yourself with a flashlight taser to level up your self-defense kit! 
A 2-in-1 rechargeable flashlight and taser can help you save your life or the lives of those you care about. Keep this flashlight taser close at hand. Always put your safety first when you're out and about, and have this taser flashlight to give you a sense of security outside. You'll feel safer with this powerful flashlight taser in one. Compared to the usual taser, this one is handy and easy to use. This will protect you anytime, anywhere. 
Skip The Worry And Carry Protection With The Best Self-Defense Weapons and Self-Defense Tools for Women
With this wide variety of self-defense kits for women, self-defense keychains, flashlight tasers, and self-defense weapons, you can now brave your way outside the streets without fear. These easy-to-access self-defense tools for women will help you prevent a dangerous situation or protect yourself in case of one. However, just a little caution to take things into proper use. Keep in mind that any instrument, as simple as pepper spray and stun guns, can be devastating if used improperly.
To further flaunt your social confidence outside, you may also check out these basic human rights you need to know and protect. 
In case of an emergency don't forget to reach out to 911,  the national emergency telephone number of the Philippines managed by the Emergency 911 National Office.
Comments