Have you been on the hunt for the best diapers for your little one? Look no further because Pampers diapers are here to save the day! When it comes to shopping for diapers, it's best to go for those that can easily keep up with your baby all throughout the day. Pampers diapers can do exactly just that. Bringing comfort and breathability, all you have to do is choose from the wide array of the best Pampers diapers at reasonable prices! To give you a hand, we've put together a list of Pampers pants that you and your little angel will love.  
Pampers Pants in the Morning: Aircon Pants
With the summer heat that you have to deal with during the day, a fussy baby is inevitable. But with Pampers Aircon Pants in the picture, you and your little one can breeze through the day! Brave the summer heat with the Aircon Pants which help make your baby feel aircon-presko. With amazing cooling technology, price points that won't break the bank, and stand-out features, Aircon Pants surely hits all the marks when it comes to breathable and cooling diapers. Available in large, x-large, and xx-large – read on to find out what sets this diaper apart! 
3 Amazing Aircon Pants Features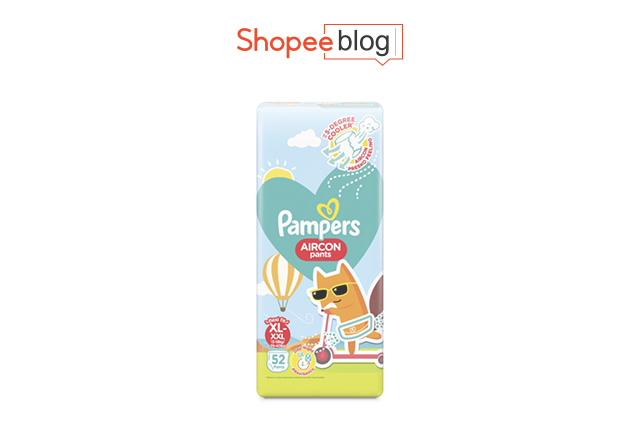 1. Secure leakage protection with a 3-way fit
The Pampers Aircon Pants hug your baby in all the right places to ensure that no leakage takes place! Around the waist, back, and legs – these Pamper pants are securing any possible exit route while keeping it comfy and breathable for your little angel. So while your baby goes about their day, you can have peace of mind knowing that this diaper comes with leakage protection! 
2. Breathe easy with 10 million micro-holes
Diapers can cause discomfort, especially during dry and humid weather. But fret not! Pampers Aircon Pants are made with 10 million breathable micro-holes! Your little one can comfortably move about in this diaper that feels up to five times cooler thanks to its Clima-Control technology. Say goodbye to diaper rashes caused by the heat when you switch over to the Aircon Pants! 
3. Absorb up to four loads of water
Enjoy day-to-night absorbency with the Pampers Aircon Pants! Capable of absorbing up to four loads of water, your baby will feel fresh and dry. Easily one of the best Pampers diapers, it can quickly absorb pee and even sweat. You'll find yourself not having to change your baby's diaper as often as you used to which also saves you a lot of money!  
Pampers Pants in the Evening: Overnight Pants
Once the sun has set and dinner has been had, the nighttime routine kicks into gear. Aside from your usual routine which probably includes reading to your baby, switching off the lights, turning on that white noise machine – making sure they are wearing the right diaper is an essential part too! If you're looking for the best diapers that can give your little one comfort while they're asleep while not dealing with any leaks, the Pampers Overnight Pants are right up your alley! Get your bang for your buck with this diaper that comes in large, x-large, and xx-large sizes. Keep reading to find out why this diaper makes the perfect sleep companion for your darling angel. 
3 Outstanding Overnight Pants Features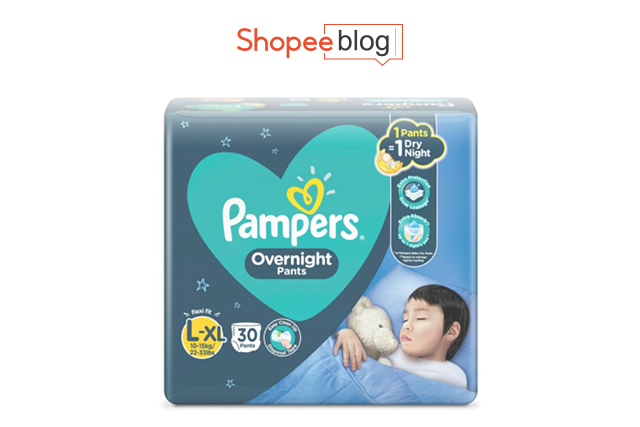 1. Reliable leakage protection with 360-degree belt, triple absorb layers, and magic gel channels 
The last thing that you want is for your baby to wake up in the middle of the night because of any diaper leaks! The Pampers Overnight Pants make sure that that doesn't happen! It has a comfortable 360-degree belt that follows your baby's movements and adjusts accordingly to prevent any leaks. This Pampers diaper also has triple absorb layers to further ensure that you and your little one won't have to deal with a wet bed! Top it off with its three magic gel channels which allow for front-to-back absorption. You'll be pleased to find a happy baby with a diaper that isn't soaking wet in the morning! 
2. Feel fresh with Overnight Humidity Ventilation Technology
While your little one sleeps in their bed, the Pampers Overnight Pants work their magic so they can sleep peacefully! With the use of the Overnight Humidity Ventilation Technology, the Overnight Pants allow humidity to easily pass through for added freshness and dryness. Making it as breathable as can be, your baby can easily sleep through the night. 
3. Absorb up to one night's pee
Rest easy knowing that you won't have to disrupt your baby's sleep with a diaper change in the middle of the night! The Pampers Overnight Pants are capable of absorbing up to one night's pee so you can save the diaper change for when you wake up in the morning. With this in tow, you can officially say goodbye to night diaper changes! 
Stock Up on The Best Pampers Pants on Shopee
From Aircon Pants to Overnight Pants, these Pampers diapers have your little one covered from day to night! Shop for these amazing diapers on Shopee and keep an eye out for discounts and promos. Make sure to also check out Mom's Club for more parenting tips and tricks. Find exclusive vouchers, prices, and membership perks too when you become a member of the Mom's Club! 
Comments