Your child's health is important, even more so today! As parents, we want to make sure that we are helping them get all the nutrients that they need in their little bodies. With all the wide array of options before us, it may get a bit overwhelming. Fret not because NIDO for toddlers aged three and above is a great way to go! The NIDO milk for three and five-year-olds and up is jam-packed with nutrients that are essential for your toddler's health and protection. Read on to find out why you should choose NIDO milk to help fill your toddler's nutritional gaps and all the healthy ingredients that it consists of! 
Why You Should Choose NIDO 3+ and NIDO 5+ 
1. Has Lactobacillus Protectus for Protection
Unlike other growing up milk brands, NIDO sets itself apart because it has Lactobacillus Protectus with L. Rhamnosus! Although it may be a mouthful, trust us when we say that it's extremely beneficial for your little one. Lactobacillus Protectus with L. Rhamnosus helps lessen the risk of possible respiratory infection! This added layer of protection for your little one can definitely give you a shred of peace of mind! 
2. No Added Table Sugar for Minimal Sugar Intake
When it comes to choosing the best growing up milk for your kids three years old and up, it's best to avoid those that have table sugar, also known as sucrose, in its ingredients – especially in large amounts. With NIDO 3 Plus milk and NIDO 5 Plus milk, you can rest easy when it comes to your toddler's sugar intake, knowing that it doesn't have any added table sugar! Instead, it contains 100% lactose! Lactose helps one's body absorb calcium and phosphorus and it also supports the growth of good bacteria in the gut for a healthy digestive system! 
3. Jam-packed with Nutrients for a Healthy Toddler
Lactobacillus Protectus, Prebio3, DHA, vitamin A, iron, calcium – you name it and NIDO milk has it! NIDO toddler milk contains age-appropriate nutrients that toddlers need for a healthier body. With all these nutrients in tow, it can help lower the chances of your toddler getting sick. These can also help your toddler be more mentally alert, develop strong bones and muscles, and have a better appetite and digestion. The growth nutrients found in NIDO milk can also help your toddler with proper weight gain in proportion to their height!  
Nutrients Found in NIDO 3+ and NIDO 5+ 
Lactobacillus Protectus with L. Rhamnosus helps lower the chances of respiratory infections like colds and coughs
Prebio3 helps enhance proper digestion which results in regular bowel movement and a healthy digestive system
DHA, LA, and ALA  help with your toddler's brain development and keeps them mentally alert with these brain building blocks
Vitamin A, C, and E  help boost and strengthen their immune system
B Vitamins, Iron, and Zinc help with normal cognitive development and helps them have a better and healthier appetite   
Protein, Calcium, and Vitamin D  help with proper growth and development
NIDO 3+ and NIDO 5+ That You Can Buy on Shopee Philippines
NIDO 3 Plus Milk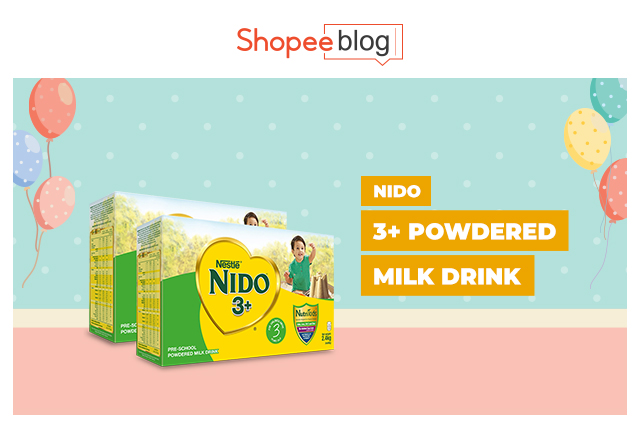 The NIDO 3+ Powdered Milk Drink is perfect for three-year-olds and above! Plus, this comes with a free econo pack of Koko Krunch to seal the deal! Other options are the NIDO 3+ Powdered Milk Drink with Free Workshop Bundle and Protektodo Kit! As for preparing a glass for your toddler, mix three tablespoons of this NIDO powder with 200mL of lukewarm water. A glass of this is able to make up for 50% of the daily requirement for your toddler's calcium and 27% for iron! 
NIDO 5 Plus Milk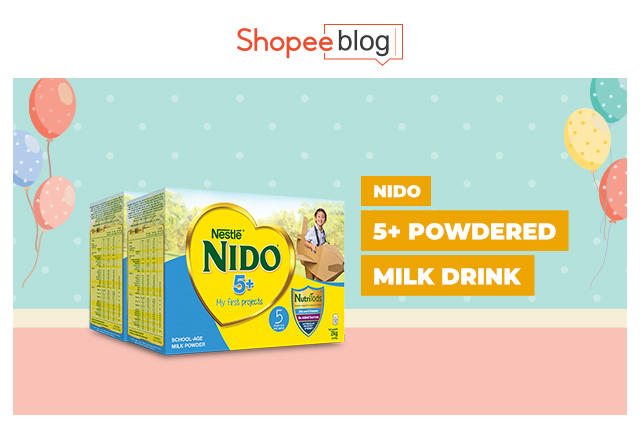 For five-year-olds and above, the NIDO 5+ Powdered Milk Drink is packed with DHA, B vitamins, calcium, energy, protein, and more nutrients that are essential for this age! Choose between the NIDO toddler milk powder that comes with a free Workshop Bundle or a Protektodo Kit. One glass of this milk can meet 90% of your toddler's daily vitamin C requirement, 52% for calcium, and 27% for iron! 
Choose NIDO 3+ and NIDO 5+ as Your Toddler's Growing Up Milk! 
Address any nutritional gaps in your toddler's health with the help of NIDO! This growing up milk is for three-year-olds and above! Lucky for you, you can easily shop for Nido toddler milk powder with convenience and safety on Shopee Philippines! Make sure to check out Mom's Club for more tips and tricks when it comes to parenting. Enjoy membership perks, vouchers, and exclusive prices too!
Comments