The Shopee 7.7 Double Double Sale is here and we're giving you a Free Shipping Fiesta! Shopping online is fun, but we want to give you a better experience with free shipping! Everybody loves a good sale, but something in our minds just clicks when we face the additional shipping charges upon checkout. Luckily, you can now celebrate with us this Free Shipping Fiesta! Join in on the fun until July 7 and shop to your heart's content without having to pay for delivery fees! Since this is a fiesta, we're taking things up a notch with grander discounts and giving away vouchers to enjoy this time around!
7 Things to Celebrate This Shopee 7.7 Double Double Sale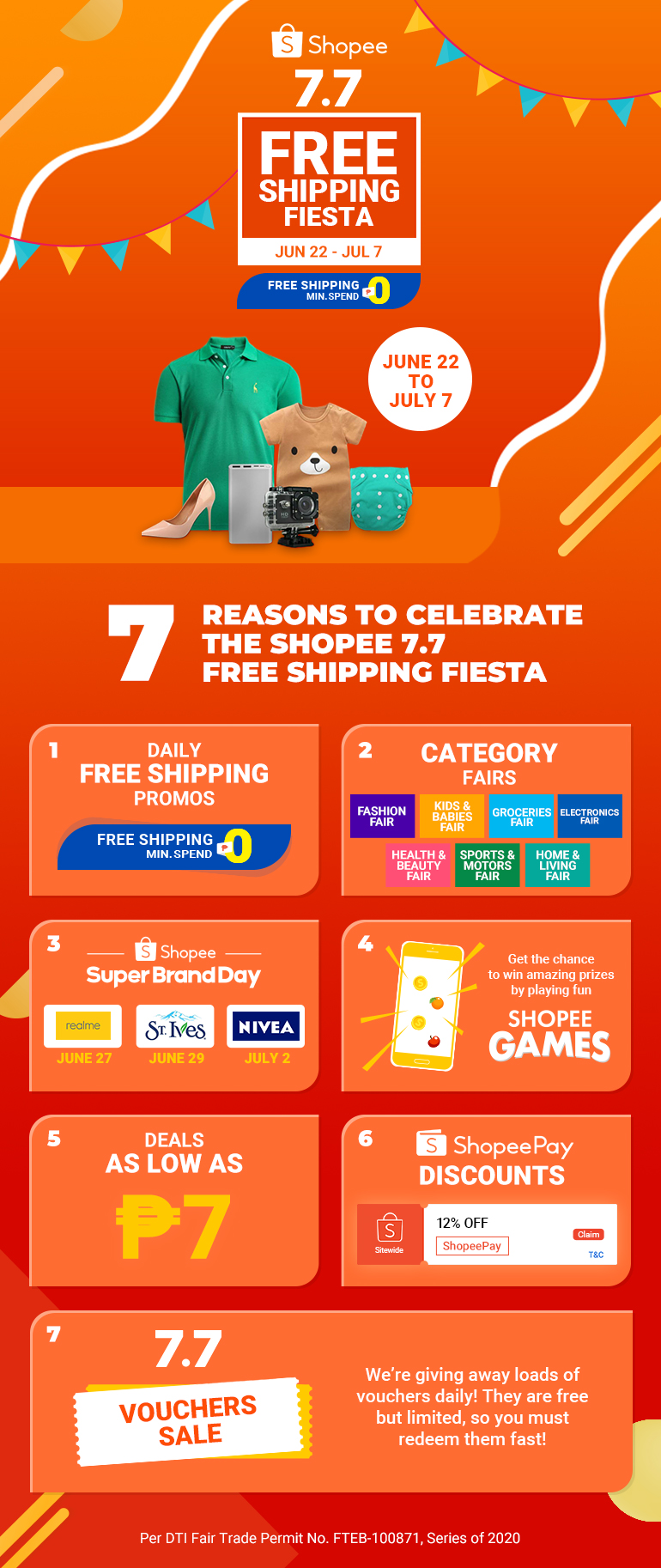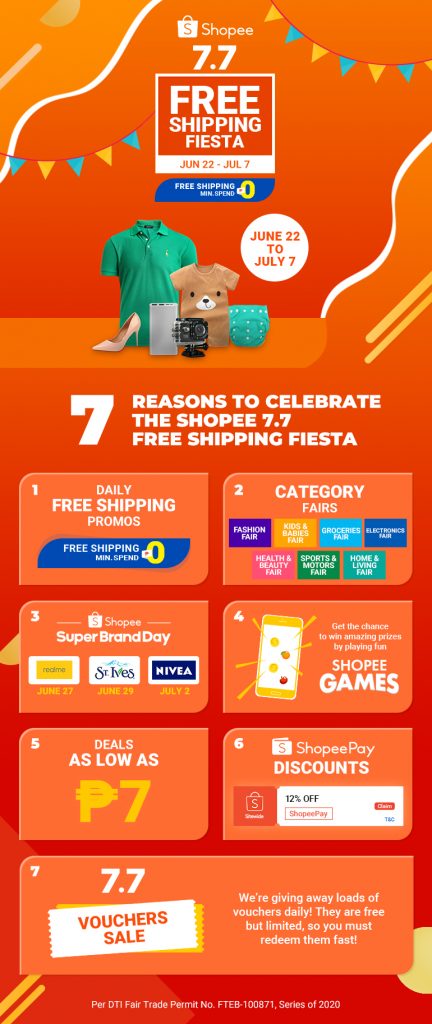 1. Daily Free Shipping Promos
Enjoy free shipping with no minimum spend here on Shopee EVERY DAY! Spot the free shipping special badge on listings to enjoy this promo. Online shopping is definitely more fun when you don't have to worry about delivery fees, so now's the perfect time to shop 'til you drop!
2. Category Fairs
You can always expect amazing deals when we have double double sales, so don't miss out on our Category Fairs! Whether you're into fitness, fashion, or electronics, Shopee caters to everyone. You will find the perfect sale day (or even days!) for you to enjoy with crazy discounts up to 90% off on your favorite categories! Massive savings are a huge cause for celebration, so there's no better time than now to prepare your cart! 
3. Super Brand Days
Check out Super Brand Days to get your favorite products on sale! Get exclusive discounts and vouchers from top brands like Garnier, Maybelline, Realme, St. Ives, Huggies, and Nivea! In line with the Free Shipping Fiesta, of course you'll get free shipping with ₱0 minimum spend when you buy from these brands! 
4. Shopee Games & Prizes
Since this is a fiesta, we're giving you more than just shopping promos. Get the chance to win amazing prizes by playing fun Shopee Games! You can win Shopee Coins, vouchers, brand new electronics, or even a huge cash prize. Play your favorites and try out the newest games like Shopee Candy, Shopee Poly, and Shopee Claw! Learn How to Join Shopee Shake to get that ₱50,000 cash prize and check out Hacks You Should Know When Playing Shopee Games for better chances of winning!
5. Deals as Low as ₱7
7 truly proves to be a lucky number when you can get Flash Deals as low as ₱7! More than just free shipping, we have huge discounts in store for you this 7.7 Double Double Sale. We hope you find something you've been eyeing on sale, but take this as an opportunity to discover new products to try as well!
6. ShopeePay Discounts
ShopeePay is convenient and secure, and as a bonus, you get exclusive promos when you checkout using our in-app wallet! Users get a special 12% off sitewide discount every day, and you can enjoy even bigger savings on ShopeePay Thursdays when the discount is upsized to 25% off! It's more fun to shop online when you discover awesome discounts and we're telling you right now that you can enjoy promos every day when you use ShopeePay!
7. Vouchers Sale
Be sure to check out 7.7 Free Shipping Fiesta Vouchers, because we're giving away loads of vouchers daily! Collect free shipping, cashback, and category vouchers from our Vouchers Sale. They are free but limited, so you must redeem them fast! 
We're always finding extra ways to give Shopee users, both new and old, an exciting shopping experience. Double Double Sales are a great chance for us to give back to all of you. Be sure to visit the 7.7 Calendar, so you can be part of our everyday festivities! Please enjoy this fun shopping fiesta full of discounts, vouchers, free shipping, and games!
Comments