There's never a better time to up our defenses against Coronavirus and other diseases than today. Our fight with COVID-19 is not over! So keep wearing face masks, sanitizing, social distancing, and taking the best vitamins for your immune system! Apart from getting vaccines, strengthening your immune system is essential to fight off a variety of illnesses. So it's ideal to take supplements to increase your daily intake of immunity-boosting vitamins. Include it in your daily routine so you'll never forget it! Read on for the best vitamins that will strengthen your immune system.
What Vitamins Will Help Strengthen Your Immune System?
Vitamin C
When we speak of immune-boosting, the first thing that may come to mind is vitamin C. Also known as Ascorbic Acid, it's the antioxidant that protects us from damaging environmental factors like pollution and bacteria. Our bodies cannot produce them naturally, so aim for a vitamin C-rich diet! Add citrus fruits, broccoli, bell peppers, and other dark leafy vegetables to your diet. To support your intake, look up Ascorbic Acid vitamins that will add the needed boost to your immune system.
Zinc
Zinc promotes growth and healing. This helpful nutrient also produces new immune system cells to fight bacteria and viruses, apart from healing wounds and building muscles. So load up on Zinc by eating protein-rich food like red meat, whole grains, dairy and eggs. Make sure your multivitamins highlight Zinc as one of their content!
Vitamin D
Have you been getting enough sunlight exposure lately? Vitamin D, or the sunshine vitamin, supports immune function while increasing your calcium absorption to maintain strong bones. Do your morning stretches in the backyard and eat vitamin D-rich food like cheese, egg, and fatty fish like salmon.
Vitamin A
Don't forget about the eye vitamin! Besides promoting eyesight and other body organ functions, vitamin A or Beta-Carotene is a great infection fighter. Whip up colorful and healthy meals that include carrots, tuna, squash, and dark leafy vegetables. For an easy fix, support your daily intake of Beta-Carotene with multivitamins.
Top Supplements With The Best Vitamins For Immune System
Completing your daily intake of the needed vitamins from natural sources can be difficult. Vitamin supplements are just what you need to support a healthy diet and boost your immunity against diseases. Here are some of the tried-and-true brands that will give you the much-needed vitamins for the immune system. 
Always consult your doctor first before taking vitamin supplements.
For Kids
1. Propan TLC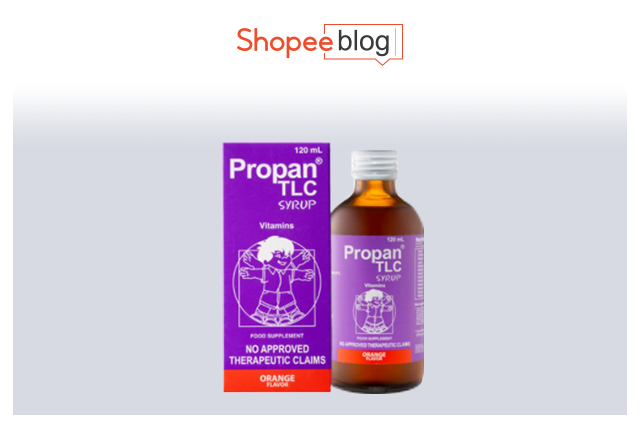 Here's a mom-approved multivitamin that your kids will surely love! Propan TLC is loaded with vitamin C, D, A, and other vitamins necessary for your child's growth and development. Especially once they've reached that picky-eater phase, it'll be hard to pack all the nutrients they need in their diet. Lysine and B-vitamins will help boost your child's appetite, so you can sneak more veggies in their meals! Get Propan TLC drops for kids 7 months to 2 years old, and Propan TLC syrup for kids 1 to 12 years old.
2. Scott's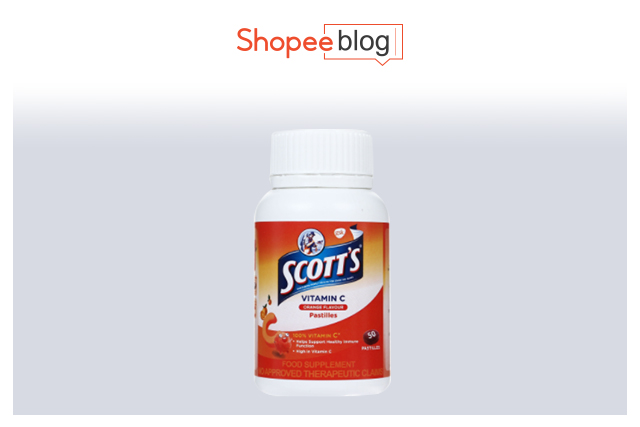 One of the easiest ways to make your kids take their vitamins is by giving them chewable vitamins. Scott's Vitamin C Pastilles are available in two delicious flavors – orange and mixed berries! These sweet chewy pastilles contain 100% Vitamin C, so it's the perfect candy and immunity-boosting vitamin in one! Children aged 3 to 12 years old can take one pastille per day, while those 12 years old and above can take them twice a day!
3. Ceelin Plus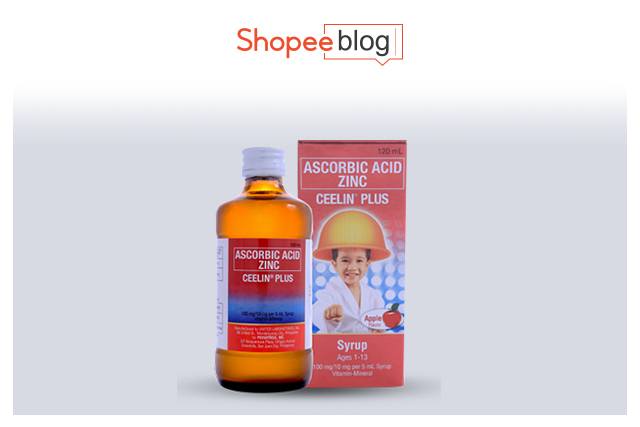 Ceelin is a household vitamin supplement that even some parents of today have taken when they were kids. The latest Ceelin Plus offers Vitamin C and Zinc, a great combo to fend off illnesses! The little ones aged 4 to 13 years old can also enjoy them as yummy chewables with Ceelin Plus chewable tablets. If you have babies at home, protect those tiny bundles of joy with Ceelin Plus Drops, suitable for ages 6 months to 2 years old.
4. Tenten Chewables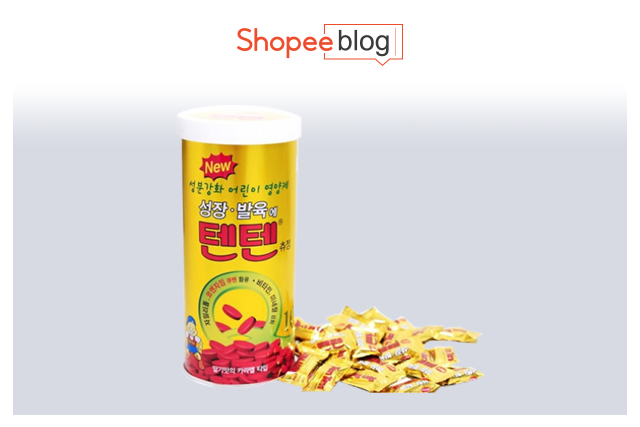 Credits: roseroseshop.kr
Have we summoned a few ENGENEs here? Tenten chewable vitamins are now available on Shopee Philippines, which are known as a personal fave of Niki from ENHYPEN. This chewable supplement from South Korea packs an array of essential vitamins, namely Vitamins A, C, D, E, and B-vitamins. These are great immunity boosters and growth support for kids aged 3 years old and above!
For Adults
1. Ritemed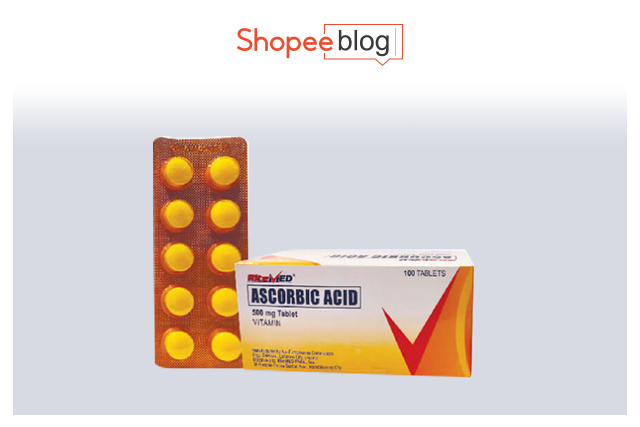 Most of us can't really tell if our bodies are low on Vitamin C. Although, there are a few subtle signs that we can look out for like rough skin, slow wound healing, and getting easily fatigued. Don't risk having a weak immune system and go for an affordable dose of vitamin C from Ritemed Ascorbic Acid! Each tablet contains 500 mg of Ascorbic Acid, so it's highly recommended for treating Vitamin C deficiency and boosting your immune health daily.
2. ImmunPro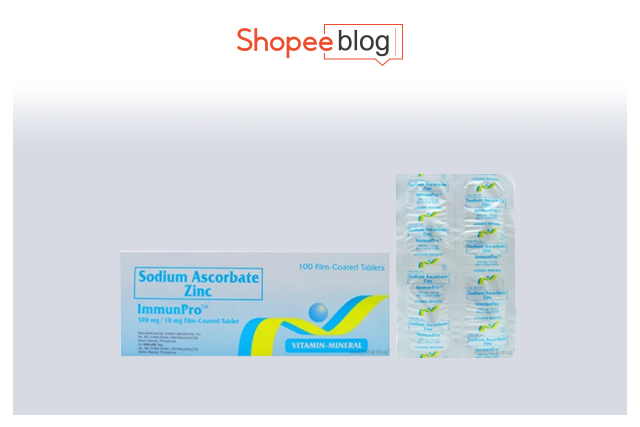 ImmunPro has recently gained popularity for being recommended by some doctors as a great immune health supplement since the start of the pandemic. Each dose contains 500 mg of the sickness-fighting combination of Sodium Ascorbate and Zinc. If you aren't familiar with Sodium Ascorbate yet, it's a form of Ascorbic Acid that is proven to cause less stomach upset. But whether you have stomach problems or not, ImmunPro is the go-to choice for immune defense!
3. Conzace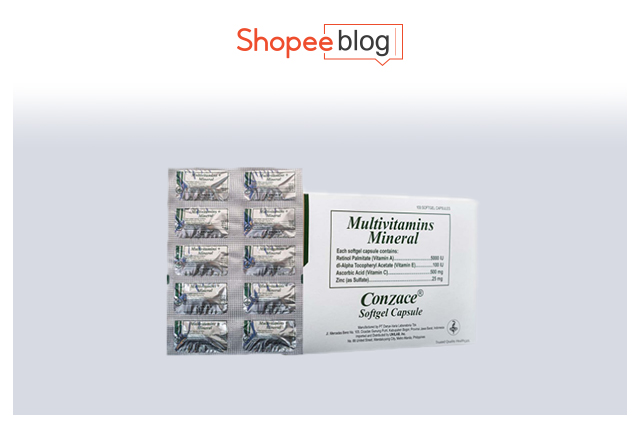 A multivitamin that boosts your immune system while keeping your skin and hair healthy and glowing. Who wouldn't want that in their medicine cabinets? Conzace has a unique formulation of vitamins A, C, E, and Zinc – all having immune-boosting and skin regeneration properties! For its immune health benefit, it is made to promote the increase of white blood cells, which help defend the body from infection and diseases. Adults 19 years old and above can take one tablet of Conzace per day. 
Stay Safe and Healthy With The Best Vitamins For The Immune System
It's better to be safe than sorry! We know you might have heard this a ton of times already, but we just can't emphasize it enough during these times. Don't take any chances and protect the whole family with the best vitamins for immune system boosting on Shopee Philippines. Teach your kids some healthy habits for a cleaner lifestyle and always wear your face masks correctly outdoors. Stay safe!
Comments