Seeing the world, making new memories, and gaining new experiences make life worth living. However, planning and packing for trips can be a struggle at times. You have to make sure you have a bag that can fit everything you want to bring. But at the same time, it needs to be light enough to not get you extra fees at the airport. Because of this, choosing the best luggage for travel can be challenging! As you try to check different features, price points, and all of the fine details of luggage you may even feel overwhelmed. But don't you worry! We have prepared a list of the best luggage brands for you to choose from. Here we highlight different luggage brands that can fit each traveler's needs! But first, have a look at some questions you should ask yourself when choosing the best luggage for you! 
Questions To Ask Yourself When Choosing Your Luggage
Hard shell or Soft shell? 
Hard-shell luggages provide you with a travel bag that is sturdy, safe, and lightweight. This type of luggage may seem heavy. But it is usually made out of polycarbonate material which makes it light and durable at the same time! This material makes it the perfect type of luggage for fragile items that can easily break. Top luggage brands equip most of their hard-side luggages with four wheels, making it easier to navigate across places. Soft-shell luggages are more flexible, as it is easier to store irregularly shaped items and usually come with side pockets on their exterior. Due to their fabric material, it is durable but is lighter than hard shell luggages. This makes it easier for you to avoid excess baggage fees! 
Planning a trip, but unsure of what size to get? Try to use the length of your trip as your guide! Small luggage bags that measure around 18" to 22" can fit your essentials for trips that last a few days. But you can also opt to get the 23" to 24" luggage if you want to have some allowance. This makes it ideal for light packers as it is easier for them to carry their luggage. 
For trips that last over a week, you can choose to get a medium luggage bag, which measures around 25" to 27". This size gives you extra room for more souvenirs and items that you bring home from longer trips. Carrying a medium luggage bag might require you to pay extra baggage fees. But it relieves you of the pressure to pack light! 
Families and large groups of friends can definitely benefit from using a large luggage bag, which measures around 28" to 32". Despite its large frame, groups can actually save from baggage fees, if they decide to split the bag's space. This is also perfect for trips that last longer than one week or if you decide to go on a shopping spree while you're on your trip.
5 Best Luggage Brands that can make your travel life a breeze 
1. American Tourister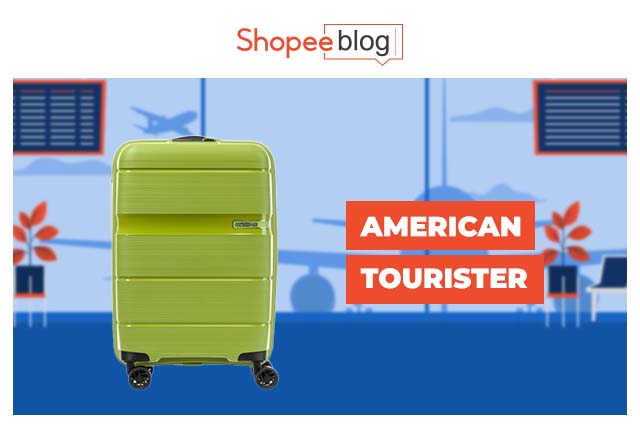 Reliability that withstands the test of time, American Tourister has been producing quality luggage bags for travel since 1933! Their collection of travel bags is durable and affordable, which cements their status as one of the best luggage brands in the market! 
Among the luggage bags that American Tourister offers, the American Tourister Linex Spinner provides one of the best affordable lightweight bags for travel! Its polypropylene material makes it durable and it comes with an array of different features. It comes in small, medium, and large sizes! This suitcase is equipped with a recessed TSA lock for safety and has a multi-pocket divider for convenience. This bag is definitely a good luggage for first-time travelers! 
American Tourister also offers luggage bags that contain more features, and is ideal for travelers who are willing to spend a little more! With the American Tourister Frontec Spinner, you get Optimov Shock Absorbing Wheels to ease transport and a Duosay Security Zipper for twice the security! Despite all this, what really sets it apart is its easily accessible front-access opening concept. This allows you to get needed items from your travel bag without having to open it from the sides, which can be a struggle! Feel free to check out the collection of one of the top luggage brands in the market! 
2. Delsey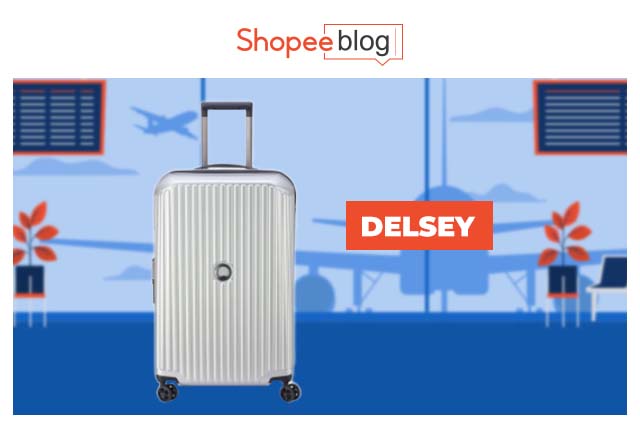 Elegance and innovation –  that's what Delsey is all about. This luxury luggage brand provides high-quality travel bags that give you a secure travel experience. With an extensive collection of luggage bags to offer, Delsey prides itself on producing world-class products with uniquely French designs. The brand also has a myriad of patents and awards and has been distributed to more than 110 countries worldwide! 
Delsey is certainly trusted by travelers when searching for the best luggage for international travel. They are famous for their premium luxury bags and patented Securitech zippers, which add a ton of security. Some of their products include the Delsey Securitime Zip Silver and the Delsey Chatelet Air. The Delsey Securitime Zip Silver is made of 100% polycarbonate material, a TSA combination lock, and as expected from a luxury luggage brand a five year International Manufacturer Warranty in case you experience any problems! The Delsey Chatelet Air has all the previous features, but the design makes it tougher and hard-wearing. It also provides you with a luxurious stylish brown look and paired with a classic interior. This is certainly the choice for travelers who want to explore lavishly. So don't forget to check out their collection at Shopee Philippines! 
3. ITO cases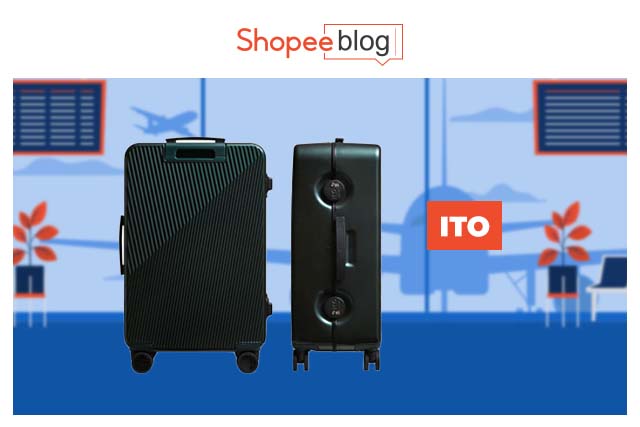 Looking for a luggage bag that catches your style, but remains unique, sturdy, and modern moving forward? ITO Cases is the brand for you! ITO cases is an independent design travel brand born from its mix of patent technology and aesthetic looks! Founded in 2007, the brand has already won international awards for the creative use of its unique Pebble prototype password lock that goes beyond the traditional locks luggages usually have. With this recognition, ITO Cases is certainly one of the best luggages for international travel.
Its different collections are named after nuts to highlight their bag's solid exterior and delicate interior. Collections such as the Ginkgo and Pistachio, are favorites due to their design and features. The ITO Ginkgo is their flagship product and has won the German Red Dot Design Award. This comes in numerous colors such as Firebrick Red and Charcoal Black. It features a TSA Pebble lock instead of the traditional zipper and Peroma silent double wheels to ensure smooth 360° movement. The ITO Pistachio is lightweight and has a minimalist design for the modern traveler. It has similar features as the ITO Ginkgo, but replaces the pebble lock for a hidden zipper. To see more of their slick designs and modern features, check out their official Shopee page! 
4. Kamiliant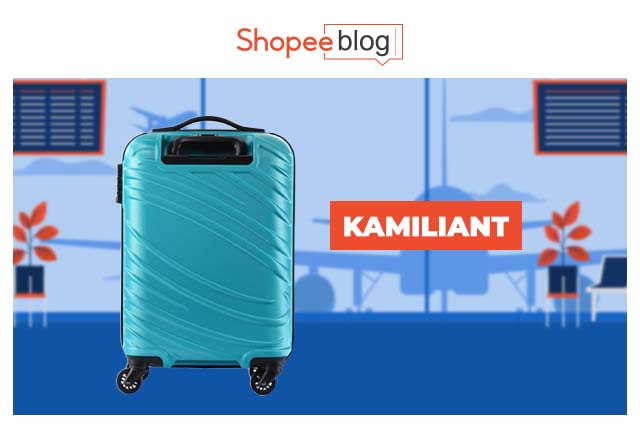 Add some color to your travels when you choose Kamiliant as your luggage brand. The brand seeks to provide you with luggage that is colorful, reliable, and tough. Kamiliant wants to help you express yourself through luggage and travel. Paired with their colorful bags is an affordable price point that fits the budget of any traveler! 
Some products to keep an eye on are the Kamiliant Siklon Spinner and the Kamiliant Savanna Spinner! The Kamiliant Siklon Spinner comes with a TSA 3- Dial Combi Lock for security and a Multi-stop Wheel handle design, so you can comfortably bring this around! The Kamiliant Savanna Spinner has a soft-shell luggage bag that contains numerous features like voluminous front pockets and 360° spinner wheels. Don't be afraid to express yourself in color with Kamiliant!
5. British Knight Bags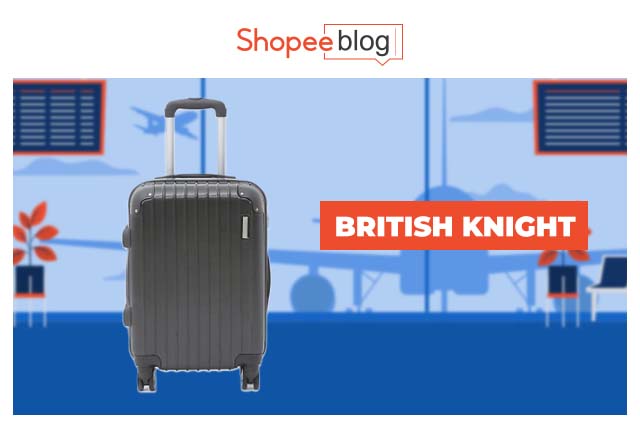 British Knight Bags is the perfect luggage brand for travelers on a budget! The brand provides you with affordable, yet sturdy options for your travel luggage needs! British Knight Bags equip their bags with numerous features for a fraction of the price! 
Among their products, the British Knight Bhs918ztet stands out as one of their best sellers! The British Knight Bhs918zte is made with ultra-durable polycarbonate material, protected by a built-in TSA-approved combination lock, and has anti-theft zippers! To add to that, it also comes with a two-pocket interior design that makes it easier for you to organize your things. The number of features and its price point makes it the ideal luggage bag for travelers that want to stick to a strict budget! Check out more of their products over at Shopee Philippines! 
Explore the World With One of the Best Luggage Brands in the Market! 
Traveling is one of the most exhilarating things in the world! However, it takes a lot of planning and packing to do it smoothly! As you visit a far away place, you have to make sure you have all the travel essentials that you need, which can be very valuable! It is only right that you choose among the best luggage brands to safeguard your own belongings and have peace of mind when traveling. As you choose your luggage, always remember the different factors that come to play with each trip! 
Don't hesitate to check out which countries you can visit visa-free on your next trip. Countries such as Taiwan and Vietnam are sure to be worth your while! As you visit different places and see other cultures make sure to check out different sports and travel products from Shopee to maximize your experience!
Comments