One of the many lessons the past years have taught us is that we can definitely stay fit in the confines and comfort of our homes. Whether it be yoga or weight training, getting into the best shape of your life is made easy with a few home workout equipment. We know some of you are already thinking about your limited floor space, but don't worry! There are various space-saving workout accessories (that are also affordable home workout equipment) out there that are just as reliable as the full-sized equipment in your local gym. Are you ready to start shaping up in your humble abode? Here are some of the best home workout equipment for small spaces, and a few tips on buying them!
Tips On Buying the Best Home Workout Equipment For Small Spaces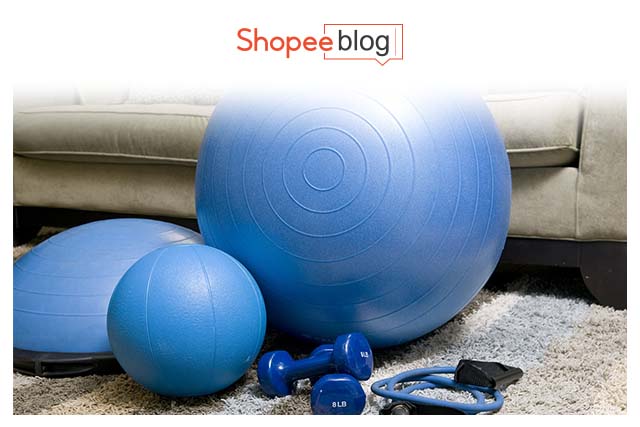 Credit: rob9040 / Pixabay 
1. Bear Your Fitness Goals In Mind
Before you start browsing for new workout accessories, you've got some thinking to do first! Are you looking to lose weight, tone up muscles, or generally improve your well-being? Choosing workout equipment designed for your fitness goals is the fastest way to achieve them! 
2. Measure Your Home's Free Space
What part of your home do you plan on doing your workouts in? Bring your measuring tapes out and know how much space your new equipment would take up before buying them. Additionally, you have to consider the amount of space you'll need to comfortably do your routines! For instance, a jump rope won't take up a lot of space when stored, but you'll need a pretty wide space when using them.
3. Consider Portability and Versatility
Make the best use of your tight space by choosing versatile and portable workout equipment. Go for those that you can use for various exercises or target different muscles. Having equipment that's easy to move around is a huge plus, especially if you tend to reorganize your home a lot.
Best Home Workout Equipment For A Space-Saving Home Gym
1. Resistance Bands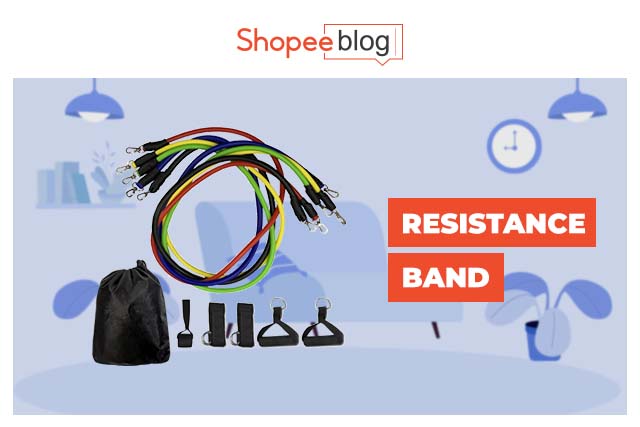 You'd be amazed how resistance bands can replace bulky gym equipment for muscle toning. Coupled with a few tutorials online, you can achieve a full-body workout with this portable workout equipment. Given its versatility, this space-saving wonder also lets you get creative with your routines by making up new moves! Progression is a huge factor with resistance training, so we recommend getting this power resistance band set from Surplus. The set includes five bands that have different weights, cushioned handles, ankle straps, a door anchor, and a pouch! 
2. Under-Desk Exercise Bike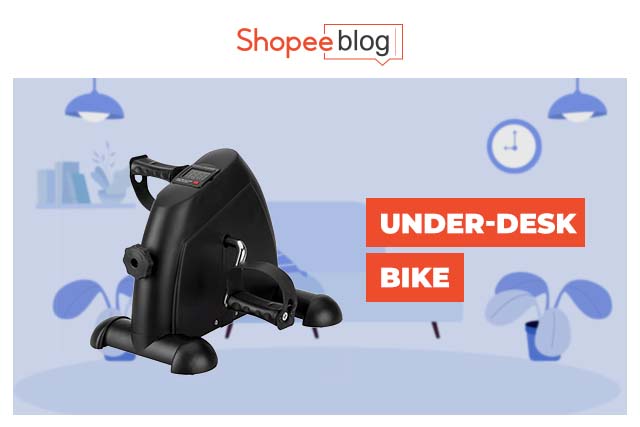 Have you ever wished you could squeeze your workouts into your busy work schedule? Well, consider that wish granted when you buy an under-desk exercise bike! Our top pick is this mini pedal exercise bike that doubles as an arm exerciser. Its LCD monitor shows how many steps you've logged and calories you've burned while you're sitting comfortably in your desk chairs. Talk about multitasking!
3. Weighted Jump Rope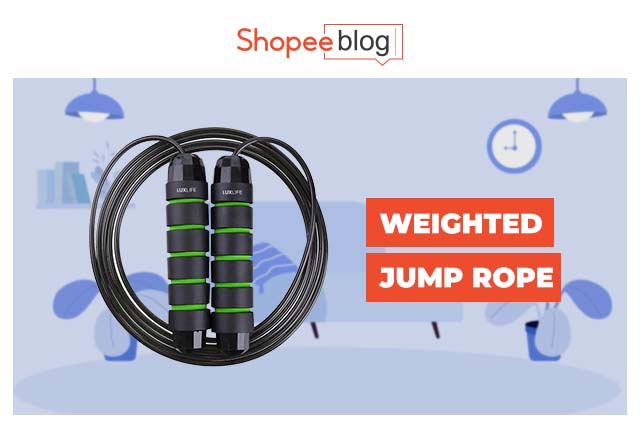 Regular jump ropes alone are great for cardio workouts and endurance training, but what happens when you add weights to the ropes and handles? Weighted jump ropes let you burn twice the amount of calories and tone your muscles at the same time! Due to the increased impact, you'll also be engaging your biceps and ab muscles in every jump. For your convenience, buy weighted jump ropes that you can adjust to your height.
4. Wearable Weights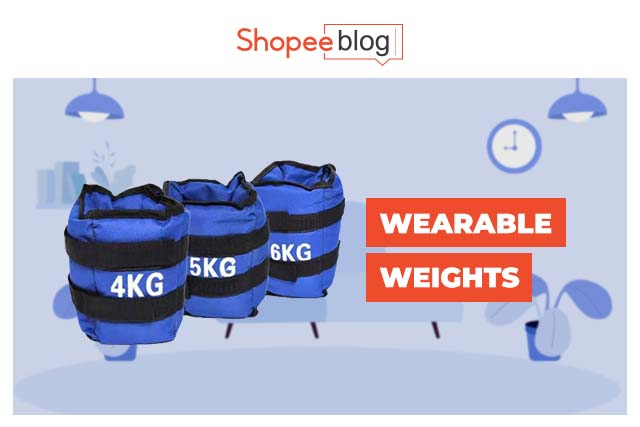 If your usual exercise routines are getting a little too easy for you, wearable weights are the perfect challenge to add for continuous muscle development! The best thing about these weights is that you can practically use them for any type of workout. Ankle weights and wrist weights promote weight loss, improve joint positioning, and reduce lower back pain. Just remember to choose an appropriate amount of weight so you don't end up straining your joints! Start with 0.5 to 1 kg and slowly work your way up to heavier weights.
5. Adjustable Dumbbells
Gradually increasing your weights is a must in dumbbell workouts for you to build muscle effectively. However, not all of us have enough space at home for an extensive dumbbell set. If you're really committed to beefing up, you're going to love these adjustable dumbbells from PinoyGym! One dumbbell packs 15 weight adjustments from 2.5 kg to 14 kg. All you have to do is turn the dial to choose your desired weight. They might be pricier than some dumbbell sets, but they're surely worth the buy if you don't want a room full of dumbbells!
6. Doorway Pull-Up Bar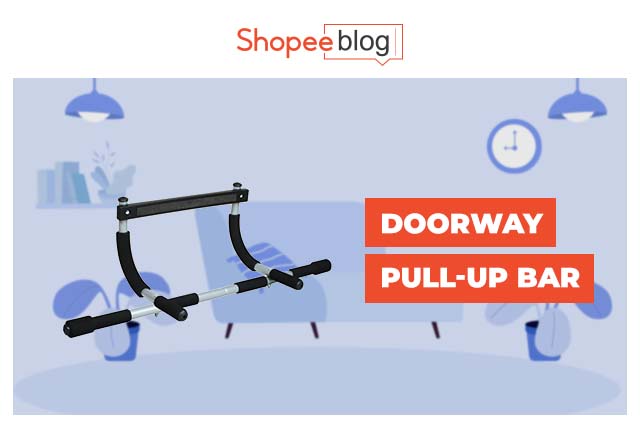 Here's a fun workout challenge at home: do as many pull-ups as you can everytime you pass a particular doorway! Luckily, you can buy doorway pull-up bars that come with safety brackets so you can easily install them without any drilling. Plus, they're portable and multifunctional! Remove them from your doorway in a jiffy and use them as sit up bars or push up bars anytime you want.
7. Foldable Treadmill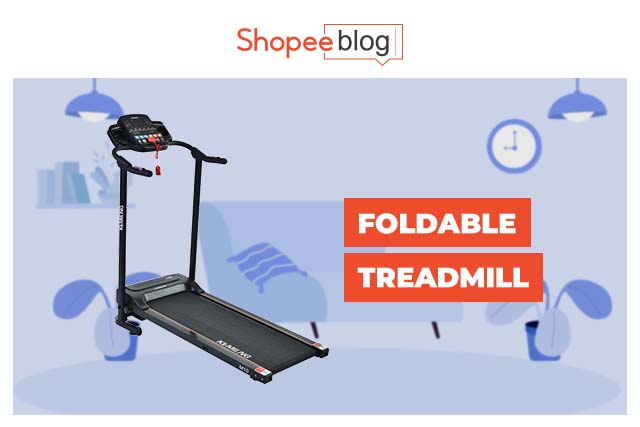 Treadmills are a home workout equipment that eat up a lot of floor space, but not anymore with folding treadmills! The Kemilng M10 foldable treadmill boasts a minimalist but effective design. It comes with an LED screen that can show time, distance, speed, calories, and even heart rate! It also stands on its own when folded so there's no need for a free wall space. Plus, you can plug a flash drive and earphones into the machine so you can log the miles while listening to music!
8. Foam Roller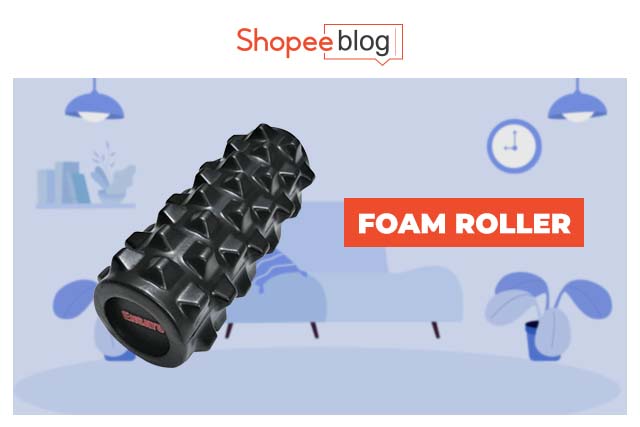 Not every effective workout should knock you out of breath. If your goal is to relax and relieve muscle soreness, you better give foam rolling a try! This exercise works as a self-massage technique, which is also perfect for warm-up and cool-down exercises. Smooth foam rollers are the beginner-friendly option. But you can choose textured foam rollers to work into your muscles deeper and increase tension relief. Don't forget to buy a yoga mat to do this exercise on.
9. Push-Up Board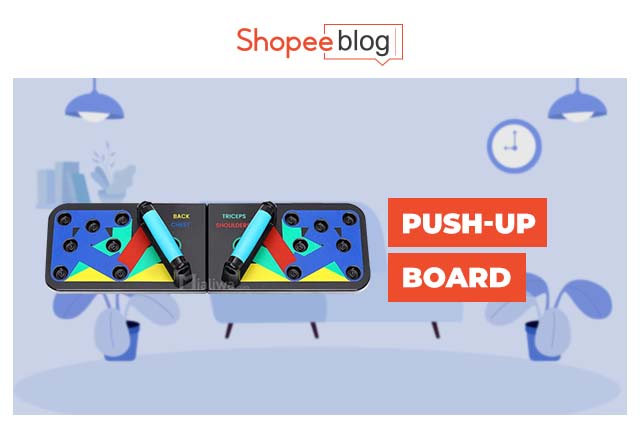 Cut, ripped, jacked, or swole – whichever of these is your muscle goal, push-ups should never go missing on your routine! A 12-in-1 foldable push-up board will guide you into making the best out of every push-up. The set comes with two handles that you can position into various angles to target different muscle groups such as your back, chest, abs, and biceps. 
Consistency Is The Key With the Best Home Workout Equipment
When it comes to fitness, consistency trumps extremity. Start by buying a few of the best home workout equipment listed above and build yourself a space-saving home gym. Fret not because you can definitely find a lot of affordable home workout equipment! We hope this gives you a gentle nudge into working out at home regularly! Check out a few workout outfit ideas to get you extra motivated. Don't forget to support your workouts with a healthy diet by cooking up easy healthy recipes. Commit to your routines and you'll be in the best shape sooner than you realize!
Comments