If you're looking for the best feeding bottle brands, that must mean you have a baby on the way! With that being said, you deserve our heartfelt congratulations. Choosing the right baby bottle is a huge task that comes with great responsibility because no two children are the same. There are a lot of factors to consider and there's a lot of trial and error that needs to be done. But it will all be worth it to see your child getting the nutrients they need from milk. Even if you prefer breastfeeding, feeding bottles are beneficial for parents too! Anyone can feed your baby with your breastmilk in a bottle, allowing you to rest. Keep reading to learn more about important baby bottle factors and three of the best feeding bottle brands that can help your baby get the sustenance they need:
Factors to Consider When Choosing a Baby Bottle
1. Material
There are a lot of different materials to choose from, but choosing the right baby bottle will generally be a battle between two options:
Glass baby bottles were the traditional type, but they have definitely made a comeback recently! Sometimes, it's truly better to stick to the old ways, because some think they are more reliable. While glass feeding bottles may be a bit pricey, they are more sanitary which is very important when taking care of your baby! Sanitization is crucial so that your child is less exposed to harmful germs and bacteria which may cause illnesses. While these are heavier, they shouldn't be a problem for when you're feeding your baby yourself. Make sure to get a silicone bottle cover to protect the glass bottles from breaking!
On the other hand, plastic baby bottles are very practical! They are lightweight and affordable. Plastic feeding bottles are popular because they have different types too! When it comes to cleanliness, you can purchase disposable bottle liners so that the bottle only acts as a holding base. However, you will have to buy quite a few plastic bottles because these do deteriorate over time!
In this sense, it's up to you to choose which is a more sustainable option in terms of future kids and finances. The best feeding bottle brands normally offer both materials anyway, to allow for personalization when it comes to feeding and nursing!
2. Baby's Age
You'll definitely take your baby's age into consideration when choosing the best baby bottle! From newborn bottles to toddler sippy cups, your child will grow quicker than you realize. That's why the best feeding bottle brands offer baby bottles in different shapes, sizes, and designs. Newborns generally start with 4 oz bottles then move up to 8 oz bottles with their increase in appetite. 
In the same way that a baby's age will dictate the size of the bottle, nipple types are part of this too! Stage 1 nipples give a slow flow which is safer for newborns, but you can go as high as Stage 3 for a faster flow. If you feel like saving up on baby bottle essentials, you can find multi-flow nipples that actually allow you to control the stage flow through a few position adjustments!
3. Brand
Since there are so many options to choose from, some parents like to start with brands! As mentioned earlier, finding the perfect baby bottle will take time, effort, and patience. You can ask for baby and mom essential suggestions from fellow parents to find the best feeding bottle brands. Because when all else fails, finding a brand that you trust will be a great comfort. Everything else could even follow! Aside from bottles, most brands offer other baby essentials including baby gear to keep you well-equipped from infant stage all the way up to the toddler stage.
Best Feeding Bottle Brands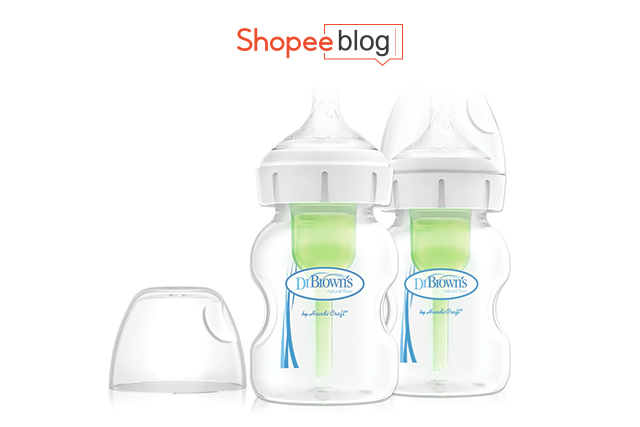 Credit: dr_browns
When it comes to looking for the best feeding bottle brands, you can turn to Dr. Brown's! This particular brand has won the "American Baby Bests" award for twelve years in a row. The Dr. Brown's Options+ Wide-Neck Bottle is a bestseller when it comes to baby essentials because of its many features. It features an internal vent system that is clinically proven to reduce colic! With this vent, the air and liquid are separated, giving your baby a very comfortable feeding experience.
Dr. Brown's bottle nipples are also well-loved! This brand did their best to design a breast-like nipple shape so that your baby can transition between bottle feeding and breastfeeding seamlessly. This is a great comfort for working moms who want to but do not always have the time to breastfeed their children!
Why is this particular bottle called the Options+, you may ask? That's because as your baby grows, you don't necessarily need to replace bottles. Simply remove the vent system for a faster flow, but have peace of mind knowing that Dr. Brown's bottle nipples have their own vent to supply a flow rate that supports breastfeeding.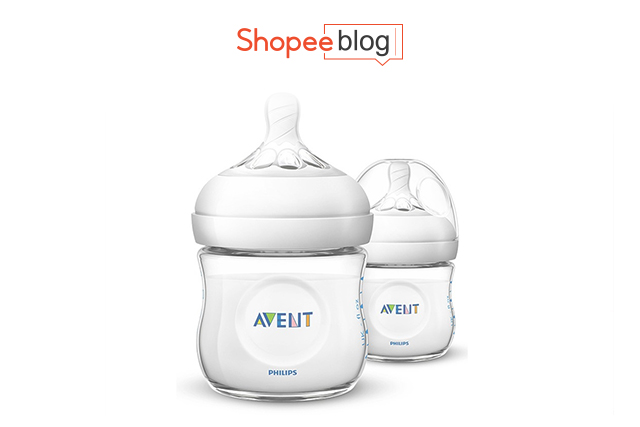 Credit: Philips Avent
If you're eyeing glass bottles, then Philips Avent is one of the best feeding bottle brands for you! They offer different types of baby bottles to suit your baby's needs and these are all BPA-free (non-plastic). Many parents prefer glass bottles because they are easier to clean and are more premium with the glass material, but the most important thing is that the Philips Avent Natural Baby Bottle closely resembles the breast! The skin-soft nipple with a flexible spiral design is what makes it easy to transition your child from breastfeeding to bottle-feeding. This Natural bottle comes with an ergonomic design for maximum comfort too!
You can buy Philips Avent's Natural bottles in clear, pink, or blue! They also offer nipple replacements for when you need them. You might be worried about the glass material, but fret not! You can shop 4 oz Glass Bottle Sleeves or 8oz Glass Bottle Sleeves that insulate bottles and keep them protected at the same time.
Credit: Comotomo
Comotomo offers something new for babies and tops the list in terms of mom essentials–and these are their Silicone Baby Bottles that come in green and pink! It is said that the medical-grade silicone they use is safer than plastic because it's BPA-free, but also safer than glass because of its soft, flexible, and unbreakable form. Comotomo baby bottles are on the pricier side, but this is one of the best feeding bottle brands because of how innovative they are! Your baby will be able to grasp this soft bottle, and that helps with developing motor skills too.
The silicone bottle is made to replicate breastfeeding in shape and feel! These are also parent-friendly, because they are completely easy to sanitize due to the wide mouth on the nipple and the collapsible sides. What makes silicone such a great material for feeding bottles is that they are microwave-safe for warm milk and sterilizer-safe.
The Best Feeding Bottle Brands for a Peaceful Bonding Experience
There are definitely a lot more brands out there, but these are the three best feeding bottle brands because of their unique features that keep both baby and parents happy. A growing baby will need a good bottle to keep them nurtured when breastfeeding isn't possible! This is also a perfect way for the father, or any other loved one, to bond with your child.
Aside from baby bottles, you can check out the Mom's Guide to Pregnancy Essentials for more enjoyable pregnancy and diaper hacks to keep your little one comfortable in their own skin!
Comments