Put a finger down if you've ever had your phone or laptop suddenly flash "storage full." Believe it or not, we've all been there! It's definitely one of the worst things that can happen to you whenever you need your device functioning properly. But by having your very own external hard drive, that won't ever be a problem again. Lucky for you, we've rounded up the best external hard drives that you need to get your hands on. But before all that, you need to also know what to look out for when buying one. So make sure to keep reading! More space for apps, photos, and videos, please!
Finding The Best External Hard Drive For You
In choosing the perfect external hard drive, there are some things you need to consider before finally placing that order on Shopee. It's important to know that the model you're buying is the right one for you, so your purchase would not be a waste of hard-earned money!
Storage Capacity 
External hard drives come in different sizes and capacities. With that in mind, you'll need to choose a size that fits your needs and usage. For starters, 500 GB of space could be a great starting point if you'll only be using it for small capacity files such as music, photos, videos, and the like. But if you plan to go big, a 1 TB hard drive could do you better since you won't have to worry much about monitoring all the files you put into your new external hard drive and the amount of space left. However, if you're more of a file hoarder (ehem ehem) and are too lazy to sort your files one-by-one, you'll probably need more than just 1 TB! 
Compatibility
Whether you're a Windows or Macintosh (Mac) user, it's essential to own the best hard drive that's compatible with your operating system so you never run out of space again! No need to delete old photos and videos, or unwatched movies from your laptop since you can just store it in a compatible hard drive. However, take note that for Mac users, there are some hard drives that are formatted with the NTFS file system which is only compatible with Windows PCs or laptops. So be sure to check your chosen hard drive's specs and look out if it's compatible with Windows, Mac, or other operating systems.
Price
The price of external hard drives doesn't really fall far from each other, but it's good to be on the lookout for the latest deals to get more bang for your buck! Usually, the most affordable 1TB hard drive that you can get is around ₱2,500 which is such a steal – considering the amount of files you can store already!
The Best External Hard Drives You Can Find Below ₱3,000!
1. Western Digital My Passport 1TB External Hard Drive USB 3.2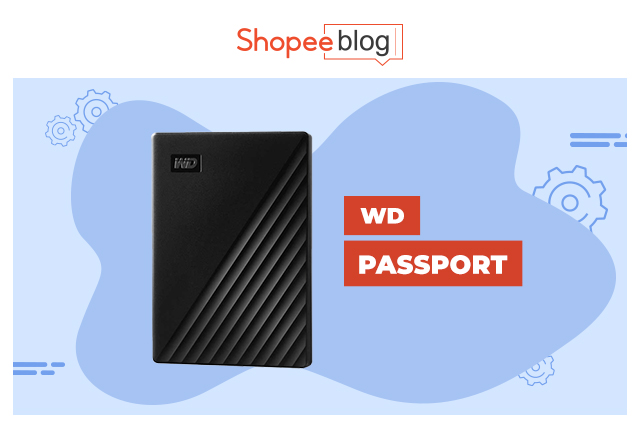 Western Digital's newest My Passport 1TB External Hard Drive is the perfect buy for those who are more concerned in keeping their important data and files fully secured! Equipped with the WD Backup software, you can now simply schedule the time and frequency whenever you need your files to be automatically backed up onto the WD My Passport drive. Not only that, but this 1 TB hard drive also features the WD Discovery software, which enables you to activate password protection and create your own unique password! Now that's exciting! However, this hard drive is initially compatible with Windows systems only, which means it requires formatting for other operating systems. With the WD's My Passport, there's definitely no need for you to worry about losing files anytime! Available in black, blue, red, and white for only ₱2,500.
2. Seagate Backup Plus Slim 1TB External Hard Drive USB 3.0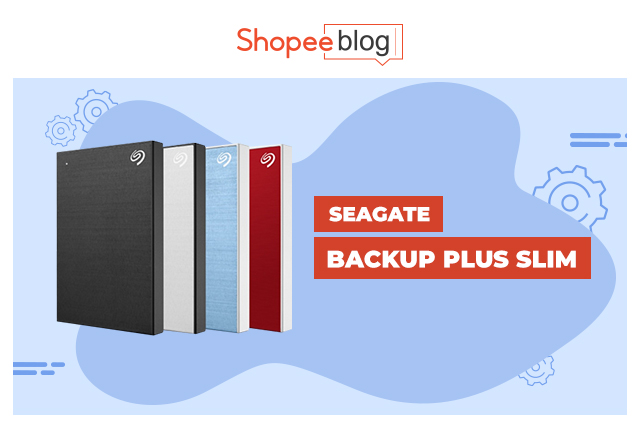 There's no wonder why the Seagate Backup Plus Slim is a crowd favorite for those who are looking for the best external hard drive. Besides it's 1 TB capacity, 3-year warranty and Windows or Mac compatibility – it also boasts of an auto backup feature. With this, you can ensure that all of your files are safe and stored just how you want it. But wait, there's more! Who would have thought that you can have access to Adobe products for free? Yes, you read that right! With every purchase, you will have FREE 4-month access to an Adobe Creative Cloud Photography Plan. That's why for creative peeps out there, this one's the best for you especially with their wide color availability of red, blue, black, space gray, and silver, that you can get for only ₱2,590. Make sure to add  this to your cart now!
3. Toshiba Canvio Basics USB-C 1TB External Hard Drive USB 3.2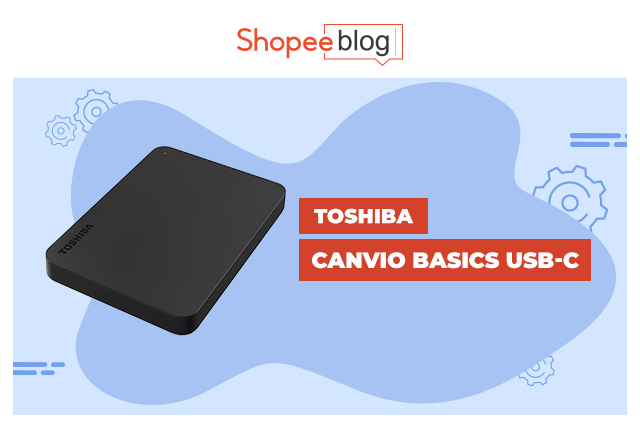 The only one with a USB Type-C cable on our list is this handy Toshiba Canvio Basics USB-C External Hard Drive that packs in so many features for only ₱2,699! Powered with SuperSpeed USB 3.2 Gen 1 (also compatible with USB 2.0), this external hard drive is truly a must-have. It has a super-fast transfer rate of up to 5 Gbit/s. With its newest, sleek, matte-black design – it is more compact than ever. You can easily bring this hard drive anywhere you go! Especially with more devices now using a USB Type-C interface, Toshiba Storage brings you versatility and convenience because there's no need to buy an adapter for your modern device.
4. Toshiba Canvio Advance 1TB External Hard Drive USB 3.2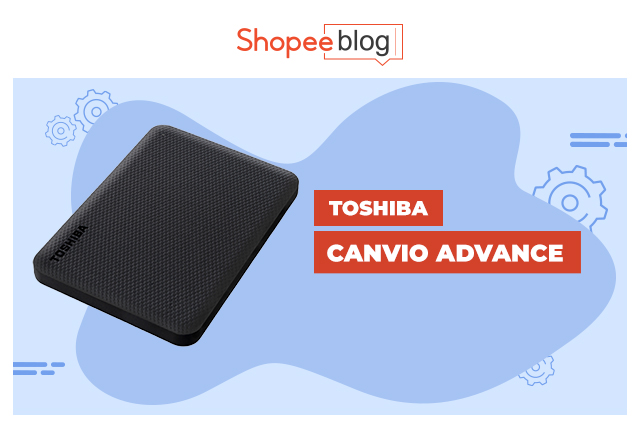 If you're more of a trendy, creative, and outgoing person that loves color in everything, the Toshiba Canvio Advance 1TB External Hard Drive is the one for you! Featuring a modern,  stylish, textured design, this hard drive can easily match your personal preferences! That's because it is available in four different colors – black, light beige, red, and green, which means more choices for you! At only ₱2,749, this hard drive even adds more value as it boasts of its Storage Security Software that enables access to you alone by using a unique password. Now that's something we'd like to see if it's one of the best hard drives in the market! 
5. Transcend StoreJet 25M3 1TB Anti-shock External Hard Drive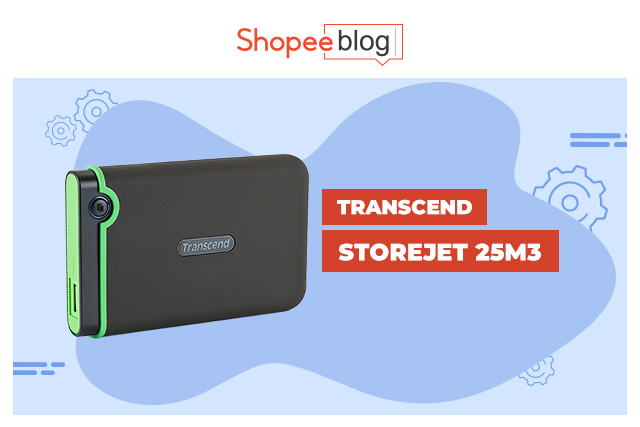 Hands up if you're someone who's clumsy and prone to dropping things! Then you just found the perfect hard drive for you! The Transcend StoreJet 25M3 Anti-Shock Hard Drive is one of the few in the market that features supreme shock resistant qualities. It even meets US military drop-test standards! With the three-stage shock protection system that includes a silicone rubber case, an internal shock-absorbing suspension damper, and a reinforced hard casing, you'll be certain that any data you store in this Transcend drive will be surely protected. Even more, with the one-touch auto-backup button, it enables you to instantly back up files in just one press! What more can you ask for, right? With its price of only ₱2,900, it's such a great deal already if it means your files get three extra layers of protection.
The Best External Hard Drive Is Waiting For You
Since all of us are heavy users of our devices, there really is a need for more file storage nowadays. Whether you're planning on building your gaming PC or on the lookout for the best student laptop, owning an external hard drive is truly a must in our digital world. Also check out the best camera phones so you can have more of those unli selfies to store in your new hard drive!
Comments