We hope you're settling in just fine with the online learning setup! As we give virtual classrooms another whirl this year, students and parents alike are on the search for the best laptops for online classes at home. The search for a gadget that can offer the best and seamless performance which can handle all the video calls, hours of schoolwork, and numerous files and software needed can be a little overwhelming for one to bear. If you're looking to buy a laptop for school, we put together a list of laptops for you to consider checking out! These are the best laptops for students that have been the talk of the town at different price ranges. Put your techie hats on because we will talk about all the details and specs! 
Best Laptops for High School Students
High school students have more complicated and complex schoolwork compared to elementary students. They have more papers to write, reports to prepare, and lengthy tests and exams to take. Laptops are great for this level because they need gadgets that offer better and faster performance, bigger storage for their files, and advanced processors. An important thing to take note of is that a laptop with an SSD (solid-state-driver) has a faster performance compared to a laptop with a hard drive.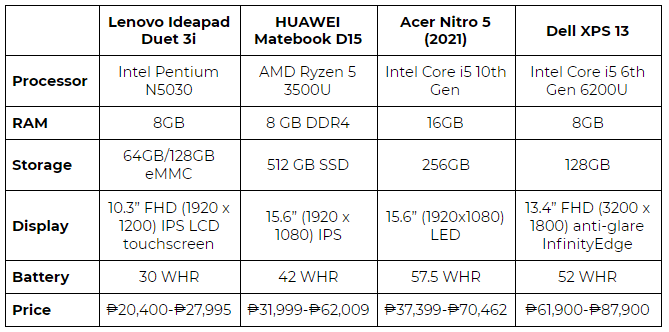 1. Low range
Lenovo Ideapad Duet 3i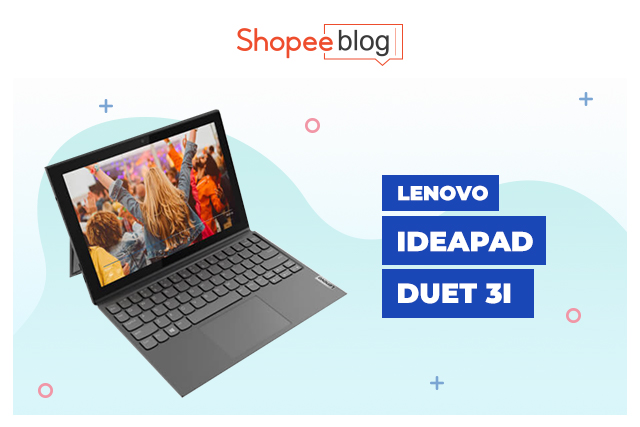 Credit: Lenovo Philippines 
This Lenovo laptop-tablet hybrid is a solid choice for any high school student on a budget. Don't be fooled by its affordability! The Lenovo Ideapad Duet 3i does not fall short on great specs that are well-suited for typical schoolwork. With a small frame of 10.3 inches, it's portable enough to be easily brought anywhere at home or wherever you want to study. 
Cramming long homeworks? Ideapad Duet 3i will have no trouble keeping up with its long battery life of up to 11 hours. It comes with two USB-C ports compared to its predecessors that only had one. That's a very helpful upgrade to those who need to connect flash drives and other devices all at once! Overall, this Lenovo laptop exceeds expectations for its price range and can handle daily online classes smoothly.
2. Mid-range
HUAWEI Matebook D15 2021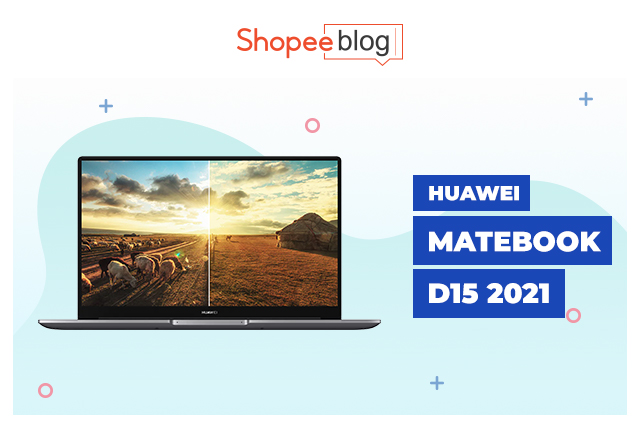 Credit: HUAWEI Official 
As a powerful mid-ranger, the HUAWEI Matebook D15 2021 is one of the students' top picks on high-performance laptops. Equipped with a Ryzen 7 3700U processor, you can work on photo-editing and other heavier school projects with ease. Plus, it has a stylish and lightweight build so it's great to carry around in and out of your home. If you're using a HUAWEI smartphone, you'll get to enjoy its cool feature called HUAWEI Share. This function displays your phone screen on your laptop, so you'll be able to drag and drop files from your phone! You won't even need to have an Internet connection for it. Not only is it convenient for students who usually work with multiple devices, but it's also a cool feature to have around for all users!
Acer Nitro 5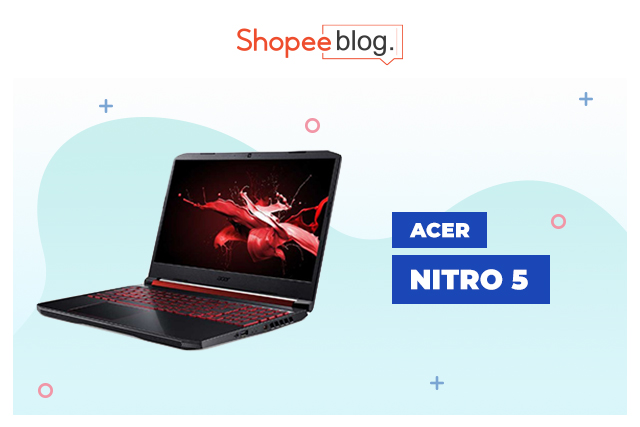 Credit: Acer Philippines 
As popular as its first release in 2019, the Acer Nitro 5's 2021 upgrade is one of the most sought-after affordable laptops. Now powered by one of the latest and most powerful processors, this is one of the most trending Acer laptops for students. Its quick refresh rate and response time ensure that the display is smooth and seamless with no blurs or lag. 
You won't have to worry about the laptop overheating during the long hours of schoolwork. The Acer Nitro 5 has dual-fan cooling together with Acer's CoolBoost technology, making the fan speed faster to cool your laptop quicker. This laptop also has NVIDIA RTX Technology, probably making it the best laptop for gaming and school. Feel free to unwind with a seamless gaming experience after a long school day!
3. High range
Dell XPS 13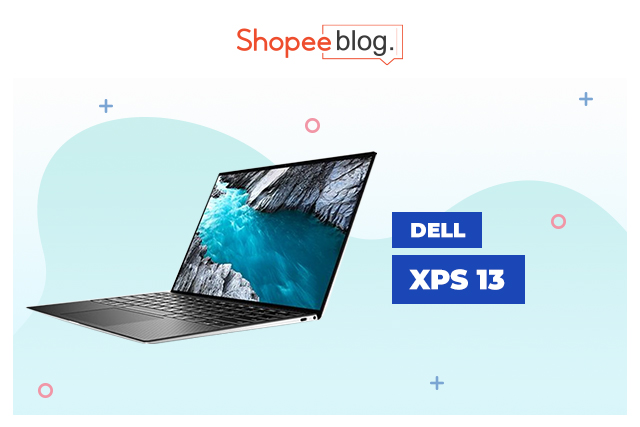 Credit: Dell Philippines
The Dell XPS 13 proves to be one of the topliner laptops even after a year since its release. With its large keycaps and edge-to-edge keyboard, this Dell laptop is a joy to use, especially when writing papers, making reports, and doing other schoolwork. Your fingers can just easily dance across the keyboard. The laptop comes with a 30-day free trial for Microsoft Office, which is an impressive deal! 
The best laptops for high school students should be great in the area of multitasking, and this Dell laptop certainly makes the cut! Having many tabs open and doing multiple things all at once won't be a problem because of its powerful processor. It also has great internal memory and an enormous hard drive memory. So you can save as many project drafts as you want without worrying about storage space!
Best Laptops for Senior High School and University/College Students
With a step closer to entering university, senior high school students are starting to get a glimpse of university life and the schoolwork that comes along with it. Laptops for senior high school students and college students must be able to keep up with all the schoolwork. Pro-tip for senior high school students: maximize the usage of the laptop you use in your two years of senior high school, and bring it with you when you enter university! Below are laptops with long life spans and strong performance thanks to the exceptional processors they're powered by.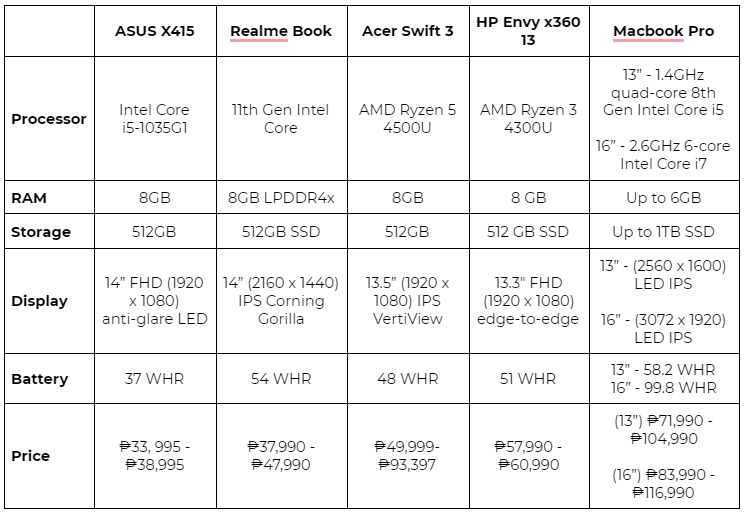 1. Low range
ASUS X415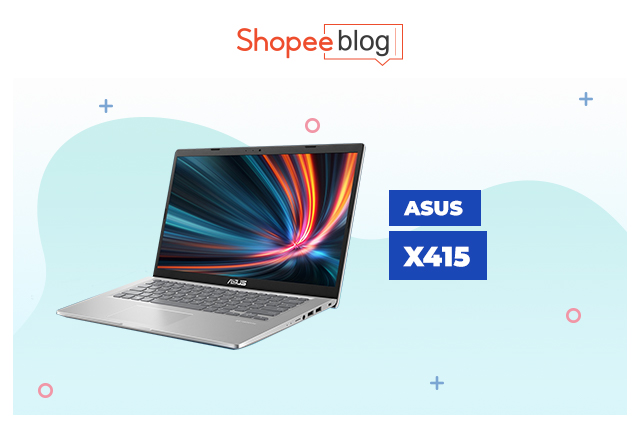 Credit: ASUS Philippines 
If you're looking for a laptop that is ideal for work and play, the ASUS X415 is right up your alley! As a famed gaming laptop brand, you can bet ASUS included a few of their signature gaming specs in this laptop to handle heavy tasks. This laptop is well-suited for any student because of its powerful performance and immersive visuals. Students can save all the files they want and need with its dual-storage design of up to 1 TB. Another highlight not to be missed from this ASUS laptop is its Windows 11 OS, the latest version there is! 
The cherry on top would be its immersive NanoEdge FullHD display combined with an anti-glare coating. If most of your schoolwork includes watching multiple videos, play those videos in Full HD display without distracting reflections on this laptop! All things considered, this ASUS laptop is an incredible all-rounder and one of the best entry-level laptops for college students.
Realme Book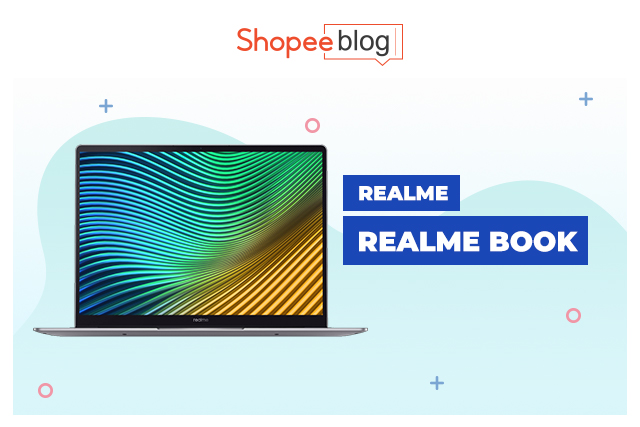 Credit: Realme Philippines 
Realme has just expanded their award-winning line of tech products with their first-ever laptop, and we can say they're off to a great start! The Realme Book quickly rose as one of the best laptops for online classes due to its notable specs combined with a light and thin design. Are you the designated visual designer in your group projects? This laptop can effortlessly handle photoshop and other heavy creative tasks. Its screen brightness is around 30% brighter than most laptops, ideal for those who like studying outdoors.
Another good news: they brought the fast-charging technology from their smartphones to the Realme Book! Charge up to 50% in just 30 minutes and there's no stopping you from finishing your schoolwork. Do you have a lot of online presentations coming up? You'll surely be heard loud and clear with its built-in dual microphone that supports AI noise cancellation algorithms and Vocplus pre-processing technology.  
2. Mid-range
Acer Swift 3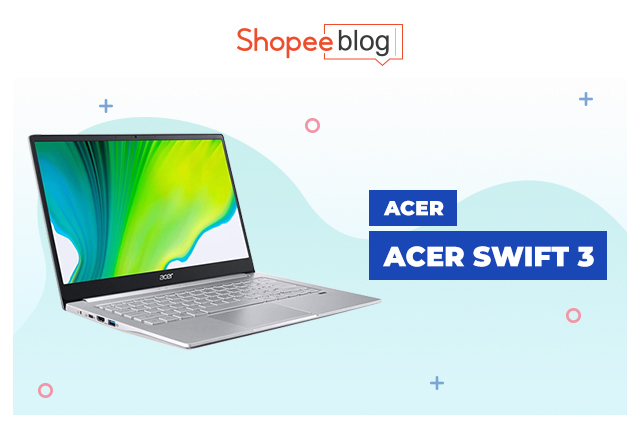 Credit: Acer Philippines 
You can count on Acer Swift 3 to get the job done. It's one of the lightest 14-inch laptops in the market, so enjoy a wide display in a highly portable Acer laptop. Despite being lightweight, you'll feel its durability right off the bat with its sleek aluminum cover. Its latest hardware upgrades boosted its overall performance and battery life. It's also famed as an excellent multitasker. Want a laptop that can handle Zoom calls, photoshops, video streaming, and more at once? The Swift 3 will do just the trick without lags! While its specs are not as flashy as its higher-end predecessors, this laptop is exceptional for its price and is the best for on-the-go college students.
HP Envy x360 13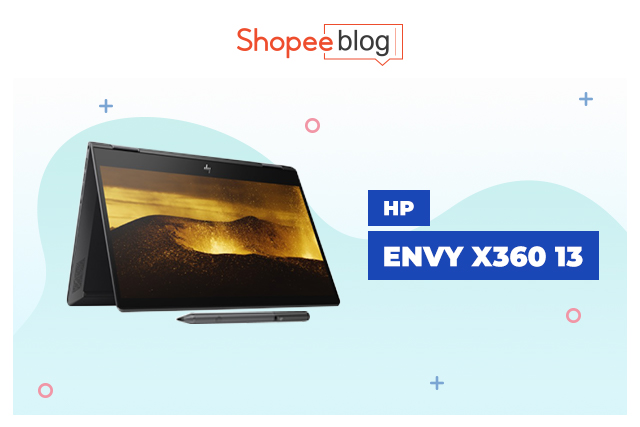 Credit: HP Official Store PH 
HP is a well-known brand that has some of the best laptops for students. If you're willing to shell out a little bit more money, the HP Envy x360 13 is a smart choice. Wouldn't it be so much easier to do difficult homework with a touchscreen laptop? Available in 13 and 15-inch screen sizes, the Envy x360 13 2021 is a value-for-money touchscreen HP laptop you should get your hands on. 
Additionally, this HP laptop's 2021 version packs an upgraded central processor unit under its hood that makes for a lag-free multitasking experience. This makes HP Envy 13 one of the best laptops for college students taking up courses that involve heavy coding, photoshop, and video editing. Lastly, its 4K screen display coupled with a Gorilla glass protection is hard to beat when it comes to striking visuals.
3. High range
Macbook Pro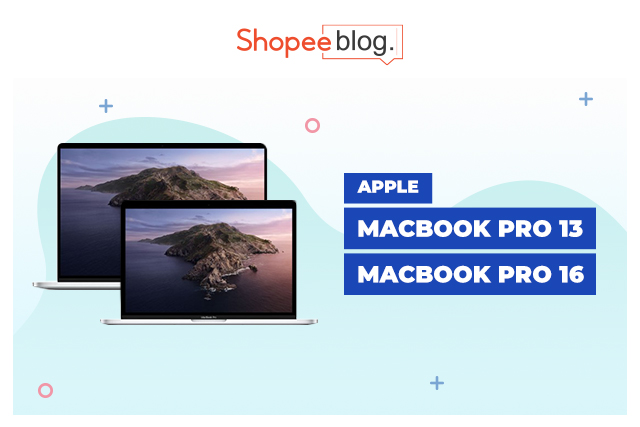 Credit: Apple Philippines 
Macbooks have always been taking the world by storm, no matter how many models Apple has released. Their latest model, the Macbook Pro, is available in 13 inches and 16 inches. Now housing the new M1 chip, this laptop has set the bar higher than ever when it comes to speed and performance! It boasts up to 5x graphics speed, 11x faster machine learning, and up to 20 hours of battery life – a giant leap from their previous models. If you don't mind spending a little bit more money, the Macbook Pro 13-inch and Macbook Pro 16-inch are definitely worth it! 
Despite having a shorter battery life of only 10 hours, the 13-inch Macbook Pro has a more advanced and powerful processor compared to the Macbook Air. To make it more powerful, Apple put a faster and more advanced processor in the Macbook Pro 16-inch. That's not all! These laptops have a huge storage capacity that just seems to keep getting bigger and bigger. These are certainly considered one of the best laptops for college students!  
Nail Your Online Classes With The Best Laptops For Students! 
While the situation is slowly taking a turn for the better, online classes are still our best bet for safe learning. Despite these trying times, we hope that you'll be able to gather up essential school supplies and gadgets to help you with your home studies. With the list of the best laptops for students above, we're sure you'll find one that suits your needs. If you're looking for a gadget that's perfect for elementary students, check out the best tablets for students. Stay safe and study well!
Make sure to check out Gadget Zone and Tech Hub so you can enjoy exclusive perks like vouchers and electronics, know what's currently trending, and keep track of what's up and coming! 
Comments