Dashing Through 12.12 Big Christmas Sale Surprises
(PLUS: Shopee welcomes back 12.12 Brand Ambassador–Jose Mari Chan!)
Just a few days left before Christmas, have you checked everything on everyone's wish list? No?! Well, do not fret! We've got you covered (CLUE: Check out 12 Big Gift Ideas on 12.12). This is your last chance to shop Fashion, Healthy & Beauty, Lifestyle, Electronics, and more to choose from before Christmas.
Get your mom the cooking utensils she has always wanted. Update your dad's car tools. Buy your siblings' new toys, and shop for your friends' wishlist. Shop without dashing through busy shoppers, lining up in the mall and being disappointed because you can't find what you're looking for. Shop with just the tip of your fingers wherever you might be.
Seize the opportunity to get great gifts with our Shopee 12.12 Big Christmas Sale surprises! Do your last-minute shopping with us on Shopee Philippines. Enjoy the variety of things and collections the brands and sellers will be providing you with. Continue browsing through the blog as we list down the the surprises on the biggest sale this jolly season.
Free Shipping Cyber Monday
Is it really a Shopee Philippines sale without free shipping? Celebrate the holiday by having free shipping when you spend ₱199 SITEWIDE! A better deal is waiting for you when you shop at 12.12 shops as you get free shipping with just spending ₱99. As a cherry on top of all the free shipping offers, free shipping vouchers with NO MINIMUM SPEND voucher will be available every 12 MN to 2 AM. Enjoy free shipping SITEWIDE on December 12!
Upsized 20% Cashback Tuesday
Tuesdays are made better by Shopee as we give you an upsized 20% Cashback Voucher and Coins Cashback seller vouchers with no coins cap and no minimum spend requirement to use these vouchers.
Super Flash Wednesday
Flash deals are named right because they truly are gone in a flash! Every Wednesday until the 12.12 Big Christmas Sale, Shopee will be giving super flash deals that you need to get your hands on because it's just that good. The whole day of December 12, expect new flash deals every hour!
₱9 Deals Daily + Super ₱9 Deals Thursday
It's going to be a treat yourself day every Thursday as Shopee Philippines prepares a wide range of selections for the ₱9 deals. Enjoy ₱9, ₱59, ₱99, and ₱199 collections that you probably won't be able to find anywhere else. Cop items with Lowest Price Guarantee and many more deals that are "sulit" for your budget this Christmas.
Shopee Live Friday
This yuletide season, watch Shopee Live every Friday as we invite different sellers every week to join us in the fun. Shopee Live won't be complete if we don't give away major prizes so keep an eye out for those in the duration of the Shopee live! Watch the 15-hour Livestream on December 12 to get a chance to win an iPhone 11!
50% Knockout Deals Weekend
Every weekend, we will be giving you 50% off deals on different categories and collections to help your shopping needs. Not only that, but 50% off vouchers will also be given away every week from 12NN to 1 PM, 7 PM to 8 PM, and 9 PM to 10 PM! Make sure to be online on December 12 as these deals will be available all day long! "Ano pang hinahanap mo?" 
Here's a new game for the Christmas season! Share and invite a maximum of 9 friends to claim lucky draw tickets from each. Get the chance to win big and exciting prizes! Winners will be randomly picked and will get the chance to collect Shopee Vouchers worth ₱1,500, Nextbook Flexx11 Laptop, and–for the grand prize–a brand new iPhone 11! So what are you waiting for? 
12.12 Brand Ambassador
"Whenever I see girls and boys selling lanterns on the street…"
Guess who's back? It's no other than the Philippines's Christmas icon, Jose Mari Chan! Get to know more about Shopee's 12.12 Christmas Ambassador and follow us to know what surprises he has in store this jolly holiday.
Shopee Hourly Prizes
Here are more games you can play every hour for a chance to win prizes like Shopee coins every day.  Get the chance to win ₱1,000 worth of Shopee vouchers on December 12! Click the mystery egg to reveal the prize and play for free between 10 AM to 10 PM. You will have one (1) chance every hour to play, accumulating to twelve (12) chances every day!
Games Day
Play all your favorite Shopee Games on Games Day. Aside from the two new christmas games, Shopee Shake and P1 Game will be fully loaded with great prizes! The whole day of the 12.12 Big Christmas Sale, Shopee Shake will be giving away over 2 MILLION COINS! Plus, get a chance to win an iPhone 11 and McDonalds' Shake Shake Fries! Piso Game will also give you a chance to win an iPhone  11 Pro Max for P1 only!
Midnight Madness
On the night of December 12, enjoy Midnight Madness as we give you Midnight Brand Sales and vouchers, and Lowest Price Deals! Enjoy the highest discount from well-known brands, lowest prices of the day, and vouchers that are available only from 12 MN to 2 AM. Ready your midnight snacks for that last time biggest "pasabog" of the year!
Shopee Live- Grand Christmas Giveaways!
The giving just never stops for our Shopee fam! Enjoy Shopee Giveaways where you can win special prize bundles, Shopee coins, and vouchers every day! Moreover, the Grand Christmas Countdown will be giving away exciting prizes as we wait for 12.12 Big Christmas Sale to arrive. To top it all off, join us for the Grand Christmas Show on December 12, from 9 AM to 12 MN, for fifteen hours of vouchers and coins giving, party games and star-studded performances!
Not only that, we have curated all of these events and giveaways just for you, our Shopee Family! Free shipping with no minimum spend on Free Shipping Cyber Monday, Super Flash Wednesday, ₱9 Deals Daily + Super ₱9 Deals Thursday, Shopee Live Fridays, and 50% Knockout Deals Weekend. Get your cash back on upsized 20% Cashback Tuesday, and watch out for Games and Vouchers Day. Enjoy playing with our two new games as well; Share & Win Prizes and Shopee Hourly Prizes.

Finally, watch out for the Shopee Live – Grand Christmas Giveaways where you can win exciting prizes, join party games, and watch a celebratory performance and meet our Christmas brand ambassador for the 12.12 Big Christmas Sale, Jose Mari Chan!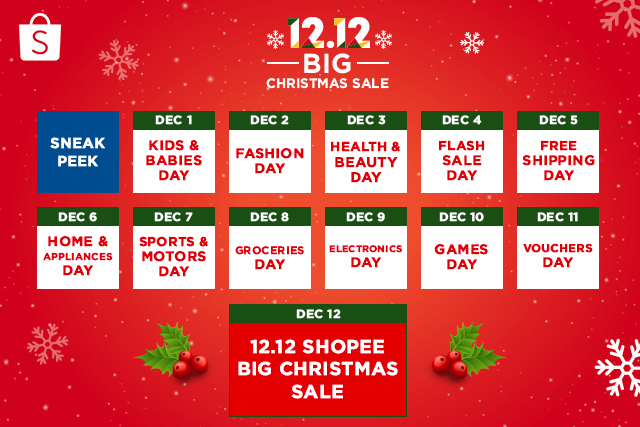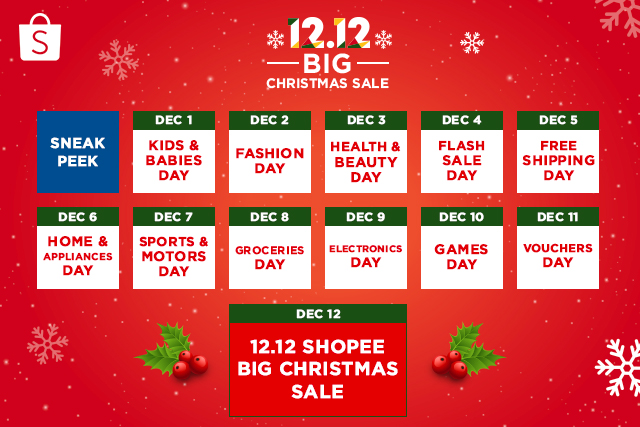 Are your thumbs ready for the endless clicking and adding to cart? Check out 12 Things to Expect to find the most amazing deals and discounts yet.
Before you go, don't forget to also check out the 12.12 Big Christmas Sale Calendar to find out what surprises are in store for you on Shopee Philippines. Download and open your app today and grab the great deals, discounts, and free shipping vouchers that will help you save up money this Christmas season.
Comments