(PLUS: Shopee welcomes new Brand Ambassador–Manny Pacquiao–this 11.11 Big Christmas Sale!)
It's almost the most wonderful time of the year and Shopee is here to bring you the 11.11 Big Christmas Sale! Christmas is just around the corner now, malls and stores have already started to get filled with holiday shoppers trying to get ahead of the christmas shopping rush.  One problem… Almost everyone is thinking of the same thing! Get away from the crowd and the possibility of bumping into people you are buying gifts for! Have a wider gift selection, save some cash from discounts, and save time as you conveniently browse through categories online on Shopee Philippines. All in the comforts of your home. Not only that, catch our 11.11 Big Christmas Sale pasabog and get bigger and better deals from major brands and various sellers. Shopee Philippines has prepared 11 big and wonderful treats to satisfy everyone's shopping needs! Read along as we reveal the never-ending christmas treats we have in store just for you.
Free Shipping Monday
Jump starting 11.11 with free shipping and…wait for it… No Minimum Spend in all 11.11 shops every Monday! You heard us right. We also offer free shipping sitewide when you spend just P199 every Monday and we're just getting started.
20% Cashback Tuesday
Spend Tuesdays with Shopee because we will be giving up to 20% cashback with no cap amount and minimum spend needed. Get a percentage of your money back when you buy at the 11.11 shops or collections for the day.
Super Flash Wednesday
On Wednesday we flash deals! Saan aabot ang P9 mo? Offering everyone P9 products for different collections every Wednesday! Make sure you check on your Shopee Philippines app every hour because those P9 deals are gone in a flash!
Super 9 Deals Thursday
It truly is a happy Thursday when you spend it with Shopee Philippines. Grab the opportunity to get free shipping with no minimum spend on select P9 deals. P9 deals plus free shipping? What more could you ask for! 
Shopee Live Friday
In the spirit of Halloween, watch out for our 3 Hour-long Shopee Live on the app! Check out the live, participate by commenting with the hashtags for that day, and get the chance to win prizes all throughout the Shopee live action.
Knockout Deals Weekend
What better way to spend your weekend than shopping in the comfort of your home? Shopee brings you Wicked Weekend happening every Saturday and Sunday leading to the 11.11 Big Christmas Sale. Get Free Shipping with no minimum spend on flash deals and 10% coin cashback when you shop on the Shopee Philippines app!
Shopee Strike
Shopee is introducing something new for November. Play Shopee Strike, the newest Shopee game in the app, where you throw knives at the cake to earn points. The more points you have, the bigger the coins you'll earn. Try it out now and save more money when shopping. Don't forget to check out the other Shopee games as well like Shopee catch, Shopee shake, and many more!
Brand Ambassador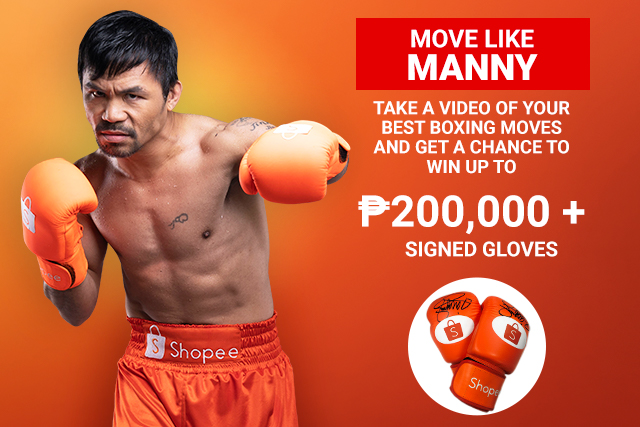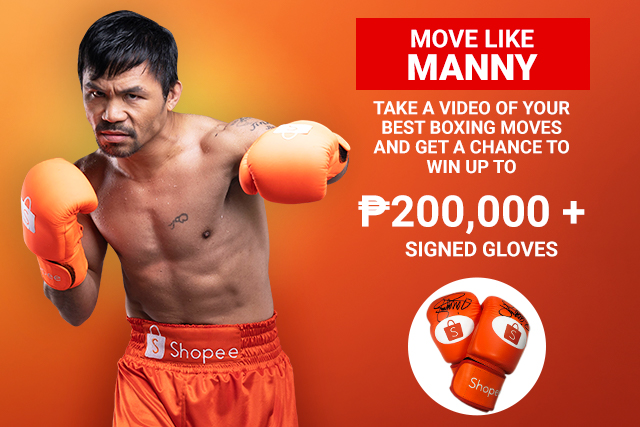 Have you been checking our social media sites lately? Keep up with the brand ambassador as we introduce to you the chosen fighter man for 11.11. The people's champion, Manny Pacquiao! Join us and our number one boxer as we choose 3 lucky winners who will get the chance to win up to P200,000 and a pair of signed boxing gloves on the 11.11 Big Christmas Sale when they join the Shopee Move Like Manny Contest! (Link to the mechanics here)
Happy Hour AM
You know what they say, happy hour is the best hour! Catch Shopee's Happy Hour in the AM from 11 AM to 12NN and get the chance to receive a 50% cashback vouchers and up to 3 times 50% off brands sales from 4 participating brands every day! Claim limited P9 evouchers during the happy hour as well.
Happy Hour PM
Too busy to check on the Happy Hour AM? Do not fret! Happy Hour is happening before and until midnight too. Get a 50% cashback vouchers and up to 3 times 50% off store sales from 6 participating shops, plus P9 evouchers from 11 PM to 12MN. Don't waste your chance to the happy hour deals!
Celebrity Bakbakan: Daily Celebrity Shows
We're not stopping there, join in the celebrity bakbakan as we give you 11 different celebrities/athletes to join us on our 11 days countdown to 11.11. Big Christmas Sale! Catch your favorite celebrity on Shopee Live and score free shipping vouchers, discount vouchers, and coin giveaways on the live stream! All these treats and Shopee's just getting started. In all the days of the week, we got you covered! Free shipping with no minimum spend on Free Shipping Monday, Super Flash Wednesday, Super 9 Deals Thursday, and Wicked Wednesday. Get your cashback on 20% Cashback Tuesday, and Happy Hour AM and PM. Lastly, meet your favorite celebrities and influencers on Shopee Live Friday, Daily Celebrity Shows and meet our brand ambassador for the 11.11 Big Christmas Sale, Manny Pacquiao! Win exciting prizes, buy items at a discount, avail greats deals, and promos on Shopee Philippines!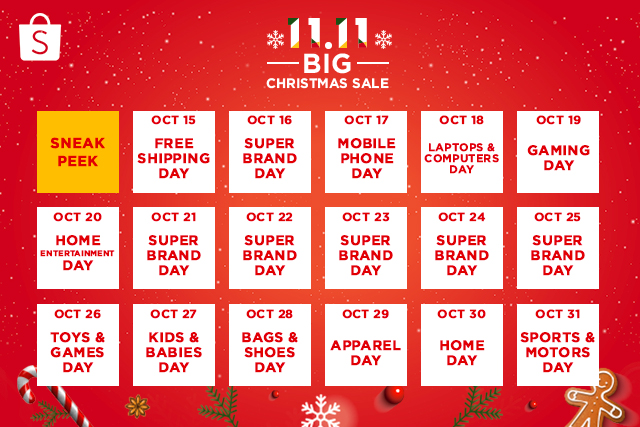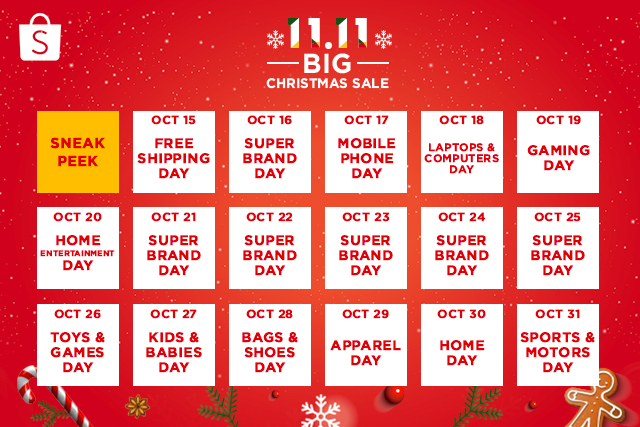 You can also check out the 11.11 Big Christmas Sale Calendar  so you won't miss out on the fun-filled Shopee Philippines treats! Explore the online app today and claim your discount vouchers, free shipping vouchers, and join in the fun games and win great prizes.
Comments