People today are more connected to technology than ever before. Now, everyone has an amazing camera built into their smartphone! Gone are the days when you needed a fancy DSLR to shoot and a desktop computer at home to edit and upload your content. We've put together a list of vlogging equipment you can pair up with your smartphone or even your mirrorless camera to take your videos to the next level! But first, we have something exciting in store! If you have always dreamed of being an influencer, Shopee has the perfect opportunity for you! Read on to find out how you can be the next Shopee Star Influencer.
Be the Next Shopee Star Influencer!
Have you always wanted to become an influencer? Lucky for you, Shopee Star Influencers is coming your way from May 28 to June 18, 2021! Shopee Star Influencers is a competition open to all Shopee users. Participants of this competition will have to do a livestream for the chance to win! The top 15 participants with the highest points based on viewership and checkouts can win up to ₱30,000 and be part of Shopee's Official Livestreamers. More details coming your way below! 
How to Join: 
1.SSign up via the Woodbox form from May 28 to June 5, 2021 and fill out the needed information. You must be at least 18 years old to be qualified and your Shopee account should not be a seller account or a current Shopee Livestreamer account.
2. 200 participants will be chosen and are required to do a livestream everyday from June 12 to June 18, 2021. Each livestream session should be at least 30 minutes long and you have the freedom to do as many streams as you want per day. Livestream sessions that are under 30 minutes will not receive any points. 
3. The chosen 200 participants will be given points based on the views they've accumulated and completed orders that were done through their live stream.
1 unique view = 1 point
1 order = 15 points
4. Top 15 participants with the highest number of points based on views and completed orders will receive ShopeePay credits and become Shopee Livestreamer talents.
₱30,000 for Top 1
₱10,000 for Top 2
₱5,000 for Top 3
₱1,000 for Top 4-15
5. Mark your calendars because winners will be announced on June 24, 2021 via the Shopee app, Shopee's Official Facebook account, and Shopee's Official Instagram account!
What are you waiting for? Set your reminders and alarms so that you won't forget to sign up and have a shot at being a Shopee Star Influencer! While you're at it, make sure to get your vlogging equipment ready so that you're geared to give high-quality livestream sessions. 
Per DTI Fair Trade Permit No. FTEB-120029 Series of 2021
Vlogging Equipment You Must Have in Your Setup
1. Get a Grip!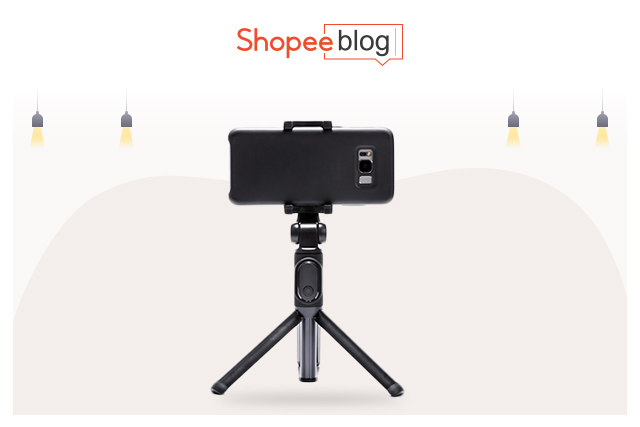 Have you ever found yourself hanging off the back of a motorcycle, jeepney, or the edge of a bangka and thought "this would be a great time to whip out my phone and start vlogging, but I'm afraid it will fall and break into a million pieces!". Well, the first vlogging equipment for your next vlog starts with getting a grip, literally!
There are phone holders that double as tripod mounts and handheld grips, and the good ones have mounts which you can use to attach hot-shoe accessories like external microphones and LED lights. Our favorite phone vlogging holder is the Ulanzi Iron Man II, which comes with a hot-shoe mount on top and a grip adapter on the bottom. Paired with a knurled grip and a heavy-duty wrist strap, you'll be sure that your phone won't fall out of your hands even during your most adventurous moments. This vlogger tech is a definite must-have!
2. Look Ma, No Hands!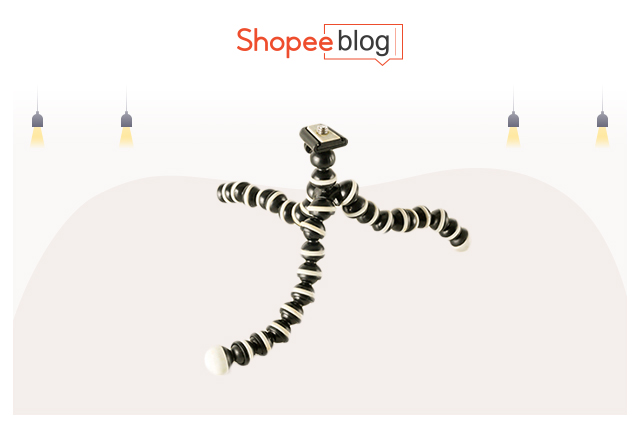 Perhaps you like to film videos without getting up close and personal to your face, or maybe you just want to show off your #OOTD and your #SOTD. That will be pretty difficult with the handheld grip you just read about above, right? In cases like this, you could use a tripod or monopod to keep your phone standing free. However, we recommend you get a flexible tripod like the Joby Gorillapod. It has adjustable legs that you can use to grip onto almost anything – trees, chairs, or even other tripods! We wouldn't skimp out here either! Your smartphone is quite expensive, and it's one strong gust of wind away from falling and suffering from a cracked screen! 
3. Let There Be Light!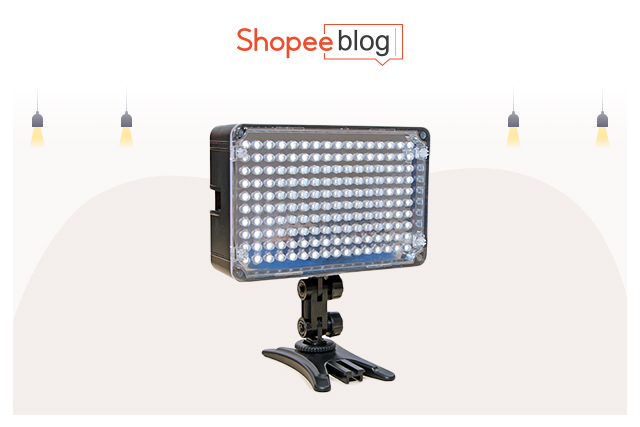 Have you ever heard your foodie vlogger friend say "oh, the lighting is bad" while looking sad after they attempted to take a thousand photos of your now ice-cold dinner? Luckily, the solution to this is super simple. Good lighting is the key to making sure your viewers can see not only you, but whatever subject you are talking about in your vlog too!
We recommend picking up a battery-powered LED light which you can attach to the phone grip mentioned up above. If you need a good multi-purpose light that's compact but bright, the 49-LED model from Andoer is small enough to fit in your pocket but provides enough light for nighttime shooting. If you often vlog in low light situations, stepping up to the 96-LED model Andoer offers will pack a bigger punch. It also comes with two interchangeable filters for warm and cool light. Both are dimmable, so you can fine-tune the output based on your preferences. Lucky for you, you can easily get this top electronic on Shopee Philippines! 
4. Can You Hear Me Now?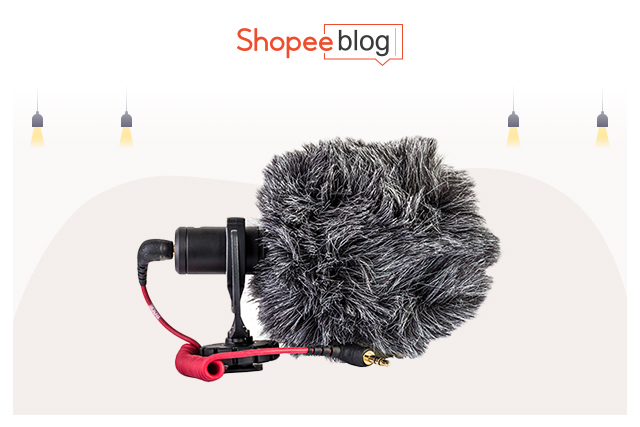 Nowadays, almost everyone has an obsession with video quality. 4K this, HD that, etc. But what people often overlook is good quality sound. We've always been part of the camp that thinks audio quality is just as important as video quality. With the newest Apple iPhone models able to record at 4K and 60FPS, it's important that your audio quality is at par. A microphone like the Rode Videomicro is perfect to capture audio, and it's versatile too. This makes it a top electronic you should add to your collection! You can use this vlogging equipment to capture the background noise from the busy streets of Divisoria Market all the way to your favorite DJ's set at the next summer festival. It plugs right into your smartphone for quick and easy setup. Top tip: don't forget your lightning to 3.5mm adapter if you're filming with an iPhone!
5. Power Up!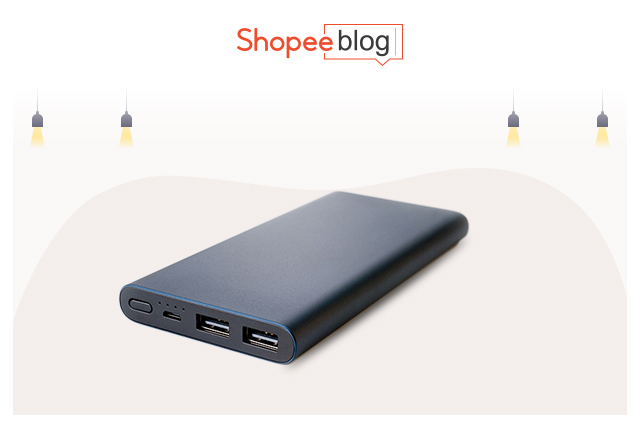 You're out and about in a city you've never been to before. You're having the greatest time of your life. While you roam around, you find something or someone you want to vlog about. Like a street performer or the perfect night market shop! And then it happens. You take out your phone and you get the dreaded pop-up "10% Battery Remaining". The horror! Let's face it. We've all been there. You know that you won't be able to capture this perfect moment since recording in 4K or even 1080p absolutely eats battery life. This brings us to the last, but certainly not least, essential vlogging equipment or accessory: the power bank and charging cable. 
While you might already have one of these in your arsenal, we give our charging setup an update every year. This is to make sure that our power bank battery is fresh and our charging cable can be relied on in the field. Our favorite power banks and cables come from Anker – their power banks are super slim and pack enough power to charge the latest iPhones and other accessories too. Not to mention, their Powerline cables do not fray and short out easily! Unlike the OEM Apple cables that come with your iPhone. Our go-to setup is an Anker Powercore Lite 10,000 mAh. Pair it with a Powerline+ II Braided cable. We've been using this combination of vlogger tech for years, and it's never failed us!
Get Your Vlogging Equipment Ready and be the Next Shopee Star Influencer
So there you have it! Five vlogging equipment which will take your next vlog to the next level. Pretty cool, right? Now it's time for the hardest part about capturing content! And that is finding the next great adventure to film and share with the world! You can start by joining the Shopee Star Influencers campaign and posting awesome livestreams out there. Good luck and happy vlogging, fam!
The "Vlogging Equipment You Must Have in Your Setup" section was written by Eric Go. He is a New York Native currently searching for his own Thrilla in Manila. Catch his adventures on Instagram @ohnoitsericgo.
Comments