Are you fully vaccinated? Every person who completes their second dose brings us a step closer to safety against the COVID-19 virus. In addition to protecting yourself and your loved ones, you can receive an exclusive digital package from Shopee as part of your vaccine perks! This is available until September 26, 2021, so you better act quickly! 
Exclusive Shopee Vaccine Perks Just For You! 
Enjoy free shipping and discount vouchers once you register for Shopee's #FullyVaxxed Package. Whether it's personal care products or groceries, keep your eyes peeled for discounts of up to 15% off from our partner brands such as SC Johnson, Colgate-Palmolive, Bo's Coffee, Airqueen Philippines, Hygienix, Splash Personal Care, Maxi-Peel, SkinWhite, New Balance, Sakura Filters, Manuka Health, KonsultaMD, Photobook, and more. With a minimum spend of ₱50, New Shopee users can also use the voucher code FULLYVAXXED to enjoy 100% off capped at ₱50 until September 26, 2021.
What do you have to do? Visit Shopee Bayanihan: #FullyVaxxed Package or simply search for "fully vaxxed" on your Shopee app. Next, submit a photo of your vaccination card for proof of vaccine completion. Then you'll have to wait for five to seven working days to be verified. Once you get your verification from Shopee, here is a list of some deals you can look forward to:
Restock Your Daily Self-care Essentials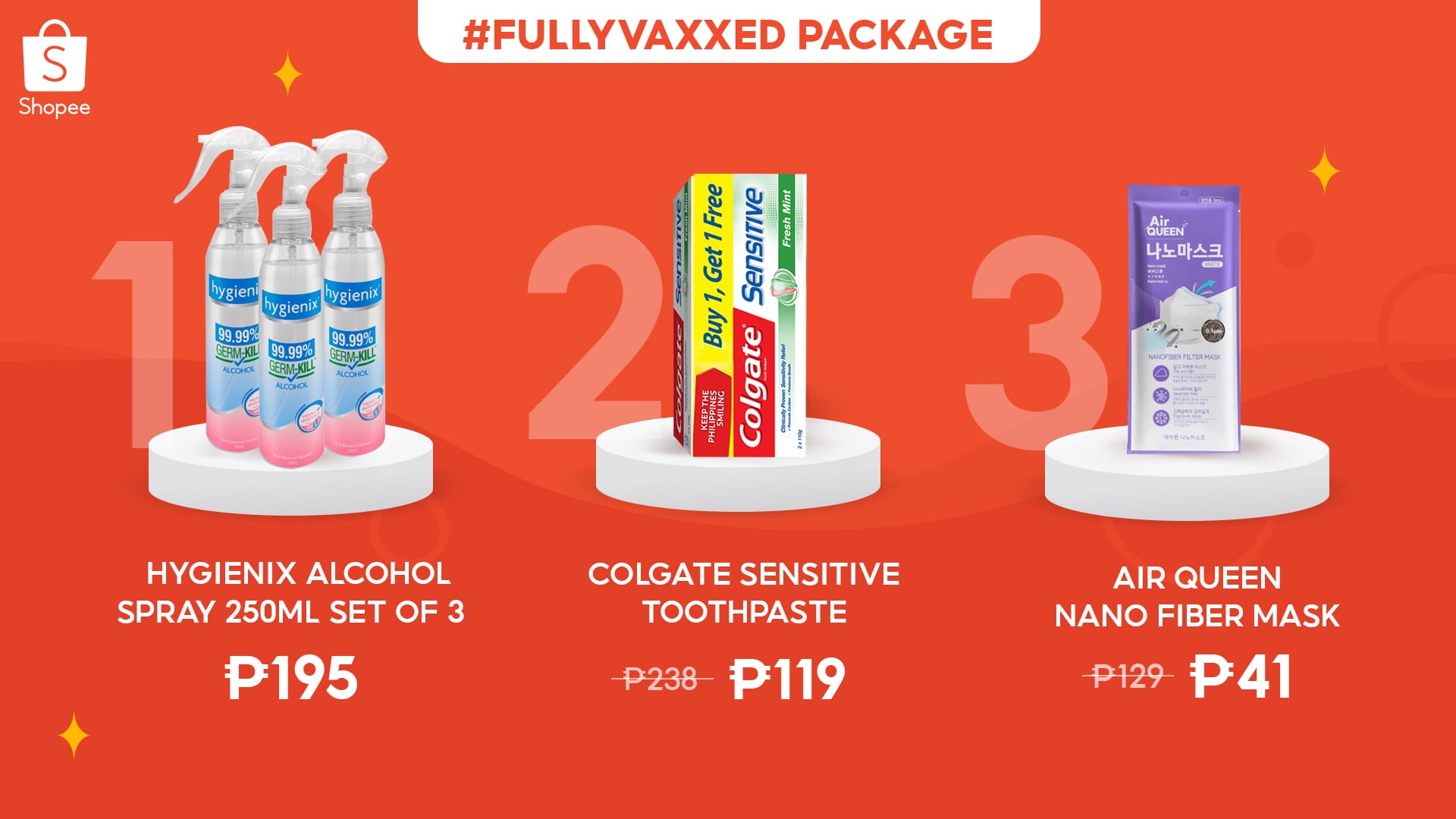 Maintain good hygiene and cultivate healthy habits with these great deals! Keep clean with Hygienix Germ Kill Alcohol, a disinfectant that effectively kills germs and soothes the skin at the same time. Stay fresh with Colgate's Sensitive Toothpaste, a must-have to fight bad breath and prevent cavities. Be protected with Airqueen's Nanofiber Mask, designed for everyone and everyday wear. This product comes with elastic earloops to guarantee a secure fit.
Grab Your Groceries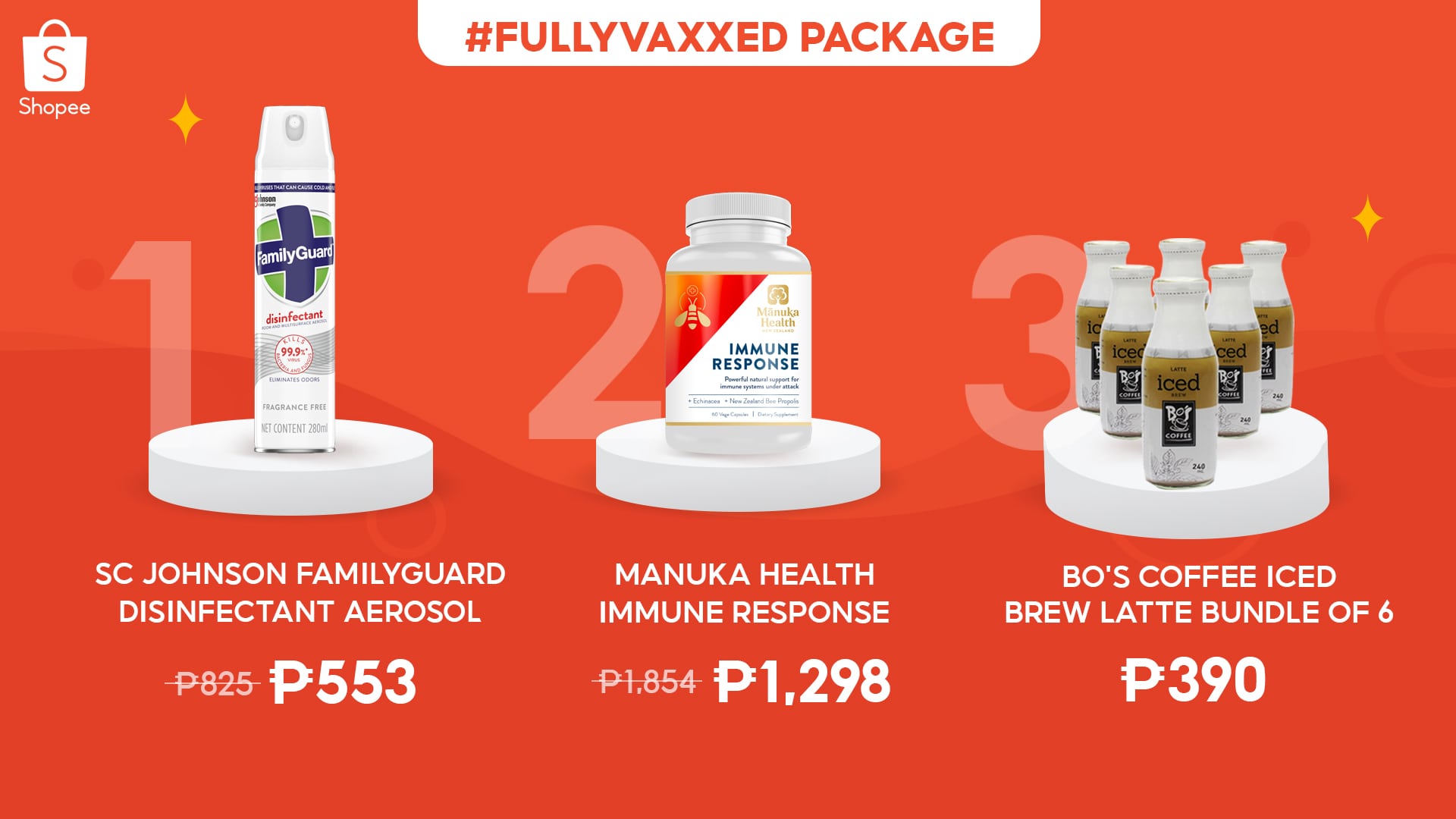 Grocery items are essential now more than ever. When you need to eliminate odors and germs on multiple surfaces of your home, the SC Johnson FamilyGuard Disinfectant Aerosol gives you the power to do so. An immune system under attack calls for the Manuka Health Immune Response, which contains researched ingredients that reduce symptoms and boosts recovery. When you need a quick caffeine fix, delight in Bo's Coffee Iced Brew Latte. Not only is it made from the finest coffee beans, but it is also a classic favorite known to deliver happiness in a glass bottle.
Spruce Up Your Style and Space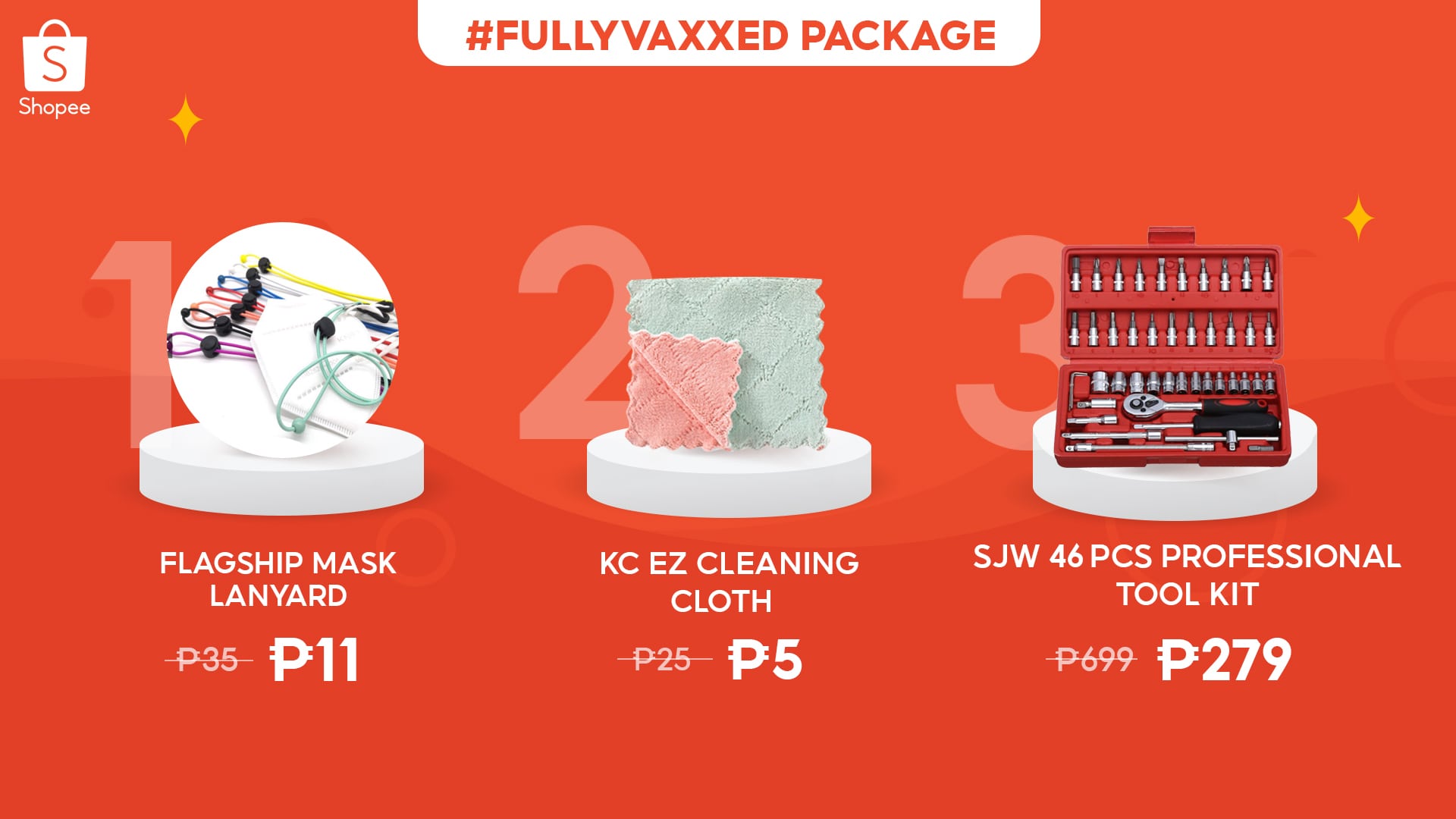 If you are ready to take ordinary items to the next level, these deals are especially for you. Available in six colors and two different styles, the Flagship Mask Lanyard is the best accessory to keep your face mask secure and clean when not in use. Find satisfaction in doing household chores with the lightweight and absorbent KC EZ Cleaning Cloth to wipe stains and clean surfaces as efficiently as possible. Repair motors from the comfort of your home with a wide selection of quality tools from the SJW 46pcs Professional Tool Kit.
Salamat, Shopee for the Vaccine Perks!
Been looking for vaccine perks that hit all the marks? Don't miss out on Shopee's #FullyVaxxed package once you're fully vaccinated! With this exclusive package, you can shop for your essentials at discounted prices! What more could you ask for? Get your vaccine, sign up, and enjoy these amazing deals. This package awaits you, Shopee fam! 
Comments