Try Out the ₱1 Game and Daily 100% Cashback Vouchers on Shopee 5.5 Double Double Sale
Shopee, the leading e-commerce platform in Southeast Asia and Taiwan, dove deep into the data of its users in the Philippines to uncover key consumers insights on online shopping in the country. Tapping on its deep understanding of the tastes and preferences of Filipino shoppers, Shopee introduces the Shopee 5.5 Double Double Sale from April 28 to 5 May, featuring the daily ₱1 Game and daily 100% cashback vouchers.
"Shopee has grown tremendously in the past year to firmly establish ourselves as the leading e-commerce platform in the Philippines. We owe a big part of our success to the data-centric approach we use to understand and serve our users. With millions of users and growing, we can generate rich and detailed insights about Filipino online shoppers and design campaigns for their evolving needs. Shopee 5.5 Double Double Sale is another example of this, and we are proud to once again help Filipinos save more on a massive range of brands and products catered to their tastes," said Ruoshan Tao, Head of Marketing at Shopee Philippines.
Shopee reveals 3 key online shopping trends in the Philippines for 2019, ahead of Shopee 5.5 Double Double Sale:
1. More Filipinos are shopping online today
Shopee is also becoming the preferred e-commerce platform for Filipinos to find their favorite products. Filipinos search most often for terms related to Electronics, Health and Beauty, and Fashion; with Xiaomi, Maybelline, and Vans among the most-searched brands so far in 2019.
2. Geography shapes online shopping habits in the Philippines
Shopee has found that online shopping preferences differ across regions in the Philippines. For users in Metro Manila, Health & Beauty and Electronics are the top categories with Xiaomi, Realme, and Honor as the leading smartphone brands. In fact, Realme sold over 1,000 units of its brand-new Realme 3 smartphone in two flash sales, with the first flash sale on March 25 selling out in under an hour.
For shoppers outside the capital, they prefer to buy Fashion products online as they benefit from a massive assortment of products and styles. In Visayas and Mindanao, Korean-styled apparel and footwear are the most purchased items.
3. Men are shopping online more often, and more widely
Men are also more actively shopping for Fashion and Beauty products, aside from conventional categories such as Electronics and Gaming. Online shopping for skincare items is becoming especially common for men, with face masks ranking among the top 10 most popular products for male Shopee users in the first quarter of 2019.
Shopee 5.5 Double Double Sale: 8 days of Unbeatable Deals Catered to Filipinos' Shopping Habits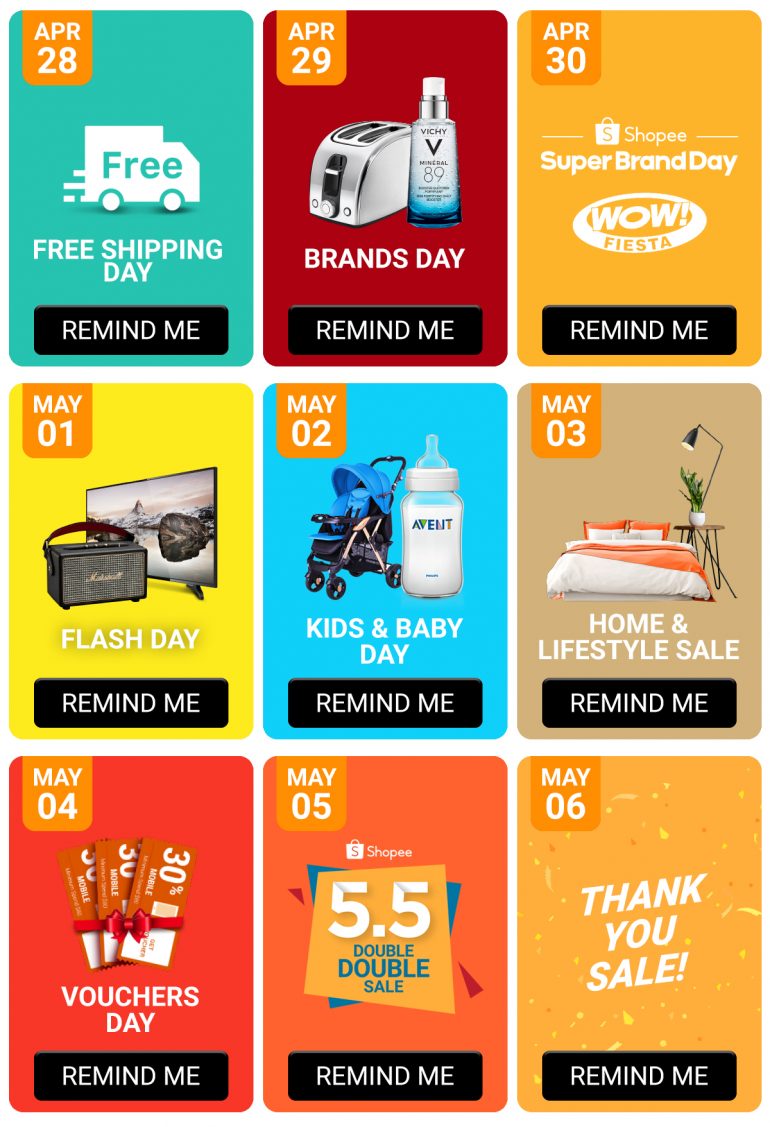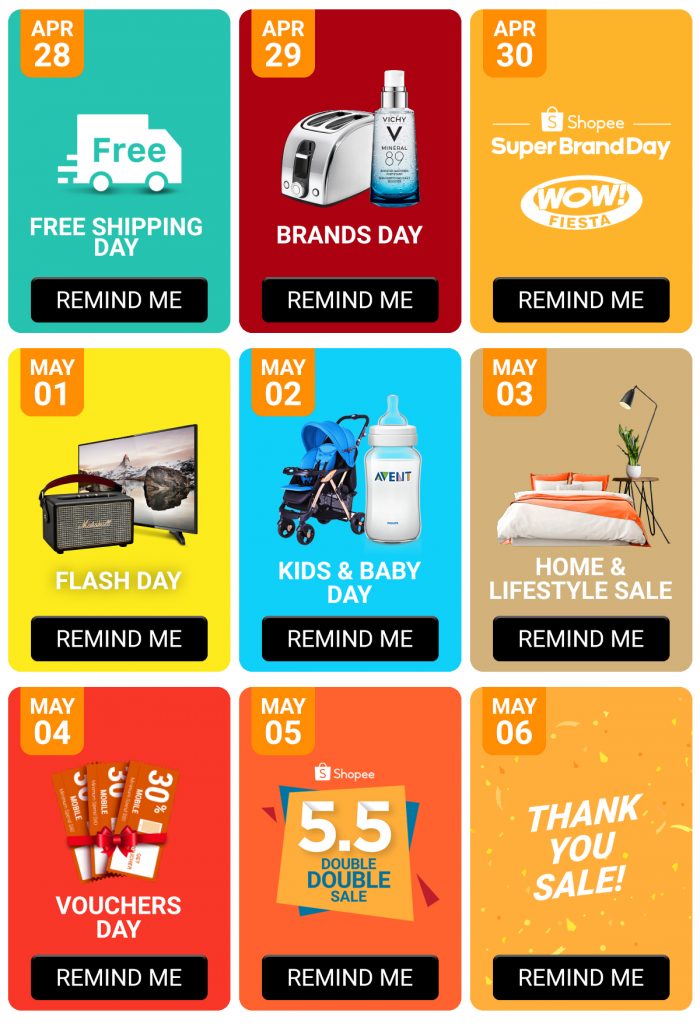 Taking place from April 28 to May 5, Shopee 5.5 Double Double Sale features 8 days of unbeatable deals including daily ₱1 Games and daily 100% Cashback Vouchers. Armed with a close understanding of Filipinos' tastes and preferences, Shopee has partnered leading brands in the Philippines including Maybelline, Globe, Enfagrow, and Infinix to deliver up to 90% off the most-wanted items.
Kids & Baby Day: A Special Day for Moms and Dads
To make this double double sale extra special, we're having a special Kids and Baby Day on May 2, 2019! Shop and get a chance to win exclusive prizes and giveaways during this one day event. The Kids and Baby Day will hero the biggest diaper discounts and deals yet on Shopee! BUT WAIT, THERE'S MORE! You can also avail the exclusive voucher and get ₱70 off after a minimum spend of only ₱600!
Valid only on May 2, 2019
P70 Off, P600 Minimum Spend
Valid on Kids & Babies categories only.
Valid on Orders to be Delivered via Integrated Couriers.
One-time use only.
First 1000 users per day only.
Shop from your favorite brands such as Pampers, Huggies, MamyPoko, Pediasure Lactum 3+, Nido 3+, Bonakid 3+, Tiny Buds, and enjoy awesome online discounts!
To top it all off, Shopee also has a WOW Super Brand Day where you can buy karaoke machines, microphones, and more, as well as a Home Day for your hobbies and home decor needs, a Brands Day so you can shop online from your favorite stores, and many more!  What are you waiting for? Visit http://shopee.ph/5-5 starting April 28 for great online deals, awesome promos, and Shopee vouchers!
Comments