Having sensitive skin is a struggle in itself. With sensitive skin, you have to be extra careful with the products you put on your face. So the thought of trying out new facial cleansers can easily frighten you because of the huge possibility that your face can get irritated. But here is where your worries come to an end. We've listed down a few ingredients in mild cleansers that you should avoid if you have sensitive skin. This will help you narrow down your list of must-try facial cleansers.  But we didn't stop there! We also rounded up the best facial cleansers for sensitive skin that won't have you breaking out or cause irritation. Read on for the chance to discover your holy grail!  
Ingredients to Avoid for Sensitive Skin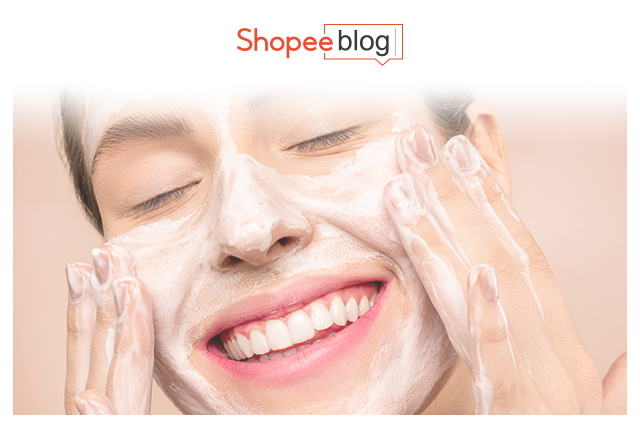 Credit: Shiny Diamond / Pexels
1. Fragrance
The never-ending debate in the world of skincare – is fragrance good for you or not? Some dermatologists say it's best to steer clear of products with fragrance. While others say it's not a big deal. But to be on the safe side, especially with sensitive skin, it would be best to avoid facial cleansers with fragrance. Some products have fragrances to mask the natural smell of other ingredients. But the problem with fragrance is that it's a combination of natural and chemical ingredients. The chemicals used in the fragrance are not disclosed since it's all mixed together and simply labeled as "fragrance" on your product's container. Since you don't know the specific chemicals that were put into the mix, you don't know if that product will irritate your skin and cause flare-ups. Unless you're willing to take the risk, opt for fragrance-free skincare products.
2. Alcohol
Yes, in case you didn't know, there are a lot of skincare products out there that contain alcohol! Alcohol in skin care products leaves your skin feeling non-greasy and dry. Plus, it feels weightless on your skin and instantly dries up. All that sounds good right? That's not the case if you look at the long-term effects. Your skin barrier will be weakened, making it vulnerable to breakouts, extreme dryness, and rejuvenating your skin will be a huge struggle. So it's definitely in your best interest to avoid skin care products, including facial washes, that have alcohol in their ingredient list. The kinds of alcohol to avoid are denatured alcohol, specially denatured (SD) alcohol, and isopropyl alcohol!  
3. Harsh exfoliants and scrubs
The recent trend in facial washes is daily exfoliating cleansers!  This shortens your skincare routine and definitely saves up on money. However, some of these daily exfoliating cleansers and scrubs come with tiny granules that are irregular and jagged in shape such as apricot kernels and the infamous walnut shell. Because of the irregular shape of these ingredients, they are prone to do more harm than good to your skin. These are too abrasive on your skin and can cause micro-tears. Surely, you wouldn't want that especially if you have sensitive skin! 
11 Best Cleansers for Sensitive Skin That Your Face Won't Mind
1. Cetaphil Gentle Skin Cleanser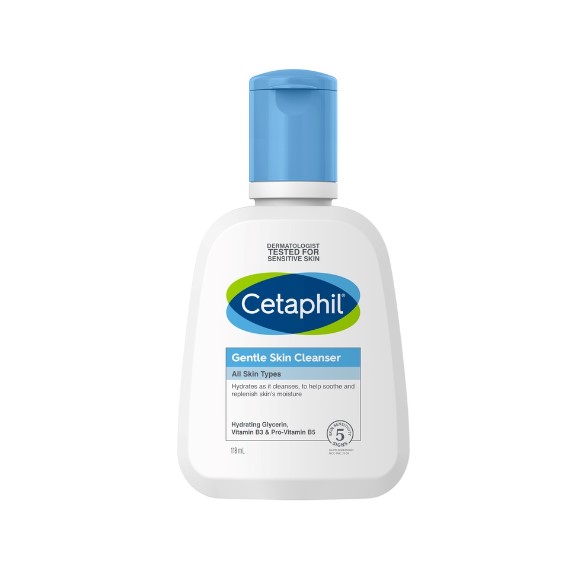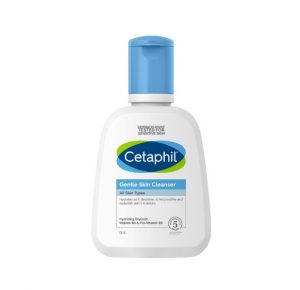 Dealing with dryness, tightness of the skin, irritation, roughness, and weakened skin barrier? Cetaphil face washes are here to save your skin! Without a doubt, you've definitely heard of Cetaphil! It is the most recommended brand, especially for sensitive skin. They have Cetaphil face washes that can gently yet thoroughly cleanse your face without overly stripping or drying it. On top of that, Cetaphil Gentle Skin Cleansers are hypoallergenic and soap-free. Soap-free means that it doesn't contain fats and alkaline additives. Instead, it has emulsifying ingredients that can break up oil and fats to keep the skin clean. May it be excess oils or hard-to-remove impurities – you can count on Cetaphil Gentle Skin Cleansers to do its job! As one of the best cleansers for sensitive skin that's dermatologist-recommended, it's worth a try! 
2. CeraVe Hydrating Cream-to-Foam Cleanser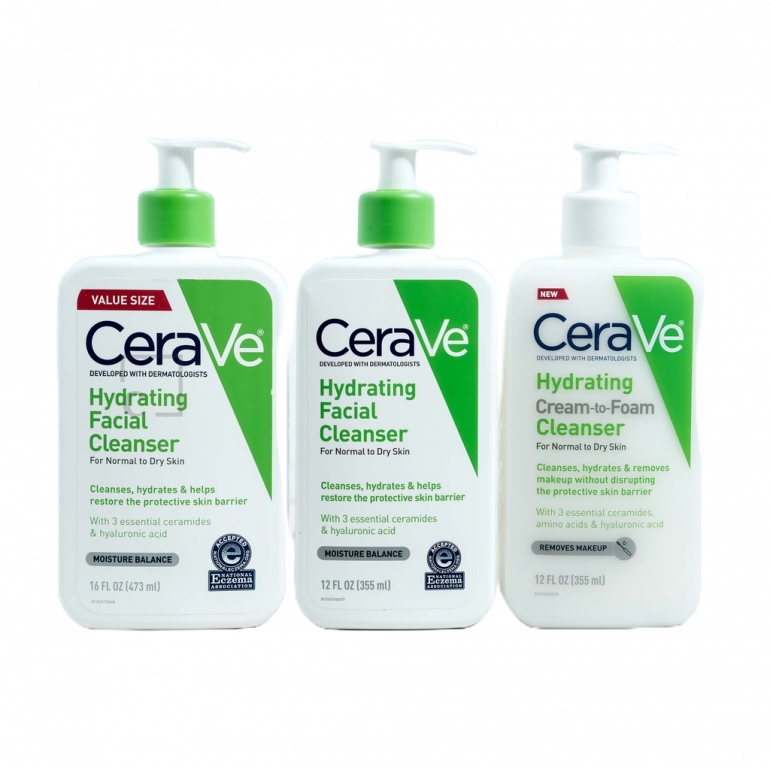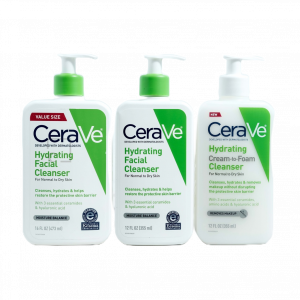 CeraVe cleansers easily make it to the list of the best face washes for sensitive skin out there! CeraVe is one of the best cleansers for sensitive skin that's dermatologist-recommended. What sets this apart from other brands is that they use ceramides in their best cleansers for sensitive skin to help keep the skin barrier in good condition and restore it if needed. The ceramides found in their mild cleanser are actually a blend of three ceramides that are similar to those naturally found in our skin barrier! If that already sounds amazing to your ears, give your skin some love by trying out the CeraVe Hydrating Cream-to-Foam Cleanser. With this single CeraVe cleanser product, you can experience the hydrating effects of a cream cleanser and a refreshing feeling with the foam cleanser all-in-one! 
3. Simple Kind to Skin Moisturizing Facial Wash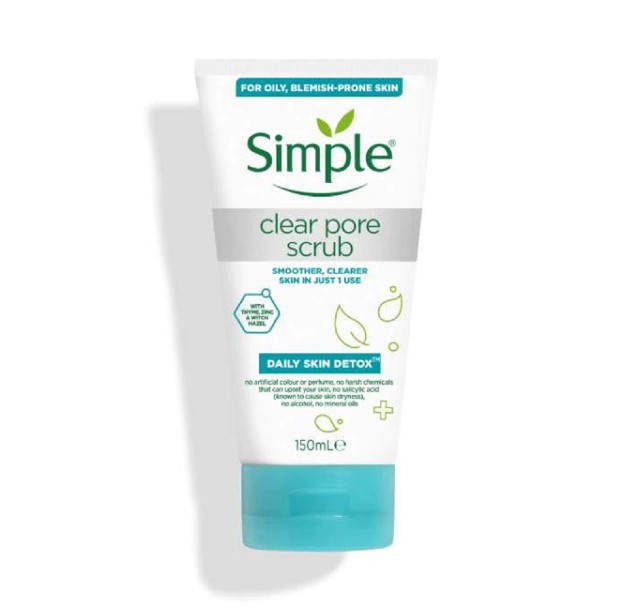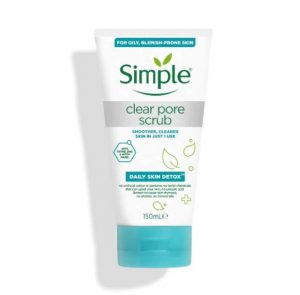 With their core philosophy of only including ingredients in their products that your skin will love and enjoy, you can trust that Simple only wants what's best for your skin! Their products are free from ingredients that aren't friendly to sensitive skin such as artificial perfume, artificial colorants, alcohol, soap, phthalates, parabens, and the list goes on! Their Kind to Skin Moisturizing Facial Wash is able to keep your face squeaky clean without leaving it dehydrated. It also contains multi-vitamins that your skin will happily soak up such as vitamin E, Bisabolol, and pro-vitamin B5. It's no wonder that this cleanser has been recognized as no.1 in the UK! Aside from their cleanser, give their Simple Clear Pore Scrub Daily Skin Detox a try and double cleanse with the Simple Micellar Water and Simple Dual Eye Makeup Remover.
4. Human Nature Tomato Facial Wash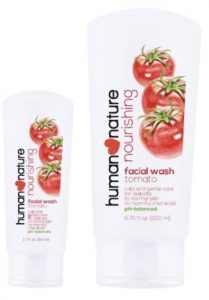 Support local by giving Human Nature a shot! Human Nature has some of the best facial cleansers for sensitive skin too. They offer hypoallergenic products at a price that won't break the bank! Go for their Human Nature Tomato Facial Wash which is nourishing and provides mild and gentle care. This facial cleanser also contains tomato antioxidant properties, enabling it to cleanse your skin while strengthening your skin barrier. On top of that, it also includes ingredients that will leave your skin feeling moisturized! Who wouldn't want that? 
5. Neutrogena Ultra Gentle Daily Cleanser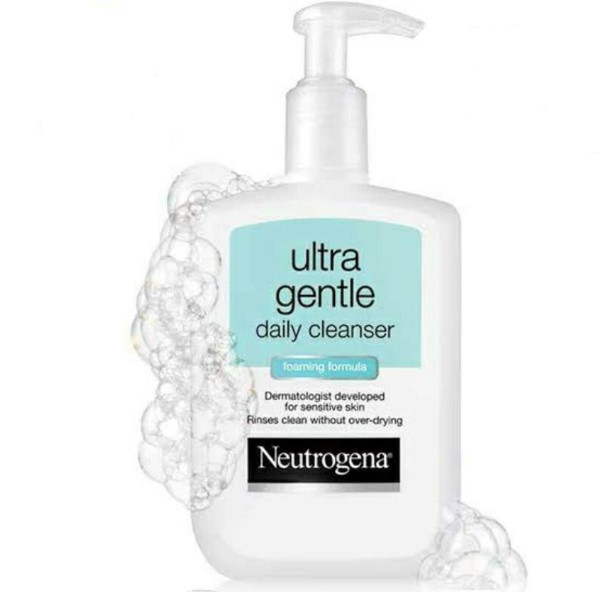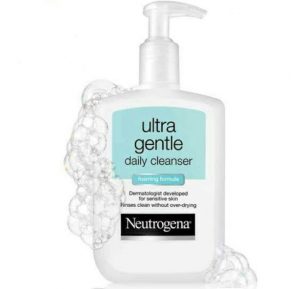 Don't want to choose between having facial cleansers for sensitive skin that can thoroughly clean your face or one that's gentle? Fret not, the Neutrogena Ultra Gentle Daily Cleanser is the perfect solution. Without making you choose one over the other, this facial cleanser can cleanse away all sorts of impurities and dirt without stripping your skin from the hydration that it needs! Plus, it is hypoallergenic and extremely gentle that it can even be used for those with eczema, atopic dermatitis, and rosacea! 
6. Celeteque Facial Wash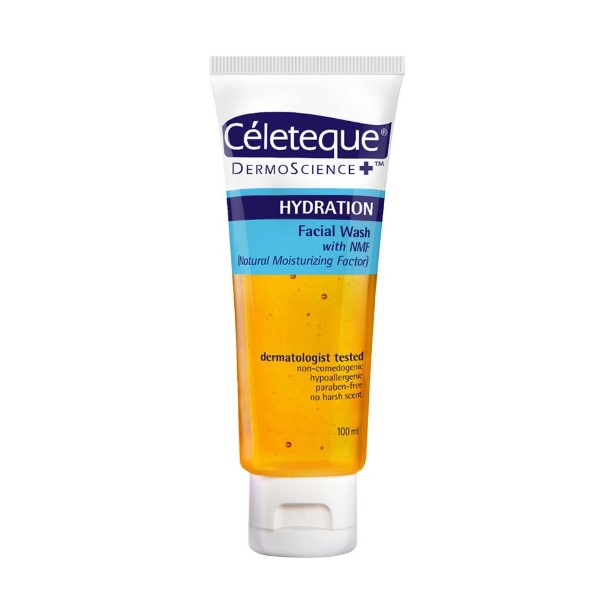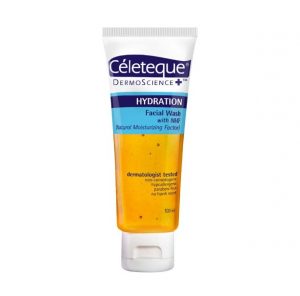 Here's another hypoallergenic facial cleanser for sensitive skin that you should get your hands on – Celeteque Facial Wash! Aside from being able to cleanse your face, this facial wash contains a Natural Moisturizing Factor (NMF) that will help your skin barrier restore its moisture. This will leave your skin feeling hydrated and supple! This product has simple yet effective ingredients so you can trust that your skin won't mind if you try out this facial cleanser. Who knows, maybe this is what you've been looking for all along! 
7. COSRX Low pH Good Morning Gel Cleanser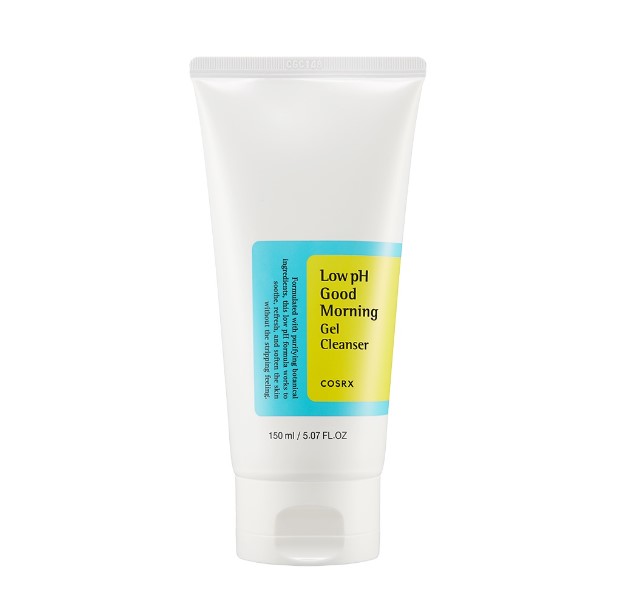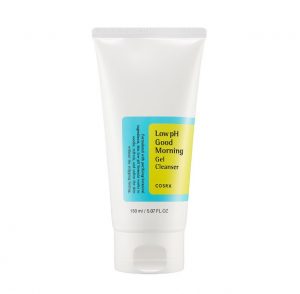 With Korean skincare taking the world by storm, surely you've heard of COSRX! The most popular product from COSRX is the Low pH Good Morning Gel Cleanser, which is also a great facial cleanser for sensitive skin. As its name suggests, this cleanser has a lower pH which will help your skin restore its optimal pH level. Doing so will protect your skin from pollution and other irritants while keeping your skin healthy! It's extremely gentle and moisturizing, which your skin will surely love! 
8. First Aid Beauty Face Cleanser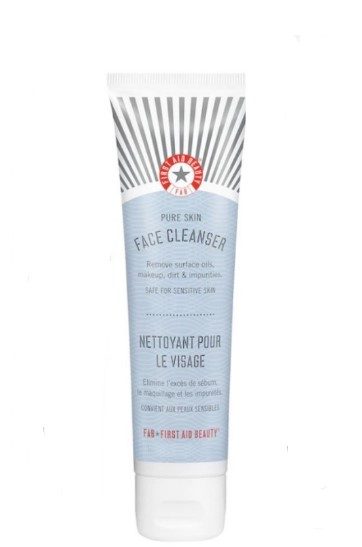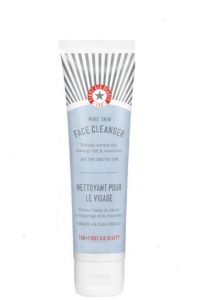 Willing to splurge a bit? Trust us when we say that First Aid Beauty is definitely worth spending a few more pesos and your skin will surely thank you for it. As a brand, First Aid Beauty is known to be great for those with sensitive skin given all the ingredients they use are gentle and effective. They use clean ingredients, are fragrance-free, cruelty-free, and dermatologist tested. The First Aid Beauty Face Cleanser contains skin-friendly ingredients such as aloe to help calm and nourish your skin, glycerin to hydrate and smoothen your skin, and the FAB antioxidant booster. The FAB antioxidant booster is a blend of Licorice Root, Feverfew, and White Tea extracts that are able to protect your skin from environmental irritants. 
9. Sebamed Olive Face & Body Wash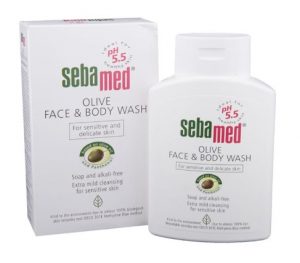 Aside from their well-known hair products, Sebamed also has facial cleansers for sensitive skin! Check out the Sebamed Olive Face & Body Wash which is perfect for sensitive and delicate skin. You get a two-in-one product as you can use it to cleanse not just your face but your entire body too! It contains olive oil, which is known to be an effective natural skin treatment for centuries. This face wash also has a pH level of 5.5 which will help ensure that your skin is safe and healthy! With its naturally derived and effective ingredients, you wouldn't want to miss out on one of the best facial cleansers out there! 
10. Dove Sensitive Skin Beauty Bar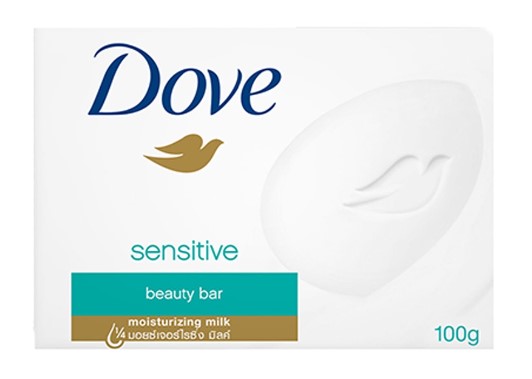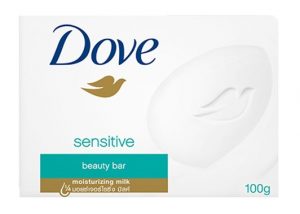 A bar soap as a facial cleanser? Yes, that's possible! Dove is one of the most famous brands out there that people will never tire of. With great products made of quality ingredients, Dove continues to deliver on its promises. If you've been looking for Dove facial cleansers for sensitive skin, try out the Dove Sensitive Skin Beauty Bar. This is unscented, hypoallergenic, and can cleanse the skin while leaving it nourished and hydrated. Your skin deserves some tender, loving care so treat yourself to this beauty bar! Just make sure to put this in a soap container to keep it away from dirt. 
11. Fresh Soy Face Cleanser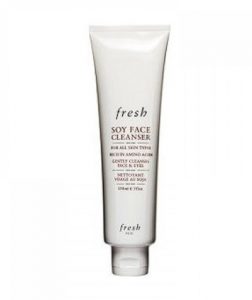 Made for all skin types, the Fresh Soy Face Cleanser is the go-to for those with sensitive skin. This product is commonly on the shelves of skin enthusiasts and for great reason! As a brand, Fresh uses only the freshest and natural ingredients that your skin will benefit from. The Fresh Soy Face Cleanser contains amino acid-rich soy proteins that can easily remove any dirt, oils, and even makeup from your face! This is a gel cleanser so you'll definitely enjoy its bouncy texture. With that, it is also pH balanced to keep your skin barrier nourished and protected from outside irritants. This may require you to splurge a bit, but it will definitely be worth it!  
Pamper Yourself with these Facial Cleansers for Sensitive Skin
It's about time to try out the facial cleansers for sensitive skin listed above! Don't worry, with the best face washes for sensitive skin that we've rounded up, your sensitive skin won't mind if you try them out. Lucky for you, you can find all of them on Shopee Philippines. For oily skin, you should check out these 7 Best Facial Cleansers For Oily Skin To Avoid Breakouts. While you're at it, take a look at our other Health and Beauty articles for more tips and tricks to make sure you have a healthy and beautiful body! 
Comments