There are many reasons for hair thinning and hair loss, including genetics, poor diet, stress, and hormonal changes. In general, it's considered normal to shed about fifty to one hundred strands each day. However, if you've been noticing a much larger amount of hair in the drain after showering or brushing your hair, you may be experiencing hair loss. Contrary to what it may seem, hair loss can be easily remedied with just a change in shampoo. Whether for hair growth or simply strengthening, employ the help of some of the best shampoos for hair loss and regain control of your mane! Read on to discover some of the best shampoos for hair fall! Whether you're looking for the best drugstore shampoo for hair loss or dermatologist-recommended shampoo for hair loss, we've got you covered. 
Tips for Choosing the Best Shampoo for Hair Loss
Determine your hair and scalp type
Similar to skin types, hair and scalp types can be categorized into normal, dry, oily, and sensitive. Choosing the best shampoo for hair fall based on your hair and scalp type is vital. If you have a dry scalp, go for a highly moisturizing shampoo. On the other hand, an oily scalp needs a shampoo that can regulate excessive sebum production, while those with sensitive scalps should pick a hypoallergenic shampoo.
Avoid harmful ingredients
Harsh chemicals and preservatives may worsen your hair loss and cause scalp irritation. Avoid hair products containing harmful ingredients such as sodium lauryl sulfate (SLS), parabens, propylene glycol, diethanolamine (DEA), imidazolidinyl urea, sodium chloride, and artificial fragrances. Even without a hair loss issue, a lot of people are switching over to more natural hair care products!
Match the pH level
The best shampoo for hair loss is one that has a pH level similar to that of your scalp and hair — pH 5.5. If you use a product that has a different pH level, it may weaken the hair follicles and encourage hair fall.
Best of both worlds
Contrary to popular belief, you don't have to stick to one shampoo all the time. Pick up different types of shampoos that address the various hair and scalp issues you're facing, then use them interchangeably to enjoy their benefits. Aside from anti-hair loss shampoo, you can also pick up anti-dandruff shampoo and hair growing shampoo for a healthy head of hair!
The 13 Best Shampoos for Hair Loss
1. Dr. Wolf Plantur 39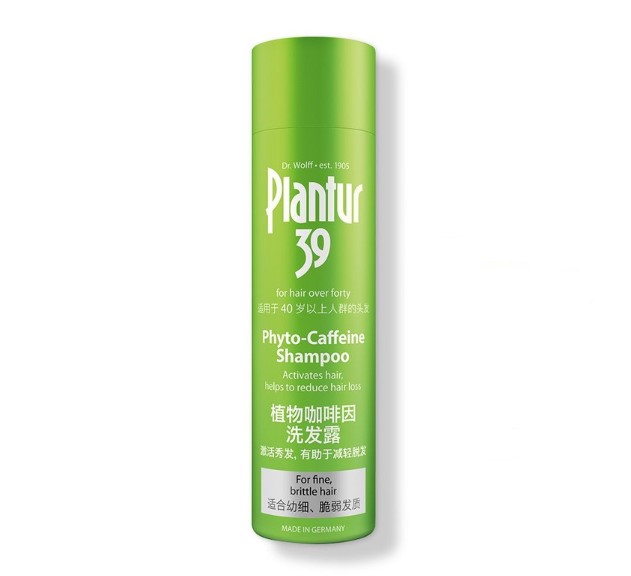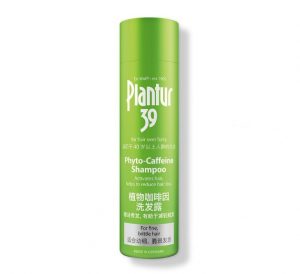 Know someone who's suffering from menopausal hair loss? You might want to look toward Plantur 39, a popular women's hair care brand. The Plantur 39 Phyto Caffeine Shampoo is developed to support the hormonal changes a menopausal woman goes through — one of which can be substantial hair fall.
The shampoo combats this with its rich phyto-caffeine complex that'll protect hair roots from the increasing amount of testosterone hormones during menopause. Not only is it one of the best shampoos for women aged over forty, but it's also one of the best shampoos for hair growth. This is mainly due to the key ingredient, caffeine, which regulates blood circulation on the scalp to promote healthy hair follicles and faster hair growth!
2. Diane Moist Shampoo – Extra Vital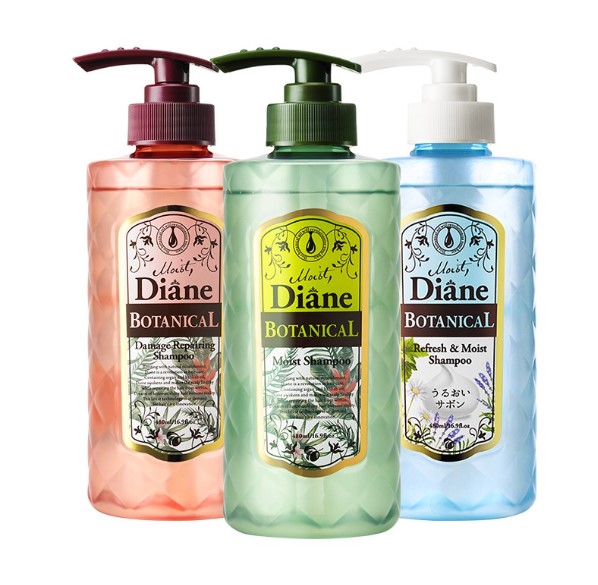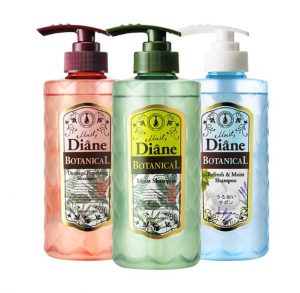 How pretty is this shampoo bottle? Moist Diane is one of the most popular ranges of shampoos on the market right now! Their Perfect Beauty range of shampoos is formulated to tackle every kind of hair issue, from repairing damaged hair cuticles to adding volume and restoring moisture and shine to the lackluster mane.
The Moist Diane Perfect Beauty Shampoo – Extra Vital is perfect for those seeking the best shampoo for hair fall. It's infused with keratin to restore hair's vitality, reduces hair breakage, and contains organic marula oil and sakura essence to enhance scalp cell turnover and stimulate hair growth. Tempted yet? We definitely are!
3. Yves Rocher Anti Hair Loss Shampoo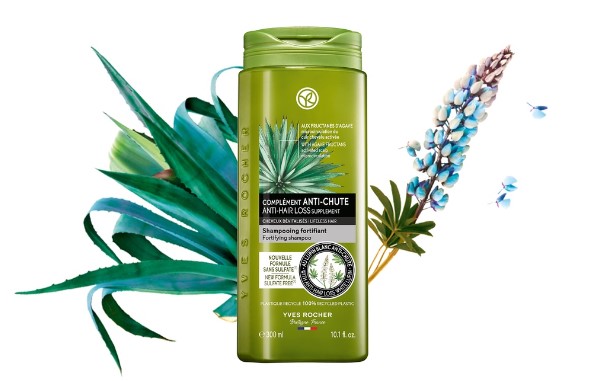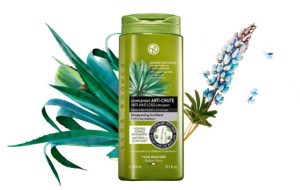 Yves Rocher prides itself in Botanical Beauty. Originating from a small town in France, this brand is all about plant-based products! While they are best known for its skincare, they offer a wide array of products from head to toe. These include body washes, makeup and fragrances, and today's star of the show—hair care! Experience the power of nature through Yves Rocher's beauty products, readily available on Shopee Philippines!
Since you've already read through tips on how to choose the best anti-hair fall shampoo, it is without question that the Yves Rocher Anti-Hair Loss Shampoo is on this list. Formulated with Agave, this Yves Rocher shampoo fortifies the hair and promotes micro-circulation of the scalp for strong and beautiful hair!
4. Kundal Scalp Care+ Caffeine Shampoo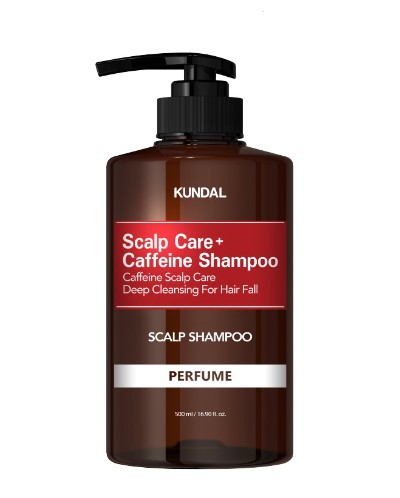 Kundal has been doing a great job at making a name for itself, and the proof is in the reviews from users. This Korean personal care brand has created waves in the hair care world with its all-natural products and non-toxic ingredients list. If you're on the search for the best shampoo for hair loss, then you've got to give the Kundal brand a try!
The Kundal Caffeine Shampoo (available on Kundal PH Official) contains caffeine to reduce hair fall and thinning while promoting overall hair growth. Caffeine is a natural blocker of the hair loss hormone on our scalp, called DHT. With a generous 500ml bottle, this is currently one of the best shampoos for hair loss to give a try!
5. Dr.FORHAIR Folligen Shampoo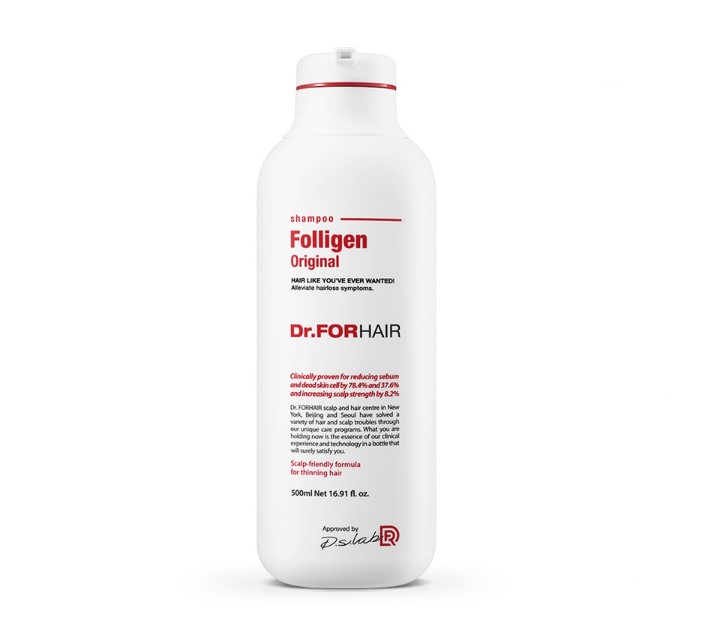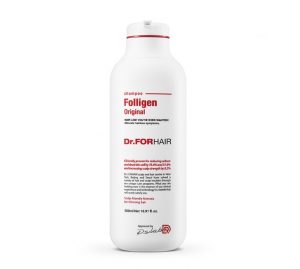 Aside from skincare and makeup, Korea is also famous for its hair care products! Originating from the Land of Morning Calm, Dr.FORHAIR achieved tremendous popularity shortly after its launch on a TV shopping platform ten years ago. Since then, the brand has successfully expanded globally and established a loyal fan base thanks to its innovative products.
The Dr.FORHAIR Folligen Shampoo is not only the best anti-hair fall shampoo but also the solution to an oily and flaky scalp. Formulated with Biotin, Niacinamide, DexPanthenol, and Zinc Pyrithione, this shampoo tackles hair loss by conditioning the scalp. It also unclogs the follicles to eliminate dandruff, shampoo residue, and sebum build-up. As a result, hair becomes healthier and fuller, resolving any issues of hair thinning or hair loss! 
6. Sebamed Anti-Hair Loss Shampoo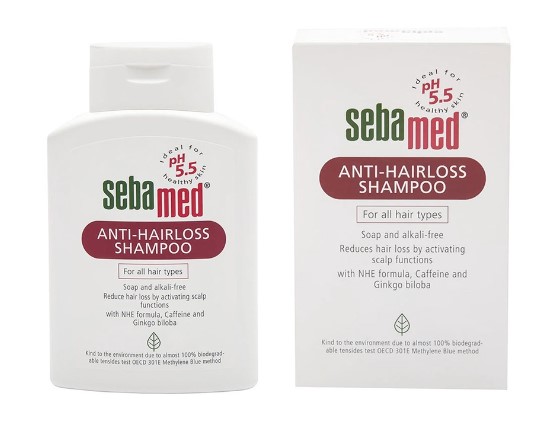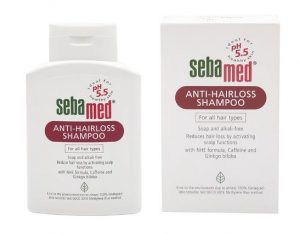 Developed by dermatologists and pharmacists, Sebamed is a renowned brand dedicated to producing high-quality products that are safe for the skin. All Sebamed products boast a soap and alkali-free formula that maintain an almost neutral pH of 5.5—the same level found in healthy skin!
If you're looking for a no-gimmick, pure-quality hair loss shampoo in the Philippines, you won't go wrong with the Sebamed Anti-Hair Loss Shampoo (available in the Sebamed Philippines Store)! This is the best anti-hair loss shampoo for those with sensitive skin or scalp. Created with an NHE formula with caffeine and ginkgo biloba, this product is capable of activating micro-circulation. As a result, there's an improvement in the supply of nutrients and oxygen to hair follicles so as to optimize the growth conditions for thicker and healthier hair! Get your hands on this dermatologist-recommended shampoo for hair loss today on Shopee! 
7. Ryeo Jayang Yoon Mo Hair Loss Shampoo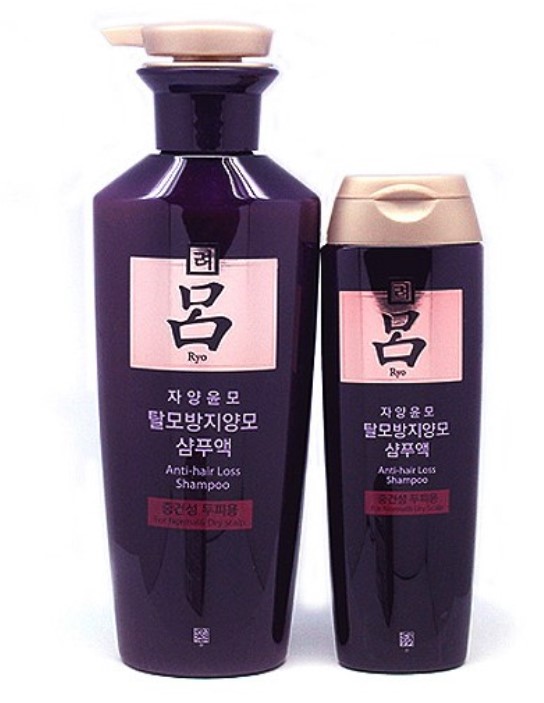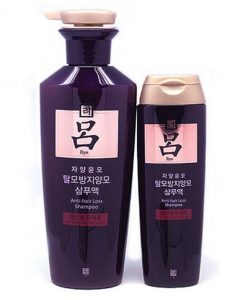 Ryeo is one of the most popular hair care brands in Korea, producing a variety of hair care products such as shampoos, conditioners, essences, treatments, and even hair mists. The brand is famous for its effective oriental herbal medicinal formula (think ginseng, pine needle, and cnidium). For this reason, Ryeo's hair care products feature a distinctive herbal fragrance that lingers in your tresses throughout the day!
If you have a dry scalp and are looking for the best shampoo for hair loss, consider the Ryeo Jayang Yoon Mo Hair Loss Shampoo. It's formulated with GinsenEX technology, which consists of highly concentrated ginsenoside to alleviate hair loss problems and protect your hair roots. It also boasts ginger, camellia, and green tea to balance your scalp condition and eliminate dryness. It's also free from animal ingredients, mineral oil, synthetic colorants, Triethanolamine, and Polyacrylamide!
8. Grafen Root Booster Shampoo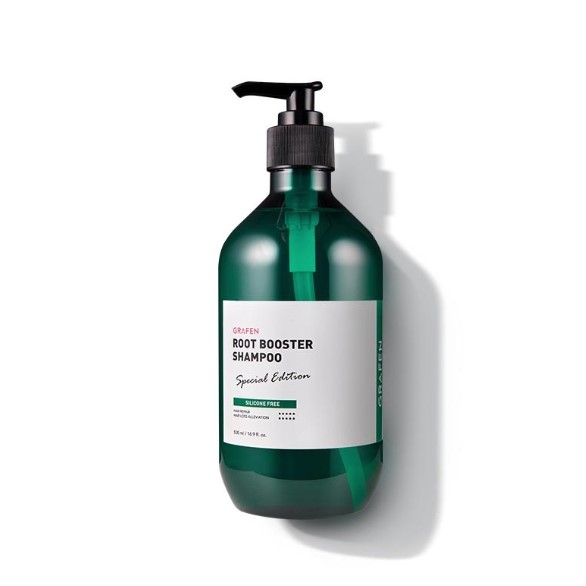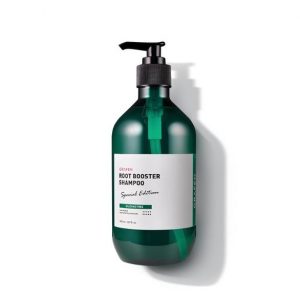 If Grafen rings a bell, that's because you've probably seen this Korean brand on your social media platforms! Grafen has taken the Internet by storm with its convincing tried and tested commercials and interesting products. Even though the brand just arrived on our shores not long ago, it has successfully established a strong following! This is attributed to its reasonable pricing and a vast amount of good reviews online.
The Grafen Root Booster Shampoo (available in the Grafen Official Store) is the brand's best-seller, with a perfect five stars on Shopee, and has sold out multiple times. It's formulated with nine herbal extracts on top of green tea and black bean extracts, making it the best anti-hair loss shampoo and a greasy scalp. Many customers also claim that the shampoo transformed their fine hair into thick and luscious tresses!
9. Dr. Groot Anti-Hair Loss Care Line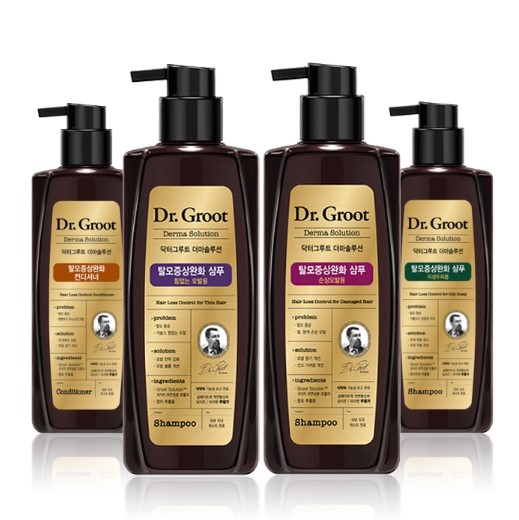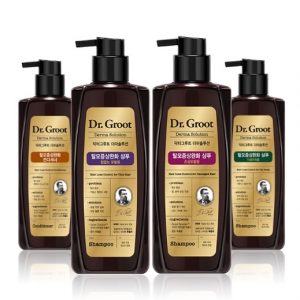 You've probably seen Super Junior's Heechul endorsing Dr. Groot on your social media feed if you're a K-pop fan. With over fifty years of research on consumers' hair in Korea, the Dr. Groot line was developed through LG Household & Health Care's proprietary technology and is a derma hair care brand that specializes in hair loss.
Whether you're looking for a shampoo or treatment solution that targets weak or damaged hair, there's definitely a personalized treatment option for you with Dr. Groot Anti-Hair Loss Shampoo. If you're suffering from a greasy scalp, you should get the rosemary variant. If you have weak hair, you should go for lingzhi. Finally, if you find that your hair is damaged, you should go for iris. With each shampoo and treatment being formulated with natural ingredients only, it's no wonder Dr. Groot has the #1 repurchase rate in Korea!
10. PHS Hairscience FEM Fortify Shampoo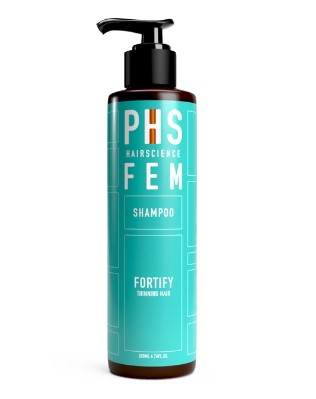 When it comes to managing hair loss, you can rely on the experts at PHS Hairscience. The brand develops innovative and effective hair products through research-based solutions that target hair loss, chemical damage, and greying.
Ladies, bid goodbye to hair thinning with one of the best shampoos for hair loss dedicated to women! The PHS Hairscience FEM Fortify Shampoo is specially formulated with Korean botanical essence and botanical stem cells to remove impurities on the scalp and alleviate hair loss concerns. Meanwhile, the PHS Hairscience HOM Fortify Shampoo is specially created for men who struggle with an oily scalp. This men's best shampoo for hair loss deeply cleanses the scalp to eliminate sebum build-up and features a hypoallergenic formula!
11. L'Oreal Serioxyl Anti-Hair Loss Shampoo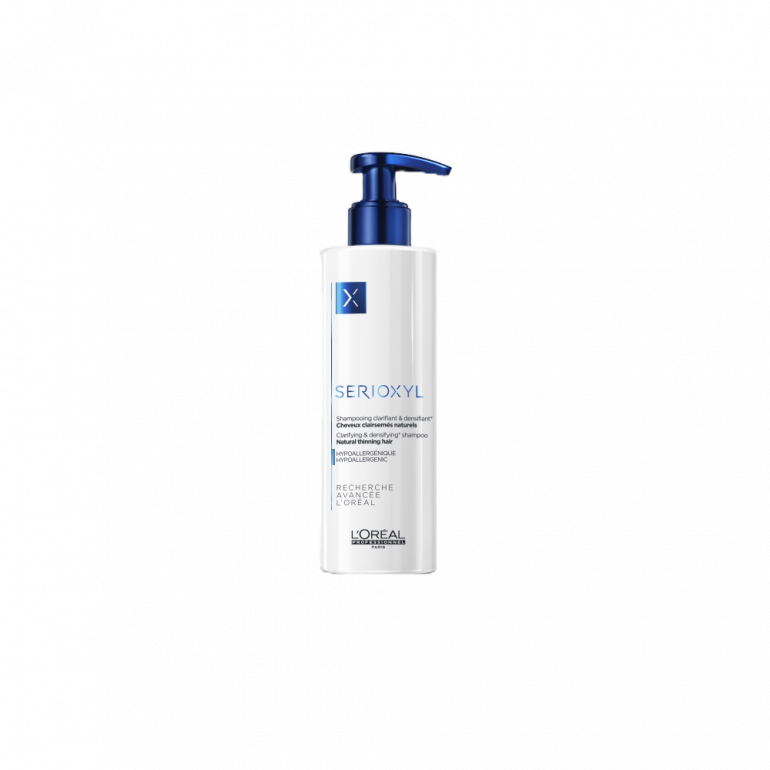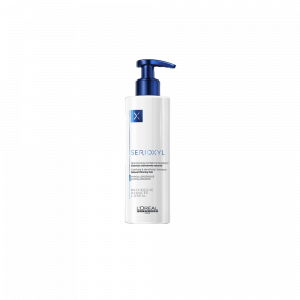 Everybody knows L'Oreal! From skincare to cosmetics, this is a brand you can definitely trust—and trust is one of the surefire ways to choose a product that you will love. It goes without saying that L'Oreal is one of the leading experts in the hair care industry! They are the best brand for hair color, from salon-grade to at-home box dyes. And since they know so much about hair, you can depend on their anti-hair loss shampoo as well.
The L'Oreal Serioxyl Anti-Hair Loss and Anti-Hair Thinning Shampoo (available in the L'Oreal Professionnel Official Store) is one of the best in the market for those with a sensitive scalp. If it works well on sensitive skin, it could work well on every other type too! The anti-hair loss shampoo of L'Oreal is a luxury that you won't regret. Try out this hypoallergenic shampoo to clean and densify your hair! With a great fragrance to boot, you will most definitely love this best drugstore shampoo for hair loss.
12. Nature Republic Black Bean Anti-Hair Loss Shampoo Set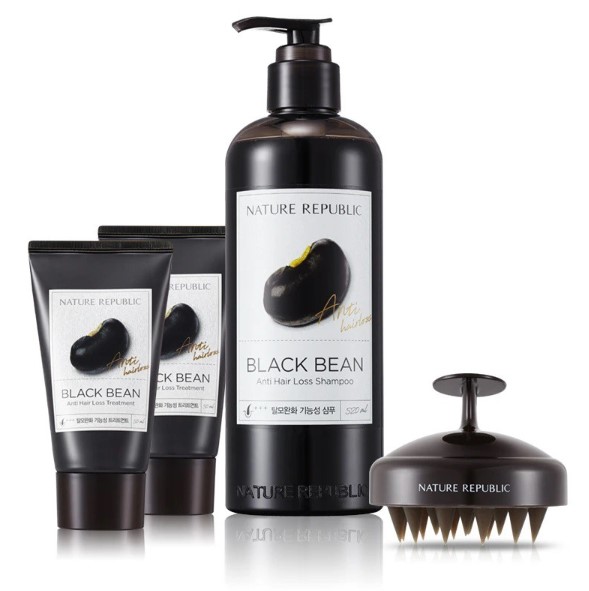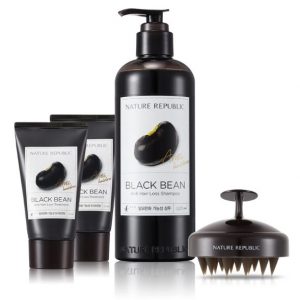 Nature Republic is one of the most widely known Korean brands in the Philippines. Even if this brand only started in 2009, it has taken the Philippines by storm through its effective products and K-Pop endorsers! As its name suggests, you can rest easy knowing that all their products are natural and safe for your skin.
That's why the Nature Republic Black Bean Anti-Hair Loss Shampoo Set is on this list! Why stick to only shampoo when you can get an entire set? Aside from shampoo, you will also get hair treatment and a shampoo brush. This truly allows the black bean extract to do its work. While this is definitely a unique ingredient compared to all the other best shampoos for hair loss, the magic of black bean extract is in the way it protects brittle hair and keeps your scalp healthy with nutrients at the same time!
13. Zenutrients Gugo Strengthening Shampoo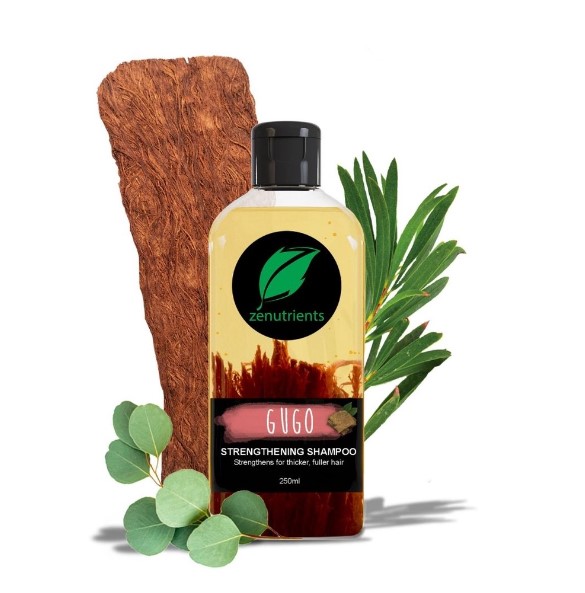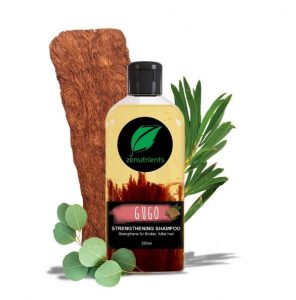 Love local with Zenutrients! This Filipino brand has the passion to make better lives for everyone. They supply amazing personal care products in partnership with suppliers and farmers. Thanks to their natural and cruelty-free products, you are guaranteed to feel confident when shopping from their collection.
The best shampoo for hair loss doesn't necessarily have to target that issue alone. Take the Zenutrients Gugo Strengthening Shampoo as the perfect example! Aside from combatting hair loss, this shampoo strengthens the hair while promoting hair growth as well. This all-in-one shampoo is top-notch, especially due to its paraben-free and sulfate-free formula! The fact that you can actually see the gugo plant in your shampoo is the overall kicker. This way, you know that you're getting exactly what you pay for. It's high time for you to give one of the best hair fall control shampoos a try! 
Enjoy Strong and Luscious Hair with the Best Shampoos for Hair Loss
Besides using the best hair fall control shampoos, start a hair care routine to reduce the risk of hair loss. Even if you plan on dyeing your hair, it's easy to achieve your dream hair color while minimizing damage as long as you choose the right products. Pair your shampoo with conditioner and hair treatment to maintain a healthy head of hair!
Comments