For the past few months, you've undoubtedly seen a ton of leaks online for the much anticipated Apple Event this 2021. From which specific products will be announced to the different upgraded features, Apple surely knows how to keep us on our toes. Being the most awaited tech event every year, you're surely one to tune in whether you're an Apple fan or not. Here to sum things up in a nutshell, we've put together all the Apple Event 2021 highlights and need-to-knows for an easier read! 
iPhone
iPhone 13 and iPhone 13 Mini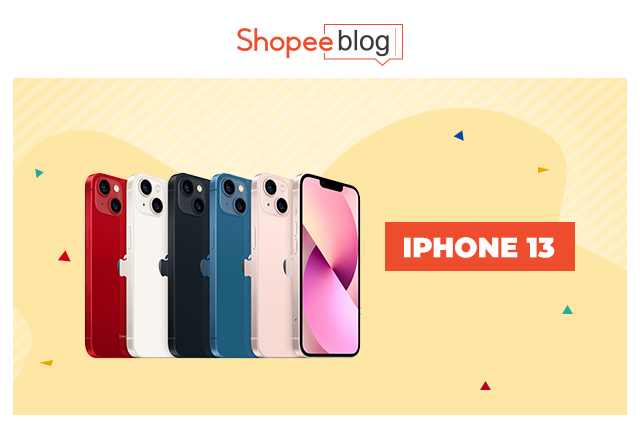 Cameras
Here to put all the rumors to rest, the iPhone 13 and the iPhone 13 mini are ready to take things up a notch – thanks to all the new features announced during the Apple Event 2021. In order to have the most advanced dual-camera system ever, Apple placed the cameras diagonally and turned the lenses 45 degrees! This allowed them to fit in the biggest Wide camera sensor to date that also captures 47% more light for brighter pictures, even in low light. It comes with a new Ultra Wide camera too coupled with a faster sensor and the ability to capture more details. The new iPhone also has sensor-shift optical image stabilization so you can say goodbye to blurry photos and shaky videos. Speaking of videos, you can unleash the filmmaker in you with the help of the cinematic mode that shoots in Dolby Vision HDR for blockbuster-worthy cinematography! 
Both the front camera and back cameras have Cinematic Mode, different Photographic Styles that are far better than any filter out there, Dolby Vision HDR recording, Portrait mode, Night mode selfies, Smart HDR 4, Deep Fusion, and more! 
Chip
All that is powered by the new A15 Bionic chip which is a lightning-fast chip that is bound to outperform any competitor out there. Say hello to a 50% faster CPU and 30% faster graphics. With this, you can enjoy your favorite games without any lag, speed as fast as lightning, and privacy protection! 
Battery
With all the advancements in its performance, you're probably worried about its battery draining in a blink of an eye. Fret not because Apple upgraded its battery life too! Enjoy 2.5 hours more of battery life on the iPhone 13 and 1.5 hours more on the iPhone 13 mini. Whether you're charging with a lightning cable or a wireless charger, your iPhone will be fully charged in no time! 
Body
Experience the toughness of a ceramic shield with your iPhone 13! Aside from that, the same durable flat-edge design like the iPhone 12 makes the phone look more sleek and futuristic. You'll surely enjoy having this in the palm of your hands! 
Colors, storage, and prices
Available in five colors – Pink, Blue, Midnight, Starlight, and (Product) Red, you can have your very own iPhone 13 mini starting at ₱44,990 or an iPhone 13 starting at ₱50,990! From 128GB to 512 GB, you'll surely have all the storage you could possibly need. 
iPhone 13 Pro and iPhone 13 Pro Max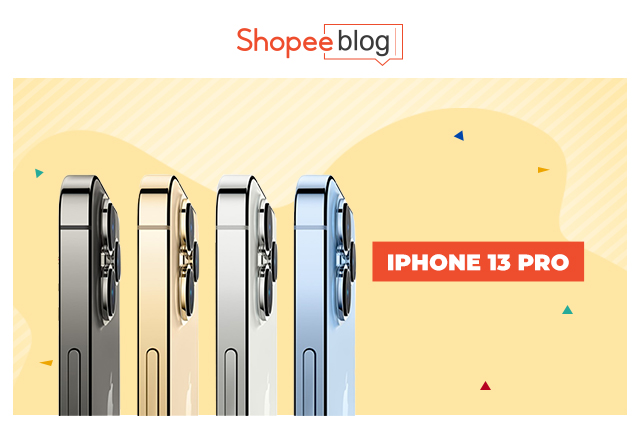 Cameras
If you think the iPhone 13's camera system is enough reason to upgrade to the latest iPhone model, then the iPhone 13 Pro and Pro Max cameras will definitely tickle your fancy. Starting off with the Wide camera, it has 2.2x more light thanks to its wider aperture. This means that you can easily capture stunning photos and videos in low light. The LiDAR sensor enables you to capture Night Mode portraits too! On top of that, the Ultra Wide camera has a wider aperture too. This allows you to experience macro photography and videography without having to carry a heavy and bulky DSLR camera around. Say hello to 92% more light, a faster sensor, and all-new autofocus too! And lastly, you can now enjoy Night Mode with the Telephoto camera. Plus 3x optical zoom so you can capture all those fine details! 
With all the upgrades in the iPhone 13 Pro cameras, Apple surely didn't stop there! Aside from those, you can also enjoy the Cinematic Mode on the iPhone 13 Pro line-up too. As Apple says, "iPhone went to film school so you wouldn't have to!" That's how confident they are with this new feature. You can easily adjust the depth effect after shooting with Cinematic Mode to add more of a dramatic flair! As for your photos, you can say goodbye to your go-to filters and give the different Photographic Styles a shot. Play around with the tone and warmth of your photos while making it look as unfiltered as can be. 
Chip
And just like the iPhone 13 line-up, the iPhone 13 Pro models are able to deliver on all those features thanks to the A15 Bionic chip. This is the world's fastest smartphone chip to date. Experience speed at your fingertips, enjoy seamless gaming experiences, stunning OLED Display, and a screen that's 25% brighter outdoors. 
Battery
What about the battery life, you may ask? The iPhone 13 Pro Max now has 2.5 more hours of battery life and 1.5 more hours of battery life for the iPhone 13 Pro.  
Body
Worried about your clumsy self dropping your phone day in and day out? Worry not! Aside from protecting it with a good phone case, the iPhone 13 Pro is made of top-notch materials such as surgical grade stainless steel for the body and a ceramic shield for its screen. To top it off, the iPhone 13 Pro is made with industry-leading IP68 water resistance technology! 
Colors, storage, and prices
Choose from four different colors – Sierra Blue, Silver, Gold, or Graphite, and consider getting a storage capacity of up to 1 TB! The iPhone 13 Pro starts at ₱63,990 while the iPhone 13 Pro Max starts at ₱70,990. It's time to start pondering on which specific iPhone to get! 
iPad 
iPad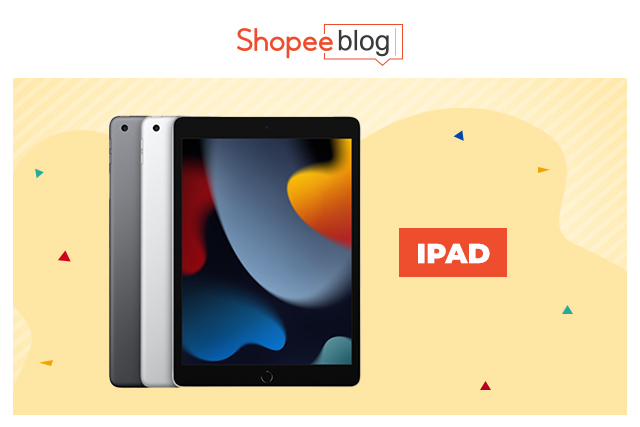 Chip
The iPad has always brought convenience and efficiency to its users. This is true even more so today! During the Apple Event 2021, Apple announced that the iPad is now equipped with the A13 Bionic chip. This makes the iPad perfect for working, playing, creating, learning, and staying connected seamlessly. This chip enables the iPad to multitask with different apps at once. As for gaming, the iPad's GPU is now 20 times faster to be able to keep up with your favorite games. If you've always been dreaming of creating art with Procreate and Adobe Fresco or writing down notes with GoodNotes, you can now do that without a hitch! 
Colors, storage, and other features
You can also get a chance to experience True Tone technology, an Ultra Wide front camera, and at least 64GB or 256 GB of storage! All at a starting price of ₱19,990!
iPad Mini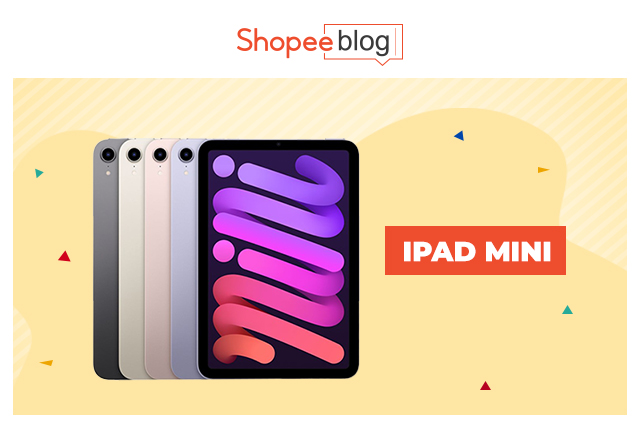 Chip
Prefer an iPad with a smaller screen that's more portable? Then the iPad Mini is right up your alley! Thanks to the powerful A15 Bionic chip, it now has 40% faster CPU performance, 80% faster GPU performance, and a Neural Engine that's 2x faster for power learning apps. You won't be settling for less with the iPad Mini! The iPad mini also now has Touch ID on its lock button, much like the iPad Air. Couple that with 5G connectivity and 3.5gbps, this small gadget truly packs a punch with big and powerful performance. 
Colors, storage, and prices
The new iPad Mini comes in Space Gray, Pink, Purple, or Starlight and storage capacity of either 64GB or 256GB – starting at ₱29,990! You can shop for an iPad case like a transparent one to make sure your iPad is safe and its actual color still peeks through.
Apple Watch Series 7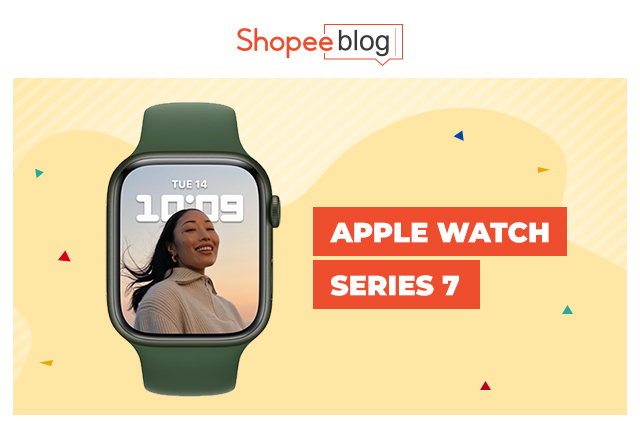 Body
Available later this year, the Apple Watch Series 7 is still something that you need to keep an eye out for! This time around, the Apple Watch now has a full screen display with Always-On Retina display. Apple takes pride in this being the most durable Apple Watch ever. It's crack resistant made with the strongest crystal, dust resistant with IP6X certification, and water resistant as its swimproof with WR50 water resistance. 
Health
You can now take an ECG anytime with your Apple Watch and measure your blood oxygen level. Talk about making sure you're healthy and fit, 24/7! You can also keep track of your sleep and work around finding the best sleep schedule and nighttime routine, all with the help of your Apple Watch. Get moving with Apple fitness that gives you the motivation you need too! 
Battery
Hoping to wear it all day long? You can! With an updated fast-charging system, the Apple Watch Series 7 is now up to 33% faster in charging. You'll be wearing your watch in no time! 
Colors and prices
The Apple Watch Series 7 comes in stunning colors too – Green, Blue, (Product) Red, Starlight, and Midnight. Match it with stunning Apple Watch straps! Stay tuned for details on the prices once Apple announces it! 
Apple Event 2021: Make the Upgrade Now!
The Apple Event 2021 was surely jam-packed and did not disappoint. If you've been looking for the sign to upgrade to the latest iPhone or give Apple a try as a first-timer, this is it! Looking for a one-stop shop for all your Apple needs? Lucky for you, you can find Apple Authorized Resellers on Shopee such as Beyond the Box and The Loop! 
Comments