It's finally here! If you're not yet in the loop, Apple has finally released the iOS 14 last September 16. The long-awaited Apple iOS 14 has been the talk of the town ever since Apple announced back in June during the Apple Worldwide Developers Conference that they will be releasing it within the year. They released an iPhone iOS beta profile last June 22, before officially releasing the iOS 14. But now, it is at the tip of your fingers, literally! With a simple tap, you can now experience top-notch technology with added privacy and easy accessibility. You've probably seen your friends posting online about how they updated to iOS 14. Yet, you may be asking yourself, "Is it really worth the update?" Just in case you haven't stumbled upon an in-depth article on the new iOS 14 features, we've got you covered! If you're not yet convinced of downloading the new iOS, listed below are iOS 14 features that will surely help you paint a picture on whether or not it's worth updating. 
iOS 14 Features That May Make it Worth the Update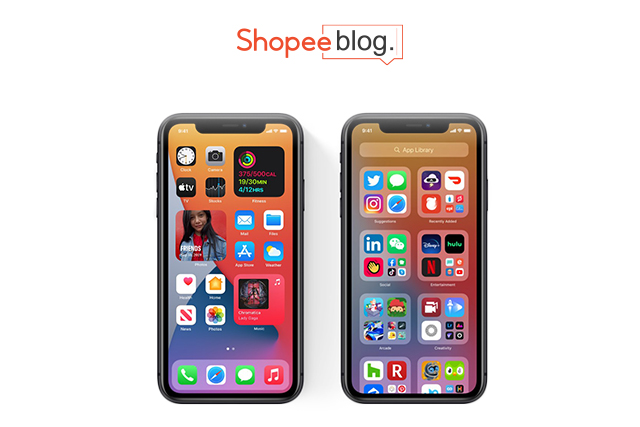 Credit: iOS 14 / Apple Philippines 
1. Compatibility
First off, are you unsure if your Apple iPhone is compatible with the iOS 14? iOS 14 compatibility applies to iPhones within the range of the latest iPhone 11 to iPhone 6s. If your iPhone falls into this range, then you can definitely go ahead and update your iOS! Owners of iPhone SEs can also update to the iOS 14. Basically, if your iPhone is compatible with iOS 13, it will be able to support iOS 14. 
2. Home Screen Redesign
The iOS 14 instantly gives your phone a whole new look! You don't particularly need a new iPhone or even an iPhone phone case. Just update your phone to the iOS 14! The redesign for widgets includes being able to see needed information with a simple glance on your home screen. A great example would be your calendar widget. You can add this to your home screen and you can easily see the date and calendar events for that day with much ease. You no longer have to tap on the calendar app and open it to see this information! Plus, you can customize and decide on the size of the widget you want and where to put it on your home screen.  
On top of that, part of the home screen redesign is the app library. The app library will satisfy your need for an organized phone. It automatically organizes all the apps in your phone into categories. These categories include suggested apps, recently added apps, social media apps, and even your most frequently used ones!  
3. Messages 
Sending messages is now made easier thanks to this new iOS 14 feature. You can now pin up to nine conversations with loved ones to the top of your messages so you won't spend extra time scrolling for their names. To make things even more exciting, you can now add a group photo to your group chats! Messaging on group chats can get confusing at times when people send in messages at the same time. Messages may get buried, leaving you clueless if you got a message specifically addressed to you. You won't have to worry about that happening when you update to iOS 14! You can now mention people on group chats and they will get notifications too! Plus, you can now do inline replies to messages to avoid confusion in group chat messages. 
4. Compact Calls & Picture-in-Picture Video Calls 
In previous iOS versions, whenever someone would call you, it would take up your entire phone screen. This is usually a struggle for some especially if they were busy doing something important on their phones. You might break your momentum and you may even forget what you were doing on your phone before you received the call. Well, you can now say goodbye to that thanks to the new iOS 14 feature. Call notifications will now only take up a small portion of your screen as a banner notification. To make things even better, you can do picture-in-picture video calls! This enables you to multitask while you're in a video call or even take notes during meetings or online classes. 
5. Privacy Enhancements
With all the apps we're downloading on our phones, we may forget to be vigilant in taking note of which personal information and data we're giving these apps access to. But with the new privacy enhancements iOS 14 features, we will no longer keep this at the back of our minds. Before downloading any app, the app will let you know which data they will collect from you. These data have three categories: data used to track you, data linked to you, and data not linked to you. 
To further enhance your privacy, Apple gives you control whether you'll allow an app to track you or not. Most of these tracking details are for personalized ads that you will receive. If that's not your cup of tea, then you can definitely say no. To top it off, you've surely dealt with apps that only function if we give them our precise location. But now, you can opt to give an approximate location instead. All in the good name of privacy! 
6. App Updates
Not a fan of Safari and you've had no choice but to stick to using it on your phone? Well, you can now use Chrome or other apps as your default browser! A new iOS 14 feature is your ability to set third-party apps as your default apps. You won't have to stick to the usual Apple default apps like Safari and Mail! 
Another iOS 14 feature is the translate app. You won't have to use a third-party app translator anymore! Before, Siri would have to do the translating for you. But now, you can use an app for that. However, it only supports eleven languages for now. Surely, Apple will look into adding more languages to the translate app. 
There are a ton of other app updates that come with iOS 14. Apps like your camera, notes, and photos – to name a few. Perhaps, you can update to the iOS 14 now to see for yourself! 
7. Siri
Even if you no longer need Siri for your translation needs, Siri is still smarter and useful than ever! Apple claims that Siri now has 20x more facts than three years ago. Plus, with Siri's new design, you can multitask while using Siri and even quickly and easily get the information you need! 
8. Guides & Maps
Exploring a new place? Your phone can now be your personal tour guide! Apple has made the wise decision to partner with trusted brands in coming up with guides that people can refer to when they're on a trip. This includes suggested places to eat, shop, and even tourist attractions that you definitely need to visit! 
If you're a biker, then Maps is now your new best friend! With the iOS 14 update, Maps now comes with all the details that you need such as bike lanes, road elevation, and even busy streets to avoid.
9. Car Key & Car Play
This iOS 14 feature is surely the cherry on top! With the new Car Key feature, you can unlock and lock your car and start your car's engine with your iPhone. It doesn't get cooler than that! However, you will have to check with your car manufacturer if they now support this new feature. As of now, cars in the BMW 5 Series are the only ones who support the Car Key iOS 14 feature. As for the Car Play, you can now customize your Car Play Dashboard to your liking! The choice is in your hands. 
Don't Miss Out on These Awesome iOS 14 Features
Credit: iOS 14 / Apple Philippines 
So, back to the question – is it worth updating? Well, with all the awesome and impressive iOS 14 features listed above, you definitely should! Privacy enhancements, beautiful and accessible home screen redesign, and quick and efficient access to everything you need – need we say more? Update to the iOS 14 and try it out for yourself! If you're an iOS iPad user, you can also download the iPadOS 14 on your tablet! 
Comments