Typhoon season is officially here and there's no denying it! As we welcome the second half of the year, it's a given that weathering through storms will be a part of it. Even though it's inevitable, there are a handful of things that you can do to put together your typhoon preparedness plan. If you're unsure where to start, listed below are 10 things to prepare before a typhoon! Read on to discover how to prepare for a typhoon. 
How to Prepare for a Typhoon: Some of Your Most Frequently Asked Questions
What is typhoon preparedness? 
Have you been wondering what is typhoon preparedness? It's simply preparing for any typhoon that may come your way. You can do so by planning ahead and determining what actions to take when a typhoon strikes. A typhoon preparedness plan includes preparing an emergency kit or a "go bag", stocking up on supplies and typhoon essentials, and even repairing some parts of your house that may be vulnerable to strong winds and rain! You can also find a lot of guides and tips from trusted organizations and government agencies like the MMDA to teach you how to prepare for a typhoon! 
How important is typhoon preparedness?
Disaster preparedness for typhoons is extremely important because being prepared for unpredictable yet inevitable storms can reduce the chances of loss, fear, and even anxiety. When the inevitable happens, you'll be able to manage the situation properly because you prepared for it and planned accordingly! Typhoon preparedness in the Philippines is crucial since typhoons happen every single year. So take the time to learn more about typhoon awareness and preparedness!
Now that you know "how important is typhoon preparedness", read up on our typhoon preparedness checklist which includes all the typhoon essentials! 
How to Prepare for a Typhoon: 10 Things to Prepare Before A Typhoon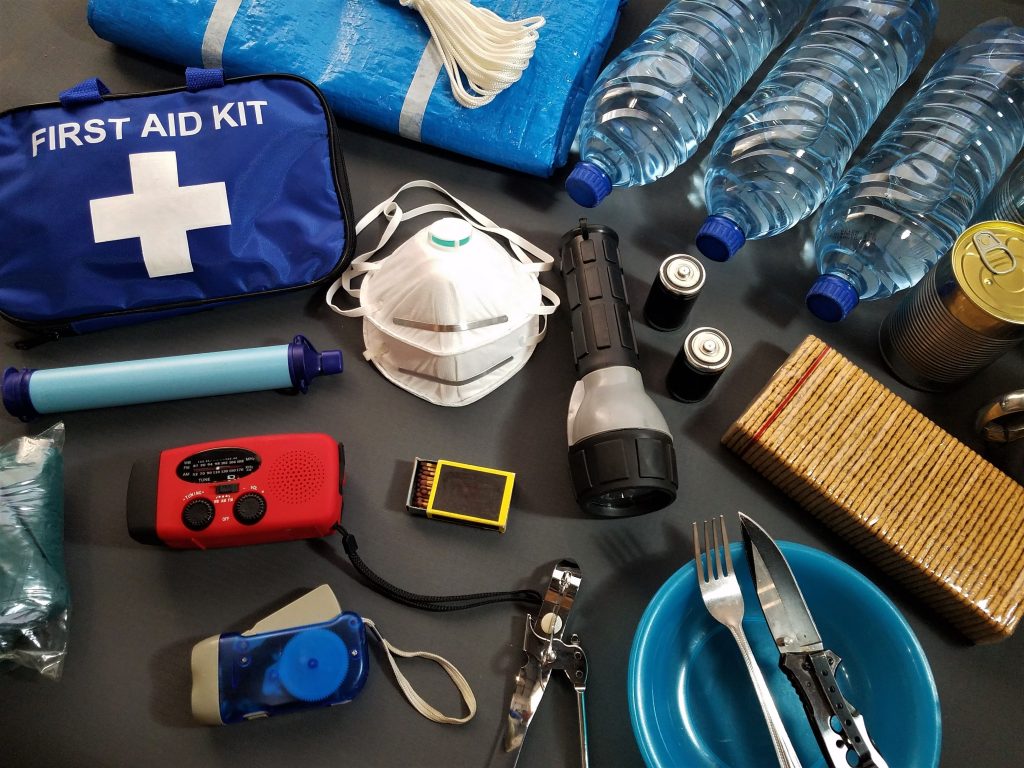 Credit: Roger Brown / Pexels
1. Prepare an emergency kit or "go bag"
Preparing an emergency kit should be at the top of the list of your typhoon preparedness checklist. Your "go bag" should include: 
Make sure that after packing your emergency bag, you place it in an easily accessible spot in your home should you need it in a hurry when evacuating. 
2. Stock food and water
You never know the damage that the typhoon will bring about so stocking up on essential food and water before the storm hits is a definite must when it comes to disaster preparedness for typhoons. It's best to go for canned foods because they don't need to be cooked and refrigerated in case the electricity is cut off during the storm. Make sure that you have enough for everyone in your household without hoarding!
3. Repair any weak parts of your house
Do a thorough inspection of your home to ensure that it can withstand any storm! If you see any weak or vulnerable spots, have them repaired as soon as you can. A strong and sturdy home can keep your family safe, especially during a typhoon. 
4. Board up your windows 
Windows are extremely fragile and vulnerable to strong winds so it's best to board them up before a typhoon! Boarding up your windows helps minimize the possibility of your windows breaking. In the event that it does, the wind won't be able to come inside your house because you've boarded them up! 
5. Learn how to turn off the main electrical switch and water valve
In the event that the typhoon has damaged certain utilities, it's vital that electric switches and water valves are turned off to prevent accidents and pollution of your water supply. So everyone in the house should know how to turn off the main electrical switch and water valve before a storm hits. Locate the switches and valves and make sure everyone is well-informed on how to turn them off! 
6. Prepare your generator in case power lines are damaged
Electricity may take a while to come back after a storm, especially if power lines take a hit! As part of your typhoon awareness and preparedness plan, it's best to have a generator on standby so that it can provide temporary power for your house. 
7. Know where your evacuation center is
Evacuation centers are essential when big storms are underway! You never know when you'll have to evacuate so you should know where your evacuation center is in case you have to. Once you know where it is, create a plan on how to get there from your home and other places you frequently visit.   
8. Create a family preparedness plan for typhoons
Have a list of emergency contacts saved on your phone and on a sheet of paper. Label them as "In case of an emergency" so that any emergency personnel can immediately contact them if the need arises. Plan out a place where you'll meet up with your family in case you are not able to go home or are split up. Make sure that everyone in your household is well-informed of your family preparedness plan for typhoons!
9. Stay tuned to the latest news so you know where the typhoon is and where it's headed
Watch the news! This is where you can get legit and real-time updates on where the typhoon is and the path it's going to take. Make sure you have a battery-operated radio too so you can stay updated when electricity is cut. 
10. Make sure your pets are safe 
Prepare a "go bag" for your pets! Ensure that they have enough food to weather through the storm and a first aid kit. Prepare their leashes and carriers, drinking bowls, medications, and medical records. If you have to evacuate, bring them with you! 
Know More About How to Prepare for a Typhoon in the Philippines
Now that you know how to prepare for a typhoon thanks to the typhoon preparedness guide above, you have all the necessary information that you need. But don't stop there! Read up and take action because being prepared is an extremely huge help. Check out these safety tips for your little one during the rainy season too! And in the meantime, boost your immune system with the help of these multivitamins for kids and adults. Stay safe, Shopee fam! 
Comments