Being a healthy, well-rounded person is always a big flex. Every choice we make in our diet can go a long way towards a healthier lifestyle. On top of this, clean eating can be enjoyable and convenient too. Luckily, there exists a whole grain that is easy to cook, has multiple nutritional benefits, and resembles the texture of rice when cooked: Quinoa! Pronounced as keen-wha, it's an increasingly popular health trend for a great reason. It's a gluten-free food packed with protein, minerals, and all the nine essential amino acids. This makes quinoa a versatile ingredient for various special diets, like keto and vegan. Plus, a great deal of Filipinos are already loving this as a substitute for white rice. The best part? It's available in Shopee Philippines at the lowest prices. So you won't have to empty your wallets to try out this healthy supergrain. Read on to learn how to cook quinoa and healthy recipes you can make with this quinoa-nderful rice alternative!
Why Quinoa Is A Must-Try Rice Alternative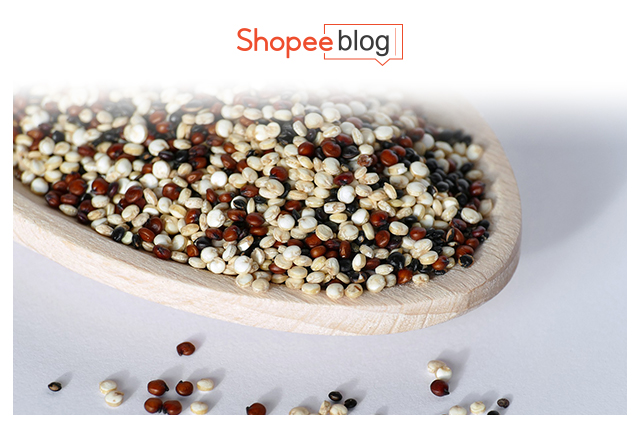 Packed with nutrients in just one cup
A cup of quinoa contains at least 8 grams of protein and 17 grams of fiber. This means quinoa contains twice the amount of protein as white rice and more than twice the amount of fiber in most grains. It's packed with higher levels of essential amino acids, which makes it an excellent protein source, especially for vegetarians. Many other nutrients found in this superfood are Zinc, Iron, Potassium, B Vitamins, Folate, Manganese, Phosphorus, and Folate. A study also found that out of 10 grain samples, quinoa had the highest antioxidant content, which is believed to offer anti-aging and anti-inflammatory benefits. 
Controls diabetes and other illnesses
Quinoa has a low glycemic index compared to white rice, which means it is highly beneficial for diabetes since it prevents quick spikes in blood sugar levels. Having a high glycemic index can also contribute to obesity, and quinoa helps minimize this risk by reducing your appetite. A high amount of fiber can help control cholesterol and blood fat levels for those at risk of having heart diseases. It is also a suitable ingredient in gluten-free diets for those with celiac disease. Lastly, a few studies have linked quinoa with slowing down metastasis or cancer spread due to its plant antioxidants called flavonoids. For serious illnesses, make sure to seek medical advice from healthcare professionals first before incorporating quinoa into your diet.
Certain properties in this supergrain are linked to weight loss and improved overall health. The high amount of fiber in quinoa can increase the feeling of fullness. This makes you eat fewer calories all day, thus potentially promoting weight loss. The amount of protein found in quinoa can help boost your metabolism which also helps you shed more weight easily. 
Easy to include in your diet
As mentioned earlier, quinoa resembles the texture of rice when cooked. Quinoa's taste can be described as slightly similar to brown rice with an earthy, nuttier flavor and chewy, fluffier texture. This makes it easier to incorporate into your diet as it can go well with just about any tasty food. Before cooking, make sure to wash quinoa to get rid of the bitter outer layer called saponin. You can also check brands that offer washed quinoa so you can skip this step.
How To Cook Quinoa in 3 Easy Steps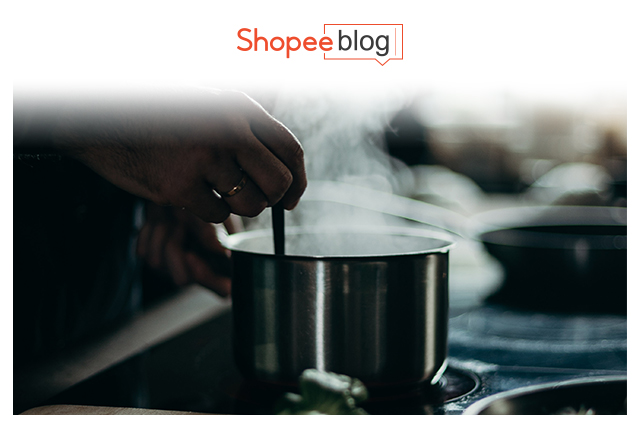 Here's a tried and true recipe to come up with light and fluffy quinoa – the perfect texture that would make you crave for more! If you're planning to cook large batches, just remember that the ideal ratio of quinoa to water is 1:1 ¾. 
Ingredients
1 cup of quinoa, washed
1 ¾ cup of water
A pinch of salt
Steps:
In a medium pot, combine the quinoa, water, and salt. Bring to a boil then cover and simmer to reduced heat for 15 minutes.
Remove from heat and let the covered pot sit for 10 minutes more.
Finally, remove the lid and fluff the quinoa with a fork!
You can also use a rice cooker for an added convenience. Just grease the rice cooker with oil to prevent the quinoa from sticking. Place your quinoa and water mix then cook as you would with white rice.
Quinoa Recipes You Should Try
Now that you've learned how to cook quinoa in the simplest way, it's time to add a few twists to make delicious, full-blown healthy meals! Here are some quick and easy healthy recipes with quinoa that you can make at home.
Cinnamon Quinoa Breakfast Bowl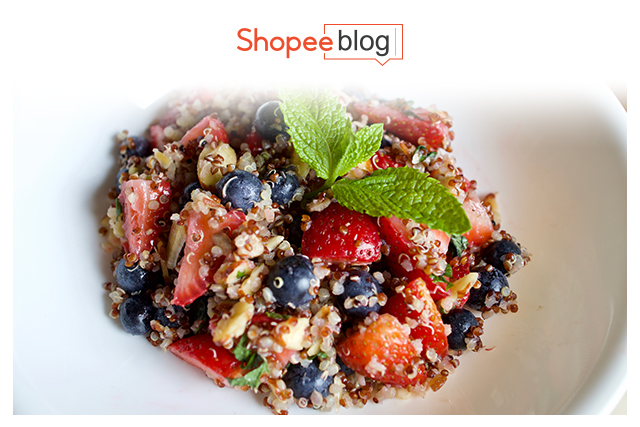 Inspired by fruity breakfast oatmeal bowls, enjoy a colorful, refreshing bowl of quinoa in the morning with cinnamon and fruits!
(yields 2 servings)
Ingredients:
Steps:
Combine the washed quinoa, almond milk, cinnamon sticks, vanilla, and salt in a small saucepan.
Bring to a high simmer, then cover the pan. Reduce the heat to bring to a low simmer for 15 minutes. If it starts bubbling, turn the heat off and stir midway through, then resume cooking.
Remove the pan from the heat and let it sit for 5 more minutes. Make sure the almond milk is absorbed by the quinoa. Taste and add a few spices to your liking. 
Place the milky quinoa into a bowl and decorate with your choice of toppings. You can also add more almond milk if you want a porridge-like consistency.
Vegetarian Quinoa Meatballs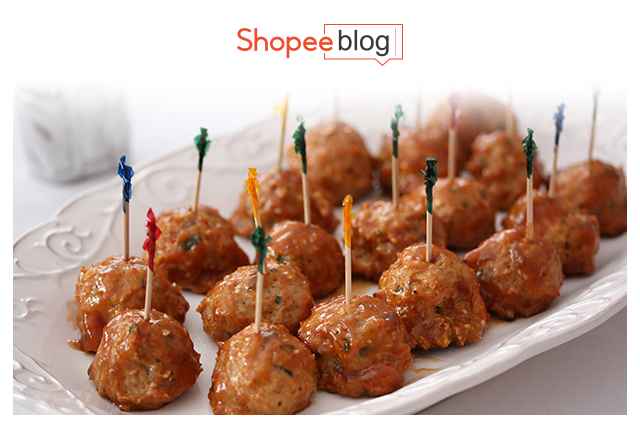 Meatballs are fairly easy to make and prep ahead of time. You can mix your desired ingredients like meat and even add it to your pasta sauce to make the meal more satisfying. But since quinoa is a good addition to vegetarian meals, here's a recipe that your vegetarian friends can enjoy.
(yields 12 meatballs)
Ingredients:
Steps:
Tips:
If you want to serve it with pasta, you may coat it with marinara sauce. Just add the marinara sauce to the skillet and gently turn to coat the meatballs. Let it simmer until hot and serve.
For a vegan option, you can substitute egg whites with a vegan egg replacer. 
Chicken Quinoa Wraps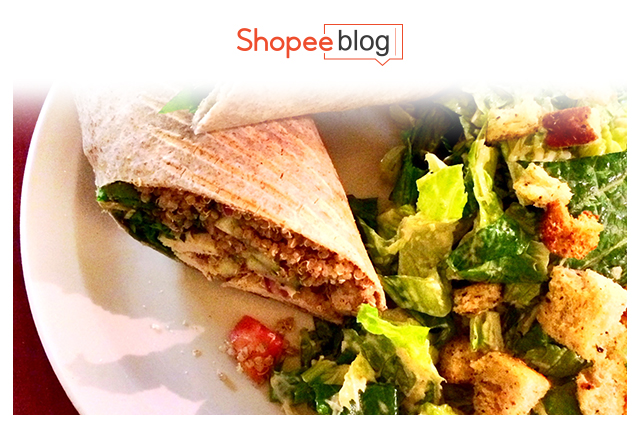 These chicken quinoa wraps will surely win the hearts of on-the-go, health-conscious individuals. It's a complete meal in one wrap which you can take anywhere. Not to mention, it is super quick to make and good to prep ahead of time!
(yields 2 servings)
Ingredients:
Steps:
Boil your washed quinoa with water in a covered pot. Simmer for 15 minutes, and let it sit for another 10 minutes. With a paper towel, pat down to remove excess water.
Put quinoa in a mixing bowl and toss together with chicken breast, leafy greens, avocado, bell pepper, and balsamic vinaigrette.
Lay a tortilla wrap flat and place the desired amount of filling in the center. 
Roll up the tortilla into a burrito and serve.
Switch To Clean Eating And Learn How To Cook Quinoa For A Healthy Change!
Nutrient-packed, delicious, and easy to make – what more can you ask for? Mix quinoa with your favorite dishes or enjoy it as is. Make shopping for quinoa and other groceries a breeze when you check them out in Shopee Philippines. For more easy and healthy meals, check out these healthy air-fryer recipes you can do in 20 minutes. If you're on a vegan journey, here are easy vegan recipes you can do at home!
Comments