If there's one hobby or sport that people can't get enough of recently, it's definitely biking! Aside from being a form of exercise or sport, it's also a mode of transportation for many. But with all the different types of bikes on the market, it can get a tad bit overwhelming to figure out which specific kind of bike you should buy! Buying a bike is an investment in itself so we're here to help you make the right decision when picking the best bike for you. Read on to learn the bike types comparison so you can narrow down your options among all kinds of bikes! 
Factors to Consider When Choosing the Different Types of Bicycles
1. Use
Are you going to use your bike to discover new trails? Are you going to ride on tarmac roads? Do you plan to go on leisurely rides around the city? These are important questions that you should ask yourself before buying a bike. There are bikes made specifically for different uses, so make sure that you know where you're planning to use your bike! The last thing that you want is to buy a bike that isn't ideal for the kind of use you were hoping for. 
2. Size and fit
Bikes come in all different sizes too! Getting a bike in the right size is crucial because it ensures not just your comfort, but your safety too. When you buy a bike, you have to check the standover height which refers to the distance of your bike's top tube from your crotch. If you're planning to get a bike with a sloping top tube, there should be a distance of at least two inches. As for bikes that have the common straight top tube, the ideal distance is a minimum of one inch. 
3. Budget
Buying the best bike doesn't have to necessarily drill a hole in your wallet! You can shop for different kinds of bikes that vary in price so it's important to canvas thoroughly before making your final decision. However, some of the best bike brands do require a bit of a splurge but rest assured that you will be getting your money's worth! So take a look at Shopee's broad collection of the different types of bikes that it has to offer! 
The Different Types of Bikes and Bike Types Comparison
1. Road Bike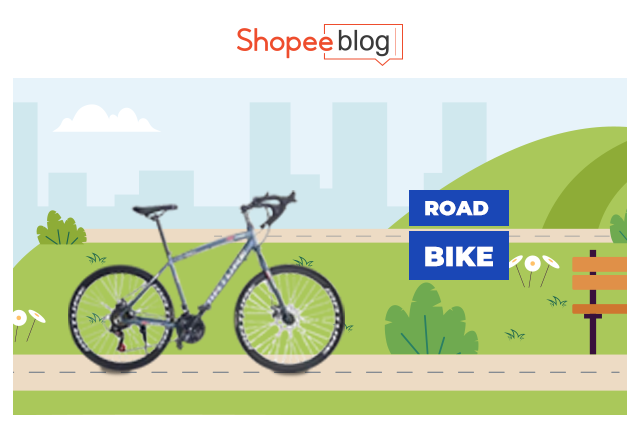 In love with speed and the thrill of an adventure on the road? If the answer is yes, then a road bike is perfect for you! This type of bicycle immediately stands out because of its narrow wheels and skinny tires. Perfect for riding on pavements, you can never go wrong with a road bike if cruising on pavement roads is your thing. Road bikes take the lead when it comes to speed, especially when you're on the road, because of factors such as your riding position and their lightweight frame. 
2. Mountain Bike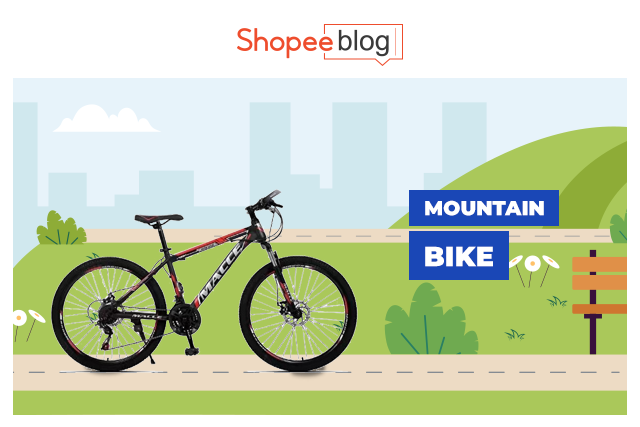 If off roads and rocky paths are the perfect pictures of adventure for you, then you better pick a trusty mountain bike that can keep up with all the obstacles that you're about to face! Unlike road bikes, you can take your mountain bike to just about any terrain so your choice of trail is limitless. Given the rough terrain that you'll encounter during mountain biking, you'll find yourself having to be a pro at bike handling and giving short bursts of very high power to overcome the trails. 
3. Gravel Bike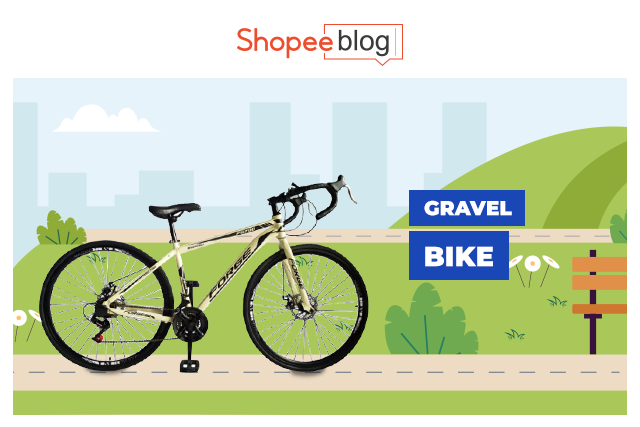 If you are torn between a road bike and a mountain bike, then a gravel bike is the perfect in-between! As a hybrid of a road bike and a mountain bike, this type of bicycle can be used for both paved roads and off-roads. Gravel bikes are similar to road bikes in terms of speed, size, and form. What sets it apart is its ability to ride on gravel paths and dirt roads, much like a mountain bike. But mountain bikes still reign supreme when it comes to intense and challenging off-road adventures.  
4. E-bike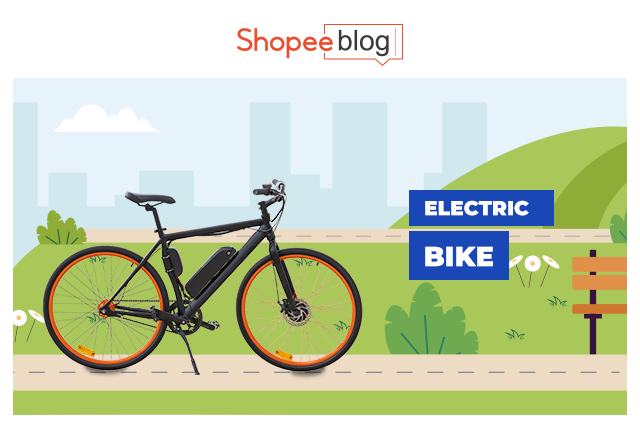 For twice the distance with half the effort, the electric bike is the best bike for this! With the pedal assistance through the motor that it comes with, you don't have to exert that much effort and energy when riding this bike. Electric bikes, popularly known as e-bikes, are either mountain bikes or ride bikes with the added feature of a battery and motor. Among all the kinds of bikes in the market, e-bikes are making their mark given how they greatly stand out among the rest with their added motor. 
5. BMX Bike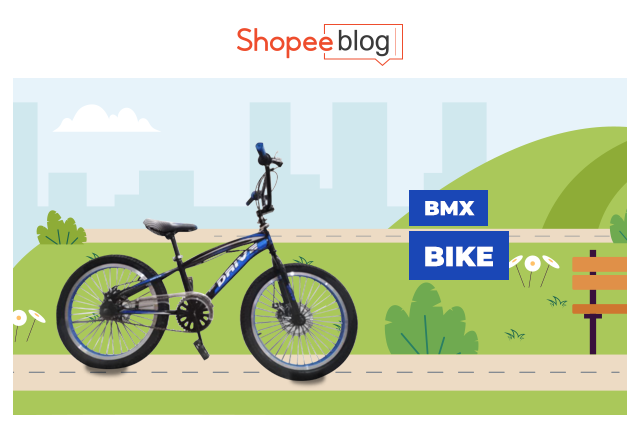 Have you always wanted to give competitive dirt races a try? If that is your cup of tea, then the BMX bike is right up your alley! Perfect for off-road cycling and dirt tracks that come with tight turns and jumps, the BMX bike is the type of bicycle that's built for bicycle motocross. With a BMX bike in tow, you're just a step away from performing all those bike tricks that you've been dreaming of! 
6. Japanese Bike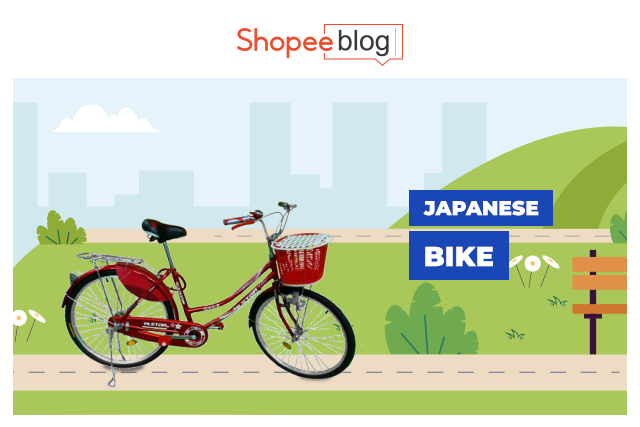 If biking means leisurely rides for you, then it's best that you go for a Japanese bike or mamachari! Japanese bikes are perfect for urban biking, especially when you need an efficient and convenient mode of transportation when running errands or going to places that are within your area. The distinct feature that sets Japanese bikes apart from the different types of bikes is that it comes with a bike basket that sits at the front, between your handlebars. The mamachari is not just comfortable and practical, but stylish too! 
7. Foldable Bike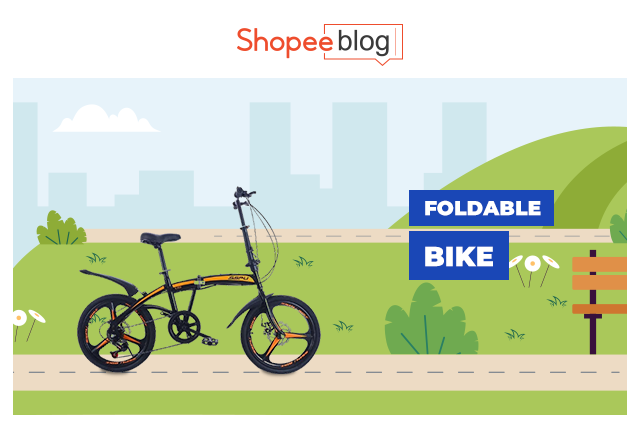 Convenience and portability at its finest, foldable bikes are taking the world of bikes by storm! You can easily transport this with you wherever you go, making it perfect for those who commute on a daily basis. Ride a folding bike to the bus stop or train station and then easily tuck it away once you're inside! Or ride it to your office if it's close to where you live and store it under your office desk. Keeping it safe close by is a possibility given how space-saving and small it is once folded! 
Take Your Pick from the Different Types of Bikes
With the bike types comparison above, why not shop for the different types of bicycles on Shopee Philippines now? Luck is in your favor because you can easily buy the best bikes on Shopee with amazing deals and discounts. Once you've glossed over all the different kinds of bikes on the market, it's about time that you proceed to checkout! 
Aside from shopping for all kinds of bikes, take a closer look at the best mountain bikes, e-bikes, and budget road bikes too! Ensure that you ride safely with bike protective gears such as bike helmets that make the perfect companion for your next thrilling adventure. 
Comments