Renewing your skin and bringing it back to life is the recent skincare trend and it seems like it's here to stay! The best rejuvenating sets in the Philippines this 2023 consist of the four pillars of skincare: cleanser, toner, moisturizer, and sunscreen. They claim to smoothen your skin texture, get rid of acne, and lighten dark spots. However, you'll have to pay extra care and attention to finding the most effective rejuvenating set for you since we all have different skin types and concerns. To give you a hand, we've narrowed it down to the nine best rejuvenating sets that people swear by! 
9 Best Rejuvenating Sets in the Philippines 2023 to Zhuzh Up Your Skin
1. Skin Perfection Rejuvenating Set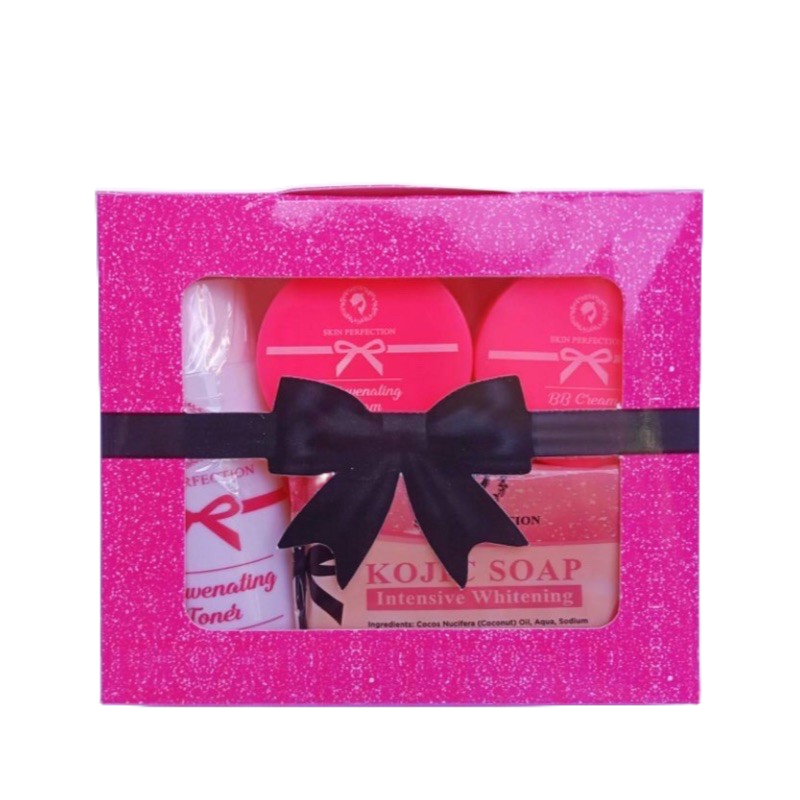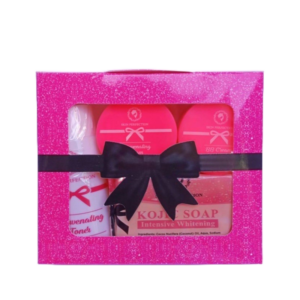 The Skin Perfection Rejuvenating Set is at the top of the list when it comes to the best rejuvenating sets for acne-prone skin. These products are formulated to get rid of pimples, blackheads, and whiteheads. It also aims to get rid of wrinkles so that you have smooth and young-looking skin! What sets this rejuvenating set apart is its BB cream with SPF 45++ to ensure that your skin is safe from the sun, especially after all that exfoliation, along with a BB cream glow.
2. Perfect Skin Rejuvenating Set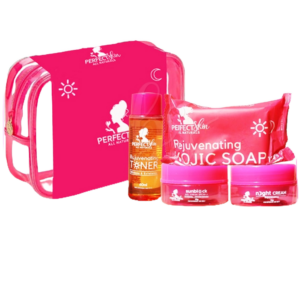 For less than ₱200, you can take a step closer to pinkish and glowing skin! The Perfect Skin Rejuvenating Set is highly raved about because of its glass skin benefits. Its soap not only contains kojic acid but papaya extract too for added brightening and smoothening effects. It also balances oil production, making it one of the best rejuvenating sets for acne-pro skin. 
3. Beauty Vault Premium Rejuvenating Set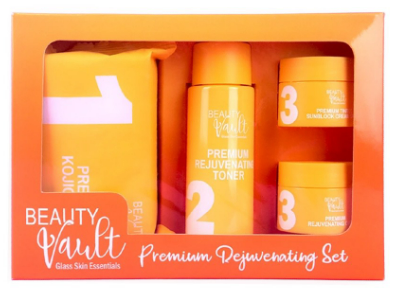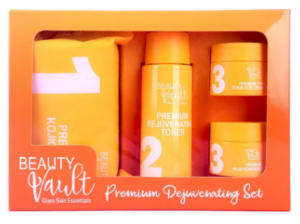 Another rejuvenating set that is making its rounds online is the Beauty Vault Premium Rejuvenating Set. Loved for its mild peeling, this rejuvenating set is said to be one of the best rejuvenating sets for sensitive skin. The set comes with an SPF 45 tinted sunscreen so that you can easily get ready for the day in just a matter of minutes while getting that much-needed sun protection! Here's to younger, fairer, and glowing skin with this rejuvenating set in tow. 
4. Dr. Alvin Rejuvenating Set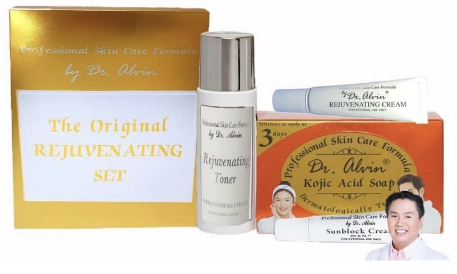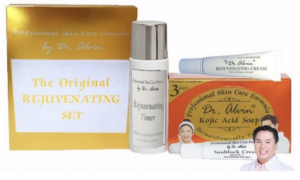 Not a lot of the best rejuvenating sets are ideal for those with sensitive skin. Enter, Dr. Alvin Rejuvenating Set! With a wide array of FDA-approved products and over two decades of experience under its belt, it's no surprise that this rejuvenating set from Dr. Alvin is well-loved. In just three days, you can start seeing whitening effects after continued use. However, the sunscreen in this set only has SPF 15 so it's best to use another sunscreen for added protection.  
5. Brilliant Skin Rejuvenating Set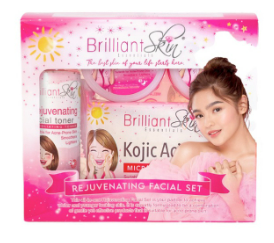 Dealing with acne and hyperpigmentation? Give the Brilliance Skin Rejuvenating Set a shot! Focusing on anti-hyperpigmentation and anti-acne, this rejuvenating set is the key to your breakouts and dark spot woes. Between the micro-exfoliating kojic soap to its gel-cream SPF 30 sunscreen, you'll have brilliant skin in no time!  
6. Hello Glow Advanced Rejuvenating Set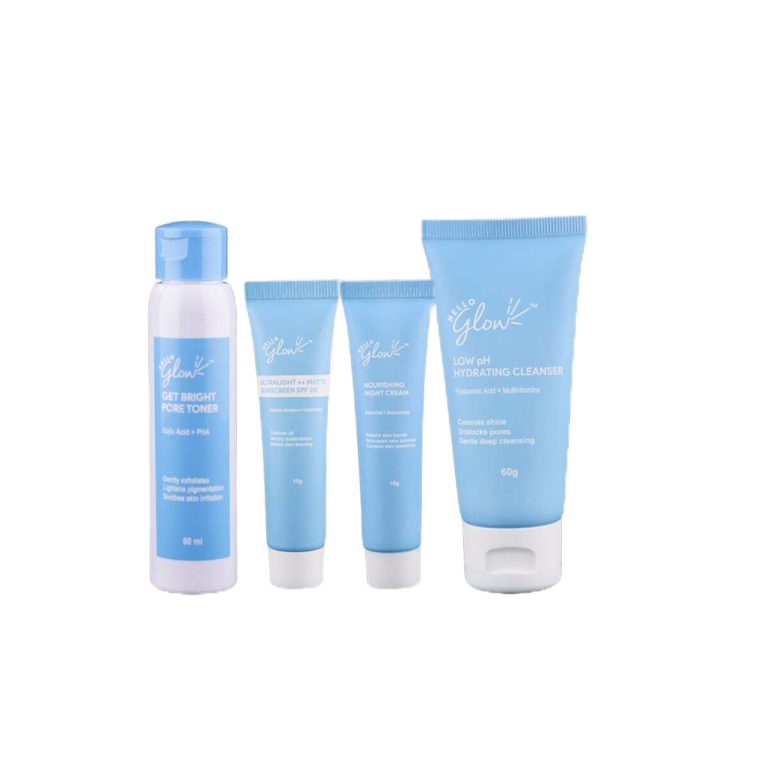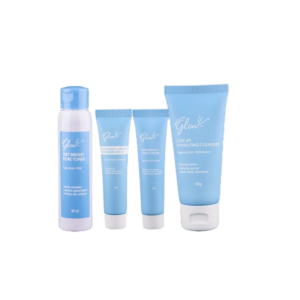 Unlike other rejuvenating sets, the Hello Glow Advanced Rejuvenating Set is formulated with other popular and skin-caring ingredients like ceramides, centella asiatica, retinol, and niacinamide. This allows the products to not just do what a usual rejuvenating set does, but it addresses other skin concerns like strengthening your skin barrier and protecting your skin from environmental factors. 
7. Essentials By Belo Rejuvenating Facial Set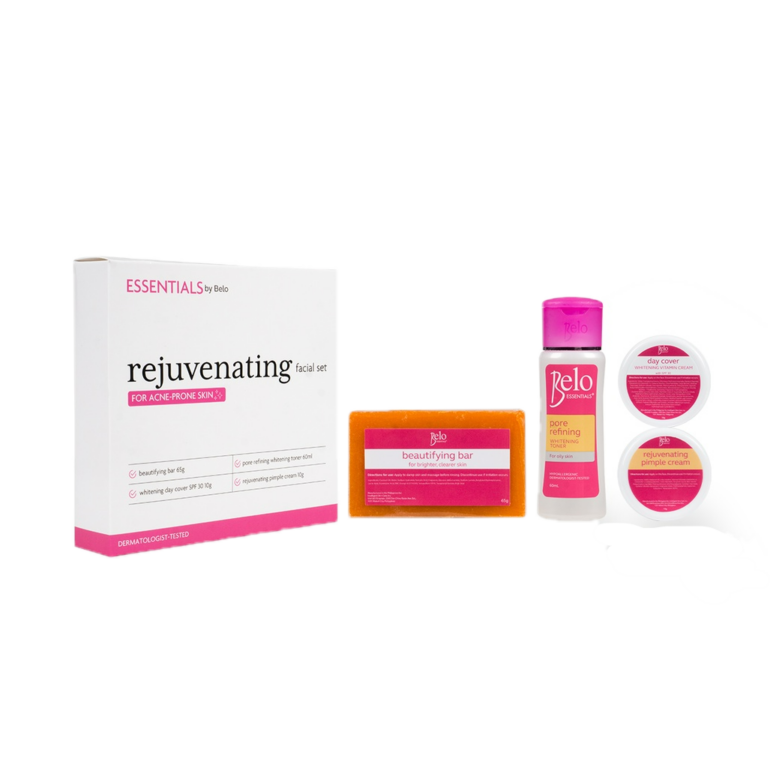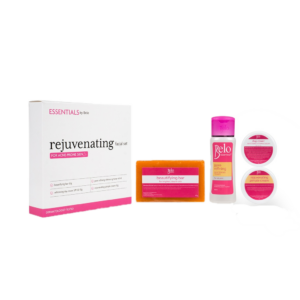 A beautifying bar for brighter skin, pore-refining toner, rejuvenating pimple cream, and whitening vitamin cream SPF 30 – the Essentials by Belo Rejuvenating Facial Set knocks it out of the park! You've got yourself all the essentials for a day and night skincare routine without breaking the bank. Despite being skin-friendly for all skin types, this rejuvenating set is perfect for those with acne-prone skin! 
8. Rosmar Kagayaku 24 Hours Rejuvenating Set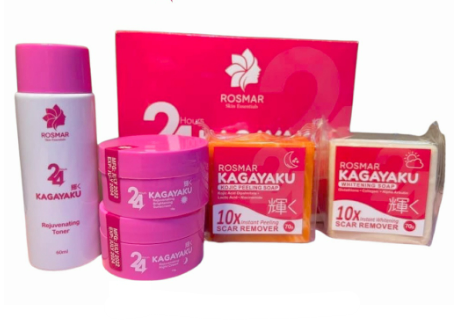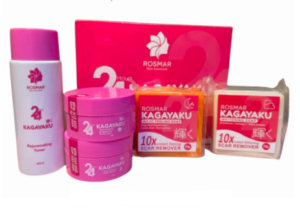 The Rosmar Kagayaku 24 Hours Rejuvenating Set is definitely one not to be missed! This rejuvenating set comes with two different bar soaps. One is a kojic soap for skin peeling and the other is for whitening. Despite it only delivering micro-peeling results, it can help with scar removal too! 
9. RyxSkin Sincerity Rejuvenating Set 3.0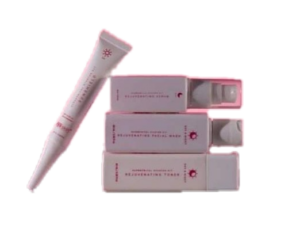 If you loved the older version of the RyxSkin Sincerity Rejuvenating Set, then you'll definitely love the new and improved RyxSkin Sincerity Rejuvenating 3.0 with better formula. To ensure that your skin isn't overly stripped while brightening it, it has glycolic acid, niacinamide, hyaluronic acid, and glutathione! And compared to other rejuvenating sets, it has a facial wash in place of a bar soap. You'll be prepped to slay the day! 
Best Rejuvenating Sets in the Philippines 2023: Bring Your Skin Back to Life
Whether you're on the hunt for the most effective rejuvenating set or the top rejuvenating set on the market – Shopee has it all for you! So get ready to add to your cart and grab amazing promos while you're at it! To take your skincare routine up a notch, check out these best Korean skincare brands, the best facial cleansers for sensitive skin, the best bleaching soaps, the best retinol serums, and more beauty guides. 
Comments