While high-end smartphones are on everyone's tech wishlist right now, it's a good move to hold off on the splurging. Instead, consider buying the best midrange phones this 2023, especially if you're on a budget. If you're thinking the same thing, here's a virtual high-five for being a smart shopper! To your advantage, top smartphone brands are one-upping each other in offering mid-rangers with flagship-level features at affordable prices. Let's narrow down your list of options with our top picks on midrange phones of 2023 under ₱20,000! 
9 Best Midrange Phones of 2023 under ₱20,000
1. Realme 8 5G
Highlights: Here's a 5G-ready smartphone that certainly won't burn a hole in your pocket! Housing a MediaTek Dimensity 700 5G processor, Realme 8 5G guarantees a dynamic performance with less heat and power consumption. Its 6.5-inch screen, together with a 90 Hz high refresh rate, makes for an immersive display that's perfect for movies and gaming. The cameras of this phone are also impressive for the price! It packs a 16 MP AI front camera and a triple rear-camera setup. This phone has a 48 MP nightscape camera which is proven reliable for night photography. Realme 8 5G is truly the one to beat when it comes to affordable 5G smartphones!
What's new? To top it all off, you can boost the phone's memory with its Dynamic RAM Expansion (DRE) technology for better multitasking. It works by temporarily converting a bit of your storage memory to RAM. This makes for a smooth experience even with tons of apps running altogether. 
2. POCO X3 Pro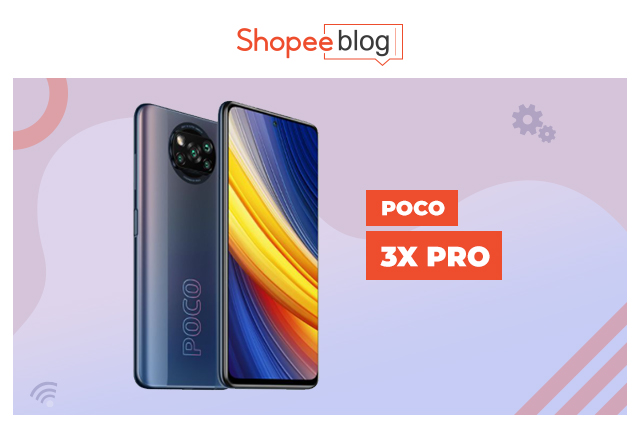 Highlights: With up to 8 GB RAM and 256 GB storage, POCO has outdone itself with POCO X3 Pro! Enjoy playing heavy-graphic games without lags with Qualcomm Snapdragon 860, a processor that is not commonly seen in mid-range smartphones. Its 120 Hz refresh rate display and liquid cooling system make it all the more capable as a gaming phone. This phone also has an improved drop and scratch endurance thanks to its Corning Gorilla 6 screen protection. Coupled with IP53 splash protection and a fingerprint-resistant casing, POCO X3 Pro will have no trouble looking good as new after many years.
What's new? POCO X3 Pro boasts dual speakers located at the top and bottom of the phone, giving a surround sound experience when playing games or listening to music. If you have a knack for video recording, you're going to love its dual video feature where you can film with the front and rear camera simultaneously!
3. Samsung Galaxy A32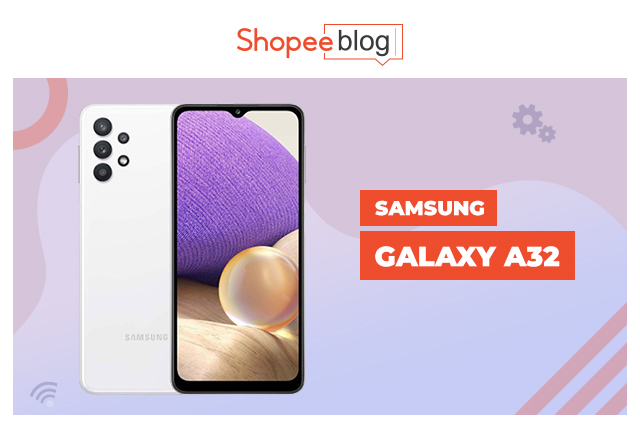 Highlights: If you're eyeing sleek smartphones lately, like the Samsung S21 Ultra and Samsung Galaxy A52, you must check out Samsung Galaxy A32's elegant soft-edge design and awesome color choices: black, white, blue, and purple. Enjoy a superb viewing experience with its FHD+ Super AMOLED display, 6.4-inch Infinity-U screen, and eye comfort shield. The best part? You'll get Samsung's signature camera quality at an affordable price! Its multi-lens camera can capture vibrant and detailed photos with a 64 MP main camera, ultra-wide camera, depth camera, and a macro camera. Paired with a 20 MP front camera, the Galaxy A32 is a great budget camera phone to snag!
What's new? Samsung Galaxy A32 is powered by the latest OneUI 3.1 – an interactive software where you can enjoy smooth motions and customizable displays. Check out the Samsung Galaxy A32 5G too for faster and smoother network connectivity! 
4. POCO X3 GT
Highlights: Need a smartphone that'll catch up to your speed? The POCO X3 GT is certainly right up your alley! Powered by a MediaTek Dimensity 1100 with a 120Hz refresh rate, enjoy your games at high settings without a hitch. Another thing not to be missed is its whopping 67 W turbo-charging, which POCO claims is their fastest charging phone yet. Overall, it's up to par with its predecessors for its dual speakers, camera setup, and tough Corning Gorilla glass protection.
What's New? As the first POCO phone equipped with a 6 nm chipset and four Arm Cortex-A7 core processors, the POCO X3 GT gives a good balance between rapid performance and energy consumption. With the latest Dual 5G and WiFi 6 thrown into the mix, this smartphone's speed is something else entirely!
5. OnePlus Nord CE 5G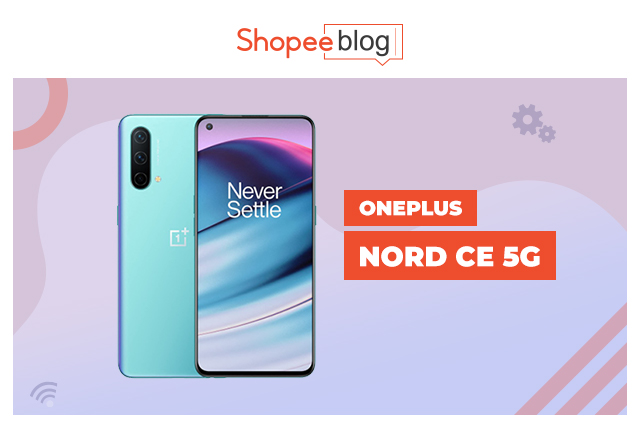 Highlights: OnePlus skyrocketed as one of the top smartphone brands for its line of powerful mid-rangers, and the OnePlus Nord CE 5G is no exception! Available in up to 12 GB RAM and 256 GB storage, it's a solid pick if you're looking for a budget-friendly 5G smartphone. Packed with a 64 MP triple camera, incredible graphics from a 90 Hz refresh rate, and a fast-charging 4,500 mAh battery, it covers all the basic smartphone needs with outstanding specs. 
What's new? Run by the latest OxygenOS 11, the Nord CE 5G will introduce you to OnePlus' new in-display features! Enjoy dark mode, customized always-on displays, and an optimized UI for one-handed usage.
6. Moto G 5G Plus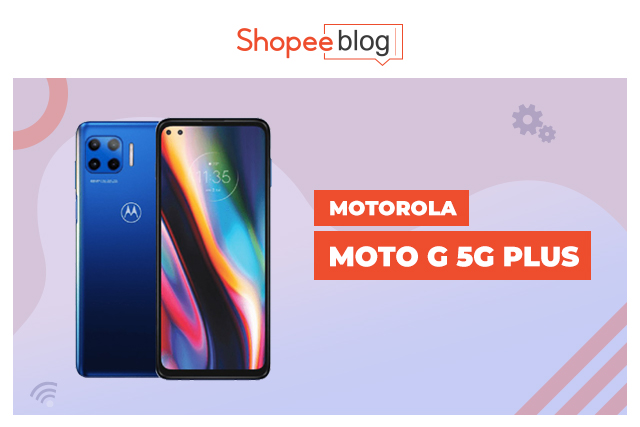 Highlights: Comeback is real for Motorola with their impressive frontrunner, the Moto G 5G Plus! It's built ready for both 4G and 5G networks with a Qualcomm Snapdragon 765 processor. Photo quality is also promising with its quadruple rear camera that captures ultra-wide and close-up shots in great detail. With 8 GB RAM and expandable 128 GB Storage, Moto G 5G Plus is a top pick for a reliable 5G smartphone at a mid-range price.
What's New? Life's going to get easier with Moto G 5G Plus' built-in dedicated Google Assistant button on the side of the phone! Equipped with NFC technology, you'll also get to experience contact-less purchases quickly and easily.
7. Vivo V21e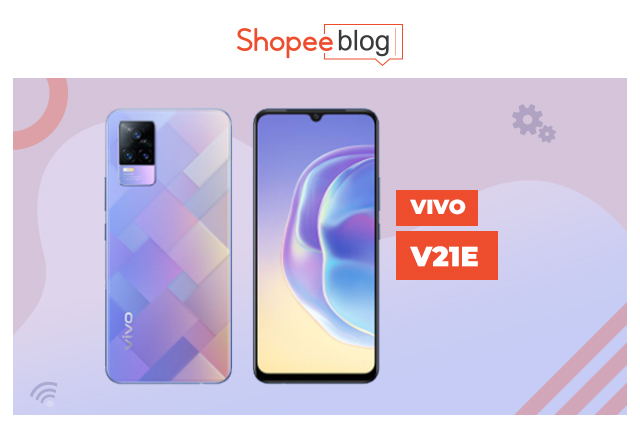 Highlights: Looking to up your selfie game? It's your time to shine with Vivo V21e – the portrait master smartphone! Its front camera is unlike any other mid-rangers in the market, with a 44 MP Ultra-HD cam to capture your best features in stellar detail. Take pro-level video recordings with its ultra-stable selfie video and motion autofocus from its 64 MP triple camera. Plus, it has a sleek build and is 6% lighter than its predecessors! Whether you're an aspiring vlogger, live streamer, or an influencer, reach your audience in HD quality with Vivo V21e. 
What's new? Aside from its eye-catching camera features, Vivo V21e is not lagging behind when it comes to performance! It has an expandable 8 GB RAM that allows you to use up to 3 GB from external memory and convert it to additional RAM for better multitasking performance. Plus, you can extend its 128GB ROM to 1 TB of external storage so you won't have to worry about a "memory full" notification again!
8. Samsung Galaxy A52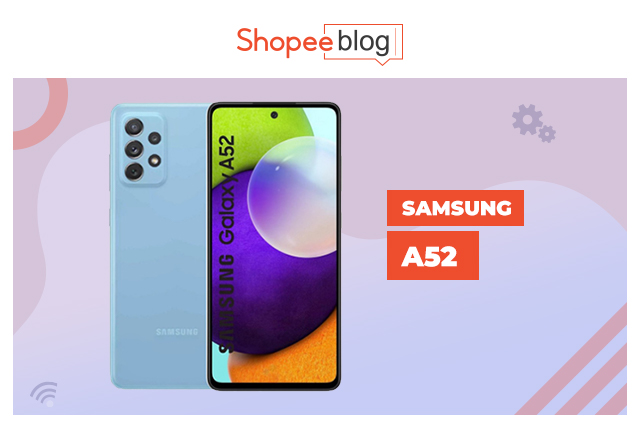 Highlights: Yet another great addition to Samsung's Galaxy A series is the new Samsung Galaxy A52! It boasts a lot of power under its hood with a Snapdragon 720G chipset, and it comes with up to 8 GB RAM and 256GB storage. Photo enthusiasts will love its 64 MP sharpshooter, 12 MP ultra-wide camera, and 5 MP for both its depth camera and macro camera for crisp details. Coupled with its brand new design, its 6.5-inch Super AMOLED display and 90Hz refresh rate are incredible for a Samsung mid-ranger!
What's new? With an IP67 rating for water and dust resistance, Samsung Galaxy A52 has improved protection that withstands up to one meter of water for up to 30 minutes. Its front camera had an upgrade of 32 MP for high-resolution selfies and an automatic bokeh effect.
9. Oppo Reno6 Z 5G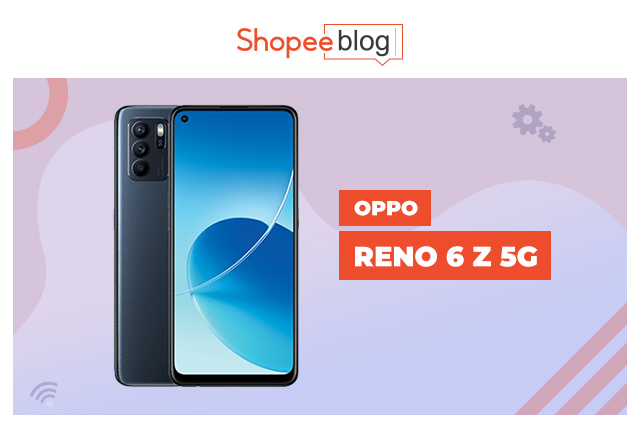 Highlights: Oppo's Reno series has sparked a lot of interest for its sleek design, camera features, and powerful chipsets. One of their newest releases, the Oppo Reno6 Z 5G, can be seen as the jack of all trades for mid-range smartphones! At a great price, you'll get 5G connectivity, AI triple-rear cameras, and a strong Dimensity 800U processor that's great for gaming. On top of all that, you might find your hands glued to its ultra-slim body and dazzling retro finish. 
What's New? Take artistic portraits with Oppo Reno6 Z 5G's Bokeh Flare feature! Using AI algorithms, you can automatically turn background lights into a whimsical bokeh backdrop day and night. Its AI technology also makes portrait beautification on videos possible so you can enhance your natural beauty without the need for video editing.
Get Every Penny's Worth On The Best Midrange Phones of 2023
Price is the only thing you'll be settling for less with the best midrange phones of 2023! From camera phones to gaming phones, you'll definitely find your next perfect upgrade here without kissing your savings goodbye. Skip the ride to mall outlets and shop for these extraordinary mid-rangers on Shopee Philippines instead! You might even catch the best midrange phones on flash deals with an even better price or stumble upon a convenient cashback voucher to get huge savings.
Comments