Worried about leaving your dog while you're out and about? Here to put an end to your worries, we've put together a list of the best dog toys that you should buy to keep your pup busy while you're not home! The last thing you want is to leave your doggo at home with no form of entertainment, which can result in boredom and tantrums. With the help of the best interactive dog toys to keep them busy, you can go to work or run errands with peace of mind. But first things first – make sure to supervise your dog when you introduce a new toy to them in order to ensure their safety! Read on to discover the best mind-stimulating dog toys that your pooch will enjoy playing with while you're out! 
Best Dog Toys That Will Keep Your Dog Company Whenever You're Not Home
1. Puzzle Toys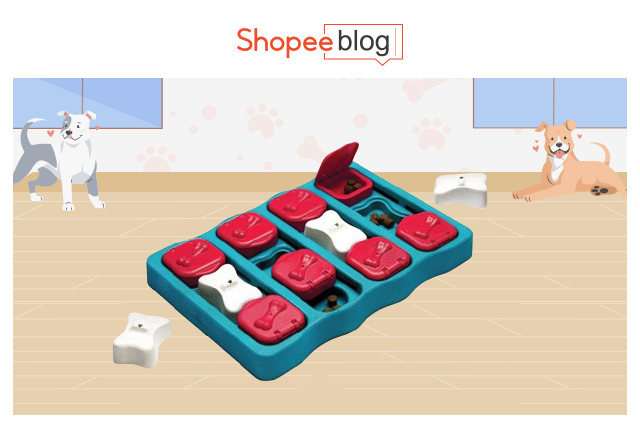 You can never go wrong with a puzzle toy! The best puzzle toys for dogs allow you to hide treats under sliders. It may take them minutes or hours but your pup will definitely be distracted while they try their best to reveal the treats they know are hidden inside. As they learn to slide things around, they'll be able to uncover their treats and happily munch away. You're basically hitting two birds with one stone with this toy because you're giving your doggo a form of entertainment while feeding them! It might take some getting used to, but once they get it down, the fun will ensue! So treat your doggo to one of the best puzzle toys for dogs to keep them busy throughout the day. 
2. Snuffle Mat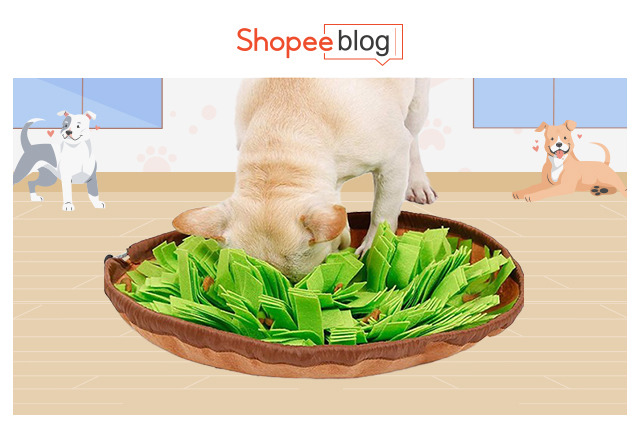 Much like puzzle toys, snuffle mats are great mind-stimulating dog toys as it challenges your pooch to look for dry food and other treats hidden in the mat. The best snuffle mats for dogs challenge your pet to use their sense of smell to hunt for their food! As a stimulating dog toy, boredom and separation anxiety are thrown out of the window! Most snuff mats have different layers of fabric so that the dog food is carefully hidden which takes the challenge up a notch. Plus, it prevents bloating because it will take a while for your dog to find the food – resulting in slow eating! Don't fret because these are usually washable so you can easily throw them in the washing machine. You can find a wide variety of the best snuffle mats for dogs that vary in design on Shopee! 
3. Hide and Seek Toy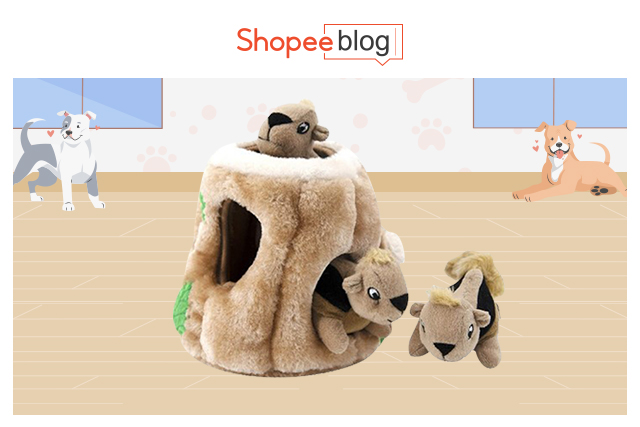 Who says hide and seek is only for little kids? With hide and seek toys, your dog can play it too! These fun dog toys can keep your dog company for hours on end. All they have to do is sniff out and remove a stuffed toy that's hidden inside the toy! Aside from being a fun dog toy, these types of toys can stimulate the mind as they develop their problem-solving skills and sense of smell. Hide and seek toys encourage your dogs to use their natural instincts of sniffing around and being inquisitive! Your furry pal will have the time of their life with this best dog toy in tow. 
4. Chew Toy
No dog toy collection is complete without a chew toy! Chew dog toys are definitely one of the best puppy toys thanks to how fun and low-risk it is. Aside from promoting dental health, chew toys will certainly keep your pooch busy while you're away. It will take a while for them to get bored with a chew toy because of the many ways they can play with it! Make sure to get the toughest dog toys made of quality materials when it comes to chew toys so that they can last long. On Shopee, you can choose from a broad collection of the best chew toys for dogs! 
5. Treat Dispenser Toy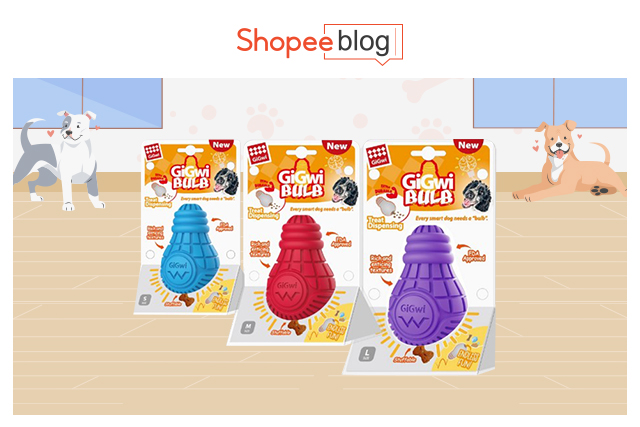 Treat dispenser toys are proof that cool dog toys exist! Simply stuff the toy with treats and your dog will have the time of its life trying to figure out how to let the treats out. Whether they have to roll it around or pull a certain compartment, you can rest easy knowing that your dog will be a busy bee while they're home alone. Just make sure to fully stuff it with treats so that your furry pal can keep playing with the toy over and over again without the treats running out too soon! 
Home Alone No More: The Best Dog Toys To Keep Your Doggo Busy
Leaving your pup home alone is never easy. But knowing that you have the best interactive dog toys to keep them busy can give you peace of mind, even just a tad bit! From the best puppy toys to the toughest dog toys, Shopee has got you covered with all the cool dog toys you can imagine. Spend some quality time with your pal in these dog parks in Manila too! 
Aside from treating your dog to the best toys available, make sure to give them delicious food with the best dog food brands, healthy dog food and treats, and appetite boosters! If you want to switch things up, raw-feeding your dogs is always a great alternative. Give your pets the love and care they deserve by reading up on our pet care tips and tricks! 
Comments