For the past few months, you've undoubtedly seen a ton of leaks online for the much anticipated Apple Event this 2022. From which specific products will be announced to the different upgraded features, Apple surely knows how to keep us on our toes. The Apple Event 2022 happened on September 7, which you've probably set an alarm for! Being the most awaited tech event every year, you're surely one to tune in whether you're an Apple fan or not. Here to sum things up in a nutshell, we've put together all the Apple Event 2022 highlights and need-to-knows for an easier read! 
Apple Event 2022 Philippines: Details, Details, Details! 
iPhone 14 and iPhone 14 Plus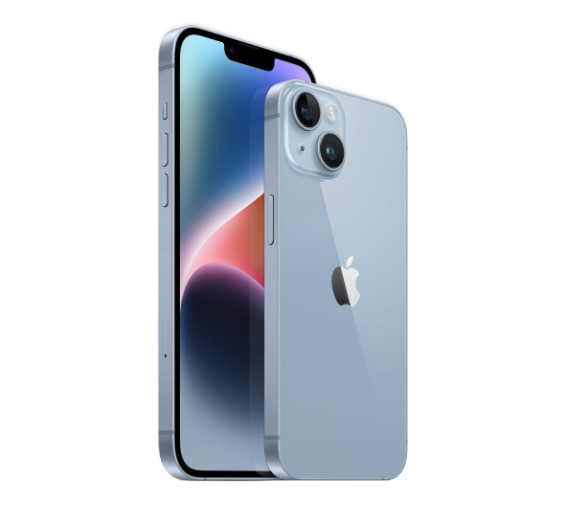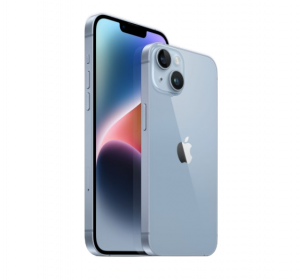 Cameras
Here to put all the rumors to rest, the iPhone 14 and the iPhone 14 Plus are ready to take things up a notch – thanks to all the new features announced during the Apple Event 2022. Truly "cam-packed", the main camera is up to 2.5x better in low-light conditions. Plus, 49% more light is captured because of its bigger sensor and larger aperture! When it comes to night mode, the main camera is 2x faster. If you loved the portrait mode in previous models, you'll love it even more in the iPhone 14. With a 48MP, the main camera is able to capture every single detail. Pair it with its telephoto camera that allows you to take stunning close-ups even at a distance. 
But Apple didn't stop there! Take even more beautiful selfies with the new TrueDepth front camera that's up to 2x better in low-light conditions. The new front camera comes with a larger aperture and fan fave – autofocus. All these will result in selfies filled with striking colors, fine details, and sharpness like never before. 
Battery
With all the advancements in its performance, you're probably worried about its battery draining in a blink of an eye. Fret not because Apple upgraded its battery life too! Enjoy up to 26 hours more of video playback on the iPhone 14 Plus and up to 20 hours for the iPhone 14. 
Body and Display
Experience the toughness of a ceramic shield with your iPhone 14 and iPhone 14 Plus! Top it off with aerospace-grade aluminum, vibrant Super Retina XDR display, crash detection, and 21% more screen. You'll surely enjoy having this in the palm of your hands! What a sight to behold. 
Colors, Storage, and Prices
Available in five colors – Blue, Purple, Midnight, Starlight, and (Product) Red, you can have your very own iPhone 14 starting at ₱56,990 or an iPhone 14 Plus starting at ₱63,990! From 128GB to 512 GB, you'll surely have all the storage you could possibly need. 
iPhone 14 Pro and iPhone 14 Pro Max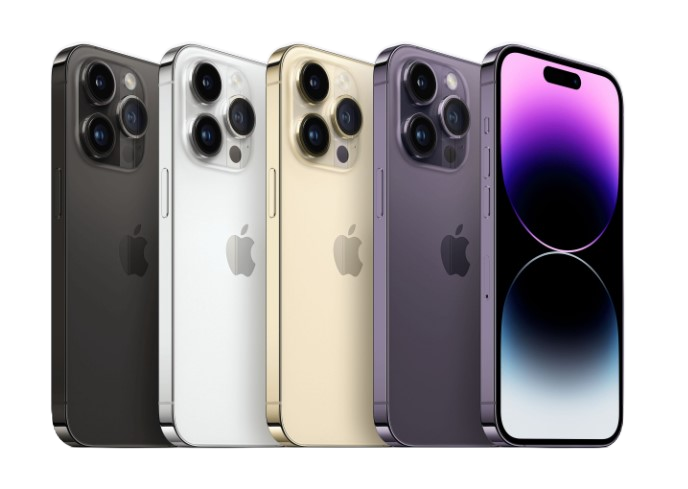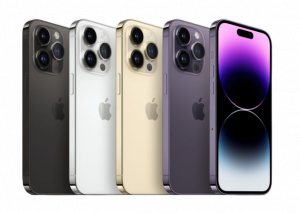 Cameras
If you think the iPhone 14's camera system is enough reason to upgrade to the latest iPhone model, then the iPhone 14 Pro and Pro Max cameras will definitely tickle your fancy. Starting off with the main camera that comes with 48MP, an advanced quad-pixel sensor, and up to 4x resolution. Compared to the iPhone 13 Pro, the sensor is larger by 65%! Its telephoto camera has a zoom range that comes with an additional 2x optical zoom. Both the main camera and telephoto camera are up to 2x better in low-light conditions. The ultra-wide camera takes it up a notch with 3x better photos in low-light conditions. 
With all the upgrades in the iPhone 14 Pro cameras, Apple surely didn't stop there! Aside from those, you can also enjoy the Cinematic Mode on the iPhone 14 Pro line-up too. This time around, you can finally shoot in 4K at 24 or 30 fps. This is what most movies are shot in so you're certainly a step closer to your filmmaker dreams! With this new upgrade, it sets the iPhone 14 Pro line-up apart from other smartphones as the highest-quality video that one can have in a smartphone. 
Just like the iPhone 14 and iPhone 14 Plus, the iPhone 14 Pros also sees an upgrade in its front camera. The new TrueDepth front camera will definitely take all your selfies to the next level. 
Chip
All that is powered by the new A16 Bionic chip which is a lightning-fast chip that is bound to outperform any competitor out there. Say hello to a faster 6-core CPU and a 5-core GPU that comes with 50% more memory bandwidth. With this, you can enjoy your favorite games without any lag, speed as fast as lightning, and privacy protection! Relish in speed as fast as lightning and smoother graphics for work and play. 
Battery
What about the battery life, you may ask? The iPhone 14 Pro Max comes with up to 29 hours of video playback and up to 23 hours of video playback for the iPhone 14 Pro. Enjoy all-day battery life with the iPhone 14 Pro! 
Body and Display
Worried about your clumsy self dropping your phone day in and day out? Worry not! The iPhone 14 Pro is made of top-notch materials such as surgical-grade stainless steel for the body and a ceramic shield for its screen. To top it off, the iPhone 14 Pro has a Super Retina XDR display that makes it 2x brighter in the sun. But that's not all! Experience the wonders and convenience of the always-on display in the iPhone 14 Pro line-up! 
The iPhone 14 Pro display now has Dynamic Island in place of its pill notch which proves to be an innovation at its finest. Known to be what they consider the "biggest change to the face of iPhone", you can easily find all your notifications and alerts in this one place in the form of a bubble to keep things organized. Simply tap on it to expand and tap again to minimize it! 
Colors, Storage, and Prices
Choose from four different colors – Deep Purple, Gold, Silver, and Space Black, and consider getting a storage capacity of up to 1 TB! The iPhone 14 Pro starts at ₱70,990 while the iPhone 14 Pro Max starts at ₱77,990. It's time to start pondering on which specific iPhone to get!
Apple Watch Series 8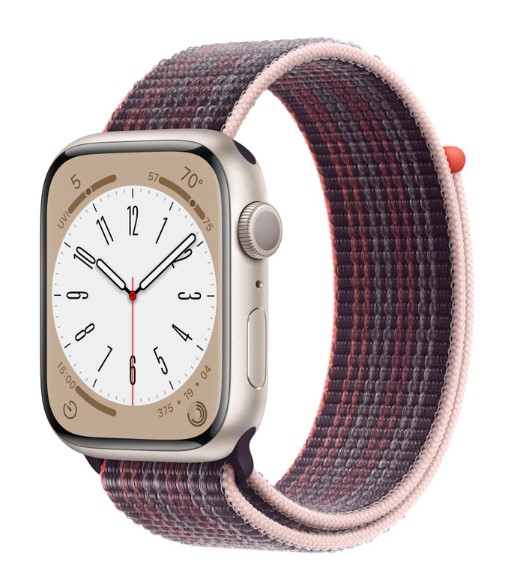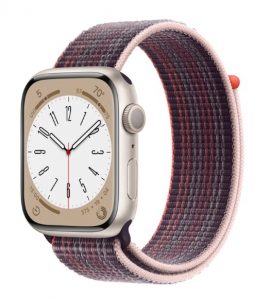 Body and Display
Available later this year, the Apple Watch Series 8 is still something that you need to keep an eye out for! The Apple Watch Series 8 has a full-screen display with Always-On Retina display. The screen reaches the very edge of the watch, for a seamless transition to the curvature of the watch. Apple takes pride in this being the most durable Apple Watch ever. It's crack-resistant made with a thick crystal, dust resistant with IP6X certification, and water resistant as it's swim-proof with WR50 water resistance. 
Health
You can now keep track of your menstrual cycle with the help of the temperature sensing feature! This can help you have an estimate on when you ovulated and predict periods that are coming your way. If you have any irregular or prolonged periods, Apple Watch will definitely let you know! You can also keep track of your sleep, take an ECG, and measure your blood oxygen. Talk about making sure you're healthy and fit, 24/7! 
Much like the iPhone 14 and iPhone 14 line-ups, the Apple Watch 8 also has crash detection. Once it detects if you're in a car crash, it will notify emergency services and reach out to your emergency contacts so you can get the help you need right away. 
Battery
Hoping to wear it all day long? You can! Say hello to 18 hours of battery life. And with the new low power mode, it can last up to 36 hours! 
Apple Watch Ultra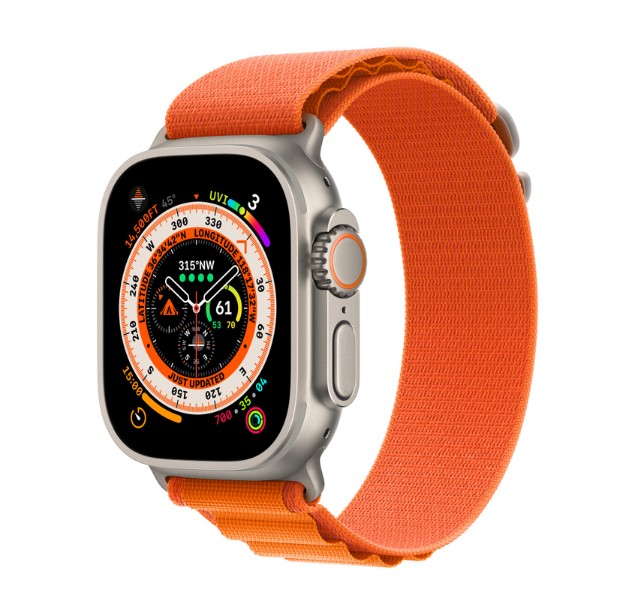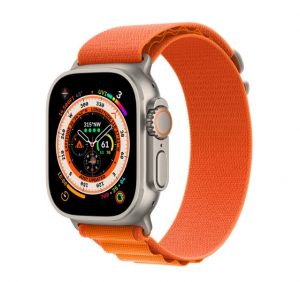 Body and Display
Perfect for athletes out there, the Apple Watch Ultra makes the perfect companion in any sport, adventure, or workout! Made of titanium and sapphire crystal – it's as tough as it gets. With a water resistance of 100m, up to MIL-STD 810H, and IP6X dust resistance, this watch can truly keep up with you. 
If you think that the previous Apple Watches are bright, you'll think twice once you lay your eyes on the Apple Watch Ultra. With the brightest and biggest Apple Watch display to date, the Apple Watch Ultra comes with a display that reaches up to 2,000 nits. 
The Apple Watch Ultra comes with a handful of new features and buttons that will blow your mind! The GPS antenna, accurate compass, dual speakers, action button, an 86-decibel siren, three microphone array, side button, depth gauge, and the digital crown will definitely come in handy. 
Battery
Enjoy up to 36 hours of normal use! If your watch is in low power mode, its battery can last up to 60 hours. 
Apple Event 2022: Make the Upgrade Now!
The Apple Event 2022 was surely jam-packed and did not disappoint. If you've been looking for the sign to upgrade to the latest iPhone or give Apple a try as a first-timer, this is it! Looking for a one-stop shop for all your Apple needs? Lucky for you, you can find Apple Authorized Resellers on Shopee such as Beyond the Box and The Loop! 
If you're eager to have an iPhone on hand, check out the iPhone 13 and the iPhone 13 Pro Max available on Shopee Philippines!  The Apple Watch Series 7 With GPS and Apple Watch Series 7 are still up for grabs too. 
Comments