Have you been looking for a way to put your milk tea cravings to rest? Look no further because Serenitea has got you covered! With only the most delicious and best milk tea flavors to choose from, rest assured that you'll drink to your heart's content with Serenitea's milk teas. To take it up a notch, Serenitea has partnered with Shopee Philippines to make your milk tea experience even better! Take a peek at the best milk tea flavors that Serenitea has to offer and read on to find out about all the promos that await you!
5 Best Serenitea Milk Tea Flavors That Will Have You Craving For More 
1. Brulee Milk Tea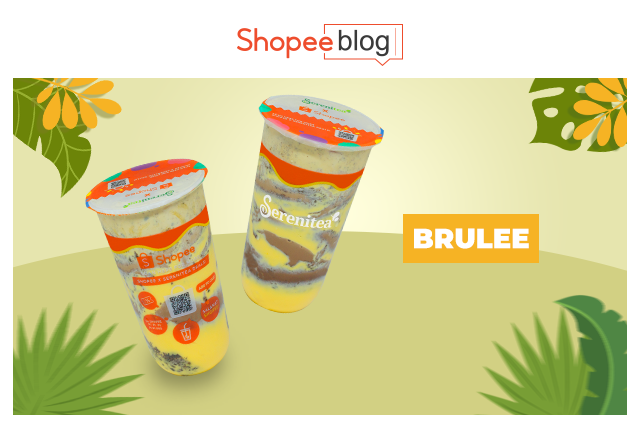 Calling all sweet tooths out there! If you fancy yourself a milk tea drink that's on the sweeter side, the Cookie Brulee Milk Tea is right up your alley. Indulge in the creamiest chocolate cookie custard with chocolate cookie bits for that much-needed crunch and texture! You can choose between three variations of their Brulee Milk Tea. The Cookie Brulee Milk Tea is great if you want a custard with a milk tea base. Not a big fan of cookies? You can opt for the Creme Brulee Milk Tea which tastes just as great, without the cookies! There's also the Cookie Brulee Matcha and Cookie Supreme Matcha for all matcha lovers out there. These matcha drinks are the perfect balance between matcha and milk tea, great for those seeking to try out matcha for the first time! 
2. Okinawa Milk Tea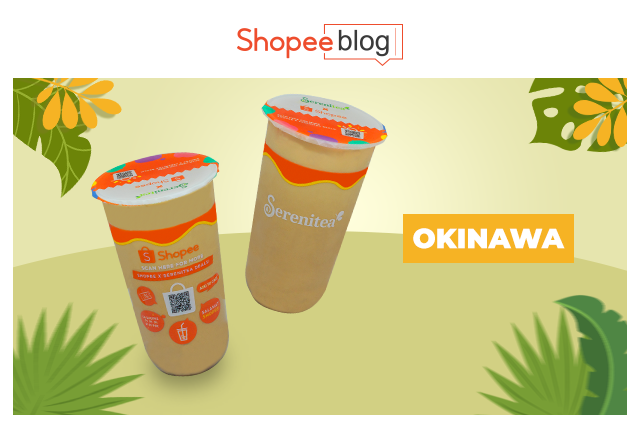 Okinawa Milk Tea is among the most popular milk tea flavors in the market. It's no surprise that Serenitea's Okinawa Milk Tea will make your taste buds sing and leave a lasting impression! This is the perfect option for those who want their classic milk tea for that much-needed familiarity. You'll be amazed at how such simple ingredients end up tasting heavenly once mixed together. Take it up a notch with Serenitea's sinkers by adding in pudding, pearls, and more! 
3. Traditional Milk Tea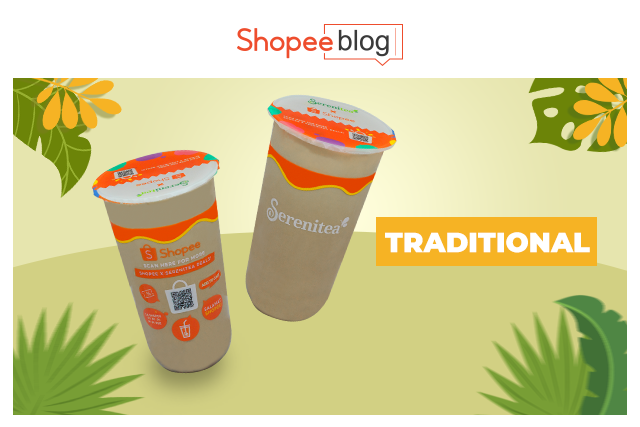 You can never go wrong with Traditional Milk Tea! Satisfy your cravings with this drink if you've been dreaming of milky and sweet tea. With just the right amount of sweetness, you'll find yourself coming back for more as you happily revel in one of the best milk tea flavors that Serenitea has to offer. Top it off with some black pearls for added texture and taste! 
4. Twin Taro Milk Tea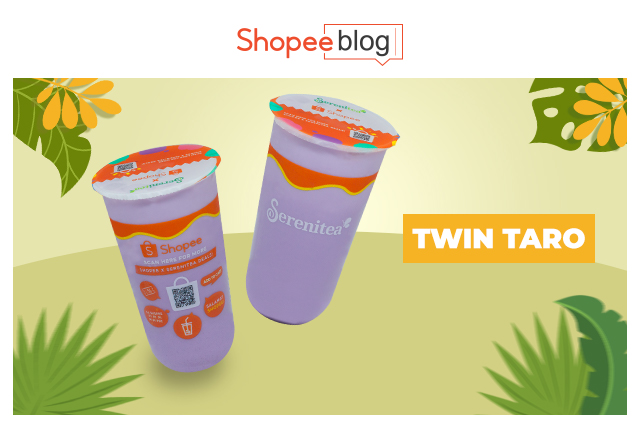 Dipping your toes in the world of taro? Treat yourself to the Twin Taro Milk Tea! With just a sip of this Serenitea milk tea, you'll see that taro has never tasted this good. This Twin Taro Milk Tea is as authentic as it gets! Made of taro cubes all the way from Taiwan, you'll be a certified taro lover in no time thanks to this mouthwatering milk tea flavor! 
5. Aloha Fruitea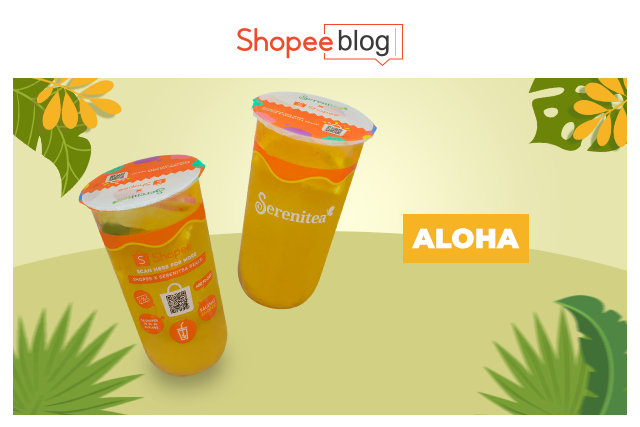 If you think that all Serenitea has to offer are milk teas, you couldn't be more wrong! The hunt for the most refreshing drink ends here! Treat yourself to the Aloha Fruitea and the year-long summer season will be as revitalizing as can be. The Aloha Fruitea is the perfect blend of pineapple, passion fruit, and jasmine green tea. It doesn't end there! It's also infused with sliced apples, orange, and calamansi for that much needed citrusy punch. Talk about refreshing! 
Get the Best Deals on Serenitea With Shopee Philippines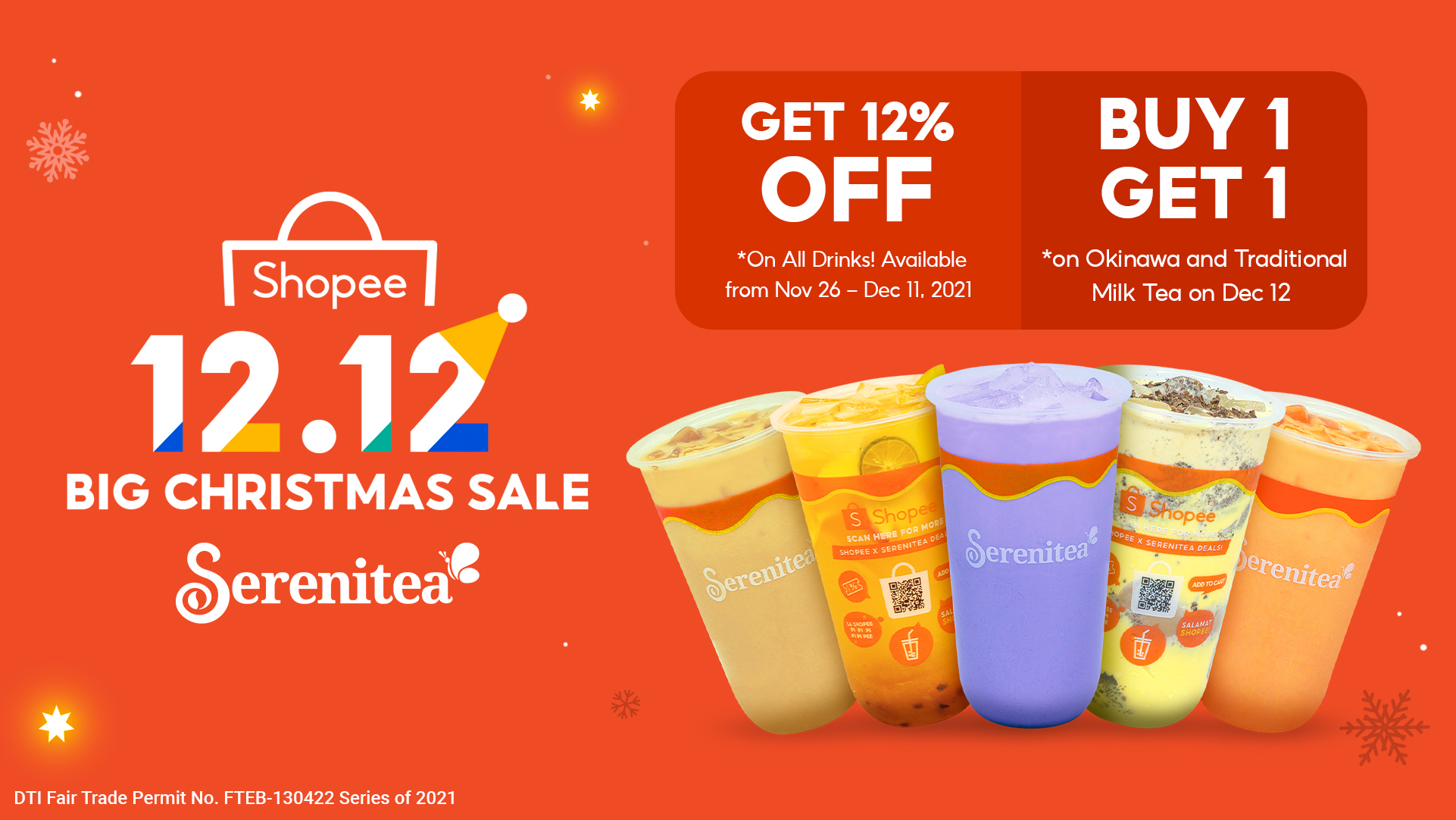 We're with you when it comes to satisfying your milk tea cravings! Serenitea and Shopee Philippines are here to make sure that you get your milk tea fix, especially when your tummy calls for it. From November 26 to December 11, you can get 12% off on all Serenitea drinks! On top of that, you can enjoy Buy 1 Get 1 on Serenitea's best sellers – Okinawa and Traditional Milk Tea, on December 12. All you have to do is show your Shopee app when you visit a Serenitea store to enjoy these promos!
Once you get your hands on your Serenitea drink, don't fail to notice the new Shopee x Serenitea cup! Aside from elevating your drink's packaging, you'll spot a QR code on the cup and the sealing film. Scan it and it will lead you to Serenitea's ₱1 e-vouchers on Deals Near Me! For Okinawa Milk Tea lovers out there, you're in luck because you can get a 20% discount voucher specifically for this drink! These e-vouchers are up for grabs from November 26 to December 12. With all these amazing discounts and promos, Shopee x Serenitea is here to help you satisfy your milk tea cravings! 
Comments