Looking for more ways to save when you do your online shopping? Use ShopeePay and you'll surely find yourself saving money as you shop till you drop! ShopeePay is an e-wallet where you can easily pay for your Shopee purchases, top-up, withdraw cash, and keep track of your balance – all in one place!
Free shipping vouchers, Shopee coins, and even an entry to Lucky Draw – you name it and it will be worth it. Keep reading to find out the different ways you can save when you learn how to use ShopeePay.
Learn How to Use ShopeePay and Maximize Savings
1. Enjoy Up to 6x Free Shipping
One of the things that makes us think twice when shopping is the added shipping fee. But, if you know how to use ShopeePay, you can bid farewell to that! You can enjoy up to six Free Shipping vouchers per month:
Sitewide Free Shipping Voucher: ₱299 Min. Spend (x3), capped at ₱60
Sitewide Free Shipping Voucher XTRA: ₱600 Min. Spend, capped at ₱125
Free Shipping Special Shops: ₱99 Min. Spend (x2), capped at ₱60
*Minimum spend is subject to change depending on ongoing shipping promotions. 
2. Stay Tuned at Midnight & Noon for New Free Shipping Vouchers

Can't get enough of Free Shipping? Set your alarms for 12 midnight and 12 noon to claim and use new Free Shipping vouchers every day! You can only use these vouchers from 12MN-2AM and 12NN-2PM, so start adding to cart before the clock strikes 12. 
3. Shop on ShopeePay Thursdays for Upsized Discounts
Don't have a favorite day of the week? Well, you'll surely look forward to Thursdays the most! That's because whenever you use ShopeePay on Thursdays, you'll get awesome upsized discounts of up to 15% off sitewide and free shipping! 
But wait, it doesn't stop there! To make your Thursdays even better, you'll get upsized discounts for Load, Bills, and eVouchers. 
4. Get 15% Coins Cashback on Deals Near Me

If you haven't checked out the Deals Near Me yet, now is the time to give it a try! With ShopeePay transactions, you can get up to 15% coins cashback every Monday and Thursday. On other days, enjoy up to 10% coins cashback! Knowing how to use ShopeePay will really come in handy. When purchasing Deals Near Me eVouchers with ShopeePay, you can get a maximum of 60 coins cashback!
5. Pay Your Bills and Get Up to 250 Coins

Paying bills comes with being an adult – but this won't be as burdensome with ShopeePay's Bills Payment coins cashback promos! Take advantage of these promos with ShopeePay through the Shopee app!
Shopee coins are upsized every Monday and Thursday. If you are a new digital buyer, you can get 250 coins when you pay bills worth at least ₱800! For all other buyers, you can still enjoy upsized Shopee coins up to 150 coins. Check out the table below for more details: 

To know more about this, check out this article to Experience Convenience With Shopee Load & Bills Payment so you can buy load and data too alongside paying your bills! 
6. Claim DAILY Coins Cashback Offers Up to 20% Off
Enjoy up to 20% coins cashback with no minimum spend when you shop exclusively from Cashback shops! On Tuesdays, this is valid for all cashback shops. On other days, categories will be selected daily such as Mobiles and Gadgets, and more! Make sure to watch out for this because your favorite category could possibly be the selected category for the day. You definitely wouldn't want to miss out on that! 
Cashback shops have a badge at the bottom of their products and you can check out the list of cashback shops too.
7. Top-Up & Get a Chance to Win ₱10,000

Do you want a chance to win the ₱10,000 grand prize in the Lucky Draw? All you have to do is top-up a minimum of ₱300 on your ShopeePay wallet. Not only that, you can win daily prizes of ₱25 off discount vouchers and Shopee coins too!
Pay with ShopeePay Now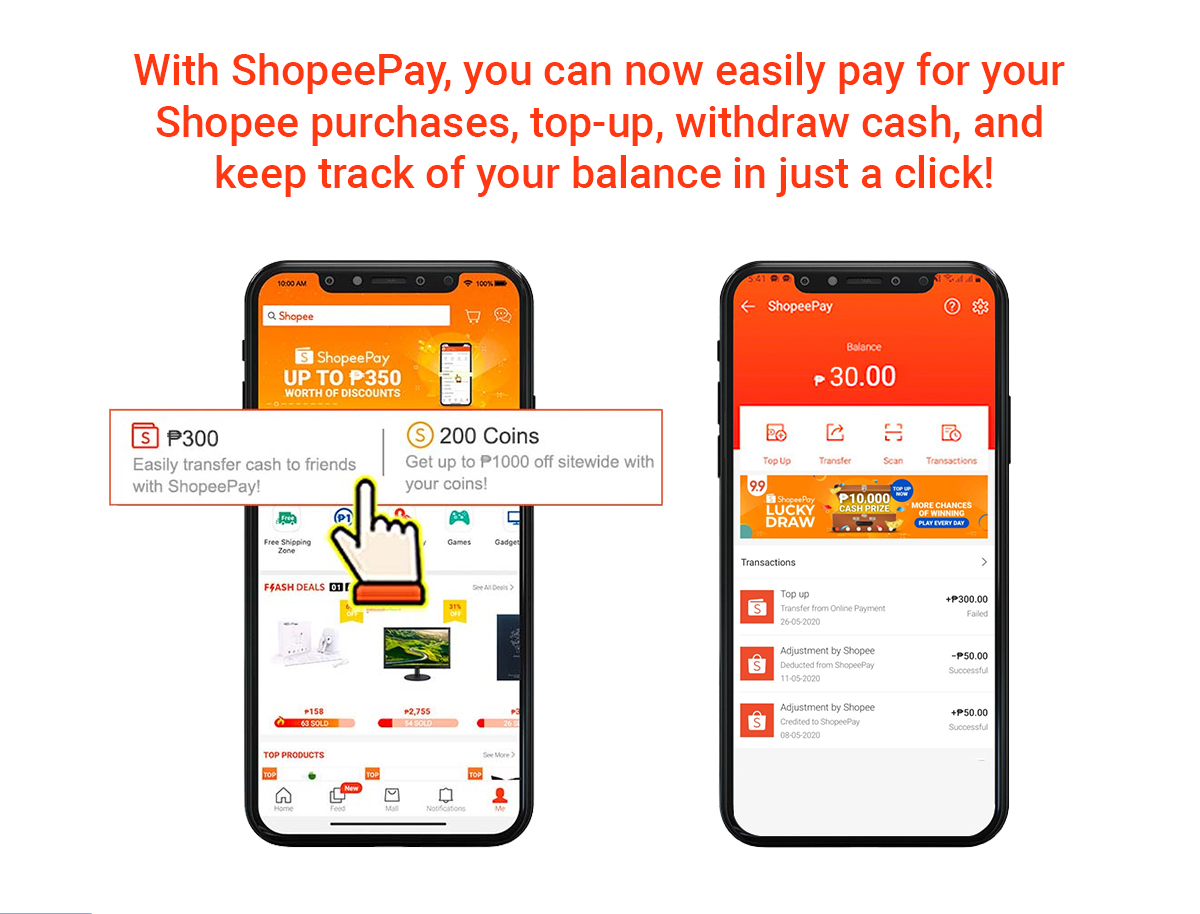 All these amazing promos are right at your fingertips when you use ShopeePay. Whether you're choosing ShopeePay to pay for your online shopping or to pay your bills, you'll surely save a lot thanks to exclusive free shipping vouchers, discounts, and coins cashback. Plus, it's extremely convenient to pay with Shopeepay given all the top-up options like payment centers and e-wallets, over-the-counter, and even online payment. What are you waiting for? Find out how to use ShopeePay and activate ShopeePay now in just a few steps! This is a simple yet great way to save money so pay with ShopeePay now and you'll definitely thank yourself for it!
Comments