The best things in life are free. What would be better than one million pesos in cash? All you need to do is know how to join Shopee Milyonaryo!
Shopee users stand a chance to win ₱1,000,000 during the 7.7 Mid-Year Sale TV Special, live on GMA 7! Think of how much a million pesos can positively impact your life—all it takes is less than a minute of your day to join Shopee Milyonaryo. Read on for more details on how to join Shopee Milyonaryo.
How to Join Shopee Milyonaryo in Three Easy Steps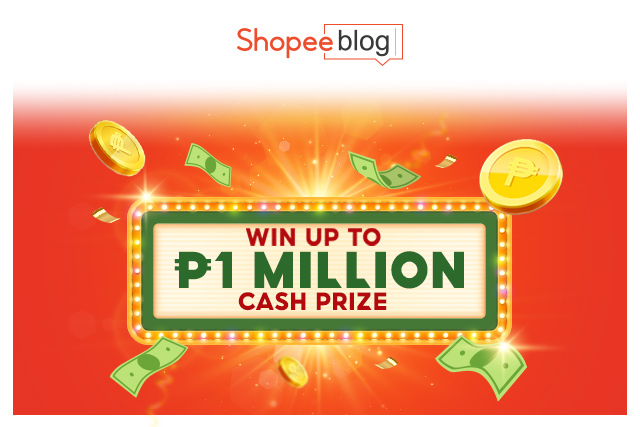 1. Download the Shopee Philippines App
Download the Shopee app through the App Store for Apple and through the Play Store for Android. The best thing about Shopee Milyonaryo? There are no risks to join! Its easy mechanics allow everyone to join as long as you have the Shopee app downloaded! No hidden charges or steps—it's as easy as that!
2. Collect Raffle Codes Daily
Claim a raffle code daily! The standard entry for users is one free raffle code per day, so maximize your luck by availing it everyday!
Pro-Tip: Get additional entries per draw upon purchasing Mobile Load or Data via Shopee! Each completed order entails an extra raffle entry.
3. Catch the 7.7 Mid-Year Sale TV Special
Tune in to GMA 7 for the announcement of the winner! The user with the winning code will be called on air to choose among six boxes—one of which will contain a striking ₱1,000,000! The other five other boxes will be empty, so pray for luck! This is a crucial step since you need to be alert when they reveal the winner live on television. The game starts at 11:05PM, so be ready to get a phone call from Kuya Wil!
Make sure you don't miss out! We recommend that you set two alarms as reminders for each day—one to redeem your raffle code from the Shopee app and another to catch the actual game on Wowowin! Who knows—the day you forget to claim one might just be the day that turns you into a millionaire if you joined!
Don't Miss Out On The 7.7 Mid-Year Sale TV Special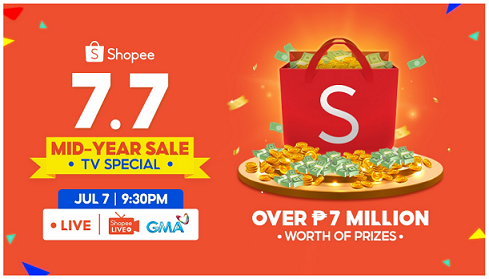 Just because Shopee Milyonaryo has captured your attention doesn't mean you should miss out on the other exciting events! Shopee's 7.7 Mid-Year Sale TV Special includes lots of flash deals, voucher giveaways, and even a guest performance from the renowned Treasure K-pop group! This 7.7 Mid-Year Sale TV Special will also run three Shopee Shake games, so make sure you know how to join Shopee Shake too.
On July 7, expect a fun-filled afternoon full of surprises from Shopee to you! With over ₱7,000,000 worth of prizes to be given away, more games equals more chances of winning! Shopee's 7.7 Mid-Year Sale TV Special will be airing at 9:30PM, on both GMA and Shopee Live. Shopee Live can be found in the center of the homepage buttons. 
Here's the breakdown of surprises throughout the 7.7 Mid-Year Sale TV Special:

What's more, the TREASURE K-Pop Group will be making a comeback this time around! If you missed them, be sure not to miss out on the 7.7 Mid-Year Sale TV Special.
Salamat Shopee!
Now that you know how to join Shopee Milyonaryo, everybody say, "Salamat Shopee!" 
Can't get enough of Shopee perks? Check out Shopee Sale Tips and Simple Hacks to Win Shopee Prizes to get the most out of your online shopping experience! On top of all that, you can get a chance to receive ₱70 Free Money in ShopeePay Credits once you activate your ShopeePay Wallet. There's always something for everyone here on Shopee Philippines!
Comments