With the sudden shift to E-learning, students and parents alike are on the search for the best laptop to use for e-learning at home. The search for a gadget that can offer the best and seamless performance which can handle all the video calls, hours of schoolwork, and numerous files and softwares needed can be a little overwhelming for one to bear. If you're looking to buy a laptop for school, we put together a list of laptops for you to consider checking out! These are the best laptops for high school students and college students. But, if you're looking for a gadget that's perfect for elementary students, check out the Best Tablets for Elementary Students. Put your techie hats on because we will talk about all the details and specs. 
High School Students
High school students have more complicated and complex schoolwork compared to elementary students. They have more papers to write, reports to prepare, and lengthy tests and exams to take. Laptops are great for this level because they need gadgets that offer better and faster performance, bigger storage for their files, and advanced processors. An important thing to take note of is that a laptop with an SSD (solid-state-driver) has a faster performance compared to a laptop with a hard drive.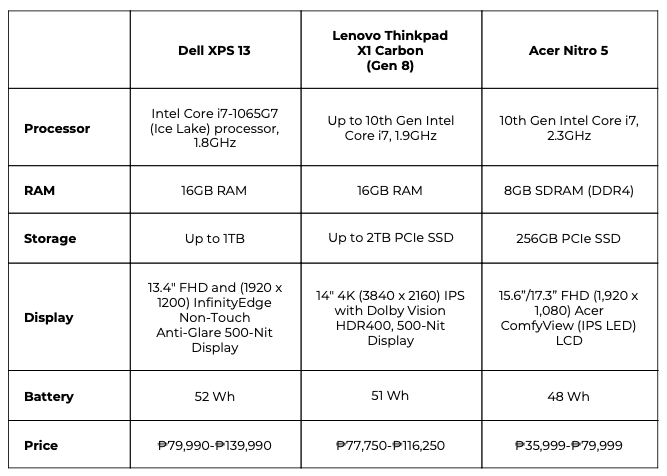 Dell XPS 13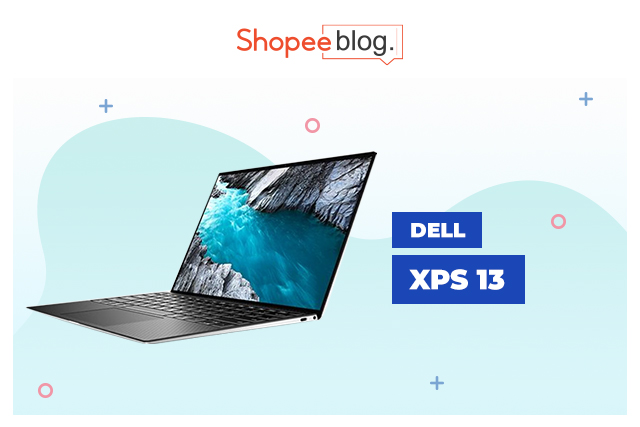 Credit: Dell Philippines
With its large keycaps and edge-to-edge keyboard, the Dell XPS 13 is a joy to use, especially when writing papers, making reports, and doing other schoolwork. Your fingers can just easily dance across the keyboard. The laptop comes with a 30-day free trial for Microsoft Office, which is an impressive deal! It has great internal memory and an enormous hard drive memory. The highlight of this laptop is the powerful processor it uses, which makes the laptop perfect for multitasking. The best laptops for high school students are great in the area of multitasking. This laptop certainly makes the cut! Having many tabs open and doing multiple things at once in this laptop won't be a problem because of its powerful processor and huge storage capacity.
Lenovo Thinkpad X1 Carbon (Gen 8)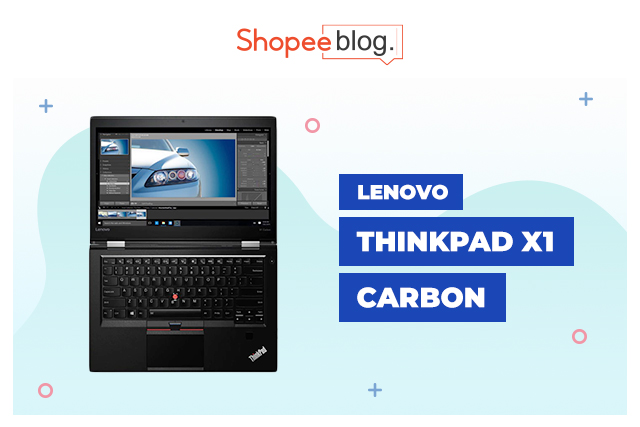 Credit: Lenovo Philippines
Advertised as the laptop that "marries premium performance & mobility," the Lenovo Thinkpad X1 Carbon is lightweight and definitely has a fast and great performance thanks to its advanced Intel Core processor that certainly beats its predecessors. It's powered by an advanced processor, has a huge internal memory, and a great storage capacity that will never seem to fill up! If watching educational videos is a major part of your schoolwork, this laptop is great for that because it has the Dolby Atmos Speaker System. Plus, you have the option to watch videos in 4K! To make this laptop even better, it has a long battery life. Measured by the MobileMark 2018, which is the current benchmark for the standard battery life metric, this laptop can last up to 13.5 hours without charging!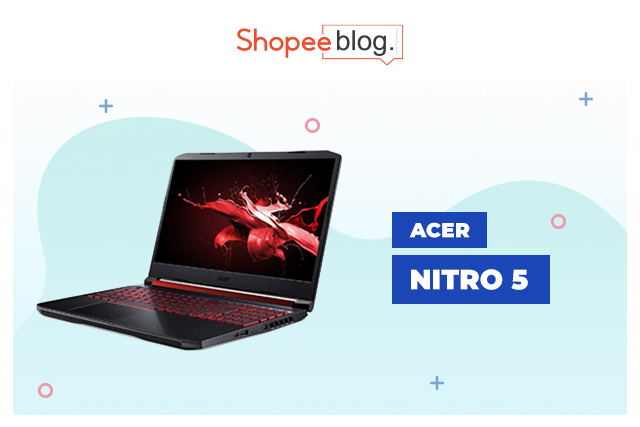 Credit: Acer Official Store
Acer is one of the most sought after laptop brands because it offers affordable laptops for students. Powered by one of the fastest and most powerful processors and available in two different screen sizes, the Acer Nitro 5 is one of the most trending laptops because people just want to get their hands around it. It has a quick refresh rate and response time which ensures that the display is smooth and seamless with no blurs or lag. You won't have to worry about the laptop overheating during the long hours of schoolwork. This is because the Acer Nitro 5 has dual-fan cooling together with Acer's CoolBoost technology. This makes the fan speed faster, easily cooling up your laptop. The best laptops for students are those that have this kind of technology! This laptop also has NVIDIA RTX Technology, probably making it the best laptop for gaming and school. Your gaming experience will be seamless and realistic!
Senior High School and University/College Students
With a step closer to entering university, senior high school students are starting to get a glimpse of university life and the schoolwork that comes along with it. Laptops for senior high school students and college students need to be able to keep up with all the schoolwork. Pro tip for senior high school students: maximize the usage of the laptop you use in your two years of senior high school, bring it with you when you enter university! Below are laptops that have long life spans and strong performance thanks to the powerful processors they're powered by.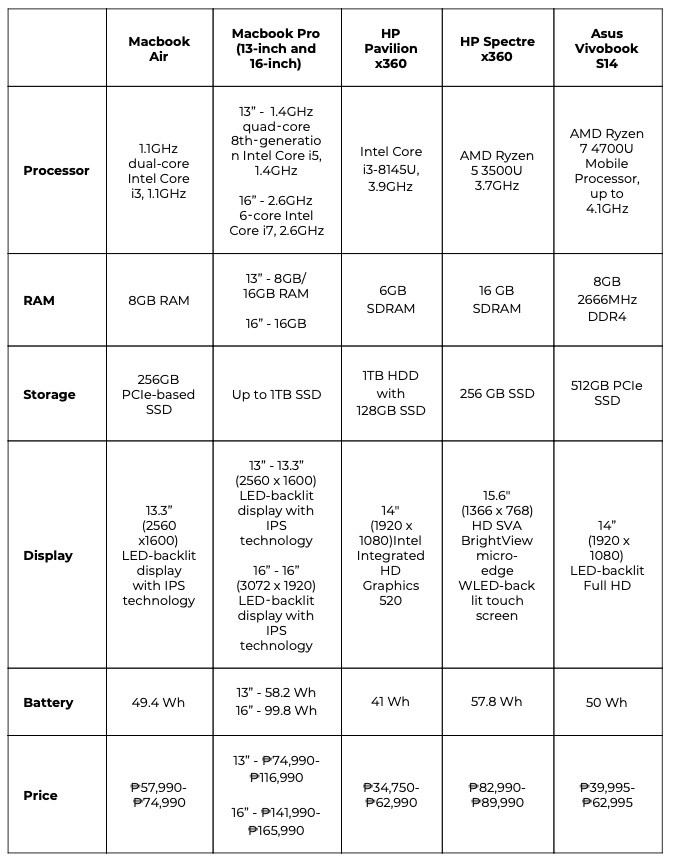 Macbook Air and Macbook Pro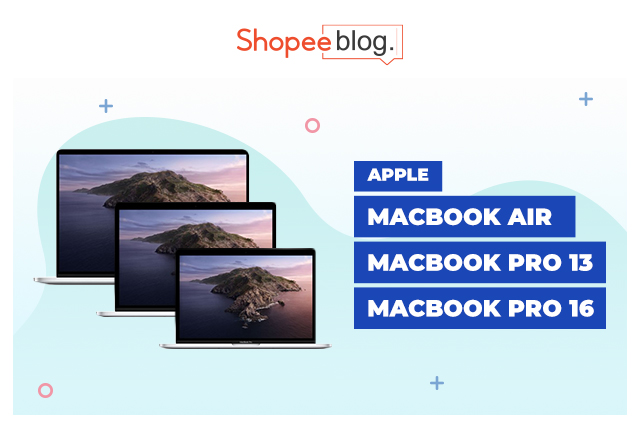 Credit: Apple Philippines
Macbooks have always been taking the world by storm, no matter how many models Apple has released. They just keep getting better and better. Apple releases new and advanced models of Macbook Air and Macbook Pro almost every year, with the latest and more advanced models. The Macbook Pro is available in 13 inches and 16 inches. If you don't mind spending a little bit more money, these Apple products are a great purchase and are definitely worth it. 
Living up to its name, the Macbook Air is definitely lightweight and thin. Carrying it around with you whether commuting or travelling, is not a hassle! But don't underestimate its performance! Even if it's lightweight, this is a powerful laptop which contains a strong processor. It has the same battery life with the Macbook Pro 16-inch that lasts up to 11 hours! 
On the other hand, if you don't mind the extra weight and bigger size for a greater performance, the Macbook Pro 13-inch and Macbook Pro 16-inch are great laptops to consider! Despite having a shorter battery life of only 10 hours, the 13-inch Macbook Pro has a more advanced and powerful processor compared to the Macbook Air. To make it more powerful, Apple put a faster and more advanced processor in the Macbook Pro 16-inch. That's not all! These laptops have a huge storage capacity that just seems to keep getting bigger and bigger.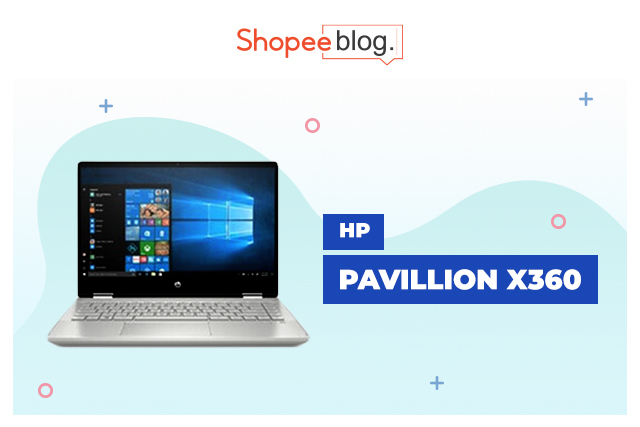 Credit: HP Official Store
HP is a well-known brand that has some of the best laptops for students. The HP Pavilion x360 in particular is a great option, especially since it's a 2-in-1 laptop. You can flip the screen 180 degrees so you have the option to use it as a tablet or a laptop – it's all up to you! With all the fast speed, huge hard drive capacity, and powerful processor, this laptop is sure to give you a great and seamless experience. This 2-in-1 feature is perfect for students who have a lot of art related schoolwork. They can turn the laptop into a tablet and easily draw directly on the screen. This is also fit for students who love to hold their digital reading material as if it were a book. Flipping the screen and turning it into a tablet allows you to do so. 
HP Spectre x360
Credit: HP Philippines
If you're willing to shell out a little bit more money, the HP Spectre x360 is also a smart choice. The base model's processor is the AMD Ryzen 5 which is a more affordable yet stronger processor compared to Intel Core. It also has a battery life of up to seven hours and 30 minutes. The best laptops for college students who are taking up courses that consist of a lot of coding, photoshop, and video editing definitely have the same specs as this laptop! 
Asus Vivobook S14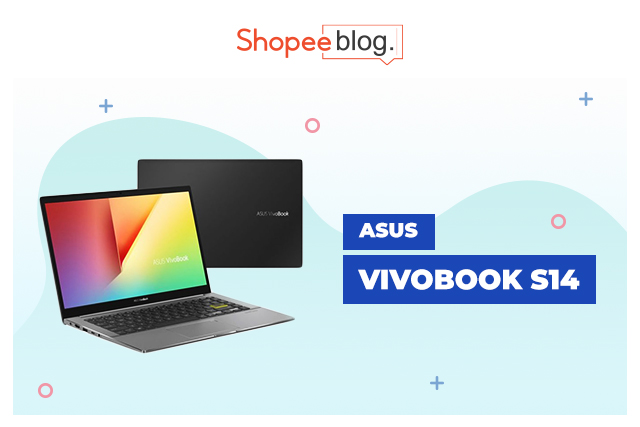 Credit: Asus Philippines
AMD Ryzen, heard of it? The AMD Ryzen is better than the Intel Core because you can get more out of it at a more affordable price. If you're looking for a laptop that has the AMD Ryzen as its processor, this laptop is right up your alley! This laptop is great for any student because of its amazing performance and specs! It has a great storage capacity and internal memory. Students can save all the files that they want and need! You won't have to worry about compromising huge storage for a great performance because through this laptop, you can have both. It is also advertised to reach 60% of battery charge within 49 minutes! The cherry on top would be its amazing display of LED-backlit Full HD display. If most of your school work includes having to watch multiple videos, watch those videos in Full HD display on this laptop! The Asus Vivobook S14 has even more to offer with its included software upon purchase. These softwares are ASUS Splendid, ASUS Tru2life Video, and ASUS AudioWizard. If your schoolwork consists of a lot of video editing, this is a great laptop to consider. 
E-learning is definitely a huge adjustment for students. Despite these trying times, we hope that you'll be able to find a gadget to help you with your e-learning. There are a lot of laptops for students out there to choose from, so you'll definitely find one that suits your needs. Keep an eye out for any exclusive offers from laptop brands and amazing deals on Shopee! Use the voucher code GADGETZONE8 to get 8% OFF! Stay safe and study well! 
Comments